The spring of Scottie continues.Scheffler seized control of this Masters on Friday afternoon and never let go, picking up his first Major championship and becoming the latest Texan to get his hands on a green jacket. There is so, so much to discuss. Here are 18 parting thoughts from Augusta National.
—We start, as always, with the winner. Scottie Scheffler's on one of the best runs in golf history. He entered the week as the world's No.1 player and he leaves as the undisputed best player in the world. And yet, on Sunday morning, as he watched the clock in anticipation of a 2:40pm tee-time, he wept.
"I cried like a baby this morning. I was so stressed out," he said. "I didn't know what to do. I was sitting there telling (wife) Meredith, 'I don't think I'm ready for this. I'm not ready, I don't feel like I'm ready for this kind of stuff,' and I just felt overwhelmed."
Scheffler's clearly coming out of his shell in the press room, and it's wonderful to see. This anecdote is especially important for the message it portrays: it's OK for men to acknowledge their anxiety, lean into their emotions and let them out. Scheffler wouldn't have played the way he did had he bottled up that feeling rather than confronting it head-on. He spoke of the human propensity for making moments bigger than they actually are and how there's little use in that practice. There's (almost) always more to these guys than first meets the eye.
—That 12th hole has a knack for drama, eh? Three years after Golden Bell handed Tiger Woods a fifth green jacket, it torpedoed Cameron Smith's rally to seal Scheffler's first Major championship.
Smith had just birdied 11 to narrow his deficit to three and played first. Finding turf with his approach into 12 would've sent a clear message: game on. He tried to play safely to the middle of the green into the famously finicky par 3, just as he did a month ago on the 17th at TPC Sawgrass. Neither was a perfect swing. At the Players, he caught it flush but pushed it about 10 yards. That was fine, because he had 15 yards to spare. At Augusta National, he wiped across a 9-iron and it never had a chance. That splash poked a hole in the 2022 Masters balloon, and Scottie cruised from there. He's hardly the first to see his Masters dreams expire in Rae's Creek, and he will not be the last.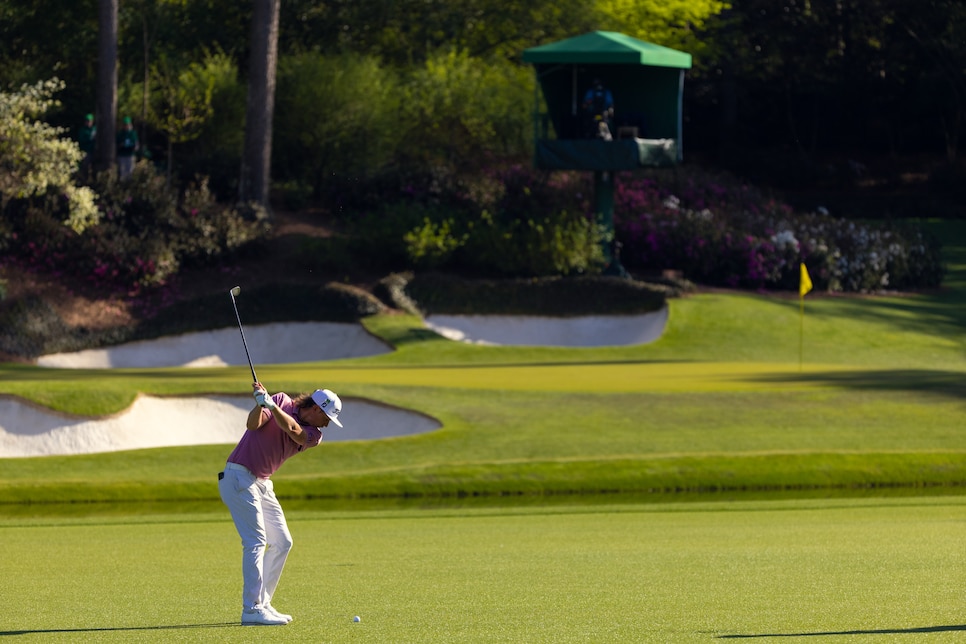 —Scottie owned the week, but Rory McIlroy and Collin Morikawa gifted us the indelible memory of this Masters. On the 18th hole on Sunday afternoon, McIlroy missed his approach in the bunker just right of the green. He splashed his bunker shot into the middle of the green and let gravity do its thing. It trickled down the slope and dove into the cup with perfect dying speed. He erupted in pure ecstasy, dropping his club and pirouetting with jazz fingers. Morikawa's arms reflexively shot skyward as the crowd erupted.
Collin played next and, what'd'ya know, he jarred his as well. Rory, still buzzing, lit up in disbelief. This was golf's version of one basketball player hyping up his teammate after he posterised a defender. Both men walked off the course with smiles usually reserved for winners. Rory had just polished off the only bogey-free round of the week and tied the Masters final-round record with 64, and Collin his fourth top-five finish in nine career Major starts. It was a reminder that just because you didn't win a golf tournament doesn't mean you lost it.
—He's seen deeper depths in the world ranking, but missing the cut at Augusta National for the first time felt like a low point for Jordan Spieth. Maybe it's because he teased us last year with a spirited run at Augusta and Royal St Georges; the assumption was that Spieth would catapult up the ranking again and elbow his way back into the JT/Rory/Rahm tier. At his peak, Spieth thought little (if at all) of swing mechanics and technique. He strided around, eyes always forward, salivating at his next opportunity to carve an iron shot or nip a pitch. His move was never one you'd find in any instruction manual, but it was his, and it brought him 11 PGA Tour victories and three Majors before his 25th birthday. When he picked up his 12th the week before last year's Masters, then hung around all week at Augusta to finish third, you thought he'd wrestled the train back onto its tracks.
Then he turned up this year with a visibly different swing, tempo and a ponderous pre-shot routine. He's a constant presence at the driving range and has been talking about trying to get back to his old swing's DNA for three-plus years. Spieth actually hit it decently this week but putted miserably; surely the constant focus on his ball striking has eaten into his putting practice. He's fiercely loyal and seems rather averse to switching up his team, but you have to wonder if he's as committed to his process – and those guiding it – as he states publicly. Either way, it's no fun at all watching an all-time great dig deeper and deeper into the technical hole.
—I watched Tiger Woods hit the ball horribly on the range on Thursday and shoot 71. I watched Tiger hit the ball beautifully on the range on Friday and shoot 74. Something clicked – how many times have you hit the ball well on the range, gotten to the first tee and suddenly have zero clue where it's going? I'd guess that happens far more often than the inverse. Pros have an uncanny ability to flush away a bad (or a good) warm-up and begin their rounds with a clean slate. This, from Tiger, will help golfer's of any level.
"I had a terrible warm-up session. I hit it awful," Woods said. "I went back to what my dad always said. 'Did you accomplish your task in the warm-up? It's a warm-up. Did you warm-up?' Yes, I did. Now go play. That's exactly what I did, I went and played."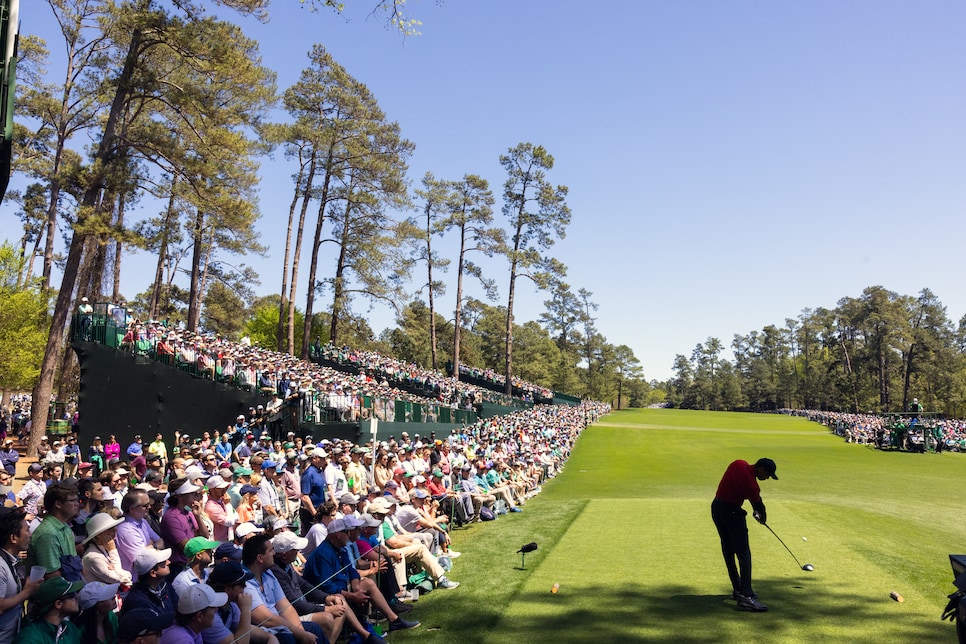 —This Masters cycle reinforced how, all these years and all these injuries later, Woods still has a stranglehold on our attention. The will-he-or-won't he before the tournament dominated headlines and had grown men tracking private airplanes. When the public finally got a chance to watch post-accident Woods play Augusta National on Monday, they turned up in comical numbers. It's not just that Woods is still the proverbial needle in our sport; it's that the needle might be sharper than ever. His career arc is straight out of Shakespeare. Prodigy, world beater, pariah, comeback, catastrophe, comeback. There could well be more interest in Woods' every move than ever before.
Methinks his fierce commitment to privacy only feeds into the hype. Woods disappears from public view between playing tournaments, and he's playing fewer tournaments than ever. Would anything Tiger says or does be such huge news if he said or did a bunch of things publicly?
Woods said he's not sure if he'll play in the next Major championship, the PGA at Southern Hills, which begins in 37 days. We don't pretend to know either. But his decision will be the biggest story in the lead-up. That much is for certain.
—Pardon the naivete, but I hope something finally clicked for Rory McIlroy on Sunday afternoon. At times, Rory has been a prisoner of his own thoughtfulness. He's analysed his Major drought and, somewhere along the way, decided he needed to play more conservatively in the early rounds.
"Just patience, discipline, don't make big numbers," he said in his pre-tournament press conference. "It's very – in a way it's – for me, anyway, it feels like a very negative way to think, but it's the way to play around this place. You don't have to do anything spectacular."
You could sense he didn't quite believe the words coming out of his mouth. If it feels like a negative way to think, it's the wrong way for you to think. Young Rory couldn't give a damn if he made big numbers, for he knew birdies would flow like the River Jordan. Plotting around, picking up a shot here or there – it's just not how he's wired. He's blessed with an electric game, one of the few capable of putting distance between himself and the best players in the world. He leaned into that swagger on Sunday and played like a man with a purpose, not one trying to avoid mistakes. What resulted was an eight-under 64, a solo second and, let's hope, a newfound freeness in Major championships.
—When Rory's in full flight, he doesn't walk; he bounces. When you watch as much golf as I do, you develop a sick ability to identify players from hundreds of yards away by their posture and their gait. Each player moves in their own specific way. Countless studies have proven that body language impacts brain chemistry – smiling actually makes you happier. The same is true with the way you walk. Watch Tiger and you'll notice he never slumps his shoulders after a bad shot. He walks with pride, shoulders back, head held high. The same is true for Adam Scott. Looking at the ground after a bad shot only compounds feelings of frustration and dejection. Take it from Collin.
"You can always look at someone's walk, and it's funny because I played with Will Zalatoris yesterday, and he walks pretty fast," Morikawa said. "When you look at someone's walk, you can kind of see their demeanour and how they kind of move through things. From that first tee shot, I think both of us, especially [Rory], he was moving at a nice pace. He was moving at a comfortable pace. Not a rush, but not going slow and just getting to the next tee shot or getting to the next ball and just going from there.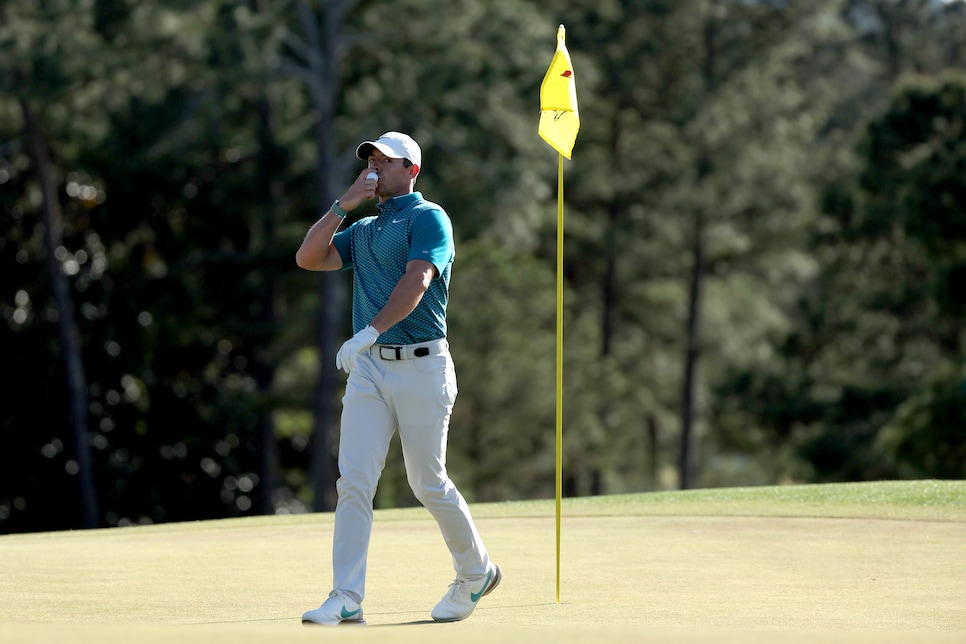 "It was never staying on the shot he had just hit for too long. It was never rushing to the next shot. It was kind of just a good pace. That's the biggest thing. It's hard to describe how to do that. I mean, we can't time out our steps, but, yeah, I think if you look at it as a whole, that's kind of what it is. It's a good rhythm. Not just in our golf swings, not just over the ball, but throughout the entire day."
Next time you fat one into the water, focus on your walk.
—A note on the two biggest changes to the golf course from last year. The 11th hole has been improved considerably; the forest down the right side of the fairway was a vestige of a Tiger-proofing era when courses worldwide responded to distance with a whole bunch of trees. There never needed to be so many – three well-placed trees serve the same purpose as 30 – and there's something fun about potentially having a window to play a miracle shot if you miss right. The increased mounding right of the green also punished that common bailout more sternly. If you played it well right of the water, you were faced with a touchy chip onto a green that's hip high and slopes away from you, with water long. Good luck.
The 15th hole, however – dare I say it was made a bit more boring? Having two par 5s that are both reachable for the entire field and guarded by water has consistently provided high drama. The old 15th put players in an uncomfortable spot, especially if they drove it down the left side and would've had to hook one around the trees to get home. According to Rory McIlroy, our source for the true Augusta National changes – there's always more than the ones the club officially announces – it's not just that the hole has been lengthened, but the fairway now slopes more severely from right to left, so more balls ended up behind those trees. It all resulted in far more lay-ups than we'd seen in prior years. Here's what Cameron Smith said on Saturday evening:
"I think with that green firming up, it's hard – you almost have to hit a perfect shot to hold that green. And the chip shot from over the back, as I'm sure you guys saw today, is pretty brutal.
"Yeah, I don't think I'll be going for it."
I understand what they were trying to do – turn it into a proper decision hole and keep up with ever-increasing distance – but the two gettable par 5s on the back nine have been woven into the fabric of the Masters. That wasn't the case so much this year, especially considering there wasn't a single eagle on the new par 5 all week.
—At the risk of sounding like a cantankerous old newspaper columnist, Tyrrell Hatton's antics have grown a bit tired. It's probably a product of the Masters unequalled coverage, which documents each and every one of his countless gripes. Seeing him pop up onto your Twitter feed with a funny one-liner is one thing, but watching him moan at anything and everything for a full 18 holes was not a pleasant experience. On Thursday, he responded to a poor putt on the 13th green by putting his putter under his arm like it was a gun and fired off a few shots. On Friday, he pulled his tee shot into the hazard and then tried to smash his way back home to England through the teeing ground. Cameras also caught him saying simply, "I hate this place." After the round, he turned it up another notch.
"You can hit good shots here and not get any reward for it. It's unfair at times. I don't agree with that. If you hit a good shot, you should end up near the hole. Not then short-sided into a bunker because of the slopes that they've created and stuff. Yeah, I don't think it's a fair test at times, and when you hit good shots and you're not rewarded for it, it shows… I'm just trying to ideally get off the golf course as fast as possible."
I've never seen anyone talk like that about Augusta National. I'm sure that went over well with the greencoats.
—Cameron Smith's short putting and CBS' worm cam are a match made in Pureville, USA. He's reached that prime-Tiger level where any putt between four and eight feet doesn't just seem to always go in; they go in dead freakin' centre. Smith is 28 but looks and putts like a kid half that age. His stroke is completely devoid of tension even in the nerviest moments and oozes an equanimity that cannot be taught. He's the last guy I'd want to play against.
—Tiger seems to come up with a brand new word once a fiscal quarter. He was big on "activating" the glutes, then moved on to the "kinetic chain", all the while keeping some greatest hits like "feels" in the rotation. We knew he'd bring some heat this week after such a long layoff, but he delivered beyond our expectations.
"The ankle is always going to be an issue," he said on Friday, "but more importantly, if I play golf ballistically, it's going to be the back."
Ballistically!
Then, for good measure, he blessed us with a hall-of-fame nickname for Stewart Cink.
"It's fun to hear the roars, to hear the hole-in-ones. I think 'Kitchen' made one the other day."
—This was my fourth trip to Augusta National, and each year I notice something new. Typically it's a few new buildings – they spring up between Aprils each year and yet somehow look as though they've been here since Bobby Jones' days – but this year a hidden staircase caught my eye. It runs from the area left of the 16th hole up towards the fifth green. I had no idea it existed, and now I do.
—The Masters app remains the gold standard in golf, and it's really not close. Turns out a club governed by CEOs and billionaires can accomplish some pretty cool things when they combine all that brainpower – and bring on a tech behemoth like IBM to facilitate its offerings. The app doesn't glitch or lag. It uploads video of every shot almost instantly. It looks and functions smoothly.
It's surely a significant financial commitment, but you get what you pay for, and the Masters has emerged as the world's biggest golf tournament with a number of small decisions that add up. Investing in technology that significantly improves the fan experience is one of them. The other governing bodies don't have the same resources as Augusta National, so it's not fair to expect them to be able to keep pace. But the PGA Tour's gotta up their app game.
—The massive tree outside Augusta's clubhouse doubles as a yearly hang for movers and shakers. It's where the members, their guests, athletes and celebrities trade pleasantries and set up home-and-home trips to their respective clubs. This year, however, an expected face turned up: Harris English, the world's No.23 golfer and a Georgia boy through and through.
English grew up in Valdosta, went to UGA and lives in Sea Island. He had surgery to repair a torn labrum on February 16 and thought about playing in the Masters before deciding it wasn't worth the risk of re-injury. He pulled out on Thursday before the tournament and turned up to watch the action nine days later.
"It's only a three-and-a-half-hour drive," he said, drink in hand. "So I figured, why not?"
Now that's a golf guy.
—Justin Thomas acknowledged early in the week that he's badly underachieved in Major championships since his PGA Championship victory in 2017. For a man with 14 PGA Tour victories at the age of 28, you can count on one half of one hand the times he's had a legitimate chance down the stretch on Sunday of a Major. Then he opened with a four-over 76, which he blamed on… a lack of focus?
"It's weird, man. I couldn't get focused. I couldn't get – I couldn't get in the moment. I couldn't get present," he said. "I just – all I could think about was anything other than what I was doing.
"I'm sure it happens to y'all too. You just wake up some days, and you don't want to do anything, and I unfortunately had to go play the first round of the Masters. It's bad timing, but at the same time it is what it is, you and have to deal with it."
Huh… I'm still processing that one. One one hand, we want athletes to be honest, to avoid press-conference mad libs, and this certainly isn't that. On the other – if you can't get 'up' for the first round of the Masters, what can you get 'up' for?
—Jon Rahm shed light on an interesting choice modern professional golfers have to make: whether to bring their kids on the road and home-school them, or accept not seeing them for large swaths of the year. Some guys, like Matt Kuchar, have chosen the home-school route. Rahm and his wife, Kellie, are going the other way. There are positives and negatives to each choice, and I'm not here to preach. It just stood out as an insight into a world that none of us are familiar with.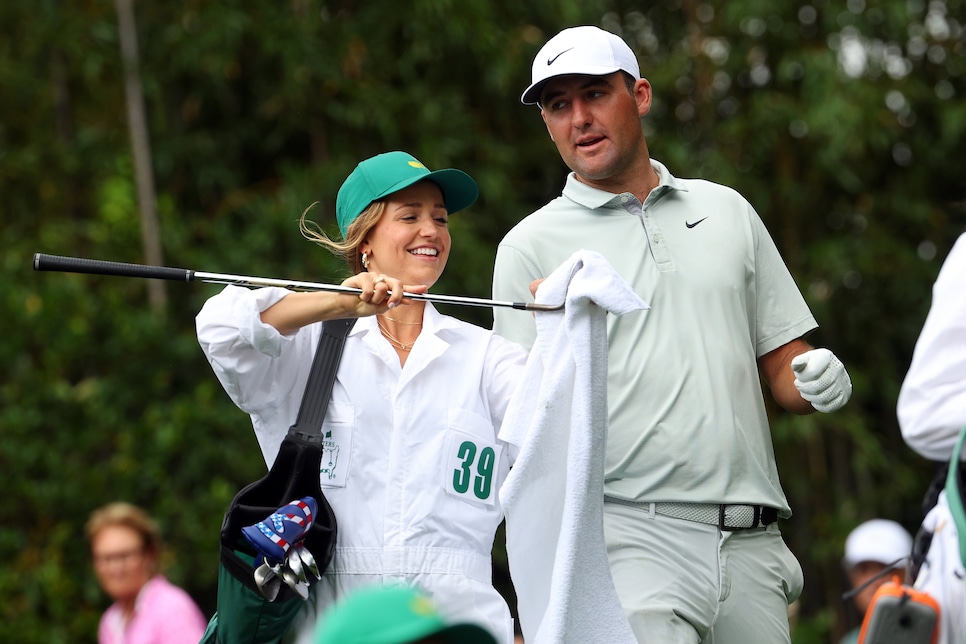 —The Par 3 contest has turned into a three-hour montage of family fun. It's delightful. What other opportunities in life do you get to sit back and watch fathers and sons, mothers and daughters, celebrate being around one another? The golf is secondary, just as it is when you play with your dad or your kid. It's an excuse to spend a few hours outside together, with no screens in sight, and revel in the warmth of familial connection. A celebration of life and the role golf plays in it.
TOP/MAIN PHOTO: Adam Glanzman