Welcome to another edition of The Grind, where we can only imagine working in an office building that has simulators, putting greens, and an actual bunker! Yep, I'm talking about the impressive new PGA of America headquarters in Frisco, Texas, which I had the pleasure of visiting last week.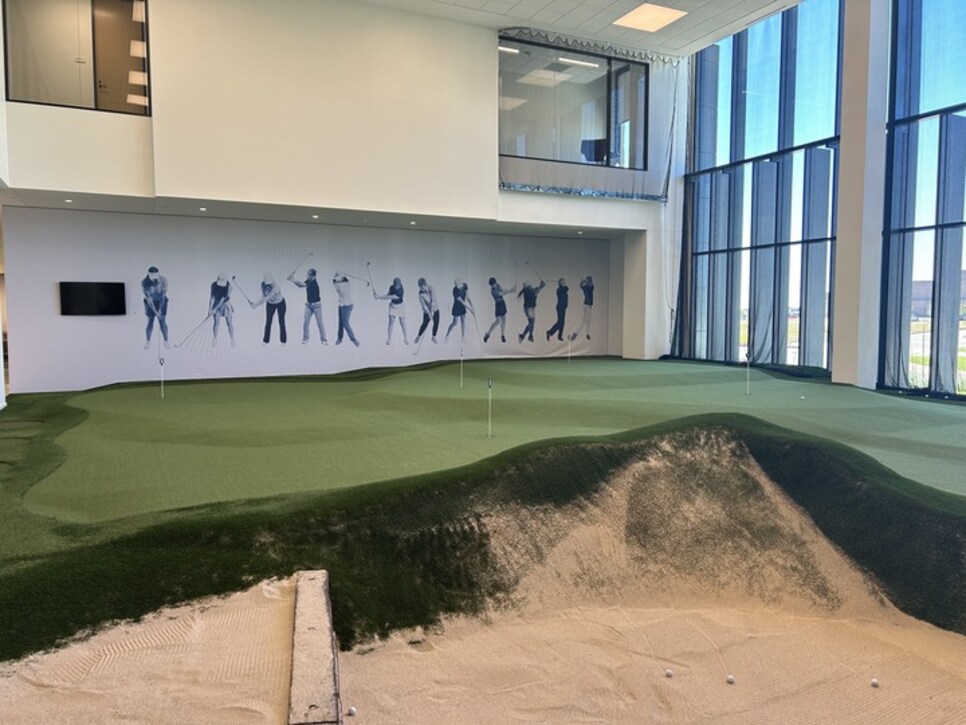 My short game would be so sharp year round! And I'd love having The Frisco Kid as a nickname. But obviously, none of that is happening and I probably won't touch a golf club for the next five-to-six months in New York. Depressing times ahead, but I'll battle through. Let's turn up the heat and at least talk some golf.
WE'RE BUYING
Erik van Rooyen: The South African produced one of the most amazing couple of hours in sports this year with that magical Sunday back nine at the World Wide Technology. EVR fired a 28(!) coming home that included a walk-off eagle to earn his second PGA Tour title at the World Wide Technology Championship. But even more amazing is that he did it with such a heavy heart. During his post-round interview, an emotional van Rooyen talked about his best bud and former college roommate, John Trasamar, who has been diagnosed with terminal cancer.
"Every shot out there today was for him." ❤️@FredVR_'s best friend, Jon Trasamar, is battling cancer.

Van Rooyen just made a walk-off eagle to win @WWTChampionship. pic.twitter.com/6vS0HvzfJU

— PGA TOUR (@PGATOUR) November 5, 2023
What a scene. And what inner strength (Shout-out to Camilo Villegas as well for his best finish since his family's own tragedy) from van Rooyen, who mentioned he'd be flying to Minnesota with that shiny new trophy to be with his friend. EVR was originally scheduled to play in this week's Butterfield Bermuda Championship, but as he says, some things are much bigger than golf tournaments. Our thoughts go out to the Trasamar family. And it's the latest reminder that we should all savor the time we have with the loved ones in our lives.
Padraig Harrington: Things weren't nearly as competitive on the PGA Tour Champions, where the three-time major champ authored a dominant seven-shot victory—then gave golf lessons after. Kidding! We think.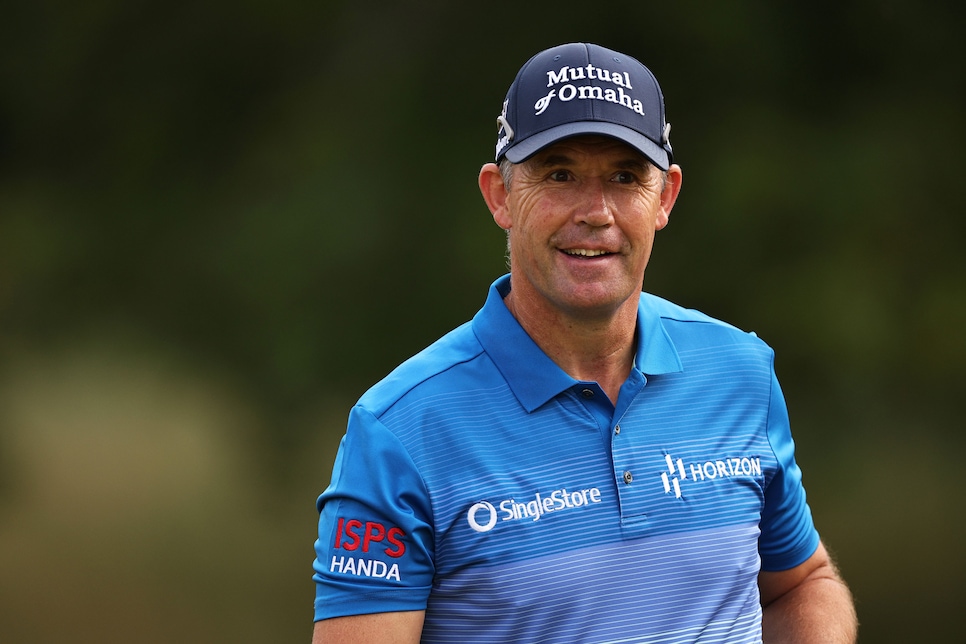 Jared C. Tilton
Paddy will be in action again this week at the Charles Schwab Cup Championship, where the season-long points title is up for grabs. Again, kidding! Steve Stricker wrapped that up weeks ago. But there was some other drama in terms of who made the field, and one of my MET guys, Rob Labritz, came up clutch to keep his dream gig on the senior circuit:
Make and he's in.
Miss and he's out.
@RobLabritzGolf came up clutch to clinch the final spot @SchwabCupFinale and secure his status next season. pic.twitter.com/2zyOi8gvbj

— PGA TOUR Champions (@ChampionsTour) November 5, 2023
Well done, Rob.
Safaris: At least, going on one with Justin Thomas and Max Homa. I did the safari ride at Disney World a couple years ago so I'm good with the wildlife sightings. These guys (along with their gals) looked like they had the time of their lives. And JT even filmed what could be a pilot for a new outdoor show!
Need a tour guide on your next safari?
@MaxHoma found out that @JustinThomas34 is the guy 😂 pic.twitter.com/SukD2OFCec

— PGA TOUR (@PGATOUR) November 5, 2023
If the higher-ups here at Warner Bros. Discovery are reading this and searching for more programming, I'll settle for a small finder's fee. Or maybe just an office putting green/bunker. Thanks.
Jon Rahm's velocity: Yeah, yeah, the reigning Masters champ's World Series first pitch was juuuuuust a bit outside, but at least the Spaniard put some oomph into it. And you try throwing out a pitch wearing a (green) jacket and tie!
Green with envy.

Reigning champion of @TheMasters, 11-time @PGATOUR winner, and @sundevilmgolf legend @JonRahmpga threw out the first pitch for Game 4! pic.twitter.com/hd2FL9fEOt

— Arizona Diamondbacks (@Dbacks) November 1, 2023
Actually, Rahm told me (NBD) that it was the slacks and dress shoes that got him. So why didn't he stick with the shorts and Jordans he practiced with in his backyard when he was touching 70 miles per hour (Athlete!) on the radar gun? Because Augusta National has very strict rules about what you can wear with the green jacket in public. And Rahm is a very respectful and classy young man.
WE'RE SELLING
Jon Rahm's TGL WD: This is not a knock on Rahm's decision, just an expression of disappointment that he won't be teeing it up in Tiger and Rory's new simulator league. Not only is he arguably the best golfer on the planet, but he's one of the coolest and most entertaining people in the sport.
I am sad to confirm that I will not be participating in the first TGL season. While I still think it's a great opportunity, right now it would require a level of commitment that I can't offer. Best of luck to everyone envolved and may the best team win!

— Jon Rahm Rodriguez (@JonRahmpga) November 2, 2023
So while this new endeavor needs all the help it can get, losing this big guy is a big blow. Of course, it would be an even bigger blow if this is any indication of any other move in the works . . .
Michael Block haters: No matter what this guy does now, there's a group of people who just trash him. The latest example came after Jack Nicklaus made the winning putt at a World Wide Technology Championship celebrity event using Block's putter:
"Don't you get tired of winning?"

"No."
@JackNicklaus holed the winning putt last night at a celebrity event @WWTChampionship. pic.twitter.com/ZxTyOehLb4

— PGA TOUR (@PGATOUR) November 3, 2023
Pretty cool, right? But Block had the audacity to post about it:
I truly don't get it. Were those Rory comments a bit much? Fine. Does he get more attention than he deserves? Perhaps. Is the magic over after he finished dead last in Cabo? Maybe. But what's the guy supposed to do? NOT show up when he's invited somewhere? Turn down public appearances and endorsement deals? Yeah, his 15 minutes has gone on for a lot longer than most, but I say good for him. Heck, give him Jon Rahm's spot in TGL. Team Blockie all the way.
Dumping golf clubs: We don't know the backstory behind this, but ditching a good set of golf clubs at a freaking DUMP should be a jailable offense. I don't care how frustrated you are with your golf game is, you gotta give those bad boys to a friend. Or donate them. Fortunately, these wound up in good hands when Joel Dahmen's caddie, Geno Bonnalie, spotted them, but that's not always going to be the case:
Today at the dump another truck pulled up, tossed these bad boys on to the floor and drove off. I didn't get a look at the driver…either an angry spouse or an angry golfer 😝 pic.twitter.com/YYhmo9MHoH

— Geno Bonnalie (@GenoBonnalie) November 1, 2023
What the heck?! Those are nice! As Geno points out, maybe it was an angry spouse who did the dumping. If so, that's even worse. It's hard to think of a more cruel act. Lock them up!
ON TAP
The PGA Tour heads to Bermuda for the Butterfield Bermuda Championship, AKA that one . . . where they play in Bermuda. Seriously, there's not a lot to go on with this one. Meanwhile, the ladies are in Florida for the ANNIKA, while the seniors tee it up in Arizona for their season finale. And the DP World Tour is at the Nedbank Challenge in South Africa, where Justin Thomas and Max Homa will arrive fresh off that safari. None of those events will be played on courses designed by Tiger Woods after his El Cardonal at Diamante hosted the World Wide Technology Championship. And despite all the low scoring, at least one golfer, Kelly Kraft, was NOT a fan of Tiger's first track!
Ouch. Looks like we know who is NOT getting that final spot in the Hero World Challenge next month!
Random tournament fact: Brendon Todd holds the Bermuda scoring record with a 24-under-par total. That happened at the end of 2019 when Brendon Todd was briefly the hottest golfer on the planet. Simpler times.
RANDOM PROP BETS OF THE WEEK
—Erik van Rooyen will ever criticize El Cardonal: 1 MILLION-to-1 odds
—Brendon Todd will win in Bermuda this week: 16-to-1 odds (Actual odds, second favorite!)
—JT and Max won't have as much fun this week: LOCK
TWEET/INSTAGRAM/PHOTO OF THE WEEK
I see Tiger. . . and he looks glorious!
What a masterpiece! Need that in my house. NEED.
CLUB PRO GUY TWEET OF THE WEEK
Ever since I sold my Miata I have been borrowing @MiguelVegaTurf's truck and it's a legit POS. pic.twitter.com/qVQkga7ITn

— Club Pro Guy (@ClubProGuy) November 6, 2023
VIRAL VIDEO OF THE WEEK (GOAT DIVISION)
Tiger Woods is walking well! And carrying Charlie's bag!
Charlie Woods teeing it up for his 2nd appearance in the @nb3jgnc! With a 15x Major Champion walking on the bag for 54-holes, he will be one to watch! #charliewoods #tigerwoods #nb3 #jgnc #seeyouatcoushatta pic.twitter.com/otvqdLKNOq

— Notah Begay III Junior Golf National Championship (@nb3jgnc) November 4, 2023
You love to see it. That foot must be feeling pretty good! Also, check out how quickly Charlie hits his opening tee shot:
Earlier Today: Charlie Woods tees off on the final day at the NB3 Junior National Golf Championship! #JGNC #NB3JGNC #SeeYouAtCoushatta pic.twitter.com/uNL41yaImp

— Notah Begay III Junior Golf National Championship (@nb3jgnc) November 6, 2023
The crowd is still clapping! I'm buying that pace of play as well.
VIRAL VIDEO OF THE WEEK (MUST-BE-NICE DIVISION)
This is Matt Scharff of Good Good YouTube fame making a hole-in-one on a par 4. For a SECOND time:
The Greatest Golf Shot in History..@MatthewVadim pic.twitter.com/K5F7L5NcRe

— Good Good Golf (@goodgood_golf) November 2, 2023
Unbelievable. And I still can't sniff a normal ace on a par 3. Life ain't fair, folks.
VIRAL VIDEO OF THE WEEK (MUST-NOT-BE-NICE DIVISION)
Some golfer putted into St. Andrews' famed Road Hole Bunker—and took about an hour to get out:
Ouch. And ouch to the groups behind waiting for all of that to unfold.
VIRAL VIDEO OF THE WEEK (ARCHIVE DIVISION)
RIP to Bobby Knight, who certainly wasn't perfect, but was an incredible basketball coach—and gave us some of the most entertaining golf clips of all time. (Very NSFW due to explicit language. Obviously.):
RIP Bobby Knight pic.twitter.com/dOp0RNeuRM

— Golf On Tap (@OnTapGolf) November 1, 2023
Not sure whose idea it was to film Bobby Knight playing golf, but that person is a genius. Talk about on-camera fireworks!
THIS WEEK IN CELEBRITY GOLFERS
Australian cricket star Glenn Maxwell had to miss a World Cup match due to a freak golf injury. Apparently, Maxwell made it through the round OK at Kalhaar Blues and Greens Golf Club in Ahmedabad, India, but while taking a cart back to the team bus, he fell off and sustained a concussion.
Robert Cianflone
As a teen, I once fell off the back of a cart, too, but fortunately, the only damage done was to my white Tino Martinez Yankees shirt. Yes, this was at a muny. And, yes, I'm afraid to hop on the back of golf carts to this day.
THIS WEEK IN PUBLIC DISPLAYS OF AFFECTION
There was a lot of stiff competition this year, but congrats to the Hadwins for winning Halloween with this perfect family costume:
"They just tackled Adam Hadwin, by the way, who is trying to approach his friend" Jim Nantz, June 11th, 2023

Happy Halloween Friends 🎃 pic.twitter.com/MhTDwbmps3

— Jessica Hadwin (@jessicahadwin) November 1, 2023
Of course, that's Jessica playing the role of Adam getting tackled by a security guard as he tried to celebrate Nick Taylor's thrilling Canadian Open victory this summer. Adam was probably thrilled to be the tackler and not the tackling dummy this time. And that's their daughter playing the role of Taylor. Classic.
But they weren't alone. As usual, the Donalds gave a strong effort as well. Bonus points for having TWO costumes!
Groovy, baby. And in the amateur division, what a great job by this fan who dressed up—and acted—as Miguel Angel Jimenez:
We have a Halloween costume winner ⛳️@majimenez1964 @ChampionsTour @BoysOfSummerCup pic.twitter.com/ojZnJ36Z1r

— Troy Martin (@TroyMartinGolf) November 1, 2023
Again, no notes! Well done!
QUOTE OF THE WEEK
"I think I played 71 really good holes. It kind of turns out to be the difference, you need to play 72 good holes out here. I had one jump up and get me." —Matt Kuchar referring to the dreaded snowman he made on Saturday. It wasn't quite the 22 that one guy made on the Road Hole, but it wound up costing him the tournament.
THIS AND THAT
Congrats to Matteo Manassero (Remember him?) for earning his DP World Tour card back after a few years toiling on the Challenge Tour. The former teen phenom is still only 30! . . . I finally watched the movie "Just Mercy" on my flight to Texas, and let's just say it was getting a little dusty on the plane. Tough to top Michael B. Jordan and Jamie Foxx as a 1-2 duo. . . . The PGA Tour says it will allow players to compete in the LIV Golf qualifying event next month. If they ever make a movie about the last two years in golf it will have the most confusing plot ever. . . . And, finally, I saw a lot of cool things in at the PGA of America headquarters in Frisco, but it's hard to beat this piece of history: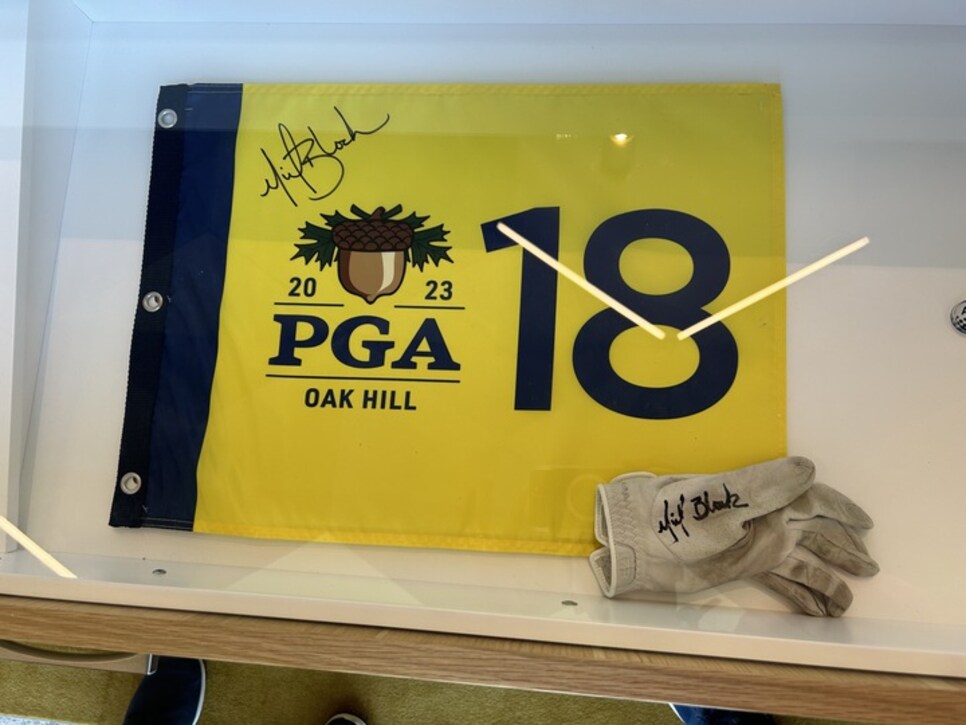 Again, I'm Team Blockie all the way.
RANDOM QUESTIONS TO PONDER
How much did JT and Max's safari cost?
How much does Michael Block charge for a lesson now?
How much does that artist want for that Tiger tee mural?
This article was originally published on golfdigest.com