All your co-workers get invited to a convention in a legendary city – let's go with Paris – but you don't get the nod. And this year's convention's going to be broadcast worldwide. Your entire industry is buzzing in anticipation. Would you watch?
It's not exactly apples to apples, but that's the situation for the hundreds of tour players not among the fortunate 91 to tee it up in the Masters. An invite to the year's first men's Major is golf's golden ticket, and with no opposite-field event to dive into, the FOMO is real.
"I'll check scores at night because Tiger's playing," says Peter Malnati, "but I won't watch a single shot.
"Honestly, it fills me with envy and motivation. Envy is horrible for me, and motivation is never lacking, so I find I'm better off not watching."
Dylan Wu, a PGA Tour rookie, also wasn't watching on Friday, but for a different reason.
"A little busy," he said, accompanied by a video of him dipping a Maker's Mark 46 bottle into the red wax that forms the whiskey's sui generis caps.
Joel Dahmen was watching for one reason and one reason only.
"I'll be tuned in to Tiger today," he says. "Will probably watch the back nine of Saturday and Sunday. I'm not crazy glued in unless one of my friends is playing well."
Matt NeSmith, who resides just across the South Carolina border from Augusta, in Aiken, doesn't watch golf on television – except one week a year.
"The Masters is the only one I watch, pretty much."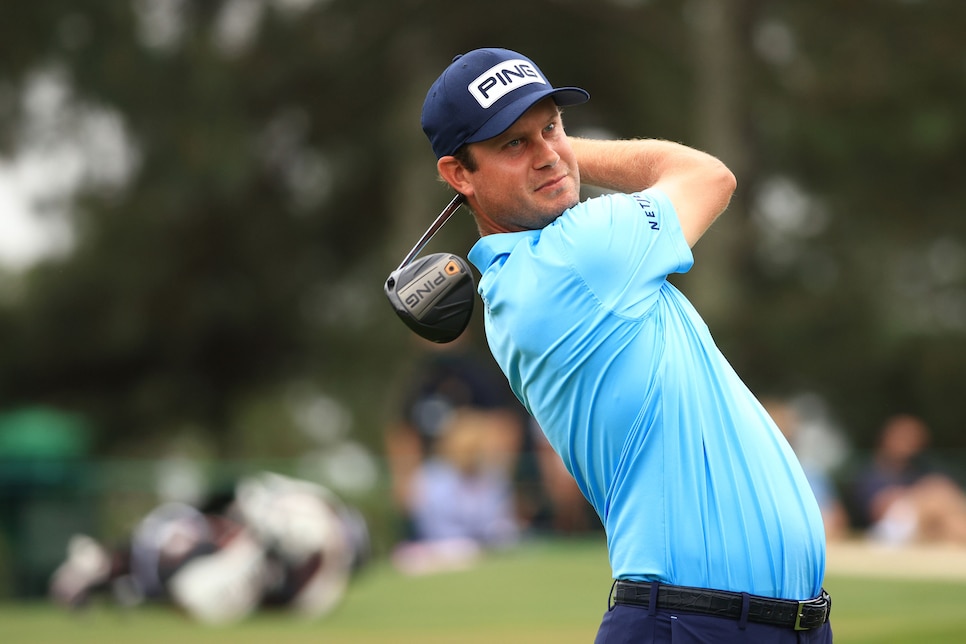 None of those players qualified for the Masters on their own. Harris English did. The Georgian and University of Georgia graduate earned his way into the field three different ways: by winning last year's Travelers Championship, reaching the Tour Championship and being inside the top 50 of the world ranking. But after fighting through a nagging hip injury, English opted to have his torn labrum surgically repaired on February 16. He did everything possible to get himself well enough to tee it up but withdrew 10 days ago. Would he be able to stomach watching his favourite tournament, knowing he's done enough to play in it?
"Oh yeah," he says. "I always watch this tourney."
On Saturday, he took it a step further. English had enough of watching on his couch in Sea Island, Georgia, and figured he'd do something for the first time since turning pro: watch the tournament as a spectator.
"It's only a three-and-a-half-hour drive," he says, drink in hand, under the famed tree between Augusta National's clubhouse and its first tee. "I figured, why not?"
TOP/MAIN PHOTO: Carmen Mandato