Nasa Hataoka didn't sleep well on Saturday night despite holding a six-shot lead entering the final round of the Marathon LPGA Classic. It wasn't from worry about the pressure of closing out her fourth career LPGA Tour victory or anxiousness about the momentum a win could give her ahead of representing Japan at the Tokyo Olympics in just under a month.
Instead, Hataoka slept poorly thanks to the dreary Sunday weather forecast. Soaking rain was predicted for Highland Meadows Golf Club in Sylvania, Ohio, and sure enough it came, with Hataoka hitting only two shots in the final round before officials suspended play. Hataoka's concern was that the rain would create distractions that might be the only things that could truly get in the way of the 22-year-old claiming victory.
"I was more thinking about it during [my] sleep," Hataoka said. "I don't know if I really slept well or not with the rain and all the suspension and everything, I was just not ready for this."Turns out, however, the soaking was so fierce that it made Hataoka's fears moot. After waited 6½ hours hoping conditions would ease and the grounds crew could get the course playable – Hataoka biding her time by napping in her car and listening to Japanese pop music – neither turned out to be the case. Officials eventually cancelled the final round, and Hataoka was named winner with her 54-hole score of 19-under 197.
"Unfortunately, at about 9:40[am], with the amount of rain we had, we started losing the greens," said Donna Mummert, LPGA senior manager of rules and competitions. "That's what took us down early this morning. Rain just continued, and here we are. We went back out a couple of times thinking we'd catch a break, [the] fairways were what ultimately made the decision for us."Hataoka's victory will appear to be a runaway, but she and Mina Harigae were locked in a duel in the final group for much of the third round. The Japanese star began the day with a two-shot edge only for Harigae, a 12-year LPGA veteran still searching for her first win, to overtake Hataoka on the sixth hole with her fourth birdie of the round.
Hataoka regained the advantage with two birdies over her next three holes, getting to 15-under heading to the back nine. Harigae's last chance to catch Hataoka was a birdie putt on the 10th, which turned into a three-putt bogey. Hataoka capitalised, pulling away with four birdies over the final five holes on Saturday.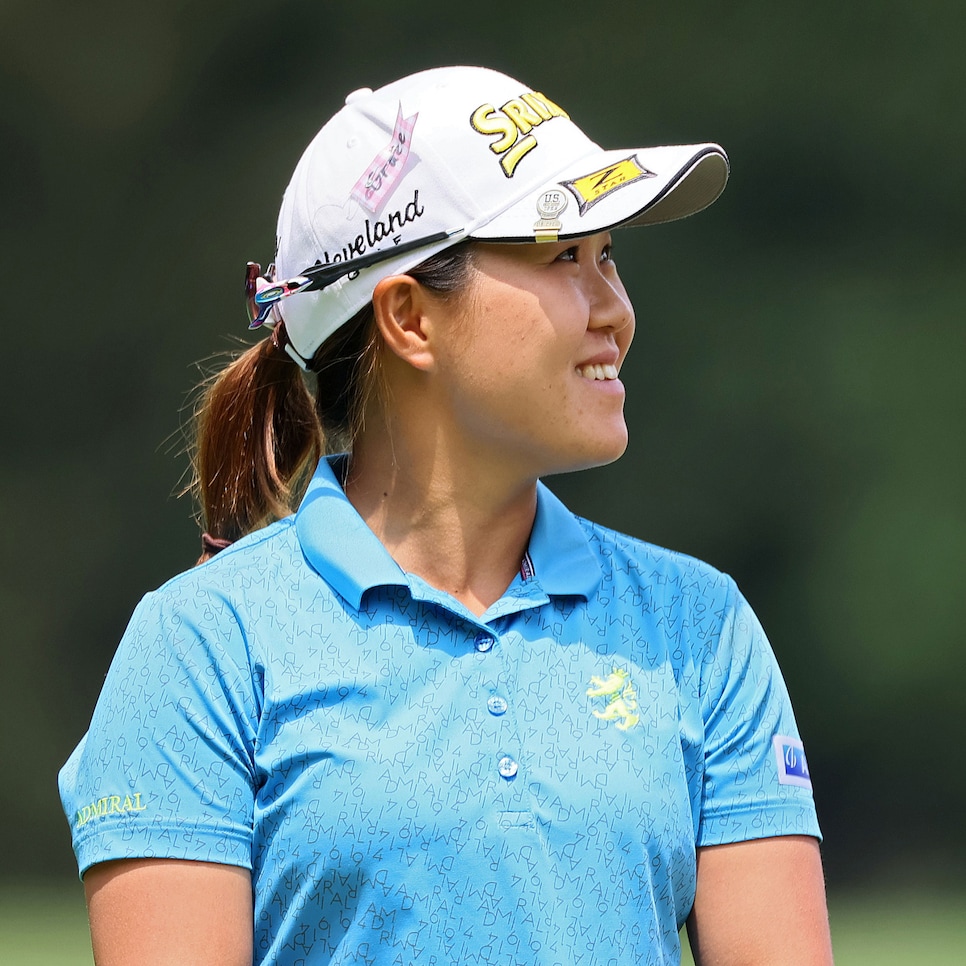 Throughout the week, Hataoka used a ball marker from Olympic Club, where she lost in a playoff at the US Women's Open in June, to serve as extra motivation as she continued to build on her lead.
"Every time I look at it, it reminds me to just keep going and go for a win," Hataoka said. "That's what I use it for."
Hataoka showcased superb ball-striking all week, hitting 89 percent of greens in regulation. It's a 22 percent jump from her season average. After missing the cut two weeks ago at the KPMG Women's PGA Championship, Hataoka spent time at Lake Nona Golf Club in Orlando working with her coach on controlling the distances in her iron play. It paid off when she scared a 59 on Thursday, en route to a career-low 61, and a shot a 64 on Saturday to close out the win.
"I wasn't really expecting it [improved ball-striking] to come this early, but this is the result that I got," Hataoka said.
Next to her Olympic Club ball marker was another recent addition to her Srixon hat, a pink ribbon with "Grace" written in black sharpie. Hataoka, like many on tour, wore the ribbon this week to support Jane Park and her husband, LPGA caddie Pete Godfrey. Their daughter Grace is in an ICU in Dallas, suffering from seizures due to swelling in her brain.
"I know Jane and I also know Pete very well, so it was really, really sad to hear the condition of her little baby," Hataoka said. "I'm just going to wish them the best for them and hope that we can meet up again."
Hataoka now takes the two-hour drive to Midland, Michigan, for the Dow Great Lakes Bay Invitational to play alongside Lexi Thompson. It's her final start on the LPGA before the Tokyo Olympics, as the four-time winner opted out of playing the Amundi Evian Championship to focus on her biggest goal.
"It was really hard decision for me whether to play Evian or not," Hataoka said. "Because Olympics was my dream to be able to play in it, I decided to go back early and get ready for the Olympics."