Editors Note: The following is a feature written by Golf Digest's Ron Sirak published in June 2009. Whitworth, the LPGA Tour's all-time leader in wins with 88, died on Christmas Day 2022. 
The main dining room at Trophy Club Country Cub outside of Dallas gazes upon the rolling hills and old oak trees through which two courses meander, one named for the club's most famous member, Kathy Whitworth, the other the lone design by the icon of Texas golf, Ben Hogan.
Inside the dining room the wall opposite the windows appears at first to be a shrine to the rich golf history of a state that gave the game Hogan, Byron Nelson and Babe Zaharias, among others. The glass case running nearly the length of the room overflows with the spoils of victory.
But closer inspection reveals the hardware was all earned by just one daughter of the Lone Star State—Whitworth—whose 88 LPGA victories are the most ever on a professional tour, eclipsing the PGA Tour record of 82 shared by Tiger Woods and Sam Snead. Fifty years after a rookie season in which she averaged 80.30 strokes a round, won only $1,217 and came within a hairsbreadth of quitting, Whitworth stands alone as golf's greatest winner. But the trophies that fill the shelves represent more than victory on the course; they symbolize the lifelong demands Whitworth made on herself to master the game she loved.
What started as a plan concocted around her family's kitchen table in Jal, N.M., a company town so far in the southeast corner of the state that it is almost in Texas, ended up being a blueprint for greatness, albeit one that needed years to pencil in all the lines. There was reason during Whitworth's first few pro seasons to think she was never going to win at all, let alone set a record that may never be broken. If there is a lesson from Whitworth's odyssey it is this: Do what you love, commit to it completely and learn from your mistakes.
"I was really fortunate in that I knew what I wanted to do," Whitworth says on a crystal clear morning, the sun streaming across Trophy Club and into the dining area that celebrates her career. "Golf just grabbed me by the throat. I can't tell you how much I loved it. I used to think everyone knew what they wanted to do when they were 15 years old."
That love affair survived a bumpy beginning and endured near financial ruin. Now, less than three months from her 70th birthday, Whitworth graciously fills the role of living legend at Trophy Club. She poses for photos with strangers, and members engage her in good-natured banter as if conversing with a neighbor across the back fence. Whitworth, who lives a short drive from the course near Dallas, plays little now except for occasional exhibitions and clinics.
"Basically, I live off my laurels," she says with a hearty laugh that frequently punctuates her conversations. "I certainly don't play that well anymore, but I still get a big kick out of it. You hit a good shot and you think, 'Ah!' but it goes away."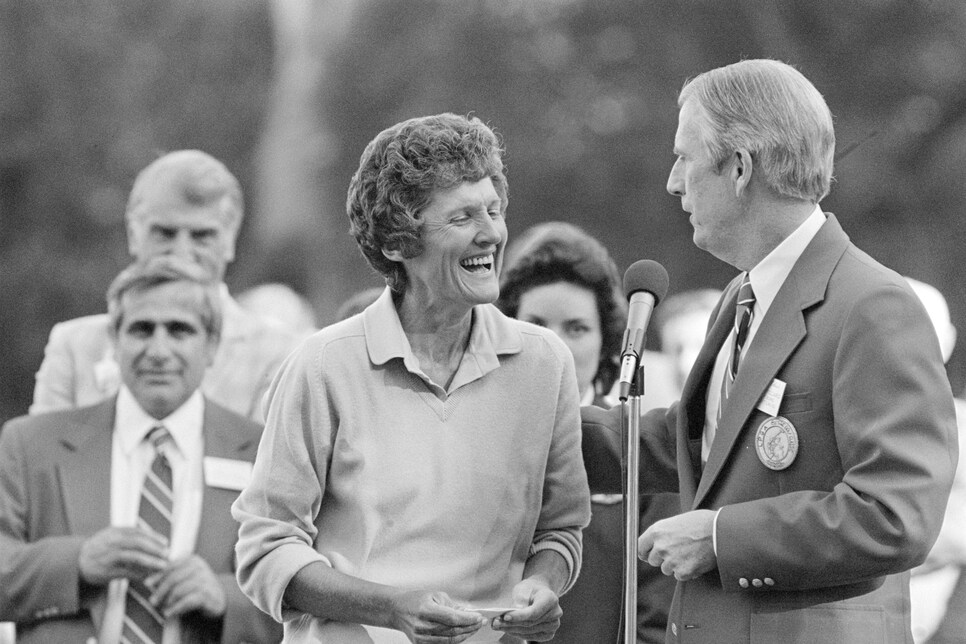 (Original Caption) Paramus, N.J.: Kathy Whitworth celebrates winning the 1981 Coca-Cola Classic LPGA Championship at Ridgewood Country Club in New Jersey.
Bettmann
Like Jack Nicklaus, who is four months younger, Whitworth's domination crossed generations. Both won at least once a record 17 consecutive years. Nicklaus started in the Arnold Palmer/Gary Player era and extended through Lee Trevino and Tom Watson into Seve Ballesteros and Greg Norman. Whitworth began against Mickey Wright, Louise Suggs and Betsy Rawls and finished with Nancy Lopez, Betsy King and Beth Daniel. Along the way she tussled with Carol Mann, Judy Rankin and JoAnne Carner—a Hall of Fame roster.
And if the achievements of Nicklaus or Whitworth need further validation, it resides in the what-might-have-been bin. Nicklaus won a record 18 professional majors, and he was second 19 other times. In addition to Whitworth's 88 victories, she was runner-up a staggering 95 times—183 top-two finishes. In hindsight, all those second-place finishes bolster her reputation as a fierce competitor. But for nearly four years the near-misses led many to wonder if this raw talent would ever learn how to win.
Still a woman of athletic features stretched over a 5-foot-9 frame topped by a shock of stylishly short white hair, there remains a small-town directness about Whitworth, who was born in Monahans, a tiny dot on the west Texas map. Her parents owned a hardware store in Jal, where she grew up as the youngest of three daughters and learned golf with her grandfather's clubs on the nine-hole course built for employees of El Paso Natural Gas.
When Whitworth talks about golf, it is with a passion that explains what drove her to success. When discussing a long-ago shot—"a knock-down cut 2-iron from 160 yards into a howling wind" over water to a back right pin to beat Hollis Stacy—her eyes sparkle as if seeing the ball in flight. "Winning never got old," says Whitworth, grateful she had the opportunity to develop a love affair with golf by learning on the course rather than on a practice range. "A lot of young players today don't have that chance. They can go hit balls, but they don't have the chance to just drag the bag along and learn how to play."
Her first teacher was Hardy Loudermilk, the pro at Jal, who was friends with Austin's Harvey Penick. When Whitworth was 17 Loudermilk introduced her to Penick. "Hardy and Harvey would talk on the phone," she says, "and Harvey would tell him what I was working on and what to look for so Hardy became a surrogate, so to speak."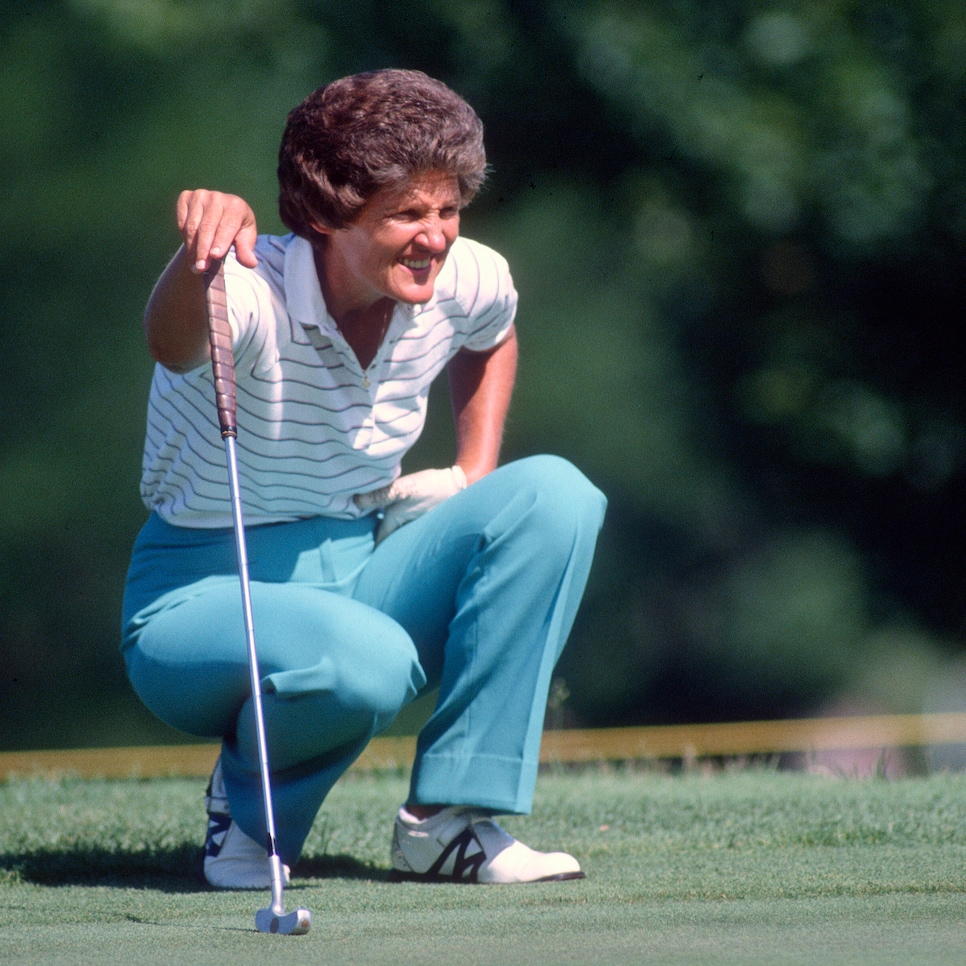 Kathy Whitworth lines up a putt, circa 1990.
Focus On Sport
Two years after taking up the game at age 15, Whitworth won the 1957 New Mexico Women's Amateur, a success she repeated the next year. "Mickey [Wright] and I played an exhibition with her in Roswell, N.M., and she was this teenager and green, just starting out in golf," remembers Betsy Rawls, who also studied with Penick and won 55 times on the LPGA Tour, including four U.S. Women's Opens. "We never thought we'd see her on tour because she was just so unpolished. She learned to play on tour, and she learned it very well."
But the on-the-job training against the best women a mere five years after first picking up a golf club involved a lot of losing. Fortunately, her father and a couple of local businessmen agreed to subsidize Whitworth's career at $5,000 a year for three years. If not for that cushion, the game might have been denied one of its greatest players.
"I almost quit because I was playing so bad," Whitworth recalls of her rookie year of 1959. "I went home after being on tour three or four months, and I thought, 'I just don't know if I am good enough.' I was talking to Mom and Dad around the kitchen table, which we usually did, and they said, 'Well, you have three years. If you don't make it, just come home and we'll do something else.' When they said that, it kind of took the pressure off me."
Her attitude relaxed, Whitworth won her first check at the Land of the Sky Open in Asheville, N.C. "Thirty dollars," she says. "Tied for last-place money, but you would have thought I won the tournament."
But there were five second-place finishes and 3½ years on tour before Whitworth claimed her first victory, at the 1962 Kelly Girls Open. "I really didn't win it," she says with typical self-deprecation. "Sandra Haynie three-putted the last hole and gave it to me." Whitworth notched six more runner-up finishes before she got her second win at the Phoenix Thunderbird Open later that year.
If a career could ever be reduced to one shot—and it is never that simple—it was the approach Whitworth hit on the final hole at Phoenix. "I point to the second [victory] as the one that made the first one not just a fluke," Whitworth says. "It boiled down to Mickey and I the last nine holes, and Mickey was playing behind me. I wasn't sure what the spread was [because there was no leader board], but I made a decision to go at the hole. The pin was stuck behind a trap. I thought, 'If I am going to [win], I can't back away.' So I whipped it in there about 15 feet and made the birdie."
Whitworth won by four strokes. "That gave me a lot of confidence to think that I could play knowing I was in contention," she says. "I didn't have to back away." The next year she won eight times. Seven times in her 33-year career, she won seven or more times in a season.
"She just had to win," says Rawls. "A lot like Mickey Wright and Louise Suggs. There's just something that drives them. Kathy was a very intelligent person. It was unacceptable for her to make a mistake. She hated herself when she made a mistake. She was wonderful to play with—sweet as she could be, nice to everybody—but oh, man, she berated herself something awful. And that's what drove her."
From her maiden victory to her last, the 1985 United Virginia Bank Classic, Whitworth drove herself relentlessly. Everyone who crossed paths with her on the course has stories about how Whitworth beat herself up, carrying on a running dialogue with herself about how she didn't deserve to be a professional golfer. The standards Whitworth set for herself were unreasonable to everyone except her. "From 100 yards in she wasn't trying to get it close, she was trying to hole it," says Greg Sheridan, who caddied for Whitworth late in her career. "If she didn't hole a bunker shot, she'd tear that bunker apart."
She was a master at getting the ball in the hole. "She was the best putter I ever saw," says Rawls. "She had an interesting stroke. She took it way outside and looped it inside." Fellow Hall of Fame member Beth Daniel says Whitworth "could get up and down from anywhere. She was an amazing bunker player," something Whitworth attributes to the countless clinics she did for Wilson Sporting Goods.
Whitworth started in an era of 35-player fields competing for $7,500. "When I went on tour in 1959, all you had to do was send in an application and 25 bucks," she says. It was not unusual for members of the host club to pop onto the course behind the last tee time. Players traveled by car, stayed in cheap hotels or with local families and did all the bookkeeping, scheduling and promotion for the tour themselves.
"I'm glad when I look back on it that I didn't succeed right away," says Whitworth. "When it happened, I was ready. I think some people win without even knowing how they won. I had lost some playoffs, I had come close a few times. You have to learn how to win. You learn by making mistakes and analyzing the round after the tournament and thinking back and saying, 'Ah, I should have … ' "
In 1981 Whitworth became the first LPGA player to pass the $1 million mark in career earnings. That same year she made perhaps her most painful mistake when she put her life savings—several hundred thousand dollars—in Technical Equities Corp., an investment firm based in California. Five years later the firm's stock plunged, and it went into Chapter 11 bankruptcy. In 1988 its president and founder, Harry Stern, pleaded guilty to fraud and was sentenced to five years in prison, but that didn't get Whitworth her money back.
Nearly broke, she regained her financial footing through an endorsement deal with Château Élan, a resort near Atlanta, by coordinating a school for Japanese junior players and by taking on any outings, clinics or speaking engagements that came her way. "That was a nice piece of change," she says about the Château Élan and Japan deals. "It kept me afloat, and it kept my name out there."
It is a name so synonymous with winning, many over- look the struggles along the way. Whitworth was simply a grinder who never gave up, on or off the course. "I think Mickey had the best swing, and was probably the greatest golfer," says Rawls, "but Kathy was the best player of the game that I have ever seen."
The Trophy Club display sits in silent affirmation of that assessment, a fitting destination for an odyssey that began around that kitchen table in Jal and was always about substance over style.