[PHOTO: Andrew Redington]
On the surface, things were looking good for Danny Willett. At six-under par through 14 holes in the opening round of the BMW PGA Championship, the 2016 Masters champion seemed set to challenge the lead of Marcus Helligkilde. The Dane's morning eight-under 64 was, by two shots, the best score of the day.
Unfortunately, Willett knew better when it came to his prospects of making it to the clubhouse in one piece. As so often over the past few years, he was feeling a familiar dull ache in his left shoulder.
"I've got a tear in my left shoulder and it's gotten bigger," Willett said by way of explaining what happened next—five dropped shots over the last four holes.
"That's the problem. It's why I pulled out [of the Irish Open] last week," Willett said. "I had an MRI earlier this week and that showed the tear has doubled in size. I hit balls on Tuesday for half an hour. Then again for half an hour yesterday. I couldn't play in the pro-am. Then I warmed up today. That's all I've been able to do.
"In fairness, I felt pretty strong," he continued. "But when it goes, it goes. And it went on the 15th tee today, although I felt uncomfortable on the 14th tee. The tendon jumps over because the joint isn't sitting in properly. As soon as that happens, it feels almost like a dislocation. I did some press-ups out there in an effort to take away some of the stress and maybe get my rotator cuff stronger. But that's just a short-term thing."
@KylePorterCBS normal sport @Danny_Willett pic.twitter.com/mJoTbuyfai

— Alex Penwill (@AMPenwill) September 14, 2023
Indeed, it was increasingly obvious that Willett was struggling physically, as a succession of shots flew off in a variety of directions. He made a double bogey on the par-4 15th after hitting a wayward tee shot well right of the fairway. Another double came at the par-5 17th, where Willett's second shot nestled beside two trees. He tried popping the ball between them with his third, but failed to move the ball (see photo), then took an unplayable lie before scrambling for his 7. One last dropped shot came on the par-5 18th after again missing the fairway well right.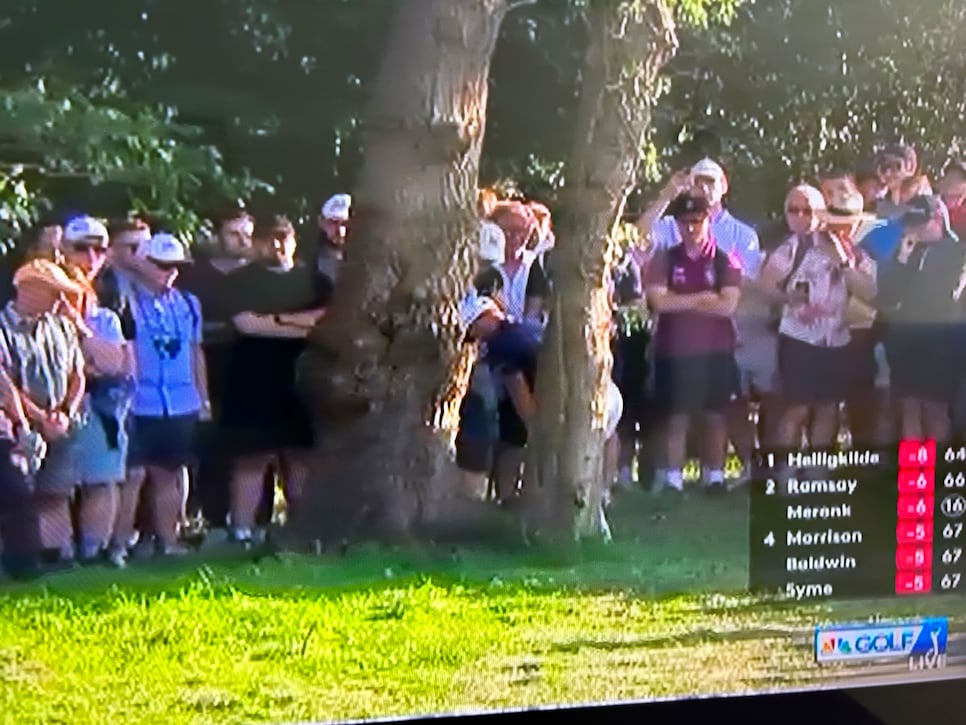 It was ugly stuff and a complete contrast to what had gone before. Seven birdies had dotted the 35-year-old Englishman's card over that opening 14 holes.
"It's a shame," he said. "If I'm healthy and my movement is alright, I can play. I'm going to be talking to a surgeon on Monday. Potentially, that's what it is going to take. The tear has doubled in size over the last nine months. It all stems from just playing golf. I've had this for a few years. We've actually managed it pretty well with rehab. But I just can't do everything I want to do, which is why the past few years have been a bit slow. I can't practise like I want to practise, and I can't train like I want to train. It felt really s–t last week. And the reason for that is it is getting bigger. I'll see a specialist in Manchester on Monday. I'd guess I could be out for six-nine months."
More immediately, Willett's further participation in an event he won in 2019 is in some doubt. But he left at least hopefully he could make it to the first tee on Friday.
"I'll see about tomorrow," he said. "I'm going to train for a bit this evening, then again in the morning. To see if I can get it strong enough. And, fingers crossed, get through more than 14 holes. And yes, I was surprised to be six-under par after 14. My wife drove down here this morning. So did my father-in-law. I told them it might not be. But I gave them something to watch for a few holes. It's frustrating. For the first time in a while I feel like I'm swinging it well. I just haven't been able to put in any time. I save it all for the golf course. Today was typical. After ten holes I was thinking it was maybe going to be alright. Then it happened and I couldn't."
This article was originally published on golfdigest.com