By virtue of his nationality, there have always been plenty of firsts in the career of Adrian Meronk. So far he is the first golfer from Poland to represent Europe in the Palmer Cup, first to reach the semi-finals of the British Amateur Championship, first to win on the US college circuit (while at East Tennessee State University), first to win on the European Challenge Tour, first to play in a European Tour event, and first to hold a card on what is now the DP World Tour.
But the biggest first happened overnight. Courtesy of a closing-round 66 at the Mount Juliet Estate course in picturesque Kilkenny, Meronk is the Irish Open champion and, now, the first Pole to win on the DP World Tour. Expanding on his one-stroke overnight advantage, the 29-year-old finished with a 20-under 268 for the week, three shots clear of New Zealander Ryan Fox.
In truth, Meronk's victory is no real surprise. In 12 previous starts on the Old World circuit in 2022, Poland's greatest-ever golfer had already had six top-six finishes. He was a man whose time looked like it was coming soon. And, as things turned out over a final round in which as many as eight men were at one point within a shot of the lead, that assessment proved correct.
"This is such a relief, to be honest," said Meronk, who played the last four holes in four-under par to clinch the $US1 million first-place cheque and move into the world's top-100 for, you guessed it, the first time. "I've been coming close a couple of times this year, so to finally open the door is a dream come true. This is what I practise for every day. I'm super happy."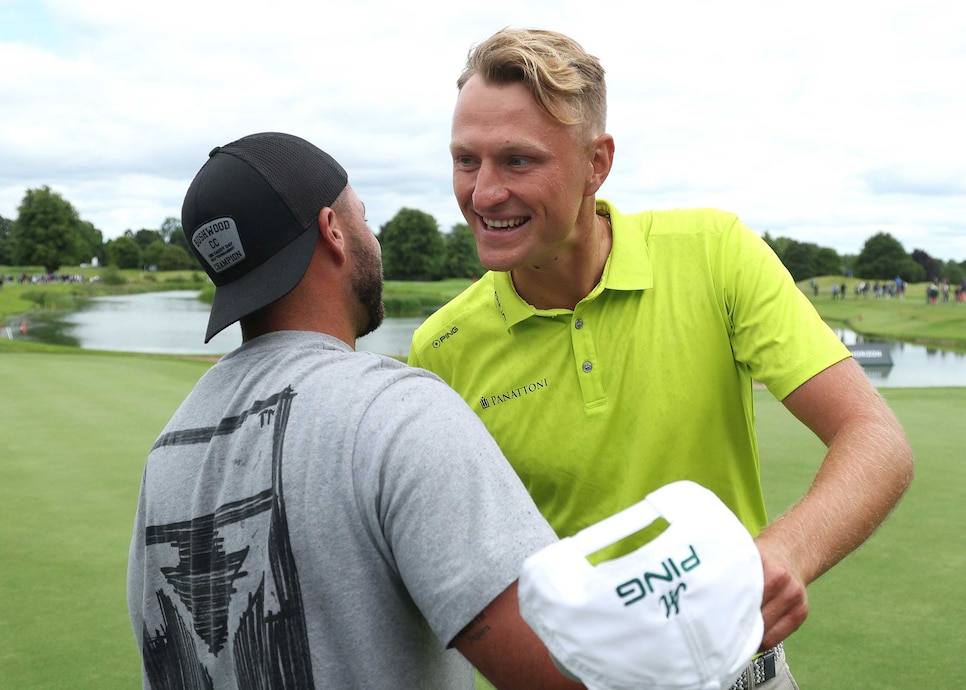 Meronk also had some words for his role-model status in his homeland.
"I love it," he continued. "I'm not going to stop going forward. This is just another step for me. But it is special to win in a place like Ireland, which has such a great golf history. It was such a relief to make the eagle putt on the [par-5] 17th. I can't really describe it. I was imagining this picture last night, what it might look like on the 18th hole, and it was just as I thought it would be. I was just trying to enjoy the moment. I knew I had to make a couple of good swings on the last hole, so to hit such a good shot to the 18th green makes me super proud. When it landed, I knew that was it."
RELATED: DP World Tour fires back at LIV Golf players' legal threat in scathing open letter
Amid Meronk's understandable excitement, some sympathy is due to the runner-up. Like the man who defeated him, Fox was due. Overdue really. But four years on from losing a playoff to Russell Knox in almost the cruellest manner possible – the Scot holed from about 40 feet on the 72nd green to get into a playoff, then made another putt of similar length for the victory on the first extra hole – Fox again came up just short in the Irish Open. Still, his closing 64 was the low round of the final day and further evidence of the form that has seen him shoot par or better in 43 of his 52 rounds on the DP World Tour this year. Winner of the Ras al Khaimah Classic in February, Fox now has six top-10 finishes, including three seconds, in nine starts since.
A little further down the leaderboard, there were smiles all round for the diverse trio who tied for fourth place, five shots behind the new champion. Scotsman David Law, American John Catlin (the 2020 Irish Open champion) and Fabrizio Zanotti of Paraguay claimed the Open Championship spots available to the three leading players in the top 10 not already exempt for the 150th playing of golf's most historic event.
Just one last thing. No Pole has ever played in a Ryder Cup. No prizes for guessing who might be the first.
TOP/MAIN PHOTO: Richard Heathcote