There's no harder transition to make in golf than the jump from the college ranks to the professional level. Even when you're one of the best amateurs in the country, like Andy Ogletree was.
Ogletree won the 2019 U.S. Amateur, then finished low amateur at the 2020 Masters. But golf can be a cruel game even at the best of times, and it was only after he turned professional that Ogletree bore the brunt of that hard truth.
A nasty hip injury sidelined him for months during the early part of the following year, in 2021. When Ogletree came back, his game was rusty. He missed out on Korn Ferry Tour Q School, which meant he ended the year without any status on any major tour. When LIV came calling, it was his only option. He played the first event in London, then spent the ensuing months plying his trade on the Asian Tour.
https://twitter.com/andy_ogletree/status/1379259334329307139
"I joke that I'm a full-time traveler and part-time golfer at this point," he said. "I'm the best airplane sleeper there is. I take a little melatonin, maybe a glass of wine, and I can just pass out."
It was a longer journey than the Mississippi-raised Ogletree thought he'd take, but it was worth it: Two years on from his comeback, Ogletree won three times on the Asian Tour, and is now all but certain to win Asian Tour's International Series Order of Merit winner. He'll earn a LIV tour card in the process.
It's an inspiring comeback not just because of the journey it took, but also because Ogletree re-introduces himself with a game that in many ways, has been upgraded across the board.
"He's a more complete player now," his coach, Golf Digest top 50 coach Tony Ruggiero, said. "He's a smart kid. I'm so impressed by his game and his attitude."
Here's four things Ogletree learned a long the way … 
1. Get 'obsessed' with your iron game
Golfers tend to get laser-focused on two specific areas of their game: their driving and their putting. It's for good reason, too.They're obviously two hugely important areas of the game. Ogletree says he spent most of junior and college golf focusing on those two areas, too. But his breakthrough only came when he started getting obsessed with something else: his irons.
"Growing up, I didn't like hitting balls, I didn't like going to the chipping green, didn't like putting, I just wanted to play golf," he said. "In junior golf you can kind of drive it and putt your way around, but when you're playing at a really high level of competition, you can't really fake it around golf courses."
There's a lesson in there for amateur golfers. Your ability to hit greens is the biggest predictor of your overall score. So rather than sweating over an extra couple of yards with your driver, prioritize solid contact with your irons.
2. Know when to attack the pin
When Ogletree first came on tour, he hit a left-to-right fade on almost every shot. He quickly realized that wasn't going to work in professional golf.
"When a pin is three paces off the left of the green with water left, you're not going to try to hit a cut at that pin," he said.
That is simultaneously good advice for amateur golfers and some revealing insight into how Ogletree upgraded his game.
For amateurs, there are just certain pins you shouldn't go for. Aim away from trouble and play for par. If you hit a fade, the only pins you should really consider chasing are when they're situated on the right side of the green.
"A lot of amateur golf is about knowing how to avoid bogeys," he said.
You can get far that way, Ogletree says. But for pros, they simply don't have that luxury.
"In pro golf, you have to draw it and fade it into slopes to access different pins," he said. "You need to go super low to win these events, which means you need to have some tap-in birdies throughout the week. Shaping the ball to different pins and working it up against the winds; it's the artistic side of the game I've gotten really obsessed with."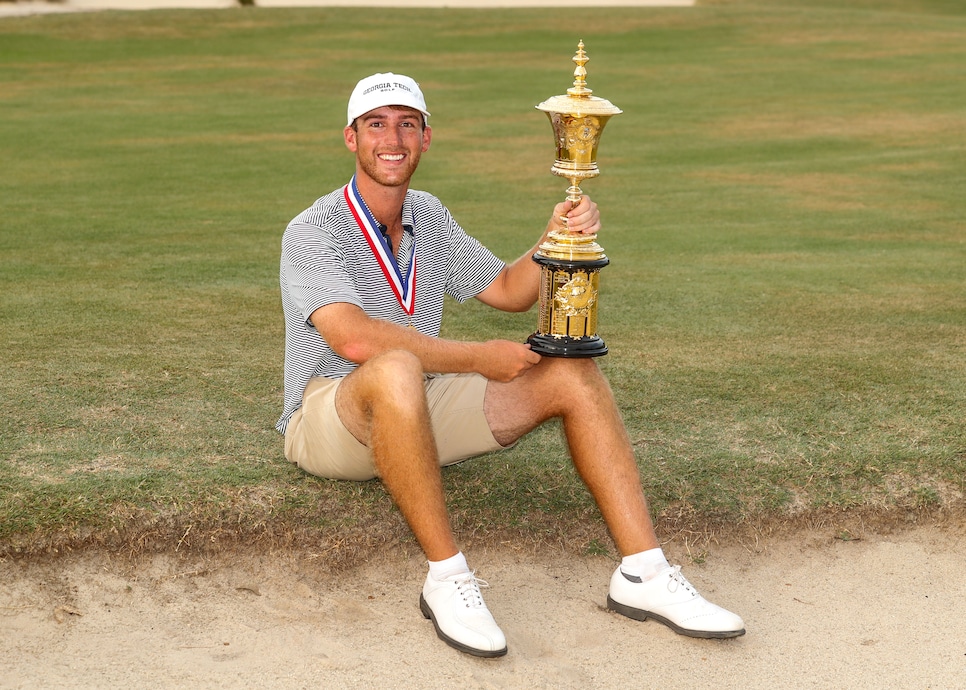 Copyright USGA/Chris Keane
3. Learn the low-tee, get-in-play driver
Knowing how to hit different shots is something Ogletree learned to do a lot more of not just from the fairway, but off the tee. On holes he knows he needs to keep the ball in (or close) to the fairway because of trouble lurking, Ogletree tees the ball down a little lower and tries to chase a lower shot down the fairway.
"I used to try to hit a high bomb on every hole. I was always trying to ride the wind to get the extra 10 yards, 15 yards out of it," he said. "I've taken my driver ball flight a lot down, my miss has become a lot smaller, and I feel like I'm just in play on more holes."
Ruggiero agrees, and says that tee-it-low shot is one the rest of us can and should use, too.
"Teeing your driver a little lower is great advice for a lot of amateurs," he says. "It'll bring down the ball flight and oftentimes help them cover the ball a little more with their body as they swing through."
4. Perfect your pivot
Oftentimes when a professional athlete suffers an injury, the biggest obstacle to their revovery isn't physical, but mental. Their body recovers from their initial injury, but their mind is afraid of experiencing the pain all over again.
That was the case for Ogletree following his left hip injury.
"I just wasn't comfortable getting into my left side as much as I wanted to," he said. "It took a lot of time to really trust that it was going to feel good."
In technical terms, Ogletree said that by avoiding shifting into his lead hip on the downswing, he stopped shifting on the backswing. After bouncing around coaches for a while in search of the solution, he called up Ruggiero, who helped him to his U.S. Amateur victory, to "get the band back together."
Ruggiero worked closely with Ogletree's trainer, Kolby Wayne, and worked on helping Ogletree load into his trail hip more on the backswing.
"I think a lot of amateur golfers can learn from that," he said. "You need to load into your trail hip in order to get more rotation into your golf swing. Load and explode."
It took time, but now, Ogletree is better than ever. A player who has refined his natural gifts, understands his body, and has seasoned his game along the way. It took a winding road to get there, but now Ogletree's direction is clear. He's heading straight up.
This article was originally published on golfdigest.com