Brian Nilsson is a professional caddie. A good one too. The Thailand-based Australian has been employed on the European Tour for nigh on 25 years, the past 11 with former Ryder Cup player, Nicolas Colsaerts. So Nilsson knows his business. But he doesn't know everything, as he is quickly discovering during a brief sortie into the women's game. Having worked for compatriot Su Oh at the recent ISPS Handa World Invitational in Northern Ireland, Nilsson is also on the 2016 Olympian's bag this week at the Women's Scottish Open and will be again next week for the Women's British Open at Carnoustie.
Already, it's been an education for this veteran bagman, the thoughts that normally flow naturally through his experienced head often requiring adjustment. What works well for a male professional, sometimes doesn't for a woman. And vice versa. At the elite level, there are differences in the ways men and women play golf. They are, to coin a phrase, often two different games. "Most of the women don't generate the same clubhead speed as the men," Nilsson says. "So they also generate less spin. And the flight on their shots is generally lower and flatter, the ball releasing more after it lands. Where a male pro hits, say, a 9-iron and pitches it 150-odd yards, the ball will grip on landing. But when maybe 90 percent of the women hit a 9-iron, the ball will release on landing. Because they don't get the same spin." OK, so far so good. That all makes sense. But what difference does it all make in practical terms? How much of an advantage do the men get from their generally greater strength and clubhead speed?
The answer, as it turns out, isn't as straightforward as you might think. Yes, most men have a distance advantage and so can hit shorter clubs into greens, but the adjustments they have to make in a wind are sometimes harder to compute. An example:
"Here's the thing," says Nilsson. "In Ireland [with Oh], we came to a hole that was playing really strongly downwind. We had 145 yards to the pin and were trying to land the ball 137. From there, it would run to the hole. I asked Su what the 137 yardage was playing. I reckoned it was maybe a two-club wind. She said it was playing about 130. I was shocked by that. I couldn't believe it. Only seven yards of help? In this strong a wind?
"So she selects her little 9-iron, hits it perfect and has a putt for birdie," continues Nilsson. "Once I thought about it, that made sense. Because she generates less spin than I'm used to seeing, the ball doesn't stay in the air as long. So the wind has less of an effect on how far it goes. In that same situation, Nicolas would have been trying to pitch the ball close to the hole. But let's say he was trying to hit it 137, same as Su. Given the strength of the wind, he would have hit what we would see as a just over 100-yard shot. With a sand wedge."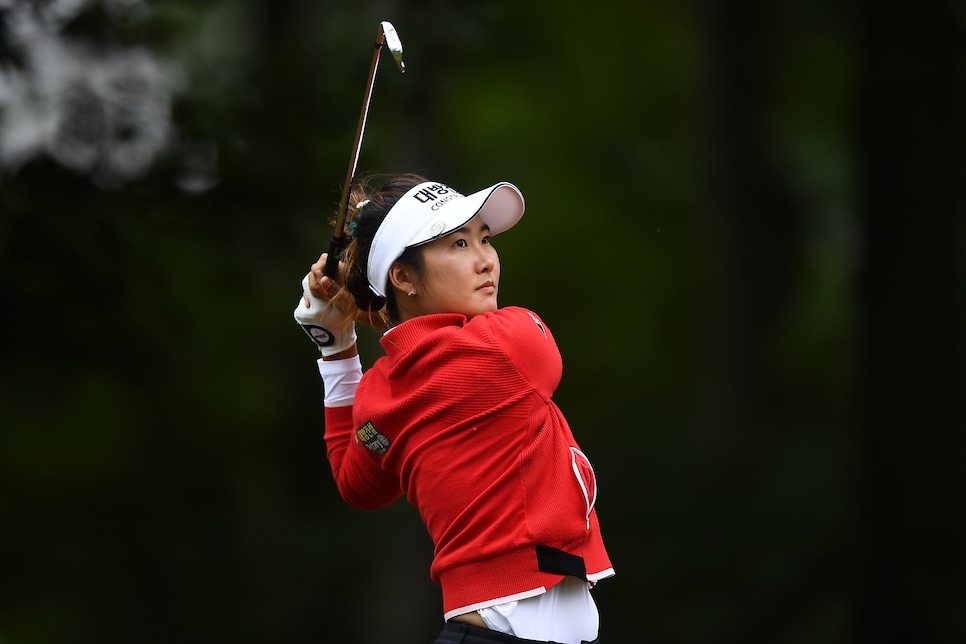 What about into the wind? As it turns out (and generally speaking), women again have something of an edge when it comes to picking the right club.
"Because the women hit their shots flatter and with less spin, they get more penetration," Nilsson says. "Their shots go through the wind better. On, say, a 110-yard shot, most men would be hitting the club that usually sends the ball 125 yards. But the women don't have to allow nearly that much. Their yardage adjustment is a lot less, so their club selection is more straightforward."Through this learning process, Nilsson has understandably made mistakes. Applying the thought processes he has used for years on the European Tour hasn't always turned out to be the best policy. Again, the key factor is the amount of spin that women can create on their shots compared with the men. Another example:
"There was a par 3 in Ireland where there was an obvious pin position behind a bunker," he says. "Right away, I could see that becoming a bit of an issue if the hole played downwind. And it did. On the day we were there, it was 139 yards to carry the bunker, then seven yards from there to the pin, then seven more to the back of the green. I knew Su couldn't carry the sand with her 9-iron. So she had to hit an 8-iron. At least that's what I told her, despite the fact that I knew it was unlikely that the ball would hold the putting surface. Which it didn't.
"Later, I thought about it more," he continues. "We actually played the hole the wrong way. We should have hit the 9-iron and aimed 30-feet left of the flag. That was the best option. Me sticking to my guns was a mistake. Su hit a nice shot. It pitched right by the flag. But the ball finished over the green. That was my fault. We should have gone left. All of this is a big adjustment for me. But I'm fascinated by it. And the next two weeks we are playing links golf. So the ball will be on the ground more than normal. That's another adjustment."
Not the biggest one, though. During his more-than-a-decade stint on the Colsaerts bag, Nilsson has yet to see anyone longer with irons than the Belgian. And the next couple of weeks won't alter that fact. Oh hits her 6-iron about 165 yards; Colsaerts hits his 203. Some things about golf's gender divide never change.
PHOTO: Andrew Redington