Scottie Scheffler stood on the 10th tee with one hand on his bag and the other on his hip, staring in the direction of a huge black canvas adorned with guidance in white. "You must play boldly to win," read the billboard, a quote attributed to the player, or should we say The King, whose namesake drapes this event. If Scheffler saw the directive, however, he did not take it, and that was the right call, for this day called for something else.
Bay Hill had gone from brute to bully with a set-up that delivered pain and, as some players grumbled, unwarranted punishment. What decided this Arnold Palmer Invitational wasn't merely playing boldly, but rather having the mental power to be undisturbed by the volatility that engulfed every shot… and bounce… and roll… during the chaotic final round. Which is how and why Scheffler leaves as its champion.
RELATED: Lucas Herbert rockets up the Arnold Palmer Invitational leaderboard with stunning final round
"To be completely honest with you, right now I'm exhausted," Scheffler said after a one-shot victory over Viktor Hovland, Billy Horschel and Tyrrell Hatton, the 25-year-old looking very much in need of an ice bath and perhaps a cold one or three. "I'm very pleased I didn't have to play any extra holes today."
It was not pretty. Nothing about this weekend at Bay Hill was pretty. Prize fights usually aren't. Scheffler won with a final-round 72, the highest finish by a winner of a non-Major on tour since Jon Rahm shot a 75 at the 2020 Memorial Tournament. His five-under par 72-hole score was the highest in relation to par since Rahm won the 2020 BMW Championship at four-under. And Scheffler's 283 total is the equal-second-highest winning score on tour since the start of the 2014-2015 season, behind the 284 from Tyrrell Hatton at the 2020 API and alongside the 283 from Danny Willett at the 2016 Masters.
Just two players broke 70 on Sunday while 18 posted scores of 78 or higher, including an 87 by Troy Merritt. For the third straight year, the final-round scoring average exceeded 75. Bay Hill boasted the highest round two, three and four scoring averages to date in the 2021-2022 season, and its 73.88 overall average is the tour's highest mark by a whopping two-and-a-half strokes this year. If that's the identity tournament organisers are going for, well, they may want a second opinion.
"I feel punch drunk, to be honest," Rory McIlroy said after a 76-76 finish. "The weekend, it's like crazy golf. You just don't get rewarded for good shots."
McIlroy wasn't wrong. Yes, Arnie's place calls for accuracy off the tee and brings the hammer on anything less than perfect. The rough was rough. There were also plenty of approach shots that were solid until they weren't. A shocking number of balls plugged in bunkers, pins were placed in spots reminiscent of superintendent's revenge outings, and greens got so dry they were 50 shades of anything but green. Making matters worse was the wind couldn't make up its mind. Starting, stopping, blowing strong and blowing light, going this way, then that. It was like trying to dance with a DJ changing songs every five seconds.
"There's not a lot of friction on the greens, and with the way the wind is blowing, any little bit of a gust has such an extreme effect on the golf ball," Scheffler said. "It's so difficult."
Scheffler called it "a complete beatdown". Hovland said the conditions turned the tournament into a "scrambling contest" on Saturday night, which is as close to damnation as the polite Norwegian gets. McIlroy was visibly frustrated multiple times today, and despite being a past winner there's certainly a sense he was not keen on getting in an 'emergency' nine on Sunday.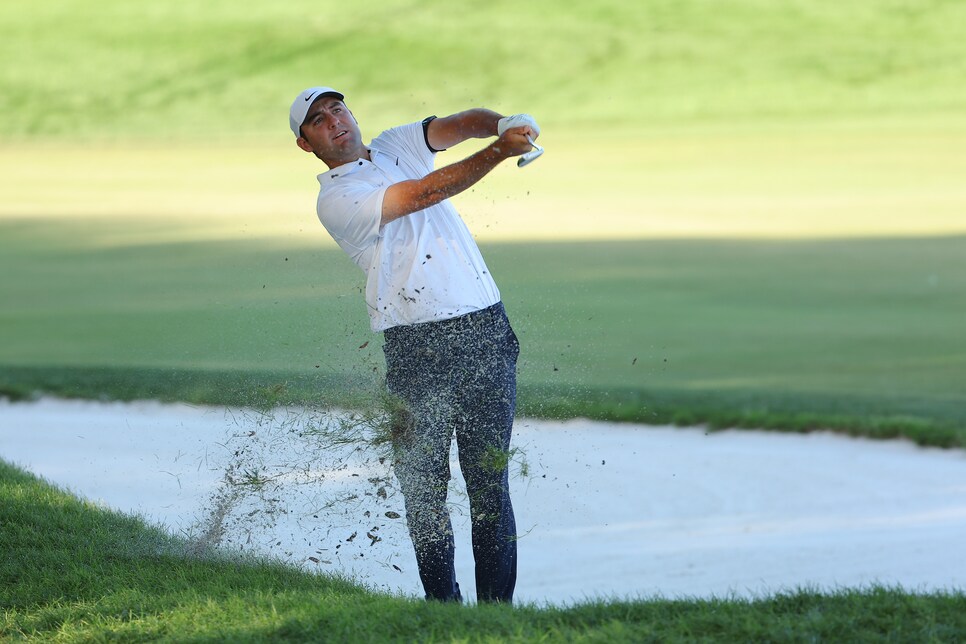 "Yeah, they need to do something about it," McIlroy said when asked if players should think twice about signing up for future APIs. "There's a lot of guys that sort of stay away this week to get ready for [the Players Championship] next week. Next week [has] become such a big event, $20 million purse. The four Majors are sacred in this game, but it's very close to being among them with the way it's going… I think it's just a golf-course setup issue and maybe just trying to make it a little less penal when you miss, I guess. Or not even less penal when you miss. I don't mind golf courses being penal when you miss, but it's not rewarding good shots. I think that's where it starts to get across the line."
RELATED: Last-day carnage at Bay Hill includes co-leader three-putting from three feet
In all due respect to Mr Palmer, forget bold; on an afternoon like this you're just trying to make it to the clubhouse with limbs attached.
Maybe that's why Scheffler was the one left standing. Yes, on a tour not short on talent, the Texan is among its most skilful, possessing the power and precision and touch that allows for few if any holes in his game. He is also among the most even-keeled customers in the twentysomething bunch, belied by his imposing stature. Scheffler is very much – in the parlance of a nice and Ketel One-upped gentleman by the 11th tee – "one bad hoss". It's often impossible to tell how Scheffler is playing because the man runs cool, forever and always.
"I think I'm pretty fiery on the inside," Scheffler said. "I just… when you get on such difficult golf courses like this, you just have to kind of keep your head down and know that mistakes are going to come. You're going to get bad breaks, you're going to hit really good shots that turn out really bad. And it's just stuff that can happen out here just because the golf course is so difficult.
"Today and really all this week I did a good job of kind of fighting back, really just kind of battling the golf course the whole time."
It is a disposition that allowed Scheffler to shrug off three bogeys on the front and a missed nine-footer for birdie at the 10th. He had one of those "nice swing… oh wait" approach shot on the 11th, his second shot seemingly flag-high only to ricochet off the back. He saved par, but Hovland made birdie to take a two-shot lead, and though Scheffler bounced back with a birdie at the par-5 12th, it felt like a stinger given he faced a 20-footer for eagle.
However, Hovland made 5 on the 12th and three-putted the 13th to make things all squared at five-under. That's how it remained heading to the 15th, and if you're looking for beauty in the ugly, Scheffler's next two holes will do the trick. At 15, he tried to hit a cut but his ball stayed straight, his ball settling behind a tree in a pile of pine needles. Unfortunately for Scheffler he caught more pine needle than ball, his second travelling no more than 20 paces.
"I was trying to hit like this low-hook runner and get up there around the green somewhere," Scheffler said. "I don't know what happened. It just didn't come out. There was pine straw in front of me that I couldn't move. There was a leaf behind my ball… I thought I'd hit it at least through the fairway."
But his third managed to find the putting surface some 20 feet from the cup, and he cleaned that 20 feet up for authority to stay afloat.
The par-5 16th was supposed to provide a respite, one of just three holes playing under par today. Only a slight miss off the tee ended in the worst of ways, Scheffler's ball finding a brutal lie in the bunker. "It was a pretty big penalty for not that bad of a shot," Scheffler said. His ball made it just 50 metres and the lie, though now in the rough, had not improved, having to lay up his third. With Gary Woodland dropping an eagle ahead to move to six-under, Scheffler needed an all-world scramble to remain one behind… which is what he did, knocking his fourth from 65 metres to six feet and converting the putt.
Woodland made a mess of the par-3 17th to the tune of a double-bogey thanks to needing two swings to get his ball out of a greenside bunker. It's the same bunker Hovland also found en route to a bogey. When it was Scheffler's turn, he found the safe part of the green and made a sensible lag to make par and take a one-shot lead. He replicated the feat at the closing hole, with Hovland and then Horschel missing birdie putts to tie. It was a sequence that won't make any highlight reels, yet it delivered a Peruvian Alpaca cardigan and a $US2.16 million cheque to Scheffler.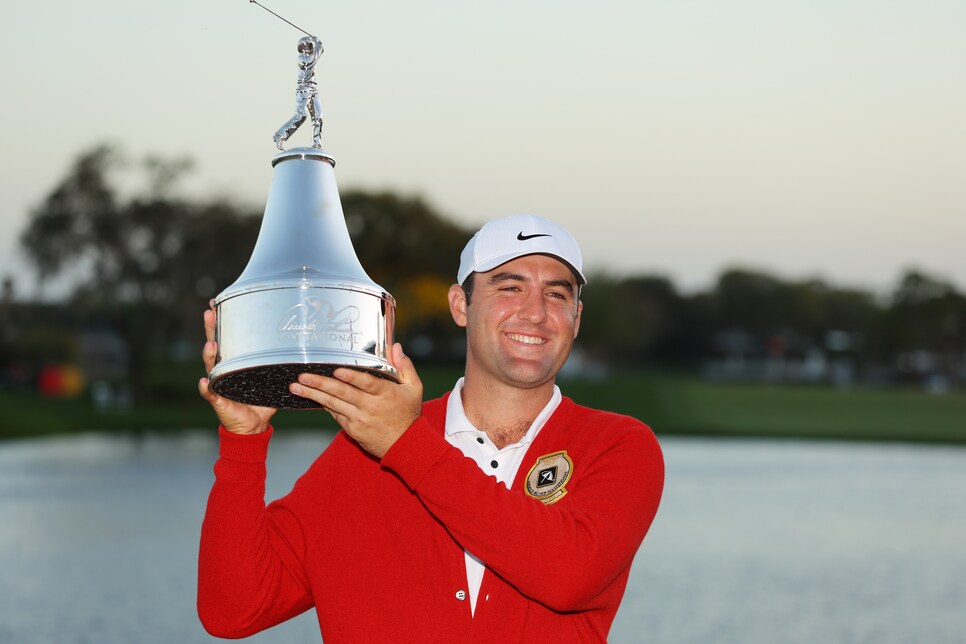 "It's not really a comfortable position having to hit it to 50 feet and try and two-putt with the lead," Scheffler said. "But I just trusted myself and played conservative the last two holes, and pars were good enough.
When a young player with such highly touted prospects like Scheffler wins – and wins in this way – it's easy to wonder what it says about who he is and where he's going and what it means. This is especially true since this is Scheffler's second victory in his past three starts and his sixth finish of T-7 or better in his past nine. He seems on the precipice of capital-S Stardom, a sentiment supported by the fact he has the chance to become world No.1 at the Players Championship next week.
That is all well and good, but Scheffler has no appetite for conjecture and rumination. He's a man who lives in the moment then promptly moves to the next. That wasn't always the case, however.
"I've gotten significantly better over the years at handling failure. I don't place my value in golf," Scheffler said. "It's kind of a tough balance because I spend so much of my time trying to improve and to be good at this game. You've really got to look at the motivation for why I play. For me, I have a relationship with Jesus Christ. That's why I play golf. I'm out here to compete because that's where He wants me. He's in control of what happens in the end. So just really staying the course and staying faithful and letting Him be the guidance for me versus anything that I do."
Scheffler said it with conviction and said it because it's true. Perhaps permitting the past to stay in the past is what makes his future so bright. There is no defeating a man who has the confidence in what he's doing while understanding the context of where it fits.
Putting those pieces together at 25, to go with his game and gumption and grit, Scheffler does indeed have the makings to be one very bad hoss.