[PHOTO: David Cannon]
In the 43 Ryder Cups played before the latest edition this week at Marco Simone Golf & Country Club, only two have concluded in a tie. The first came in 1969, when the U.S. was regularly thumping, at the time, Great Britain, while the only draw in the 28-point era against Europe occurred at The Belfry in 1989.
So, by nature of the infrequency of such an outcome, the potential for a tie is rarely talked about. That changed somewhat in Italy this week because of what transpired last weekend in Spain, where the American and European Solheim Cup squads found themselves knotted at 14 points each on Sunday afternoon.
As the Europeans celebrated heartily on the 18th green, a casual observer might have wondered, "Why so happy when you didn't win?" The answer, of course, is that in these international competitions, the team that won the previous meeting gets to keep possession of the Cup.
You want the trophy back? Rip it away.
From the point of view of this edition's Ryder Cup players, ahead of what many project to be a very competitive three days, there is certainly debate about whether accepting a tie for such enormous events makes sense in a seemingly win-at-all-costs sporting landscape. Interestingly, the opinions somewhat were divided by Old and New World views—and maybe that's because Europe is the only team in the modern era to retain the Cup with a tie in '89, after it beat the U.S. in 1987 at Muirfield Village in Ohio.
"Fourteen-all? I love them whenever we won the last one," Irishman Rory McIlroy said to laughter during his formal pre-match interview.
"I think it's part of history and tradition. I was watching the Solheim Cup last week, and obviously there was huge celebrations when Europe got to 14 and retained the cup. And I thought to myself, Geez, they are celebrating a lot for a draw, and then I go back to Medinah in 2012, and we went ballistic when we got to 14 as well."
That was no tie, though. Europe pulled off an incredible turnaround that Sunday outside Chicago to defeat the U.S. 14½-13½.
In no surprise, the Europeans seem to value the history and tradition of the cup retention idea.
Ryder Cup 2023: Reporter's question comparing a tie to 'kissing your sister' floors Tyrrell Hatton
"I do like traditions of the game, and this competition has been around since 1927, and that's the way they have always done it," McIlroy said. "Does that mean that's the way they always have to do it? Probably not. But it's nice to keep some of the tradition around the event."
Englishman Justin Rose, who will play in his sixth Ryder Cup, said, "History is history. History is so important, I think. It's quite nice to wrestle it back fair and square. You have to win it to get the cup back."
Rose then brought up an example in cricket. As we all know, ties are more than acceptable in The Ashes.
"Retaining The Ashes is a big thing," Rose said. "You can have rain that can interrupt and cause draws and things. But retaining it, not letting the other team have the trophy I think can be a win; so, therefore, sometimes the tie is still relevant in my mind."
American Max Homa, a Ryder Cup rookie, probably knows little or nothing about cricket, but is a sports fanatic, and you can probably guess where he comes down on the subject.
"I've never liked ties. They don't make sense to me," he said. "The whole point of any competition is to see who wins. So, I do not like ties. I do not like the retaining thing.
"I understand it," he added. "I understand why they do it, but I'm not a fan of it. You have a completely new team, for instance, at the Solheim Cup, and they tied. Someone should play a playoff."
The Solheim result produced a number of ideas about how to settle a tie, from pitting two pre-selected players against each other in a playoff; or having multiple golfers play sudden-death; or requiring any singles matches that tied to keep playing.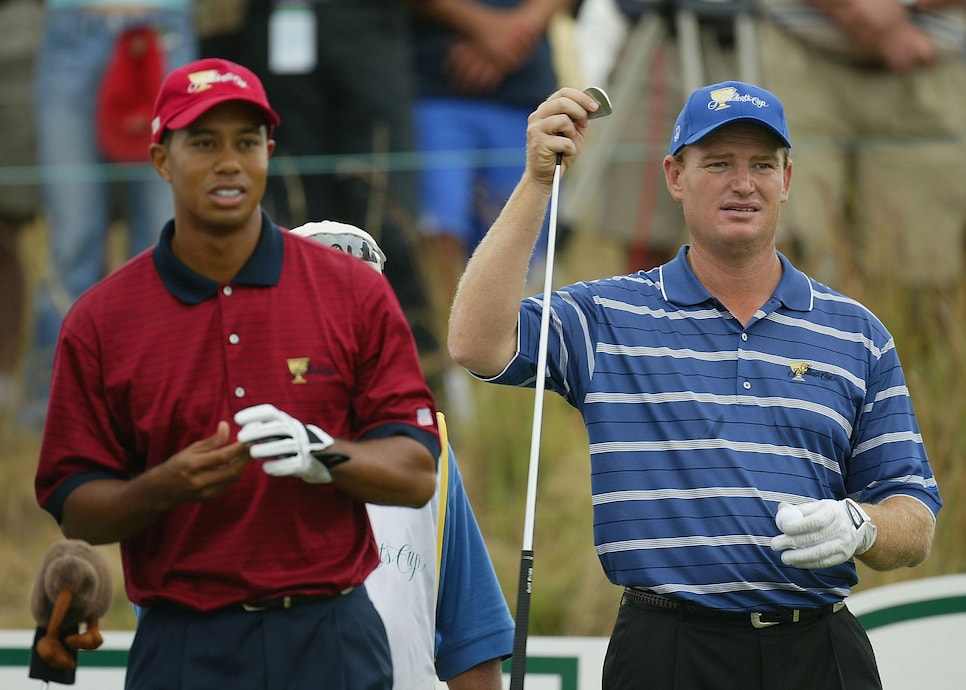 Homa, who has been watching a lot of film of past team competitions lately, recalled the 2003 Presidents Cup in South Africa where Tiger Woods and Ernie Els set out on extra holes to decide the winning team after they tied in regulation. But after they halved the three straight holes, they shook hands and called it a tie.
"I thought one of the most exciting things we've had, although it still ended in a tie," Homa said. "That was one of the coolest memories you could have of a team event. You would, I guess, crave more of that if possible, plus we don't tie very often in this thing."
Homa shrugged and concluded, "People much smarter than me would have an answer for that, but I don't know, just ties leave a bad taste in my mouth."
One European who is on board with a possible playoff was Englishman Tyrrell Hatton. His exchange with a reporter got off to a hilarious start when a reference was made to "kissing your sister".
"I don't want to know what that's like, what you referred to in the question," Hatton quipped.
More seriously, he offered, "I would say tying is probably not ideal. I think it would be quite interesting if there was a way of putting in like a playoff, if that was to happen. I think it would be pretty exciting for fans, and it would certainly create a pretty epic atmosphere.
"Maybe just having the tee-times starting a bit earlier on Sunday would allow for, I don't know, a nine-hole better-ball, two players best-ball sort of playoff format.
"So, I think that would be a lot more exciting than just that's a tie like, 'Oh, such-and-such retain the Cup.' I don't think that's the best thing."
The debate will go on, even in the European team room.
MORE FROM GOLF DIGEST @ THE RYDER CUP
• • •
This article was originally published on golfdigest.com