I can't promise impartiality, but I can promise honesty.
I've been supporting the European Ryder Cup team for as long as I can remember. I'm half English, and half American. I spent the first 13 years of my life in England, and learned to love the game over there.
Up-and-coming Englishman Justin Rose was my favourite player growing up, long before I became a golf editor who wasn't supposed to have favourite players. I wrote Rose a letter once when I was a junior golfer dreaming of becoming a professional golfer, asking him how he stops himself from getting too nervous during tournaments. He said he takes deep breaths and focuses on slowing down his tempo. He told me something similar this week.
Watching Rose at Marco Simone was an emotional experience for me. Seeing a player you grew up idolising, stepping up to meet the moment, and accomplish something incredible isn't something that happens often, but it's one of those beautiful moments that only sports can produce.
But my main role in watching Rose wasn't as a fan. He was also one of several players who provided invaluable insight into how to play the game better. Here's what I learned last week…
1. The art of fuelling your focus
In Rose's case, his incredible feat was making putts. When there was a clutch putt that needed making, Rose just kept making it, over and over again. His putts prevented an American point on Friday Foursomes. Then earned Europe's only win in Saturday Foursomes. Then salvaged a whisper of momentum at Europe's lowest ebb in Sunday Singles.
On paper he went 3-1-1, but I'm convinced: If Rose doesn't make all those clutch putts, Europe isn't winning the Ryder Cup.
HOW'S YOUR NERVE ROSEY!!! 🌹@JustinRose99 coming up clutch at the last!#TeamEurope | #RyderCup pic.twitter.com/6avIet26S4

— Ryder Cup Europe (@RyderCupEurope) September 29, 2023
What makes Rose's putting performance so inspiring is how much progress it represented.
Rose's putter used to cost him tournaments. It was the central flaw in his game. It took years not just of hard work, but consistent work. He built a unique technique around stripping away inefficiencies wherever they were. It transformed him into a kind of elite, putt-making robot.
Place that technical philosophy on the smooth surfaces of Marco Simone — "It's one of the most well-conditioned courses I've seen," Phil Kenyon, Rose's putting coach, said — and it reduces the role of randomness. Good putts roll true, bad putts don't; good putters thrive, bad putters don't. Rose made putts.
The putt and reaction from @JustinRose99 💪#TeamEurope | #RyderCup pic.twitter.com/3v8aRvx1XA

— Ryder Cup Europe (@RyderCupEurope) September 30, 2023
Nevertheless, big putts at Ryder Cups are made, above else, with the mind. When it was all done, I asked Rose a simple question: How did he keep making so many putts?
"Because I had to!" he said. "I just kept telling myself: 'You have to make this putt. You have to make this putt. You have to make this putt. It allowed me to tunnel into my own game, and focus on the basics."
There's an inherent inconsistency there. How do you focus on the basics and making the putt at the same time?
In some ways, it's that inconsistency which encapsulates the perfect match play mentality. A process of recognizing the reality of the situation, outlining the outcome you want, then shifting your focus on how you can make it happen.
JUSTIN ROSE 🌹#TeamEurope | #RyderCup pic.twitter.com/fgdGJrNehZ

— Ryder Cup Europe (@RyderCupEurope) October 1, 2023
"You have to use it as fuel," Rose says. "To use your emotions bring an extra level of intensity to your focus, and to your process."
2. A dastardly way of giving someone a putt
When Ludvig Aberg drew Brooks Koepka for Sunday Singles, it was the makings of a delicious potential storyline. The upstart European (alongside Viktor Hovland) helped dispatch Koepka and Scottie Scheffler 9&7 a day before. Could he humble Koepka again? I too was interested, so that's the group I watched during the early part of the round.
Brooks is, if nothing else, a winner, and he entertained no prospect of that. He dispatched Aberg 3&2. But I did notice Aberg do something fun on the first hole: After chipping up and missing his putt for par, Aberg scooped up his ball and watched Koepka prepare to hit his six-foot birdie putt. With two putts to win, Koepka glanced briefly at Aberg, presumably wondering if his short putt was good. Aberg just sort of stood there, arms crossed, looking passively at the green.
Brooks went through the motions of preparing to hit the putt then, the moment the 2023 PGA Championship winner crouched down and placed his ball behind the marker…
"That's good."
Brooks picked up his ball and marched off, mildly annoyed. Not a delicious storyline, but a clever and devilish piece of gamesmanship to store away for future use.
Some good/useful stuff from Aberg on driving today

"I tried to hit it as hard as I could and narrow it down a little after."

"Learning to hit the center of the face was a big thing…Hit it hard but keep it in the center."

"Don't curve it too much."https://t.co/pOpQHaLZ6U pic.twitter.com/p06WIPKMv8

— LKD (@LukeKerrDineen) September 26, 2023
3. Playing with your back against a wall
Robert MacIntyre finished his week with an unbeaten 2-0-1 record. It's true that Bobby Mac owes a hefty amount of credit to his playing partner, the aforementioned Rose, but it's also an incredibly impressive feat that frankly didn't seem possible at the start of the week.
MacIntyre admitted he was struggling with his driver in the practice rounds. There were rumblings from insiders that the pressure of the event was getting to him, and that he may only play once before Sunday Singles. In a team full of stunningly elite drivers, on a course set up to excessively punish short-and-crooked misses, MacInytre's struggles were magnified.
The first tee shot I saw the lefty hit was on the 16th hole on Wednesday, when he pull-hooked one into the water on the right. The next one I saw him hit was on the first hole on Thursday, when he pull-hooked one over the gallery's heads.
After his final practice round Bobby Mac set up on the rightmost side of the range — on the American side of the driving range — and began bashing drivers. There was no option of missing right because there was literally no driving range over there. Any right miss would send a range ball onto the golf course, and into areas intended for spectators. It forced Bobby to find a way to miss left, by any means necessary.
Less than 24 hours later, on the first tee of the first hole of his Ryder Cup career, MacIntyre slid his drive squarely down the fairway, hit his approach shot close, and made the putt.
"I had been thinking about that for three weeks," he said afterwards. "I stepped up and absolutely roasted one down the middle."
4. A thump chip to use the rough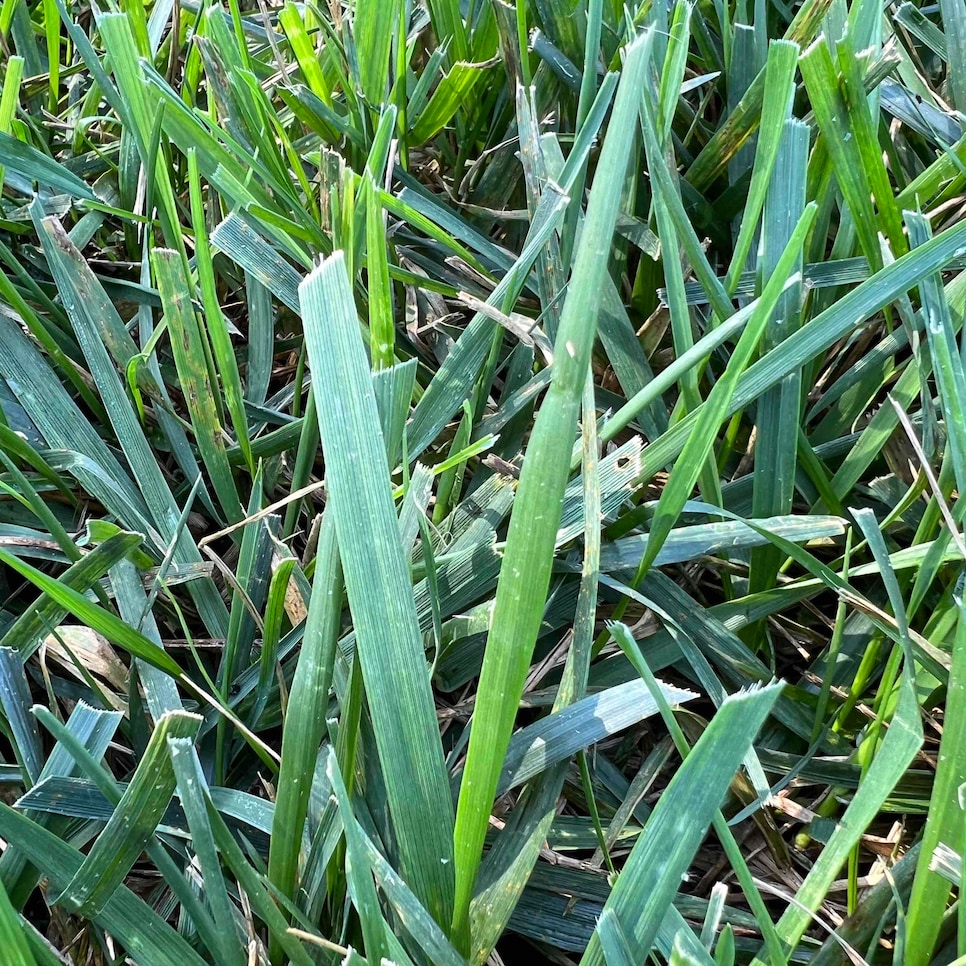 The grass blades were weird at Marco Simone Golf Club. Specifically, they were wider. Quite noticeably wider. Pros noticed it, too, and those wide grass blades (the product of a blend of different fescues) had the effect of giving the rough an extreme level of thickness, without looking like prototypical US Open-style rough.
So often pros would arrive at their ball, conclude the lie was decent, put a swing on it, and watched the subsequent shot squirt out low, short, and wildly to the right. Those wide blades were grabbing hold of the clubhead during the pivotal moment of impact and preventing the clubface from releasing closed.
"The blades are really thick, and it's very different than anything you see almost anywhere," Sepp Straka said. "The ball comes out pretty slow most of the time. You definitely want to spend a lot of time, especially around the greens, getting the feel right."
There's no real way of defending from that shot (just a good reminder for the rest of us that the ball will probably slide right from thick rough), but around the greens, players learned to create a miniature version of that awful shot they could actually use.
TOMMY! 😲

That was clutch.#TeamEurope | #RyderCup pic.twitter.com/l8ufTKoDBl

— Ryder Cup Europe (@RyderCupEurope) September 30, 2023
Basically, they played the ball back in their stance, closed the clubface slightly, and tried to take a longer backswing than follow through. The combination meant the ball would come out slow but without backspin, so it'd roll like a putt the moment it landed. Look closely at the chip-ins from Marco Simone, and you'll see the shot everywhere.
5. Long right misses don't exist
US Captain Zach Johnson said he didn't tell Jordan Spieth not to hit driver, the club he originally pulled on the 16th at Marco Simone Golf Club. But whatever he told him convinced Spieth to pull 3-wood, which he hit into the water right.
The moment provided a good learning opportunity for the rest of us: Missing a shot out to the right means the clubface is open, which adds loft to the club and makes it go shorter. Missing left does the opposite. It's only possible to miss long left, or short right. Barring some weird chunk-or-thin situation, you can't miss short left or long right. I don't want to tell you what to do, but you should probably remember that the next time you go play golf.
All of which is to say that whenever the trouble is short right, as it is on 16th, make sure you're taking enough club so the short-right miss is still long enough to clear the trouble. That's really the only goal, and the reason why golfers aim for the middle of the 12th green at Augusta National.
6. Find your golf swing's fresh ingredients
The food is great in Italy, and it inspired a wonderful golf swing analogy that I'll be thinking long past I leave Rome.
It came via coach Dave Phillips. Phillips coaches Jon Rahm, and the pair had spent the week prior sharpening up Rahm's posture, which had gotten a little looser because of the wear-and-tear of a long season. He wasn't tilting enough from the hips, which hindered his ability to turn.
I asked what golfers at home could learn from something like that.
"That the way your golf swing works is very much a function of how your body moves," Phillips says. "It's no different than the delicious food over here. The best dishes have the freshest ingredients. If your body doesn't have the to move well, you don't have the good ingredients you need for your golf swing."
Flexibility, mobility, strength; improving these things can make your golf swing better without you even thinking about it. Just like the food you eat, a dish is only as good as its ingredients.