When Ping commemorated the 55th anniversary of the patent for its legendary Anser putter with limited-edition milled versions in aluminium bronze, stainless steel and copper at three different drops earlier this year, the average time it took for any of those runs to sell out was approximately 180 seconds.
Now, the company is set to launch on Tuesday morning (Australian time) its most selective version in the PLD Ltd Anser Patent 55 series, a gold-plated model emblematic of the gold putters awarded to players who win tour events and Majors and housed in a vault at company headquarters in Phoenix. With just 55 available, expect it to be much easier to acquire tickets to another upcoming Arizona event, Super Bowl LVII, than it will be to secure one of these putters.
The Ping Gold Putter Vault houses more than 3,200 winning putters, and that includes more than 700 victories by the iconic Anser, which debuted in 1966.
"I can't think of a better way to complete this wonderful celebration of the Anser putter and its game-changing patent," said John A. Solheim, Ping's executive chairman who custom built the very first Anser putters in the family garage as a teenager and called the Ping Vault "arguably the most valuable collection of putters in the world".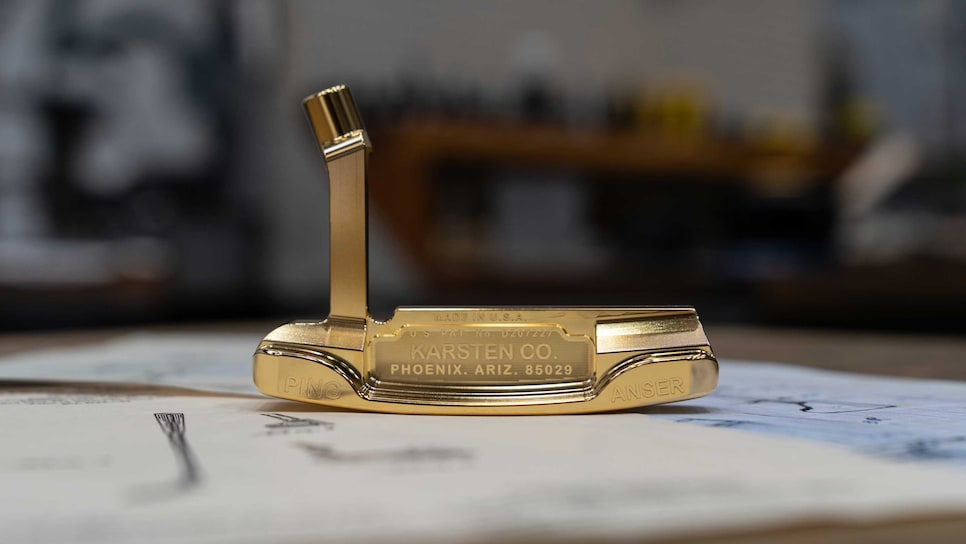 Says Solheim: "It's a great source of pride for us, and golfers who have a chance to visit the Vault stand in amazement as they soak in its place in history. The Anser putter occupies the most space by far in the Vault, so it's only natural we'd offer a gold-plated version to complete the PLD Limited collection."
While the original Anser putters were cast, these models are CNC-milled from a solid block of stainless steel with the gold plating, handcrafted in the US and serialised. They will be available exclusively through pingpld.com beginning on Tuesday at 6am on (2pm on Monday in America) for $1,462 ($US990). There's a limit of one per customer.