Before awakening to the tragic news of March 15, there's a good chance you had never heard of the University of the Southwest, a small, private Christian school in Hobbs, New Mexico, that sponsored NAIA men's and women's golf teams.
But when word that a van, driven by a first-year coach and carrying eight team members, was involved in a two-car crash while driving back to campus from a tournament in Texas, your heart immediately broke.
Seven members of the Mustangs golf teams—head coach Tyler James, 26; Mauricio Sanchez, 19, of Mexico; Travis Garcia, 19, of Pleasanton, Texas; Jackson Zinn, 22, of Westminster, Colo.; Karisa Raines, 21, of Fort Stockton, Texas, Tiago Sousa, 18, of Portugal and Laci Stone, 18, of Nocona, Texas—died after their van was hit head-on by a pickup truck being driven by a man found to have methamphetamine in his system (the driver and his son in the passenger seat of the truck were also killed). More than nine months later the profound sense of loss remains for these individuals with limitless futures that instantly ended.
Their stories were powerfully collected and told by Jeff Pearlman for Golf Digest in an attempt to honour and remember them. Similarly, we hope the following tributes to others that golf lost in 2022—prominent icons of the game such as Australians Jack Newtown and Bob Shearer, teachers and those who loved to chronicle the sport—can in a small way pay homage to their lives and highlight how golf connects us all. Those mentioned below cared about the game and tried to better it through hard work, stellar play and thoughtful analysis.
Australian pro who turned tragedy into opportunity. In 1983, a moving propeller on a small airplane at a Sydney airport severed his right arm, cost him the sight in his right eye and caused severe injuries to his abdomen. Months later, he returned to play with his one remaining arm and would carry a 12-handicap doing so. Eventually moved to course design and golf commentary on TV, radio and in print. He also started the Jack Newtown Junior Golf Foundation, which has fostered the talents of a long list of men and women pros from Ewan Porter, Nick Flanagan and James Nitties to Sarah Kemp and even current women's British Open and Australian Open champion, South Africa's Ashleigh Buhai. Before the accident, Newton won the 1978 Buick Open on the PGA Tour and had three European Tour victories.
Melbourne native who won the 1982 Australian Open over Jack Nicklaus and Payne Stewart. Bested Nicklaus on a course that Nicklaus designed. Also won the 1982 Australian PGA. Winner of 18 tournaments in total on the Australian Tour and captured the Order of Merit four times.
Tim Rosaforte, 66, Jan. 11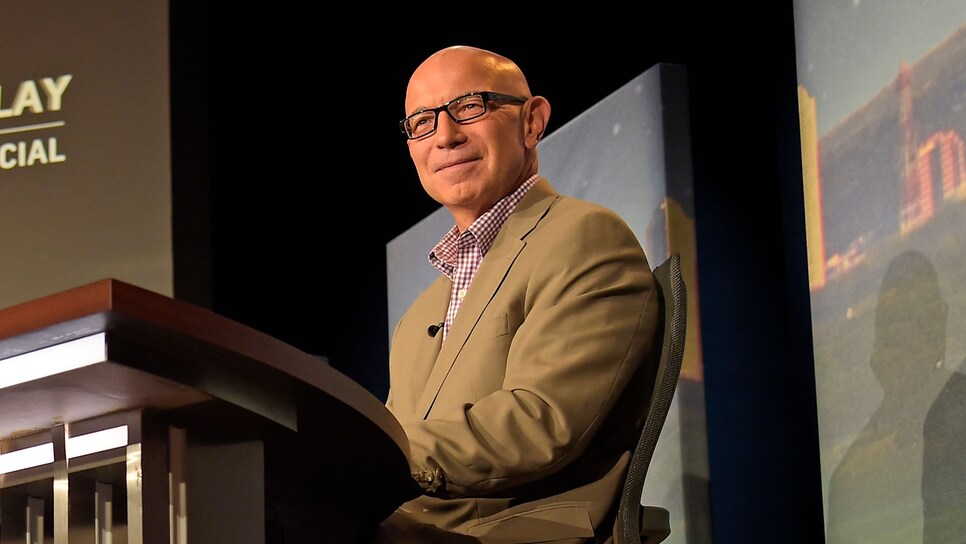 Chris Condon
One of golf's most accomplished journalists, a senior writer for Golf Digest and sister publication Golf World for more than 20 years as well as a beloved on-air reporter on Golf Channel, covering more than 150 major championships during his career. His accomplishments including being president of Golf Writers Association of America, earning the PGA Lifetime Achievement Award in Journalism and receiving an honorary membership into the PGA of America, the first journalist to be given the honor.
Joined forces with Arnold Palmer, Clint Eastwood and former Major League Baseball commissioner Peter Ueberroth to purchase the Pebble Beach Company in 1999 from Taiheiyo Club and Sumitomo Bank of Japan, returning the resort to U.S. ownership. An integral member of PGA Tour management as a PGA Tour Policy Board chair from 1994-2007. Given a Lifetime Achievement Award by the World Golf Hall of Fame during the Players Championship in March.
Bob Goalby, 92, Jan. 20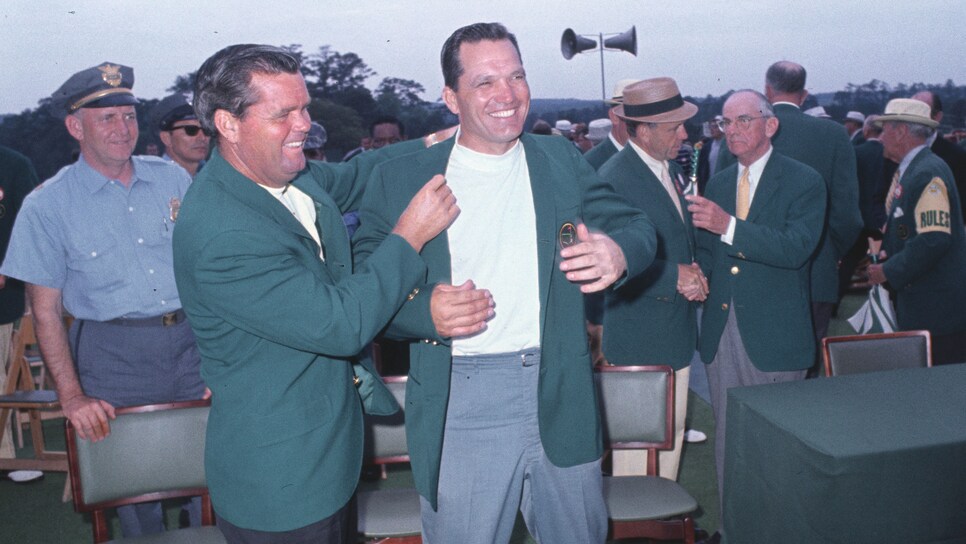 Bettmann
The son of a coal miner who won the 1968 Masters after Roberto De Vicenzo, who tied Goalby's 72-hole score, signed an incorrect final-round scorecard and was disqualified. Also runner-up at the 1961 U.S. Open and 1962 PGA Championship. Played for the U.S. at the 1963 Ryder Cup, racking up a 3-1-1 record in an American rout at East Lake. Instrumental in the players' split from the PGA of America to form the PGA Tour in the late 1960s and spearheaded a similar initiative years later when starting the Senior PGA Tour in the late 1970s. Also worked for NBC Sports as a broadcaster for more than a decade.
Argentina native known as "El Gato" (The Cat) for the way he "prowled" around his opponents on the course. Won more than 80 tournaments worldwide during his pro career, including eight European Tour titles spread over three decades. Claimed the U.S. Senior Open in 2008. Son of a club pro and eventually became a mayor in his hometown once his professional playing days were over.
Former Asian Tour executive who elevated the status of golf in the region. Attempted to mold the Asian Tour in the likeness of the PGA Tour. Represented Burma in the 1980 World Cup in Bogota, Colombia, and then won 12 tournaments on the Asian circuit, including the 1994 Singapore Open and 1999 Volvo China Open. One of the first Asians to travel overseas and compete. The Asian Tour formed a Kyi Hia Han Future Champion Award to aid the development of juniors and golf in Asia.
Nick Seitz, 83, Feb. 24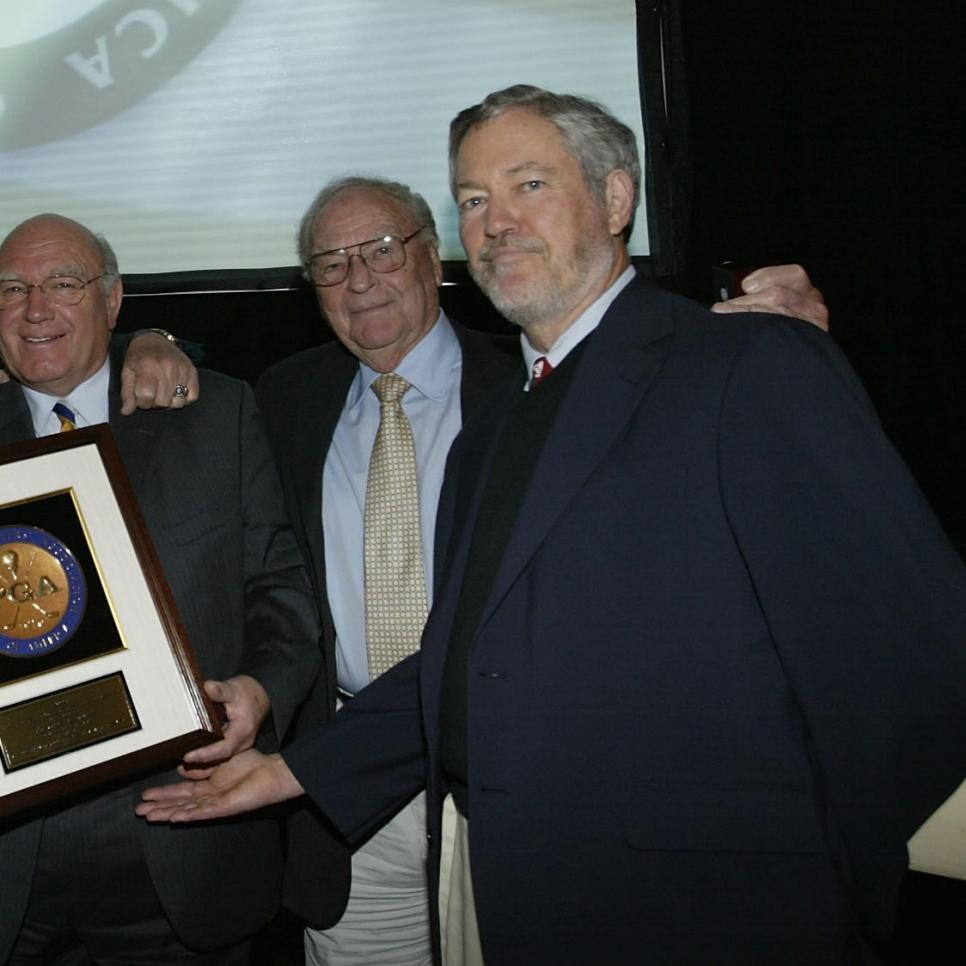 Nick Seitz (right) alongside Furman Bisher and Renton Laidlaw at a Golf Writers Association of America dinner.
Former Golf Digest chief editor and eventual editorial director of Golf Digest and Golf World. Attracted a stable of extraordinary writers to work for Golf Digest including, among others, Dan Jenkins, Peter Dobereiner, Henry Longhurst, Herbert Warren Wind, Gary Cartwright, Brennan Quinn and Peter Andrews. A gifted sportswriter in his own right, earning the PGA Lifetime Achievement Award in Journalism.
Adenil "Dening" Day, 65, March 2
Mother of major champ and 12-time PGA Tour winner Jason Day. Raised her son after his father died from stomach cancer when Jason was only 12. "I am forever indebted to her for the sacrifices she made for me to be successful, and for the person she helped me to become," Jason said. "We will miss her so much."
Affectionately known as "Mr. Lu" whose biggest claim to fame was a runner-up finish to Lee Trevino in the 1971 Open Championship at Royal Birkdale. Known for his bright blue porkpie hat that he tipped to the crowd after almost pulling off the monumental upset. Decades-long vet on the Asian Tour and Japan Tour, where he was an eight-time winner. Represented Taiwan several times at the World Cup, and was part of the country's lone win in 1972.
The University of the Southwest Golfers, March 15
The coach and seven members of the University of the Southwest golf teams died tragically after their van collided with a pick-up truck while driving home from a golf tournament. A group of golf lovers who each was a valued member of their communities.
Sports icon and former LPGA player. Considered one of the best multi-sport athletes of the 20th century. Primarily known for softball dominance in which she pitched 150 no-hitters and 50 perfect games over more than two decades in the Amateur Softball Association. Struck out Ted Williams and Hank Aaron during exhibitions. Transitioned to golf after softball and played on the LPGA Tour for 19 years. Holds the LPGA record for fewest putts in a round with 17 strokes at the 1982 Lady Michelob. Inducted into the International Women's Sports Hall of Fame in 1989 and is a member of 20 different Hall of Fames.
Shirley Spork, 94, April 12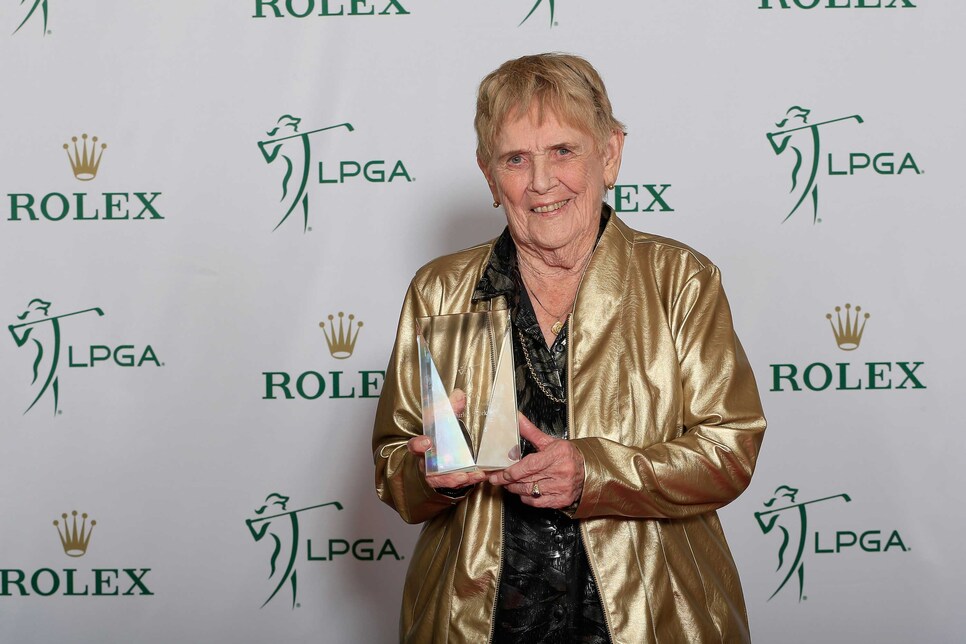 Sam Greenwood
One of the 13 founders of the LPGA Tour. Also created the LPGA Teaching & Club Pro Division. Finished second in the 1962 LPGA Championship and was named the LPGA Teacher of the Year in 1959 and then 25 years later in 1984. Two weeks before her death, the LPGA announced that she, along with the other founders, had been named to the LPGA Hall of Fame.
Longtime Golfweek columnist and equipment writer, working there full-time for 24 years. Attended more than 40 Masters, earning him the club's Masters Major Achievement Award. Earned multiple awards from the Golf Writers Association of America.
Bart Bryant, 59, May 31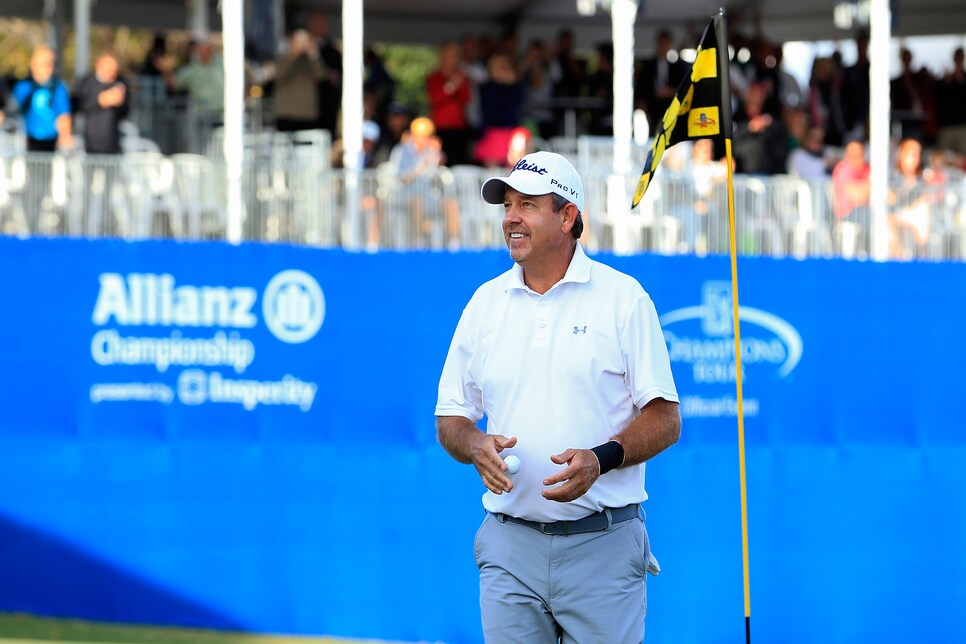 Three-time PGA Tour winner having claim titles at the 2004 Valero Texas Open, 2005 Memorial Tournament and the 2005 Tour Championship. Beat Tiger Woods by six shots at the Tour Championship, which was the largest second-place deficit of Woods' career. Bryant had two other top-10s in 2005, lifting him inside the Official World Golf Ranking top 25. Made with 317 PGA Tour starts and earned more than $9 million.
A moderately successful PGA Tour player who blossomed into a star on the PGA Tour Champions. Douglass won three times on the PGA Tour and was a member of the victorious U.S. Ryder Cup team in 1969, then went on to win 11 tournaments over 20 years on the senior tour.
Four-time PGA Tour winner and, until 2013, had been the youngest golfer to ever compete in the Masters, qualifying at 16 years old and teeing it up at 17 in 1952. Played for the winning U.S. Ryder Cup side in 1965, posting a 3-1-1 record.
John Reynolds, 82, August 19
Member at Augusta National and a long-time part of the executive team for Augusta-based golf-car manufacturer Club Car, as well as a doctor and surgeon. Labeled as "one of the great men of golf" by Golf Digest's editor-in-chief Jerry Tarde.
Tom Weiskopf, 79, August 20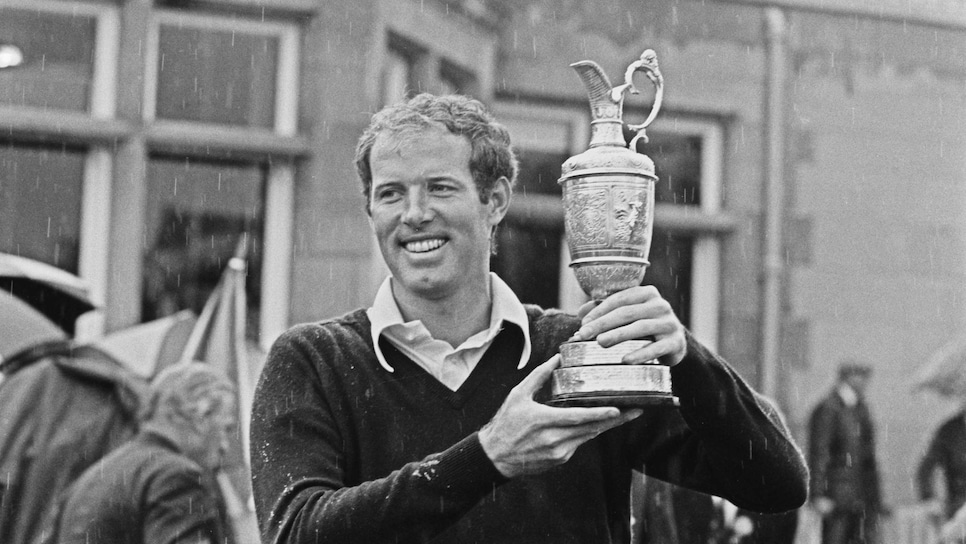 Evening Standard
Won 16 times on the PGA Tour, including the 1973 British Open at the Royal Troon in Scotland, along with four second-place finishes at the Masters. Became a television commentator and eventually an acclaimed golf course architect, partnering with Jay Morrish for much of his career. Designed upwards of 70 courses including Troon North, TPC Scottsdale, Double Eagle Club and Loch Lomond.
Herb Kohler Jr., 83, September 9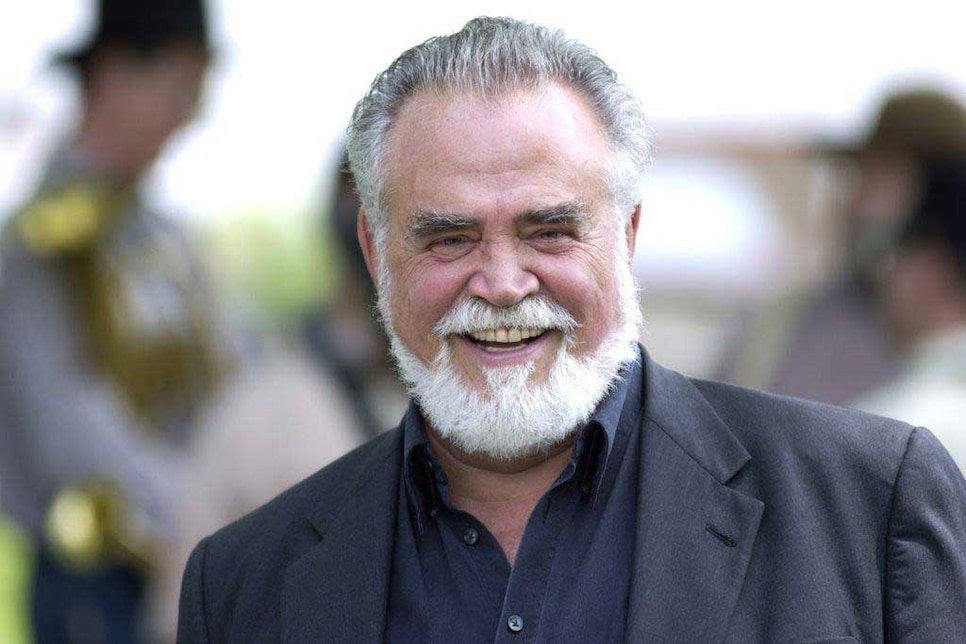 Oversaw the expansion of his family's plumbing and manufacturing business into a worldwide leader in the industry while also becoming a prominent figure in the world of golf. Almost single-handedly turned Wisconsin's Sheboygan County into a premier golf destination with the development of The American Club Resort in 1981 and the building of a pair of 36-hole golf facilities: Blackwolf Run and Whistling Straits.
Richard Sykes, 78, September 25
Longtime N.C. State men's golf coach who took over for the team in 1971 and eventually retired in 2017. Inducted into the Golf Coaches Hall of Fame in 2001 after coaching 34 All-Americans and led the team to 24 NCAA Regional appearances, 12 NCAA Championship appearances and an ACC title in 1990.
Dale McNamara, 86, October 30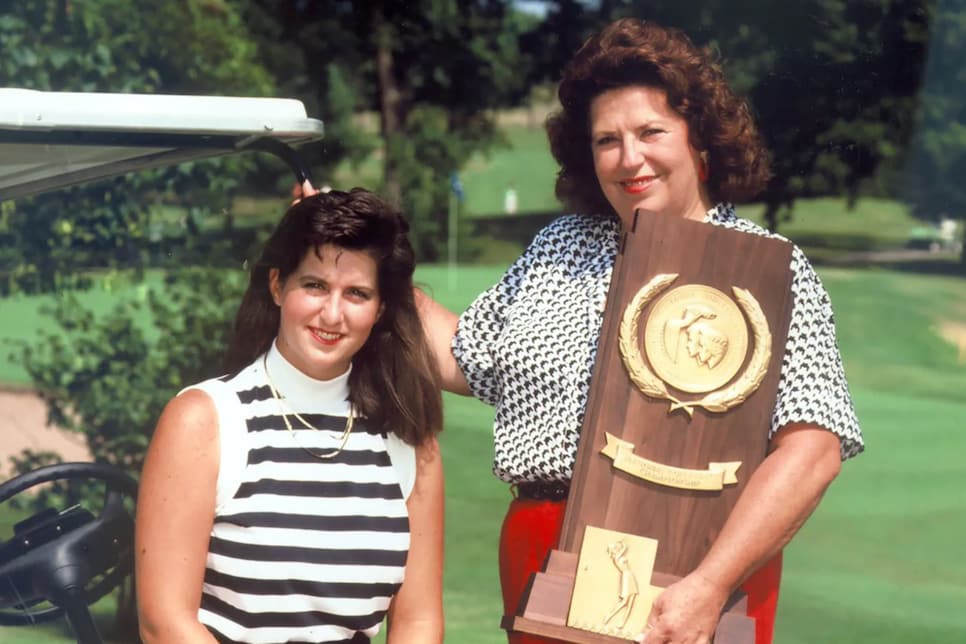 Legendary Tulsa women's golf coach who led four teams to national championships and coached Nancy Lopez during her 26-year career. Helped launch the program in 1974 and was inducted into the National Golf Coaches Association Hall of Fame in 1988, the same year she coached her daughter Melissa (shown above) to an NCAA individual title.
Father of 2020 US Open winner Bryson DeChambeau and a much-respected golf teaching pro in Fresno, California.
Dow Finsterwald, 93, Nov. 4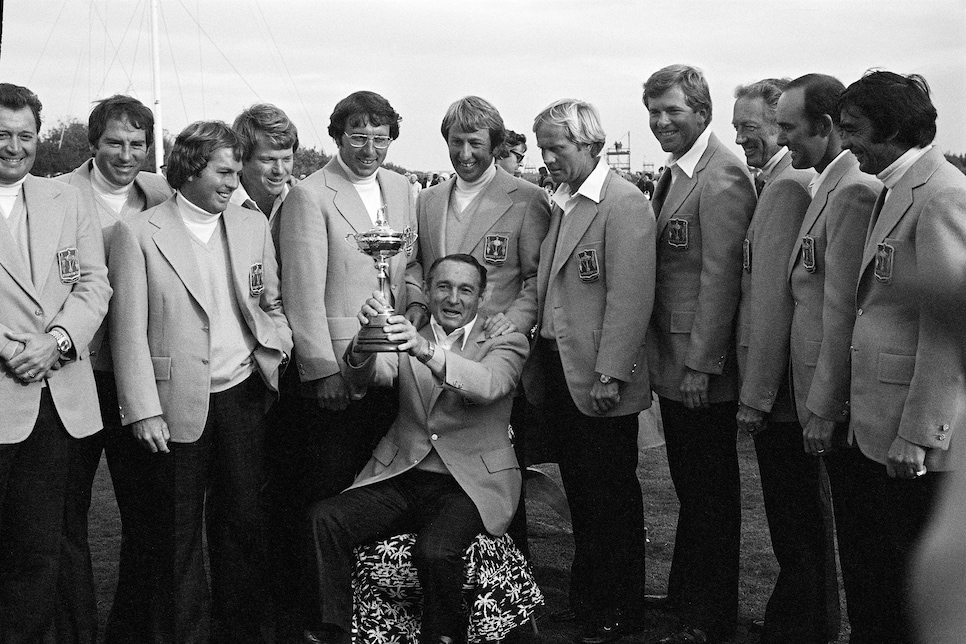 Winner of the first PGA Championship played as stroke play back in 1958. Would go on to win 11 PGA Tour titles and become head pro for 28 years at The Broadmoor in Colorado Springs, Colo. Was also vice president of the PGA of America from 1976-1978 and served on the USGA Rules of Golf Committee. Captained the victorious 1977 U.S. Ryder Cup team (see above).
Dick Copas, 88, November 17
Longtime University of Georgia men's golf coach. In 25 seasons, Copas led the Bulldogs to 17 NCAA Championship appearances, including 10 top-10 finishes. Coached 31 All-Americans and 17 of his pupils made it to the PGA Tour. Chosen as the National Coach of the Year in 1979 and was named the SEC Coach of the Year seven times. Was induced into the Golf Coaches Association of America Hall of Fame in 1994 and the UGA Circle of Honor in 2006.
The New Mexico native played 33 years on the LPGA, and remains the tour's all-time win leader with 88 titles, including six majors. Her longevity includes having won at least once for 17 consecutive years. Additionally finished runner-up 93 times and lost in 20 of 28 playoffs. In 1981, Whitworth became the first LPGA player to pass $1 million in career earnings, and in 1990 she was selected as the United States captain for the inaugural Solheim Cup. Inducted into the World Golf Hall of Fame in 1982.