Max Homa was looking to have what he called "a Tiger Woods moment". Yeah, well, so does most of the known world – and certainly, all of the known golf world. Do you know how many people try to have a Tiger Woods moment, try to wish for one, try to force one, and end up requiring CPR for their egos?
What makes Max Homa so special that he thinks he deserves one?
Welp, it turns out that it's not a thing that you do but a feeling that you have, and what a feeling that is to know that you don't need to rummage through the attic of your psyche but simply let it flow from somewhere a little farther south. From the heart. Go with the flow. Do what you know how to do.
And if you do that, then, yeah, you do kind of deserve it.
So there was Homa on the 12th hole of the North course at Silverado Resort & Spa today, trailing Maverick McNealy by three strokes and sizing up a wedge from 87 metres. He didn't try to stick it close. He simply took the advice of his caddie Joe Greiner, made a swing he'd been making for the better part of the weekend – easy and pure and relaxed – and watched his ball land short of the hole, veer left, break back to the right and roll perfectly into the cup. 
The eagle propelled Homa to a five-under surge in his final seven holes and a one-stroke victory over McNealy in the Fortinet Championship in Napa, California.
With a second consecutive seven-under 65, Homa won his third PGA Tour title and his second in his past 18 starts, both coming in his native California. He finished at 19-under 269 and with the satisfaction of winning for the first time with his wife Lacey in the gallery, hugely meaningful because, as he revealed later, "I don't need to explain what happened after you win and what happened on the holes."
That's OK. We'll explain. After the eagle, Homa birdied the 13th from 21 feet, two-putted the par-5 16th for the lead and added one more dagger at the par-4 17th with an 18-foot downhiller that curled more than the corners of his bushy moustache that seems to be growing as much as his confidence.
RELATED: The clubs Max Homa used to win the Fortinet Championship
It helped that McNealy, the third-round co-leader who was seeking his first tour title, got a case of the putter-cover blues on the inward nine after seemingly taking control of the tournament through the opening nine holes. As in, he looked like he'd forgotten to take the cover off. Also hailing from America's Golden State, McNealy started having trouble getting the ball to the cup, opening the door for someone to rush past him.
An excuse-me 30-footer at the last for eagle with issue settled – after he chopped up the 17th for double-bogey that featured a 152-metre drive off a tree limb and two poor chip shots – gave McNealy a 68 and allowed him to grab outright second at 270. Not a bad finish. Not quite what he wanted, either.
"I expanded my comfort zone a lot," said McNealy, whose second-round lead was the first on the PGA Tour. "I had two rounds where I teed off in the final group and that was one of my goals for this Q-3 2021 is to play in the final group and get that experience and just make that something that I'm comfortable with, something that I've experienced before."
Homa, 30, can relate. He needed 110 starts for his first tour title. Then he beat Tony Finau in a playoff at the Genesis Invitational at Riviera in February. Still, he hadn't posted a top-10 finish in more than three months, since a T-6 at the Memorial Tournament. He cited a bit of fatigue, but that looooong offseason did wonders for the Burbank native.
"I was awful the back end of this season," Homa said. "I thought I was doing a good job of being myself. I got maybe a little burnt out by the end of last season. I know we only had two weeks off, but I really believed I learned a lot from those weeks and kind of put that to use in the two weeks I had to kind of prep for this season."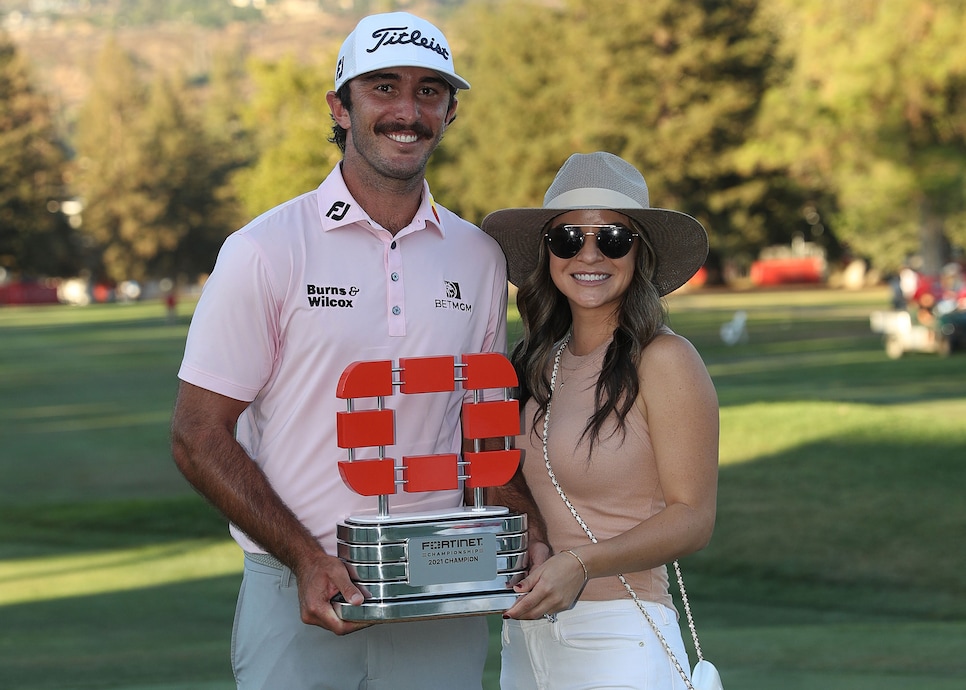 What did he learn? Don't try to be Tiger but be more like Patrick Cantlay tries to be. Genuine. Be yourself. "I saw a press conference he [Cantlay] did [at the Tour Championship] where he kind of said that he just tries to be himself at all times," Homa explained. "And I try to kind of be introspective and think, 'Well, who am I?' And I'm someone when I play at home, I talk a lot and I wouldn't say goofy, I'm still stoic, but I talk a lot. So, I tried this week to talk a lot and be me and not feel like I was being any different than who I am."
RELATED: Max Homa's 'happy place'
No, not goofy. When you gain 8.3 strokes tee to green on the weekend, that is definitely not goofy. That is, well, a lot like something a certain 15-time Major winner from California would do. And the hole-out at 12, with his ball-striking purring along, had an air of inevitability to it. At least in Homa's mind.
"I think to myself a lot when I'm playing – I think a lot of us probably do when we're in the heat of battle on a Sunday – you want to have a Tiger moment," he said. "You know, he's made it from everywhere to win. It's just he does the impossible. So sometimes when you put yourself in that state of mind, great things happen.
"So, all day today I felt like I was going to have a cool moment, and I end up having a couple, but the one on 12 was especially good."
Bet that's one he won't mind explaining to Lacey.
TOP/MAIN PHOTO: Meg Oliphant