Manors launched as a lifestyle-focused golf brand, just as when the game saw an influx of new and returning golfers en masse in 2020. The brand's focus was revitalizing heritage golf looks for the modern golfers—aimed at both new and existing players. Arnold Palmer was the style inspiration for the launch, complete with retro golf cardigans, sweater vests, cotton polos and shorts made from an Italian stretch suiting fabric. Although the looks were old-school, Manor's mission was to remind golfers that the game is about fun, exploration and sharing these experiences with other golfers.
More From Golf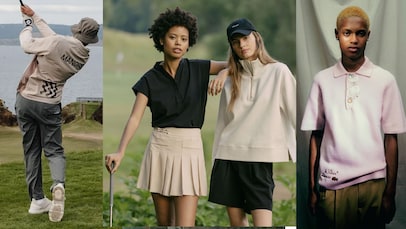 Fall Favorites Our favorite golf apparel launches, drops, and capsules for fall-winter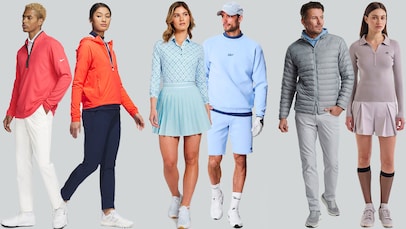 SPONSORED Add these colors to your look to stay on-trend and stylish going into fall golf season
"Golf is f****** hard, so it makes sense that most brands want to help people improve—but there's more to it than shooting low," Co-founder and creative director Luke Davies said in a recent release from the brand. "We don't believe golf is just a sport to be mastered; it's a game to be explored."
Earlier this year, Manors underwent a major rebrand and shifted its focus on golf-ready performance wear. The brand wiped its Instagram clean with a post expressing frustration with golf becoming just a "flavor of the month, with every major fashion label dropping a line of polos." It's an astute observation on how golf fashion has become intertwined with many apparel companies' desire to be a lifestyle brand, only to let the product suffer or be produced thoughtlessly for scale rather than quality.
"We want to have premium clothes that perform when they need to, but that shouldn't be about sacrificing style," Davies said. "Manors has products that may be pushed slightly more towards performance and some that push towards more lifestyle and streetwear, but ultimately, the thing we are aiming towards is trying to be the brand that brings both of those two things together."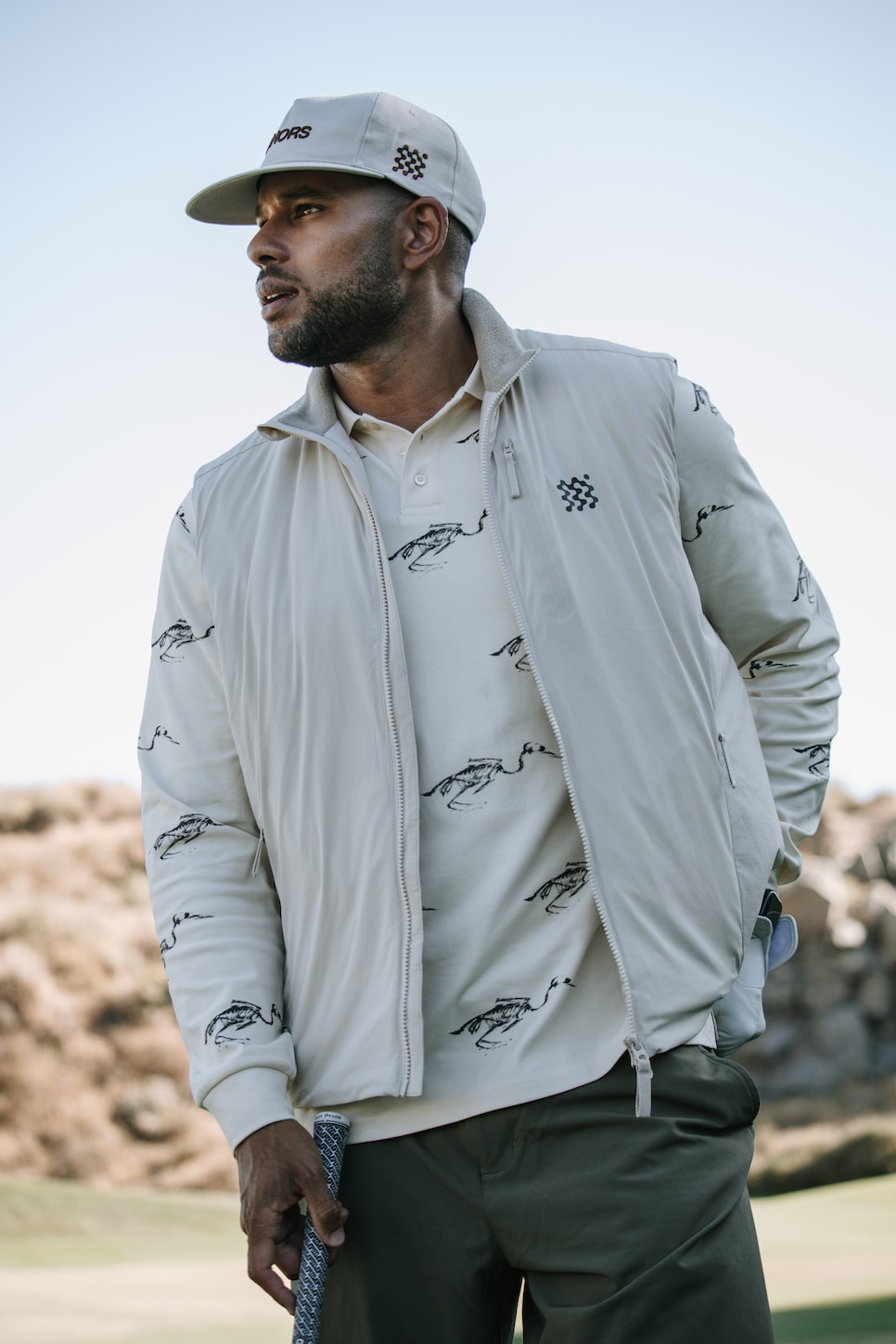 With the relaunch came The Frontier Collection. The nod to golf's style history still ran through the line—like the Zip-Off Plus Fours—but with a noticeable increase of modern-golfer necessities—like the waterproof rain shirts that infuse fashion into the typically unstylish raingear option.
The staple piece of the first collection (the brand called Volume One) was the Frontier Shooter Shirt—inspired by the classic NBA warm-up jerseys from the 90s. It's a functional mid-layer shirt with an elevated take on the short-sleeved windbreaker. Stylish, culturally relevant, yet still golf-centered and performance ready with four-way stretch and a breathable mesh lining.
"Every time we go to design a collection or think about a potential collaboration, there's always the conflict of like, we respect tradition, we respect heritage, but we know it needs to change," Davies said. "We want our clothes to perform on the course, but we don't want to feel apprehensive or embarrassed about what we're wearing, either."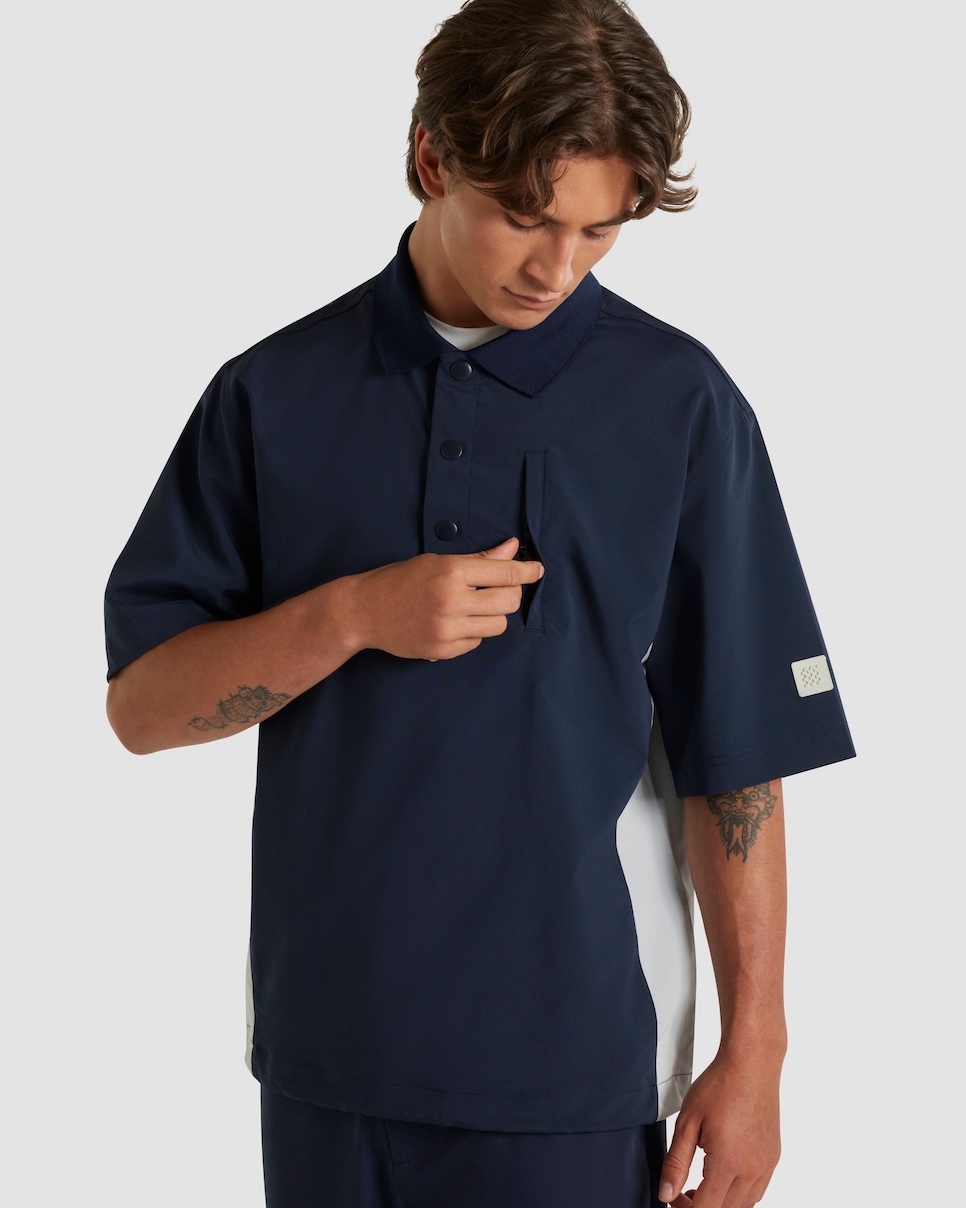 Manors Frontier Shooter Shirt $176 | Manors Buy Now
Manors ambassador Adem Wahbi has been working with the brand since it was started in 2019. He aligns with the brand's mission to bring change, effortlessly cool fashion sense and prioritization of functional apparel that doesn't sacrifice style.
"I try to mix it up and be a bit different from everyone else, like my legs are," Wahbi said. "So when I dress, my style is a little bit of old school, a bit of color."
Born with a form of cerebral palsy called spastic diplegia, Wahbi is conscious of what goes on his body—especially while he plays golf on the G4D (Golf for the Disabled) Tour. Wahbi's story was highlighted by Manors, The R&A, and Skratch for a mini-documentary, that followed him along during this year's G4D Open.
"Golf doesn't have the best image in sport – a lot of people see it as a rich person's sport and golf really isn't like this at all, " Wahbi said. "People think the same about disabled people, that we can't do anything. So I think it's a good thing to grow it all together, using golf and using disability.
Being with the brand from the beginning, Wahbi has had a front-row seat to the evolution and re-brand of Manors and described the changes perfectly: "The brand just grew up."
While Manors' first drop post-rebrand featured a muted, monochromatic color palette of blues, grays, greens, and tans—paying homage to the landscape surrounding golf's birthplace of Scotland and the elements that make up a golf course—the newest collection, Volume II, introduces something new, something edgier.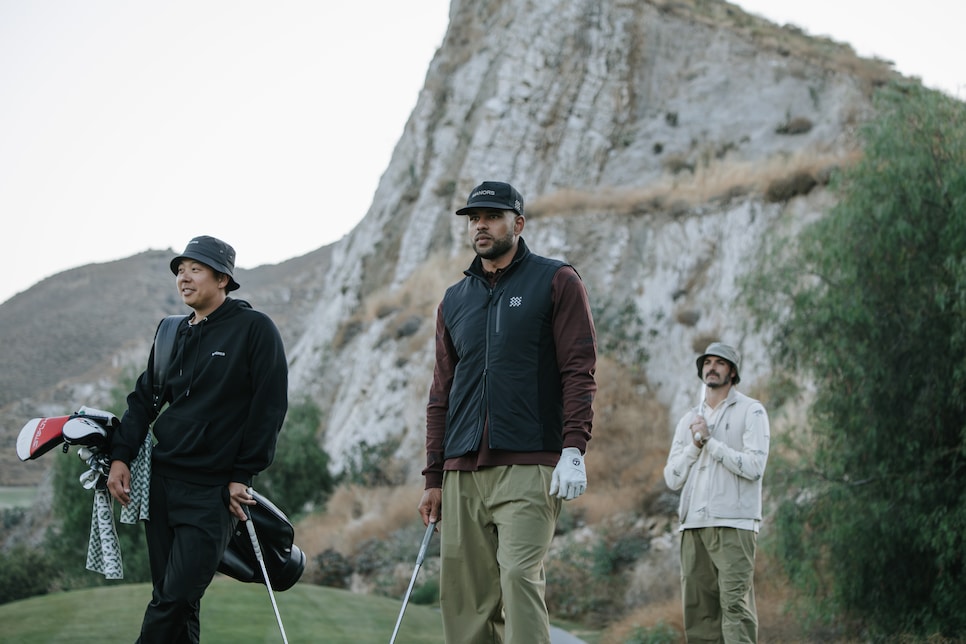 Still toeing the line of urban streetwear with fashionable golf functionality, Volume II of the Frontier Collection ventures far away from links golf into a new realm that seems otherworldly.
Nestled between striking white-granite cliffs, the lush fairways of Oak Quarry Golf Club in southern California, accentuate the signature pieces of the collection—the Hazard Ranger Polo and Recycled Greenskeeper Trousers.
The Hazard Ranger Polo is a relaxed fit, zip-closure polo developed with thicker materials for the cooler temperatures of fall. The most distinctive feature of the polo is the intriguingly chaotic printed pattern that reminds you of the iconic 1999 Team USA Ryder Cup polo.
Upon closer inspection, you can see sketch-like detailing of golf course layouts, swinging figures, leaderboards, scorecards, and much more. This specialized pattern is a nod to the inner thoughts of an amateur golfer — a lot of passion and a bit of confusion.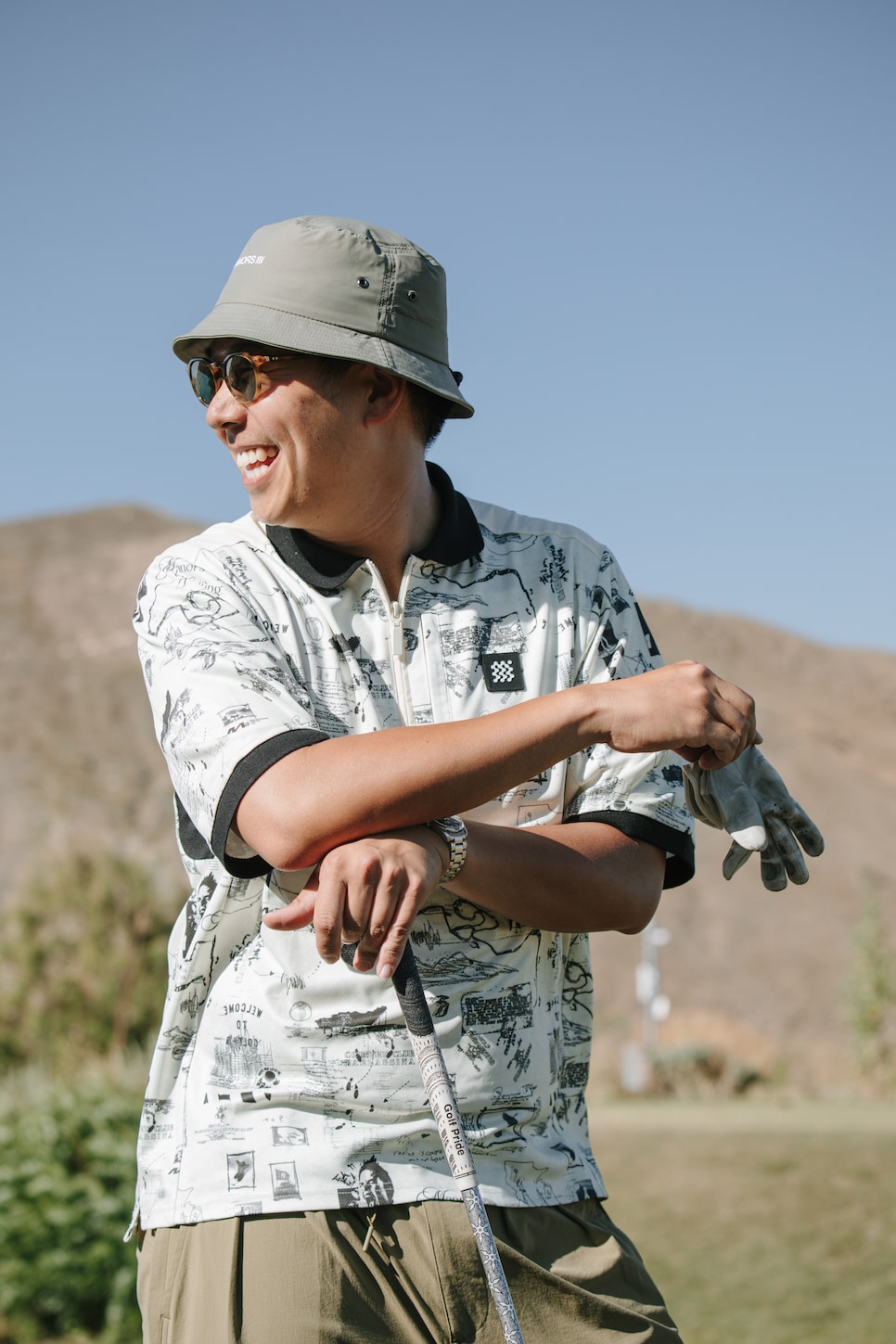 Manors Men's Hazard Ranger Polo in Black $102 | Manors Golf Apparel Buy Now
The polo is available in two colorways, black and cream—both of which pair nicely with another signature piece from the collection, the Recycled Greenskeeper trousers. We often see utility-style golf pants in the form of joggers, but Manors has chosen to go with a more 90s relaxed fit vibe. Read: relaxed, not baggy. These trousers are equipped with a fully elasticated waistband with a drawcord and double pleated in the front of the pants to stay within the guidelines of on-course etiquette. The olive green and slate blue tones of the Greenskeeper Trousers, are fall golf classics that will never go out of style.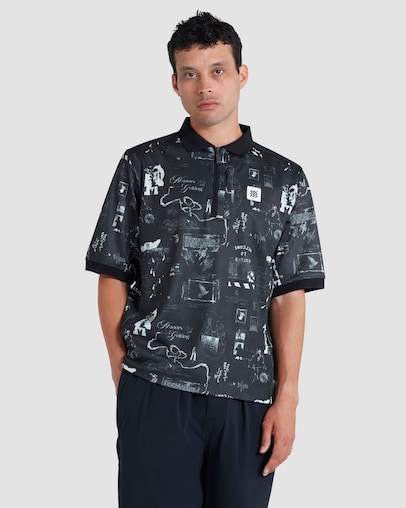 Manors Men's Hazard Ranger Polo in Black $102 | Manors Golf Apparel Buy Now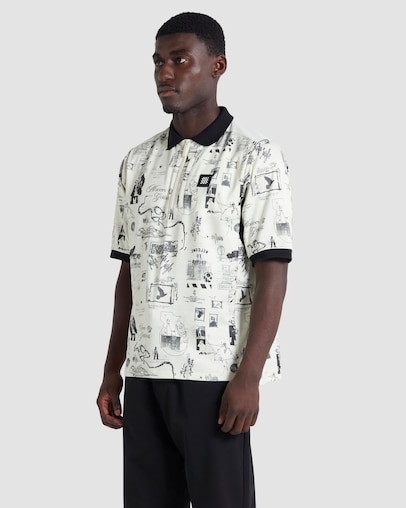 Manors Men's Hazard Ranger Polo in Cream $102 | Manors Golf Apparel Buy Now
"The Greenskeeper Trousers are incredible," Wahbi said. "The multiple pockets look stylish and just different from what you usually see in golf…but at the same time, it looks so classy."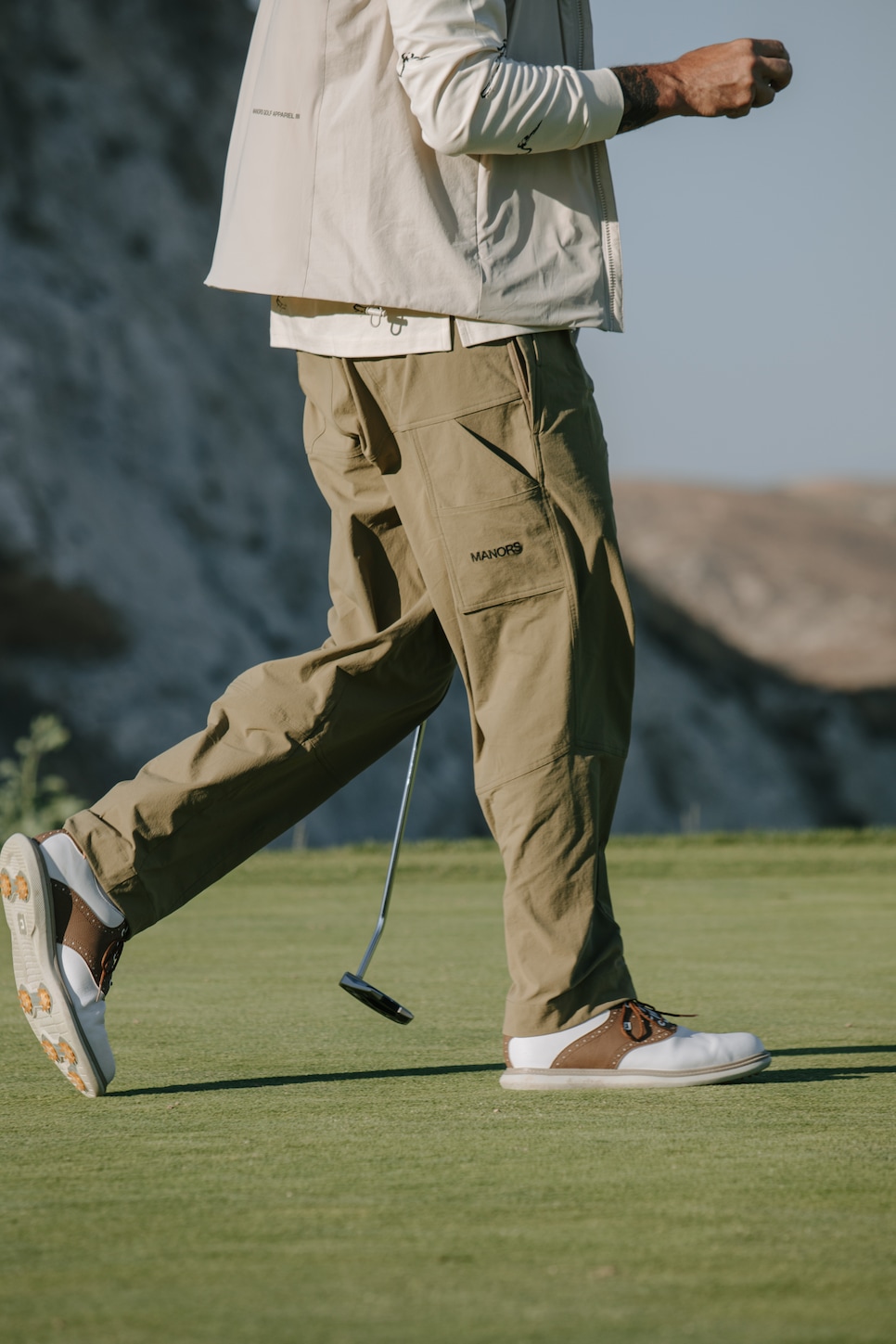 Manors Men's Recycled Greenskeeper Trousers in Olive $140 | SSense Buy Now
Ultimately, what Manors has created is a culture surrounding its apparel—golfers who dare to explore the game—by booking trips and purchasing clothes that make them feel cool. Davies hopes that this second collection inspires people to do exactly that.
"If we do our job correctly, our audience will see the new collection or watch the campaign and immediately message their friends to book a trip somewhere they've never been. That feeling of discovering a new course and place is such a brilliant part of golf, it's this never-ending exploration."
More from Manors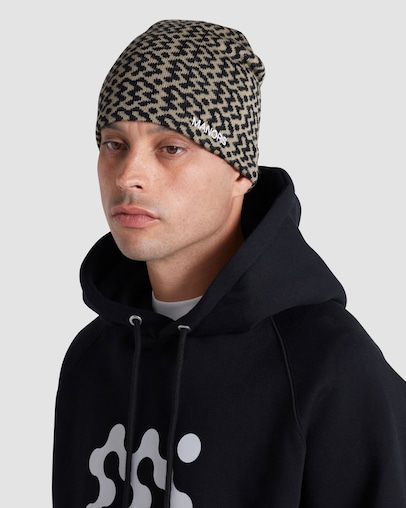 Manors Merino Skull Beanie $43 | Manors Golf Apparel Buy Now
Manors Organic Eighteenth Hoodie $107 | Manors Golf Apparel Buy Now
This article was originally published on golfdigest.com