[PHOTO: Jonathan Bachman]
So, to sum up, have a great short game, boys and girls.
Oh, yeah, of course, you need the back story here. Two weeks into the final split-calendar season on the PGA Tour and the takeaway so far is that winning doesn't really have to look neat and tidy so long as you know how to clean up the mess you make and get the darn ball in the darn hole fewer darn times than your adversaries.
After four par saves in a seven-hole stretch, Mackenzie Hughes, a darn nice, softly spoken Canadian chap, sank an eight-foot birdie putt on the second hole of a sudden-death playoff to beat Sepp Straka at the Sanderson Farms Championship in Jackson, Mississippi. The victory was Hughes' second on the PGA Tour, his first coming nearly six years earlier when he didn't have two sons, but he definitely owned a lot of ill-conceived notions about the difficulty of tournament golf.
Two weeks earlier, before the Presidents Cup in which Hughes was not invited to participate for the International team, Max Homa holed out from off the green to stun Danny Willett in a successful defence of his Fortinet Championship title.
"Those par saves down the stretch, I was just trying to will the ball into the hole," said Hughes, 31, who was coming off a quiet season that included just three top-10 finishes fuelled mostly by – you might have guessed – upper-tier rankings in strokes gained/putting (14th) and around the green (29th).
Straka, who won his first tour title last season, closed with a five-under 67 at the Country Club of Jackson, while Hughes, who began the day one shot behind 54-hole leader Mark Hubbard, carded a 69 as each completed 72 holes in 17-under 271. Hughes forced the playoff by taking two putts from 105 feet from the back of the 18th green after running an approach between some trees and through the putting surface from the left rough. He also saved par at the 14th and 16th holes in regulation.
RELATED: The clubs Mackenzie Hughes used to win the Sanderson Farms Championship
But the real gut check came on the first extra hole – though Hughes would later say the one in regulation was more meaningful, because, he reasoned, "I didn't want to lose by bogeying 18 in regulation." He dumped his approach from 143 metres on the par-4 18th hole into the middle of the front left bunker. He splashed out to four feet and guided home the putt after Straka missed the game-winning birdie try from 20 feet, a putt similar to the one he faced at the end of regulation.
On the second extra hole, Hughes got it done with a roll so pure that he started celebrating before it disappeared into the cup. "I'm unaware of that. I didn't realise at what point I started celebrating," he said. "But I knew about a foot out that it was going right in the middle. That was like the best feeling in the world."
Straka was left feeling good about the effort but not the result.
"Yeah, obviously wanted to get the win," he said. "Disappointed with that. But I played really well today. I shot 67 on a Sunday, came from behind and got myself in a playoff. Mac played great, birdieing 18. Eighteen is not an easy hole. Yeah, happy for him, and looking forward to some more."
Hubbard, seeking his first tour title, dropped to T-5 after a 74. South African Garrick Higgo was third at 16-under 272 and had a chance to join the playoff, but his birdie chip from 34 feet behind the hole came up well short.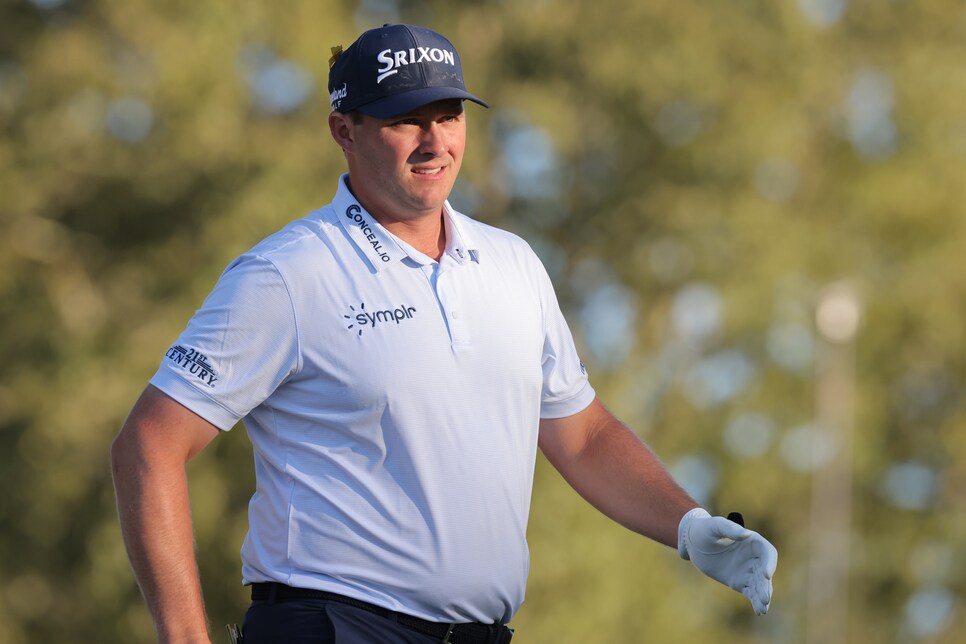 Like many of today's tour pros, Hughes recently began speed training to gain more distance, and though it's early, he has picked up more than nine metres, from 272 to 281, in driving distance compared to last season. But it was still the little things, those little shots, the stroke savers that made the difference.
As for missing out on the Presidents Cup, Hughes said all the right things about sitting out.
"I don't know if it's extra fuel, but it was disappointing," he said before admitting it provided extra motivation. "I guess you would say it was fuel because I definitely worked a little harder after that and felt like that was a team I really, really badly wanted to be on, and I felt like I could have been a good help there. I totally respected [captain] Trevor [Immelman's] decision to go the direction he went; and the team, there wasn't a weak link on that team. There were 12 great players. They had a really tough opponent in the US. I still cheered like hell for them to pull it off.
"But I'm definitely motivated for Montreal [in 2024], and I don't want to have to let that come to a captain's pick next time when that comes around."
Hughes won the 2016 RSM Classic in just his fifth PGA Tour start. That also extended into overtime as he beat four others with a par on the third extra hole. It took 158 more starts to gather his second. He remembers thinking back then, "Oh, man, this is going to be easy, I'm going to be able to rack up a few of these."
Took a while but he finally added to the tally.
"The second one felt harder than the first one, that's for sure," Hughes added. "Words can't describe it. Honestly, I've been working so hard and putting in some hours. It just feels so good. To see my family walking onto the green, I've been envisioning that moment since I had my first boy. Yeah, it's hard to describe. It's the coolest feeling in the world.
"This is the kind of stuff I feel like I should be doing, and I want to be doing. It's what makes you feel alive. I couldn't feel better right now. It's a feeling that you crave, and you want to have more of, and it'll motivate me to just keep working hard."