It wasn't the greatest shot of his career. Nor was it the most historically significant. But as far as dollars and cents – the dominant topic in the modern professional golf zeitgeist – it was the most profitable. By a comically large margin.
Branden Grace holed a pitch from behind the 16th green for a birdie that ensured a rather comfortable stroll to a $US4 million payday. His seven-under 65 at Pumpkin Ridge was good for a two-shot victory over Carlos Ortiz (69), who led by five shots early in the round of this 54-hole event but struggled to sustain any momentum in a bid to win his first LIV Golf event. Dustin Johnson (71), the highest ranked player in the field, held a share of the 54-hole lead but could not overcome a poor start and settled for a tie for third with Patrick Reed (67).
"What a week," Grace said after finishing at 13-under. "Played flawless golf. Played really well and when I needed to do something special, it came up. Managed to pull it off. What a great day. This is amazing – come out here, the new format, this new everything is amazing."
It is by far the largest payday of Grace's career; the previous high for the 34-year-old was just over $US1.1 million, which he won at the Nedbank Challenge in 2017. Grace's career earnings on the PGA Tour are just over $US12 million; through two LIV events, given his third-place finish at the first LIV event and the money won from team competitions, Grace has earned $US6.6 million – to say nothing of whatever guaranteed money he received for signing his contract.
He has a strong playing pedigree across the world – two-time PGA Tour winner, nine-time European Tour winner and three-time Presidents Cup member – but Grace was not one of the main draws to LIV Golf. And for all the hundreds of millions of dollars splurged to lure big-name players away from the PGA Tour – Johnson, Reed, Bryson DeChambeau, Phil Mickelson, Brooks Koepka, to name a few – both of the first two LIV events have been won by players outside the top 100 in the world ranking. Grace entered the week ranked 128th. Just fifteen of the 48 players in the field broke par for the week. Mickelson took 42nd at 10-over for the week – his second straight finish with that total.
Despite this tour's connections to Saudi Arabia, it's another SA nation that has dominated the first two of the eight LIV events scheduled for its inaugural year. Charl Schwartzel was world No.120 when he won the $US4 million grand prize at Centurion Golf Club a month ago – in addition to the $US750,000 he won for being one-fourth of the Stingers side that won the team competition in London. The Stingers finished second this week, good for a $US375,000 bonus for all four members, but seven shots behind the winning Aces side that's captained by Dustin Johnson and features fellow Americans Reed, Talor Gooch and Pat Perez. Earlier this week, the 46-year-old Perez said getting a multi-million dollar offer from LIV at this stage of his career felt like winning the lottery. He'll be feeling especially lucky when he leaves with three-quarters of a million American dollars after shooting 80 in the final round this week. Ortiz holed a 40-footer on the final hole of the day to ensure a third-place finish for the Fireballs team captained by Sergio Garcia.
There will be no books written on the team-building process that led to the Aces' victory, however. Johnson simply chose his team, which appears to be the model moving forward. On Friday, LIV officials confirmed to Golf Digest that its Invitational Series will end with the season-ending team championship at Trump Doral this October. Next year, the Saudi-backed organisation will transition to a 14-event "league" schedule, with 12 set captains who can recruit their own teams from the 48-man tour.
Grace's caddie for the week, Cliff Botha, scored the most lucrative fill-in caddie gig in golf history. Grace had Louis Oosthuizen's former caddie on the bag at Centurion, where he finished third, but had committed to using Botha for this week.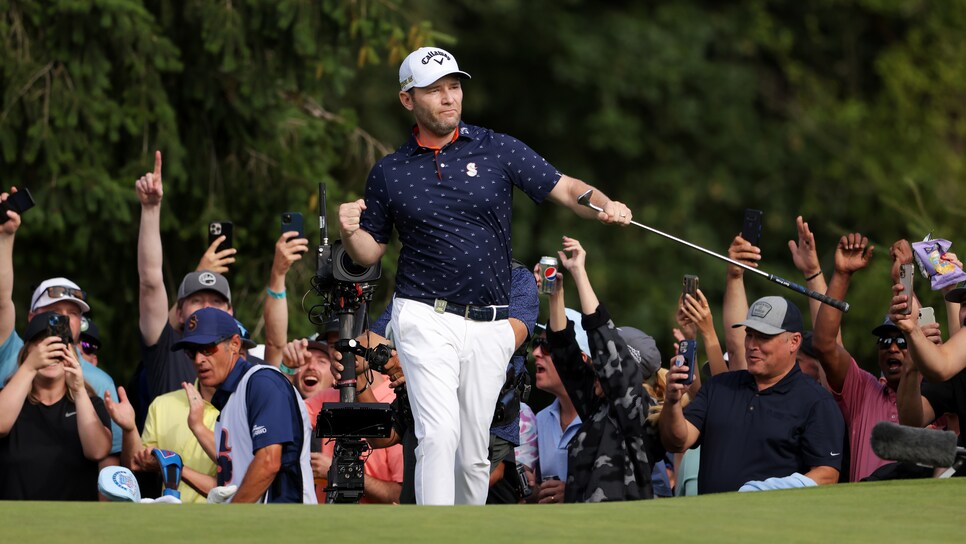 "I don't know what's going on with me, but I need to find a guy to stick with," Grace said earlier in the week. "I'm just testing some guys out."
Botha, who caddies regularly for Miguel Angel Jimenez on the PGA Tour Champions, was next up on the assembly line – and assuming the standard 10-percent payment agreement for wins, he'll receive $US400,000 for one week's work. Grace had planned to use a third caddie for LIV's next event, at Trump Bedminster outside New York City, but he's going to have a hard time kicking Botha off that bag.
The YouTube broadcast pushed ad nauseam, and quite heavy-handedly, how much the players relished the new format and how much the fans loved their experience. There was indeed some buzz on the grounds all week, but Gooch's assertion that the atmosphere neared that of a Ryder Cup was purely the money talking. Still, LIV will view this week as another success in their long-term plan to spend their way to legitimacy.
But LIV has been plagued by heated controversy since its inception, and this week's event in Portland sparked significant backlash in the local community and a press conference from September 11 families protesting the golfer's decisions to "get in the bed with the Saudis". There will not be another LIV event for three weeks, but surely it will remain at the centre of discourse in this sport. During today's broadcast, LIV announced that world No.26 Paul Casey would join a number of his fellow 40-something former Ryder Cup Europe stars at LIV and will make his debut at the Bedminster event. Surely more players will make the jump before that tournament, hosted at a course in the New York City metro area and owned by former US president Donald Trump. The controversy, the protests – they aren't going anywhere. But neither is LIV Golf.
TOP/MAIN PHOTO: Chris Trotman