It wasn't the third round draw the more tabloid-minded members of golf's audience was hoping for. But it was surely the next best thing.
In the absence of a Rory McIlroy/Patrick Reed head-to-head, the sight of European Ryder Cup captain Luke Donald walking the fairways in the third round of the Hero Dubai Desert Classic alongside the man he replaced in controversial circumstances, Henrik Stenson, would have to do.
As just about everyone expected, of course, Donald and Stenson's proximity to each other was never really going to amount to anything even mildly controversial. The pair have been friendly for years – in 2006 they played on the same Ryder Cup side – and their Sunday morning stroll around the Emirates Golf Club was just that.
So it was all straight-faced stuff, even if the third member of the group, Tyrrell Hatton, did attempt to inject some humour into the occasion the evening before with a light-hearted tweet involving the Simpsons and him disappearing into a bush if the Ryder Cup did happen to come up in conversation.
https://twitter.com/DPWorldTour/status/1618970384933478400?s=20&t=__03d04YdF0cxLTBUqLtyg
"Just a bit of fun," said the world No.26. "It went down pretty well. There was never anything negative there. I was just minding my own business and trying not to get in anyone's way."
There was another bit of fun on the first tee though. Donald, as you might expect, was introduced as the "Ryder Cup captain." As Stenson noted after completing a two-under-par 70 that will see him safely into Monday's final round: "The only thing I would say is that I was surprised I wasn't announced as the former captain."
Donald, too, was playing the predictable straight bat to any enquiries at the end of a round in which the former World No.1 would have lost, 4 and 3, had he and his predecessor been playing a match.
"No, there were no problems at all," he said after the 74 that saw him miss the 54-hole cut and sent him to the airport en route to a day at home in England then on to California and this week's AT&T Pebble Beach Pro-Am.
"You guys like to make it a storm in a teacup. There were no issues. It was just like we were playing a normal round."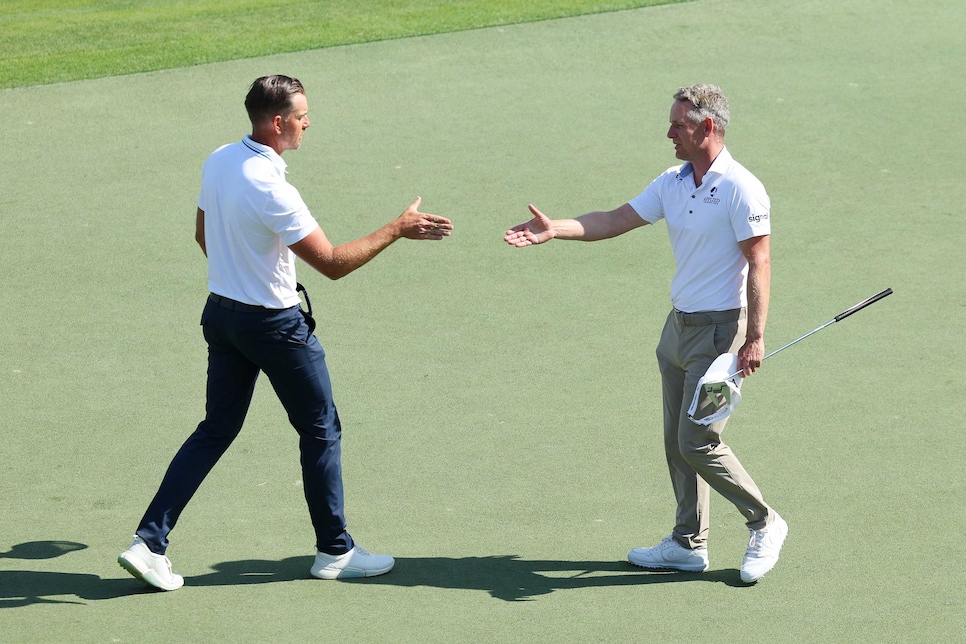 Not quite though. On the 18th hole there was just time for Hatton to inject some proper fun and games into the proceedings. Two-over for the day and level par for the tournament, the six-time DP World Tour champion was mentally joining Donald on the plane back to England. A double-bogey 6 on the par-4 16th and a missed four-footer on the 17th for birdie were sure indications of a man whose head was focused on something other than the prospect of playing the a weather-delayed final round on Monday.
So it was that, even after an almost perfect drive across the corner and a beautifully flighted fairway wood to the heart of the distant green, Hatton was looking good to miss the cut.
Then it happened. With nary a glance at the line, the two-time Ryder Cup player struck his 50-foot eagle putt towards the flagstick. And, you guessed it, in it went, provoking comical scenes involving Hatton and his caddie, Mick Donaghy.
Head in his hands, Hatton looked towards Donaghy, who could only shake his head. Moments later, the sight of the player, his arm over his bagman's shoulder, whispering words of consolation is one every witness will surely recall with glee.
"What were you thinking?" had been Donaghy's first question. "Why didn't you leave it short?" was the obvious follow-up.
"I'm sorry," replied a crestfallen Hatton. "I didn't think of that until after I hit it."
At this point, Donaghy's curse-laden rejoinder must remain secret. Words like those have no place in any public forum.
Even worse was to follow though. Standing behind the 18th green, one of Hatton's agents announced he had just spent £3,000 changing his man's flight home. Evidence is scant, but it is safe to assume the news was not met with anything close to equanimity by the often-explosive Englishman.
"I'm pretty sad about it," said Hatton, as he walked to his car after a few minutes cooling off in the locker room.
"Making that cut has just potentially cost me 48 hours at home. I was mentally at home yesterday. I was hoping the guys would make sure I could get home. I just crept in to this morning. That is probably the only 50-foot putt I wish I'd never made in my life. I'm going back to the hotel and hoping there is a very slim chance I can leave, depending on what the guys do. Hopefully it works out my way and I can get home."
Sadly, it wasn't to be. On that two-under par number, Hatton made the cut and will tee-up early in Monday's final round.