Golf etiquette – or any etiquette for that matter – is inherently subjective. What if we stripped away the human biases and had a (supposed) neutral third party analyse our game's pressing questions?
Since it was launched in November, OpenAI's ChatGPT – a free, prototype artificial intelligence chatbot – has simultaneously entertained, informed and frightened users with its human-like responses to just about any question.
While we're still in the early stages of fascination with this tool (and before it has us journalists out of a job), we put it to work to weigh in on a series of golf questions. From talking to another player's ball, to unsolicited swing advice, to managing emotions after a poor shot, here's what this AI chatbot has to say:
1. Talking to another player's ball
Whether a partner's ball is covering the flagstick in the air or sailing towards a white-staked housing estate, your commentary will have little (no) effect on the outcome. Etiquette dictates you keep your thoughts to yourself. Turns out, ChatGPT agrees: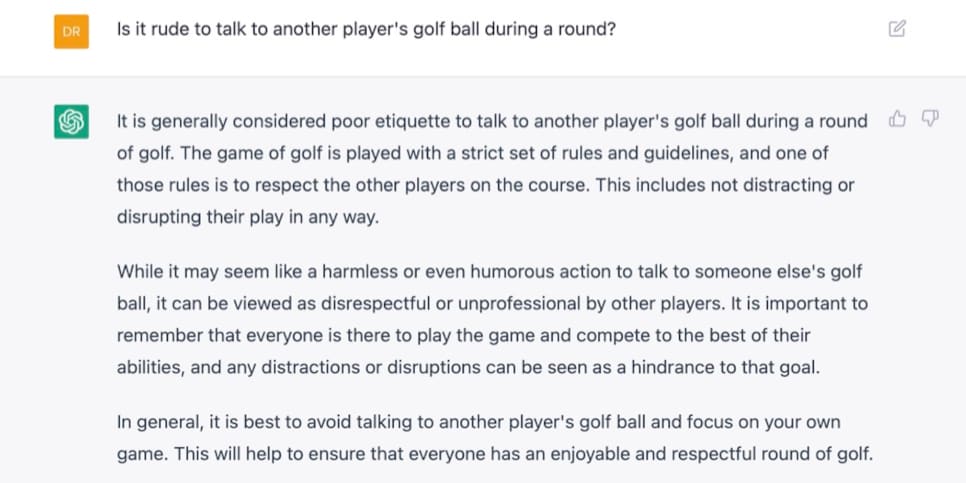 2. Music on the golf course
As golf has become more accessible in recent years, there's been much debating about whether music has any place on the course. In a classic pitting of traditionalists versus golf progressives, the computer weighs in: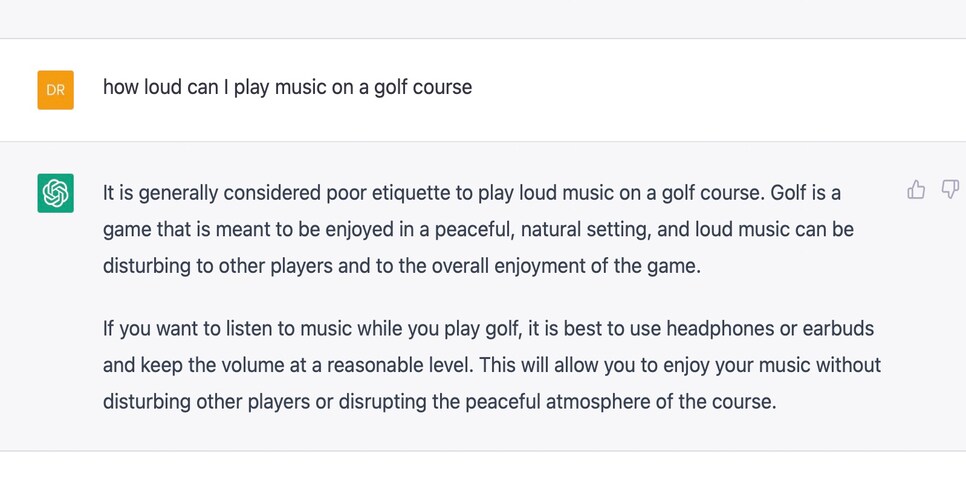 3. Giving unsolicited swing advice
We know we're not supposed to do it, but how much longer can we watch our friend suffer from poor golf shots? As AI says, giving tips to friends on the course is a "tricky situation".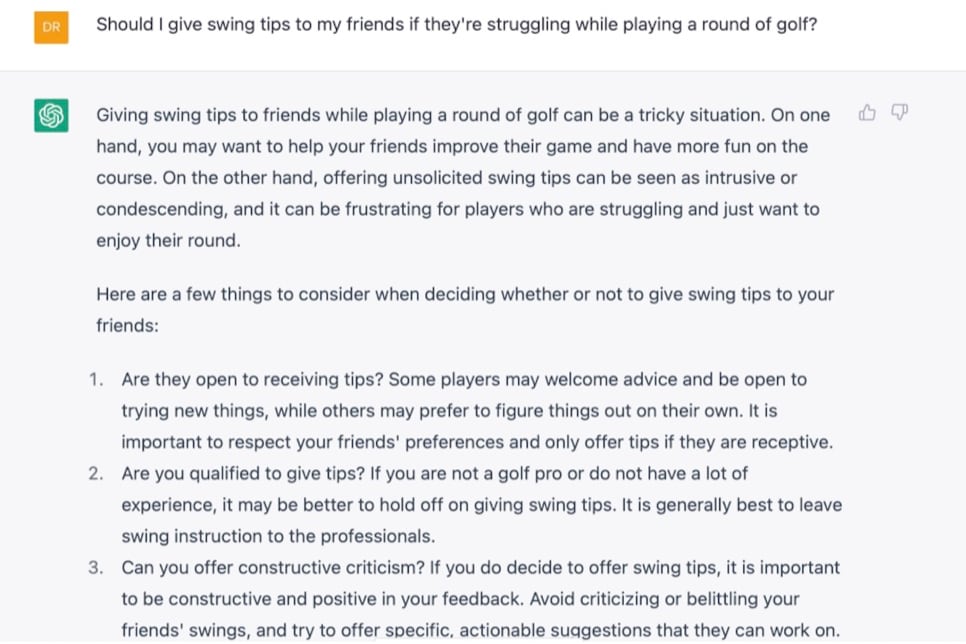 4. Buying drinks after making a hole-in-one
Covering the 'shout' after making a hole-in-one is one of the more head-scratching traditions in our game. As expected, the computer takes a measured, unemotional approach to settling this question.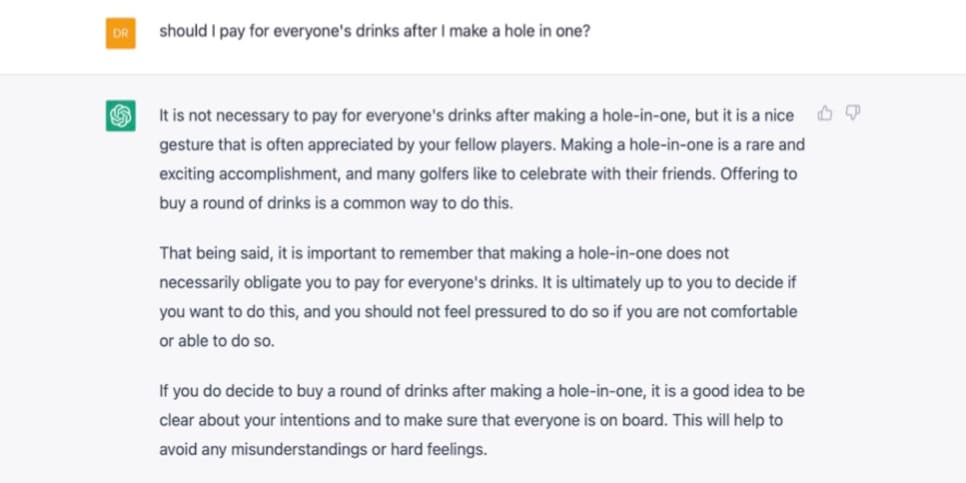 5. Alternatives to swearing after hitting a poor shot
We asked for some alternatives to swearing on the course, but after reading what AI proposes, we think we'll stick with the four-letter words. Saying, "I can do this," after three-putting from 10-feet just isn't going to cut it.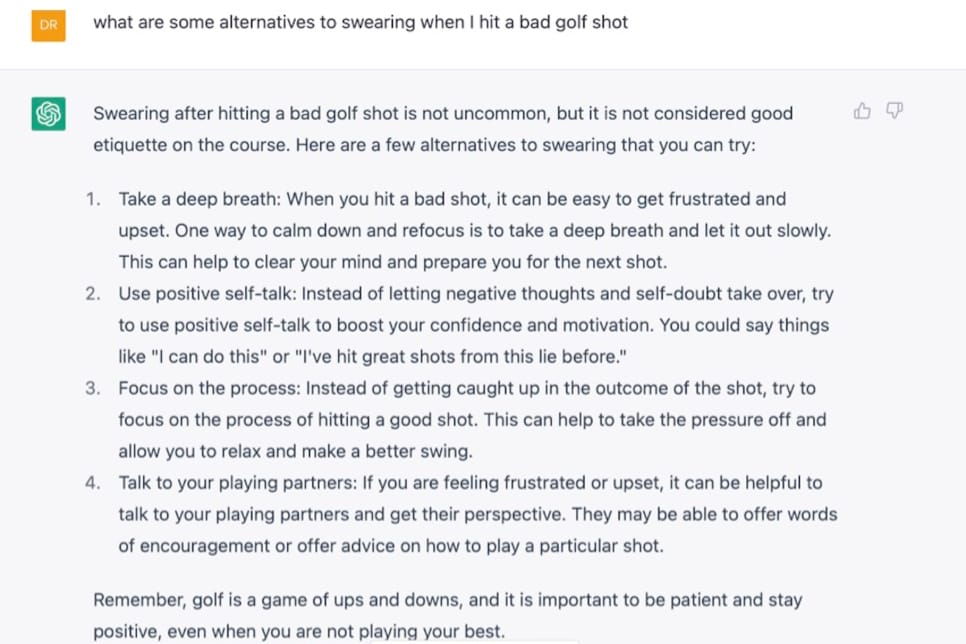 6. If you suspect your partner is a 'sandbagger'
We know it when we see it – the 25-handicapper miraculously has the "day of their life" for three straight days in a boys' trip or a big invitational event. Here's how a computer would handle the situation: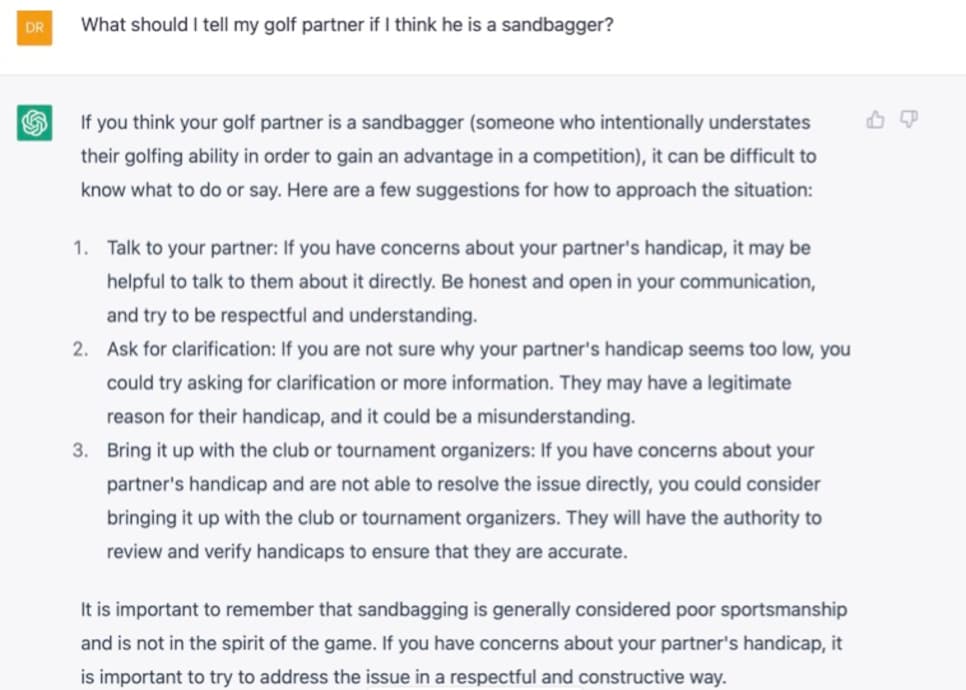 7. Does a hole-in-one need a witness to count?
It's a divisive question for us human golfers: does a hole-in-one count if no one witnessed the ball go in? Yet, the AI golfer takes a firm stance.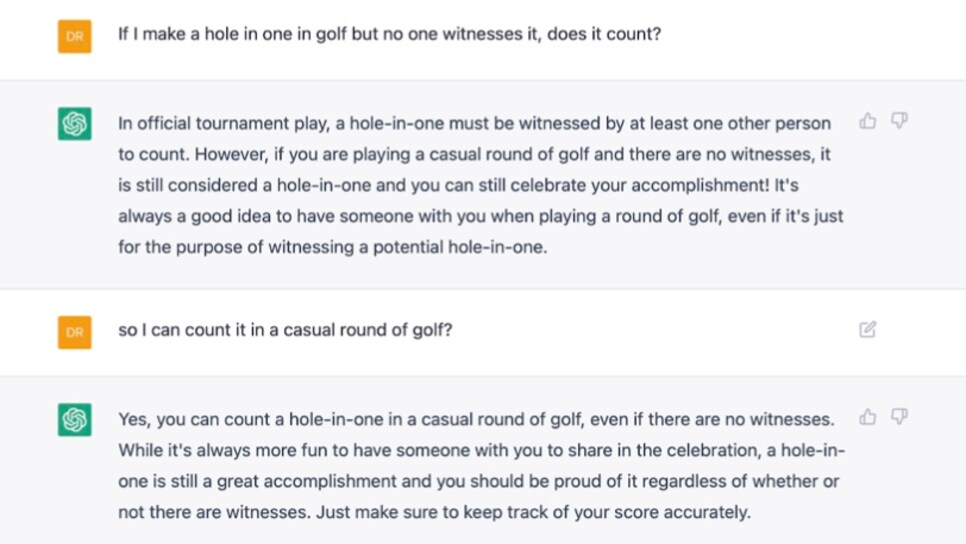 8. What to say if your partner takes a bad drop
What do Viktor Hovland, Joel Dahmen and this AI chatbox all have in common? They all agree on taking a firm, measured tone when suspecting a player took a bad drop, as Hovland and Dahmen did with Daniel Berger during the 2022 Players Championship.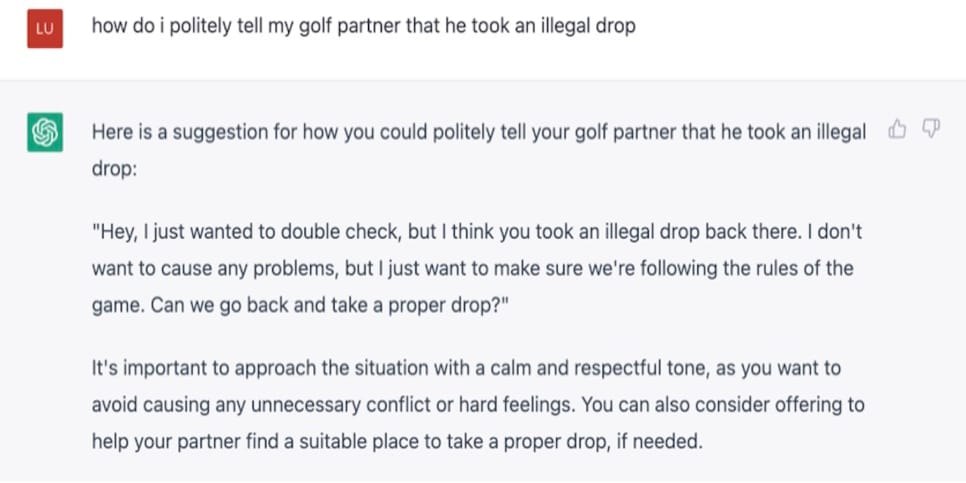 9. What to do if you mistakenly receive a Masters invitation
Alright, we're unlikely to be put in this position – as the lesser-known Scott Stallings was when he was mistakenly sent PGA Tour player Scott Stallings' 2023 Masters invitation – but let's see where the computer comes down on this deep moral question.