The hard truth about mini-tour life is it costs a lot to compete for so little, which is why fans who come to this week's United States Open may be taxied home by a player they just watched.
That would be Berry Henson [pictured]. He's a good player, currently 444th in the world ranking, and has status on the Asian Tour, but the purses over there are nowhere as opulent as they are in America, so Henson has to grab extra work to defray expenses. For the past seven years he's been an Uber driver and has amassed more than 3,000 rides behind the wheel. Henson endured the side hustle because he sensed there were places his golf game had the ability to go and believed his sense of direction was true.
"I don't know, it sounds weird," Henson said on Monday, trying to explain how the heck he found himself playing in this event. "[I'm] 43, starting your journey… but I've never given up."
A similar sentiment can be said for Olin Browne Jnr, the son of three-time PGA Tour winner and 2011 US Senior Open champ Olin Browne. Junior's struggled in the professional ranks for 13 years. He played a full season on the Korn Ferry Tour in 2019 and made just two cuts. Since his demotion Browne's spent most of his time on the MLG Tour in Florida. He captured a tournament in April, and for his troubles he cashed a winner's cheque of $US1,000. Until last week Browne was 0-for-16 in attempting to qualify for his national championship. Attempt No.17 proved to be the charm.
"It's awesome," Browne said on Monday at Los Angeles Country Club, "and it's awesome that they allow people like me the opportunity to play two qualifiers to get here."
They are journeymen, Henson and Browne, and you will hear about their journeys this week because they qualify as feel-good stories. But they're also something more, because in a past week and year when everything in the game of golf has seemingly had a dollar sign attached, they are stories that are priceless.
"Feel-good" is not exactly synonymous with the US Open. This championship is known as the brute of majors, the one that is prone to breaking scorecards and bullying players, sometimes in ways that can seem artificial. Yet there is a romanticism to the US Open, a beauty which is found in its name. Open. The sport beats its chest about meritocracy, and to an extent that's true, but this championship is meritocracy incarnate. The US Open doesn't care who you are or what you've done, where you play or where you're from. Its invitations are not given; they are earned.
Henson embodies this spirit. He is 43 and competes mostly in Asia, but has also played in Canada and Europe and South Africa and, well, anywhere men are chasing a little ball towards a flag. Coming out of the University of San Diego in 2003, he was told he didn't have what it takes to make it to the big leagues. His gut and his heart said otherwise, so he bet on himself. For seven straight years he entered the PGA Tour's Q-School. For seven straight years, he didn't make it through. Down to his last $5,000, he travelled to the Asian Tour's Q-School and the gambit worked; he's been on the continent's primary circuit for the past decade. Still, it's not a glamorous life; he now calls Thailand home for nine months of the year, and worked at a hotel chain for 15 years in addition to his playing career, strictly for the discounted accommodation that came with the gig.
There is a toll that comes with great ambition, one that cannot be measured or often not realised until it's too late. Henson's mother battled dementia, and her health was failing in the northern spring. Henson had a tournament at his home course, and opted to play in Thailand rather than flying back to the United States. Henson's mother ultimately died and he didn't make it back in time to say goodbye. It is a fate he continues to grieve.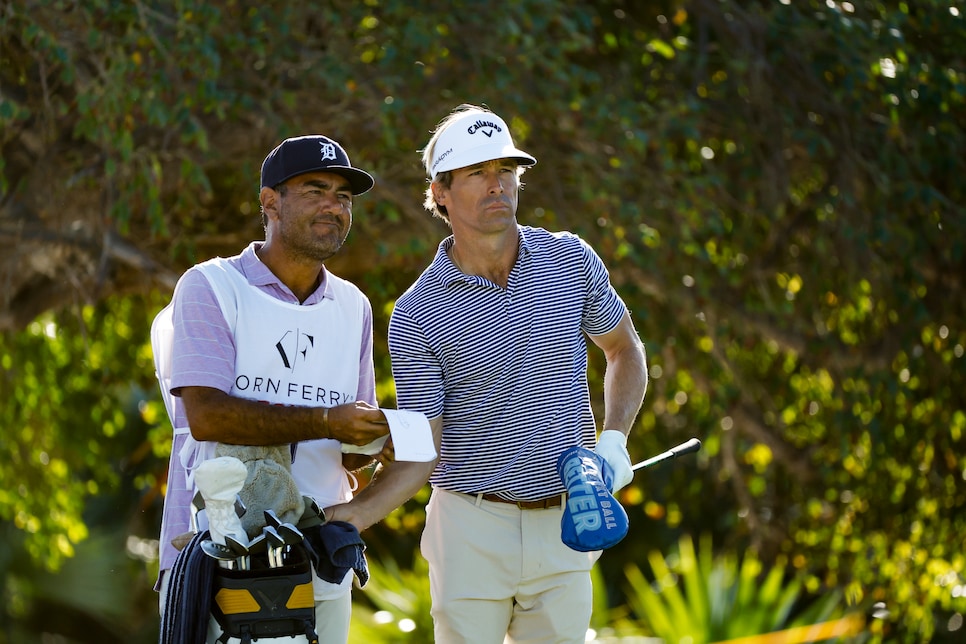 Through his struggle, Henson decided to fly to New Jersey to attempt to qualify for the US Open. He doesn't know how many times he's tried to make it here, only that he started sometime in the '90s and has never succeeded. But Henson secured one of the coveted spots at Canoe Brook Country Club with a 64-71 despite an opening double-bogey, thanks to two chip-in birdies and a number of converted 30-footers. He said he felt his mum's presence, which is why once he made it to LACC this week, he tweeted a piece of wisdom from his her: "Never give up on your dreams."
"I think being humble, getting comfortable, enjoying the experience, and letting my game talk, and hopefully it does this week, and I can only take away positives from this week," Henson said. "It's just going to be a win-win all the way around… I'm excited to be here. The USGA has been amazing to me. Yeah, I'm going to take it all in."
Browne knows this. Golf was all he knew, and all he wanted to do. He also wasn't ignorant to the results; there are only so many mental gymnastics to be done with against such a record. But as the game did its best to tell him to stop he kept going, ultimately winning medallist honours at the Lakes Golf and Country Club qualifying site in Columbus, Ohio, to finally make it to the US Open.
"It's hard to not have those thoughts sometimes, especially when you're grinding it out on mini-tours and chasing Monday qualifiers," Browne said. "The Monday qualifiers are hard. You shoot a lot of good numbers and you're going home. I'd be lying if I told you that this is the only thing I've ever considered doing. It's the only thing I want to do. I keep improving, and that's why I keep doing it.
In themselves, stories like Henson and Browne, while endearing, are common at the US Open. However, it is an interesting time in the sport, this championship contested in the shadow of a surprise deal that has more questions than answers. No matter one's thoughts on the proposed partnership between the PGA Tour and Saudi Arabia's Public Investment Fund, it underlines the stubborn will of Saudi Arabia to buy a share of golf ecosystem, and it is an ambition that has succeeded. Much remains to be extrapolated from this deal, and it's fair to wonder where the game is going, who is directing its trajectory and what this all means. That this equation can seemingly be distilled down to money can leave a sour taste.
Nevertheless, there are still weeks like this week that offer moments of respite. These are the moments that Henson and Browne chase. The moments can take a lifetime to obtain, there is no guarantee they will come and when they do they are fleeting. But that's the point, because those moments, those dreams, are the rare thing in golf that can't be bought.
• • •