Like many inspired ideas, this one was doodled out in its early stages on a napkin. Former NBC Sports President Mike McCarley, who was scouting new business prospects, and Ryan Dotters, the CEO of the Full Swing golf simulator company, were at the 2019 PGA Merchandise Show in Florida and sharing their aspirations over beers at the hotel bar.
McCarley had an idea that might revolutionise televised golf, and Dotters was the man who could help him make it happen. McCarley envisioned an indoor arena, filled with a couple thousand spectators who would watch the likes of Tiger Woods and Rory McIlroy lead their teams in weekly head-to-head matchups in primetime.
The golf would be played in front of a giant simulator screen and on putting greens with technology so nifty that the surface could be re-fashioned for every hole.
Woods already was a fan of Full Swing, having used it since 2015, and had knocked the idea of a simulator league around with McCarley. Then three months later, the world's most famous golfer scored an incredible victory in the Masters to capture his 15th major title, and McCarley and Dotters knew they were on to something special.
"At that point, you're off and running," McCarley said.
In the middle of the pandemic, with golf experiencing a participation boom it hadn't seen in decades, McCarley and Woods formed TMRW Sports in April 2021. They quickly recruited McIlroy, and the pieces fell into place for a competition that combined the flesh and blood of live athletes with über-sophisticated technology for the first time in any sport.
The team from TMRW (pronounced tomorrow) announced at last year's Tour Championship the formation of the league dubbed TGL. A target date for first balls struck in competition was set for January 2024. Though there were few other details beyond that at the time, the idea was for there to be six three-man teams and a venue built in West Palm Beach, Florida, near where many of the tour players live.
Players were signed—12 of the game's biggest names now—and two star-studded ownership groups identified in Los Angeles and Boston (the tennis Williams sisters among them). But for fans whose interest was piqued, there were lingering questions, the most prominent of which was: What the heck is this all going to look like?
Many of those answers arrived on Wednesday, with TGL announcing that Carlsbad, California -based Full Swing will be its official technology partner. Given that the relationship was well established several years ago, this is hardly breaking news. But with it, TGL provided Australian Golf Digest and other select media an early first look at how the venue and competition will appear once play begins, mostly on Monday nights, in January.
First impression: Even if you're a casual golf fan, it's going to get your attention.
A current rendering shows a U-shaped, two-decked arena surrounding nearly 100 yards of playing space, which is lined with digital ribbon boards and features a cushy-looking dugout area for the players. Music will frequently be played over the speakers, so don't expect to see any marshals holding up "Quiet" signs. The players will always be mic'd up. "It's like sitting courtside at an NBA game," McCarley said.
At the open end is the world's biggest golf simulator, with a massive screen that measures 64 feet wide by four stories high (46 feet)—or 20 times larger than the standard Full Swing monitor. "It's like the outside world that the players are playing to," TGL chief technology officer Andrew Macauley said.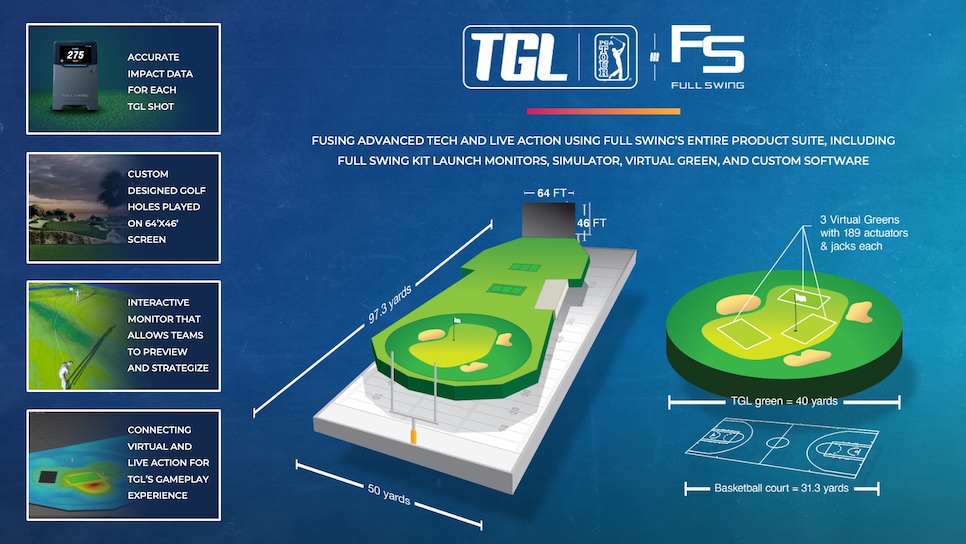 On the other end is perhaps the most impressive piece of technology. In 2015, Full Swing acquired Virtual Green, which developed the use of "actuators" that move jacks up and down to change the slopes of the surface. The greens have been extremely popular among some of the top players in the world, including Woods and Jon Rahm, who have them in their homes.
But here's the difference for TGL: While Rahm's own green has 24 actuators, there will be three separate putting surfaces for the league, with each of them having 189 actuators. At 40 yards in length, the entire putting surface and its accompanying real sand bunkers will be bigger than a basketball court. The green contour and location will change with each hole, so the players will never have a chance to learn all of the breaks.
"When they finish putting, they'll walk to the other side to go hit, and while they doing that we'll be adjusting and changing the field," Macauley said. "By the time they get back, it's already different than it was before."
Another frequently asked question: Will the golfers play legendary courses such as Augusta National, Pebble Beach and St. Andrews? The answer is no, and there's a logical reason for it. The system simply can't duplicate, say, the 13th green at Augusta, and the group is shooting for golf that is as close to reality as possible. Instead, notable golf course architects—TMRW won't identify them yet—have been enlisted to design holes specifically for TGL.
Among the other details that haven't been shared and are expected in coming weeks: the rosters and regions represented by the teams; what the prize money will be; and who will be the league's media partner.
One of the biggest challenges for Dotters and Full Swing was to dial in to nearly inches the accuracy for the players' shots, whether they come at 300 yards or 20. The company prides itself on that aspect for regular golfers who purchase the system, but it's another ballgame when you're trying to account for Woods' unleashing a stinger and Rahm intentionally playing a low approach that's supposed to take two quick skips and stop.
"It's finding those depths and markers that allow us to be as accurate as possible, because these guys will call us out," Dotters said with a laugh. "I've been partners with Tiger for a long time now, and if we're off by a yard I hear about it directly on my cell phone—'You need to fix this.' They're not shy, whether it's him or Jon. I'm either doing a crap job or I'm doing great."
Not lost on anybody in this venture is that sports fans will once again be able to watch Woods play golf on a regular basis—something he hasn't been able to do in years because of injuries. With each team playing five regular-season matches (which will feature alternate shot and singles play), that's five opportunities to see Tiger, even before the playoffs that will feature the top four teams.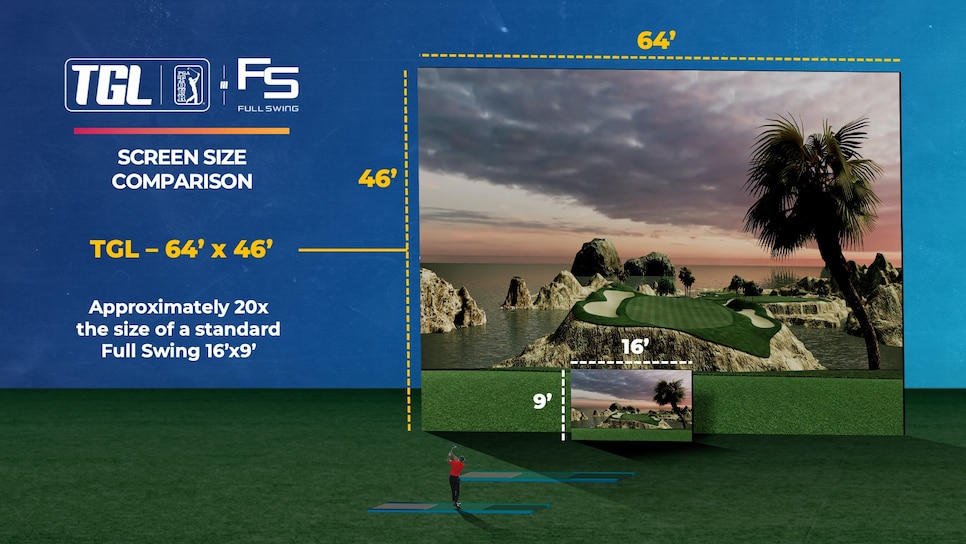 In this arena, Woods merely needs to walk a few yards on flat ground, and the hope is that he will still be able to display the magic that made him the greatest talent of his, or possibly any, generation.
"Rory said it at one point that he thinks this may be the way for an entirely new generation to understand and really witness the mastery that is Tiger Woods," McCarley said.
Of course, with the primetime exposure comes an onus on the players to not only show their skills, but to be entertaining doing it. As some iterations of The Match have proved, putting a microphone on a golfer doesn't guarantee he becomes Jerry Seinfeld. But McCarley insists that the players know their job is to provide insight and knowledge that fans can't get from watching a regular tour event.
"Week in and week out, you want to hear more from the players," McCarley said. "You want to see them hit a great shot. You want the technology to demystify how that great shot actually works. … We're very cognizant of that, and it something we want to showcase as far as the way the guys interact with each other. That's what the fans want."
Golf, the TMRW group contends, has come a long way with access to the game through venues such as Topgolf and other simulators. But for a generation of players, from Woods to Rahm, who grew up loving video games and sports, they believe there are many fans with the same experience who will relish golfers being the first to take on technology in a fresh way.
Is this just watching a bunch of guys play simulated golf? Hardly, McCarley claims.
"More people are getting into the game, and now we're creating this media experience to get those fans where they are," he said. "It's a different form of the game. You've got one foot firmly rooted in tradition and the other foot is embracing technology to bring the sport forward.
"This is more tech-forward," McCarley added, "but it's still something golf fans are going to identify with and acknowledge that these are the greatest players in the world playing a new version of the same sport."