Bailey Tardy didn't plan on playing LPGA Tour Q School. It was only after a conversation with her coach that the 26-year-old former college All-American at Georgia agreed not to let frustration win the day and signed up. It's a good thing she did. Tardy was one of 46 players to get LPGA Tour cards for the 2023 season on Sunday after the conclusion of the eight-round marathon that is LPGA Q Series.
No one can blame Tardy for not wanting to play Q School. In the past three years, the Georgia native had been precariously close to locking up an LPGA card, only to see it just slip from her grasp. In October, she finished 11th on the Epson Tour money list in 2022; the top 10 get LPGA cards. In 2021, basically the same thing happened when she finished 12th. Back in 2020, with the COVID-19 pandemic shortening the season, the Epson Tour awarded cards to the top five instead of the top 10. Tardy was sixth by an impossibly small margin ($343).
But last week at Highland Oaks in Dothan, Ala., during the final four rounds of Q Series, Tardy left nothing to chance, pulling herself far away from the bubble. The top 45 players and ties get their cards, with the top 25 earning better status. Tardy shot a 67-65 in her final two rounds to finish second at 27-under overall, two shots back of medalist Hae Ran Ryu, a 21-year-old from South Korea.
"I didn't want to come to Q School at all. Even at the beginning of the year, I told everyone, I'm not going to Q School. I'm not doing it. That's not what I want to do. And I'm so happy I did," Tardy said on Sunday. "I'm ecstatic. Just a lot of hard work, and it all paid off the last two weeks. I don't know, it's kind of surreal right now. I think it'll hit me a little bit later. But I can finally say I'm an LPGA [Tour] member."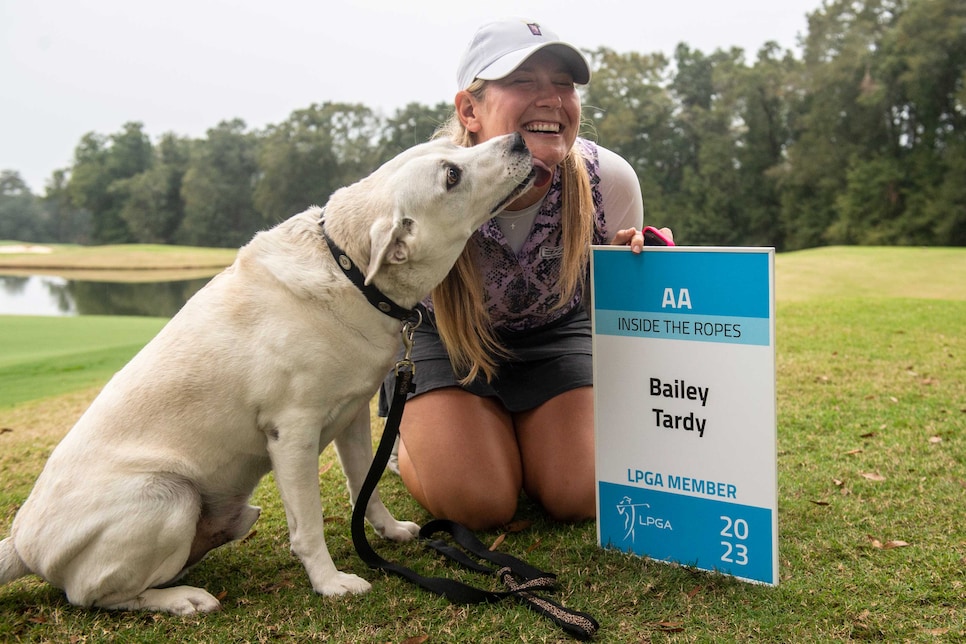 Bailey Tardy pose with her new LPGA Tour card and her dog Ramsey after the final round of the 2022 LPGA Q-Series.
Hannah Ruhoff
MORE: Pro golf's best iron player in 2022 was on the LPGA Tour and it wasn't even close
The 46 players who gained tour privileges at Q Series come from 21 countries, including the first LPGA player from Morocco: Ines Laklalech (T-12). In fact, she's the first player from all of north Africa and the Arab region. Behind Tardy in third were two other former college standouts: Aline Krauter from Germany, who was part of Stanford's 2022 NCAA title team and Valery Plata from Colombia, who played at Michigan State.
At T-21, you'll see another name you might recognize: Alexa Pano. The 17-year-old gained notoriety back in 2013 as one of the stars of Netflix's film, The Short Game. She had a decorated junior career, winning her age division at the Drive, Chip and Putt National finals three times and taking the 2019 AJGA Girls Junior Championship title. The junior star decided to turn pro this spring rather than go to college, and went on to earn an LPGA Tour card with a T-21 showing, including closing rounds of 68-67.