Hideki Matsuyama paused at the top, a little shorter than normal, whipped his 3-wood through the hitting zone and stared directly into the sun. He couldn't see his ball screaming through the Hawaiian sky, so he turned to his caddie and hoped for the best. It's a shame he didn't experience this one in all its glory, for what he missed was one of the very best shots of an increasingly special career.
From 253 metres (277 yards) on the first playoff hole, Matsuyama ripped a tight cut that pitched five steps short of the stick and trickled to within three feet of the cup, setting up a gimme eagle on Waialae Country Club's par-5 18th hole. This was the crushing blow in a slow death of Matsuyama's playoff opponent, Russell Henley, who proceeded to airmail the green with his third shot. And that, my friends, is how the Sony Open was won.
It's the second victory of the young 2021-2022 PGA Tour season for Matsuyama, coming off last October's triumph at the Zozo Championship in his native Japan. And his Masters win last April sure looks now like the springboard to a second prime in the 29-year-old's career.
"I feel great," Matsuyama said through his interpreter. "To be able to win back-to-back with Zozo and here at the Sony, and especially on a course that I haven't really played that well."
RELATED: The clubs Hideki Matsuyama used to win the Sony Open in Hawaii
It's the way he won in Hawaii – leading the field in strokes gained/putting with a career-best 7.537 – that'll most excite Team Matsuyama. The flatstick has been his nemesis, the lone reason he hasn't quite been at that Rahm-JT-Rory level. Keep rolling it like this, though, and unburdened Hideki Matsuyama is a very dangerous man indeed.
He was asked after the round how life has changed since that Sunday at Augusta. The answer was simple yet profound: "The pressure of not winning a Major has been gone."
An ancillary benefit of Mastuyama's finishing flourish – to force the playoff, he shot a closing 63 with four birdies over his final nine holes – is that it will syphon some attention away from Henley's disappointing afternoon. On paper, the 32-year-old Georgian woke up with a two-shot lead, shot 65 and lost. On the course, well, not all 65s are created equal, especially when you eagle the ninth hole to turn in 29.
"Russell was playing so beautifully the front nine," Matsuyama said, "but at the turn I was thinking, He can't keep this up, can he?"
No. No, he could not. Henley hadn't shot worse than 34 on any side at Waialae all week, and his lead stood at five with the final nine to play, the tournament firmly in his possession. Then, in a time-honoured golf tradition, he glimpsed the finish line and flipped it in reverse, failing to make another birdie for the day.
Henley has always been a bit fidgety, granted, but this time his body language turned downright panicky. Having the reigning Masters champion steadily gaining ground surely didn't help matters. Matsuyama birdied the 10th and stuck his approach into the par-3 11th to 12 feet. Henley's lead was still four at the time, but he hit a bad pull into the left bunker and couldn't get up and down. Hideki canned his birdie putt. Two-shot swing. Game on.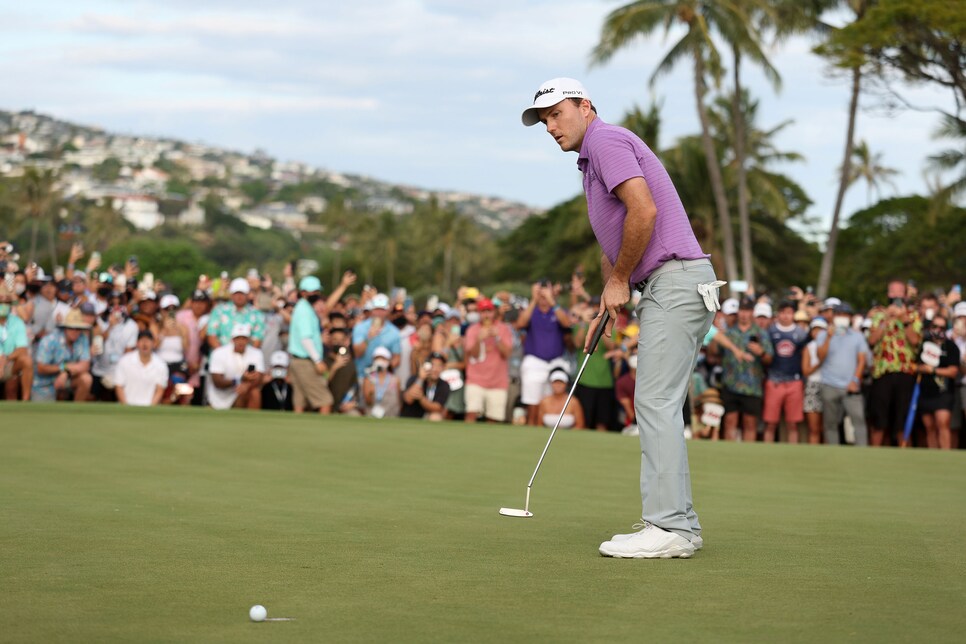 Henley missed left on 13 then right on 14 – he managed to save par both times but still appeared to be hanging by a thread, for Hideki was in attack mode and smelled blood. Matsuyama holed a 15-footer for birdie on 15 before Henley putted from the exact same line and stone-handed one three feet past. Henley's lead was down to one when both stepped to the 18th tee. Matsuyama swung out of his shoes with his drive on the par 5, sending a high draw 310 metres into the hardest fairway to hit on the PGA Tour. His inexorable closing birdie arrived right on schedule – as did Henley's inability to match it and close the deal in regulation. A 10-footer to win ran out of steam and kissed the low lip but would not fall.
The playoff felt like a mere formality, and Matsuyama's miraculous second shot put Henley out of his misery.
"I felt pretty good – I definitely was nervous but I felt pretty good," Henley said after the round, having acknowledged a day earlier that he has struggled with leads in the past, most recently blowing a three-shot edge heading into the final round at last August's Wyndham Championship. "I felt like I was able to hit some good shots. Don't feel like I was that far off, but disappointing to lose. Hideki hit a great shot in the playoff, but at the end of regulation, I thought I made that putt. I'll look back on that and I'll take confidence from it."
That's one hell of an attitude after blowing a five-shot lead with nine to play, and perhaps part of the reason he's on the PGA Tour while the Twitter warriors ripping him are on their couches. Still, Henley is now 0-for-4 with a solo lead after 54 holes, and it's a bit jarring to see a player of his ball-striking prowess – he has ranked inside the top six in the crucial strokes gained/approach statistic in each of the past three seasons – inching closer to a five-year winless drought.
Matsuyama had one of those droughts not long ago. His ran nearly four years until he broke it in the best possible way: with a green jacket. It feels like he's been around longer than forever, but he is somehow still a month shy of his 30th birthday and, in addition to being an all-time legend in Japan for bringing his home country its first male Major championship, he now has eight PGA Tour titles to his name. And yet, if he can come even close to replicating this putting performance moving forward, there's no reason his 30s won't be even more fruitful.
TOP/MAIN PHOTO: Getty Images