Tom Kim vs pants is a rivalry for the ages. It's the New South Wales vs Queensland of sartorial showdowns. Kim burst onto the scene (literally) at last year's Presidents Cup when he split his pants not once but twice at Quail Hollow. Then at the PGA Championship, Kim did his best Swamp Thing impression when he slipped in a creek attempting a treacherous recovery shot, getting caked in mud from the Nike swoosh down.
Tom Kim tells hilarious childhood story of his first interaction with Tiger Woods
Since then we've been watching and waiting for Kim's next run-in with a pair of slacks, which finally arrived at the FedEx St Jude Championship on the opening day when Kim made his playoff debut dressed like he was headed to a regatta on the cape…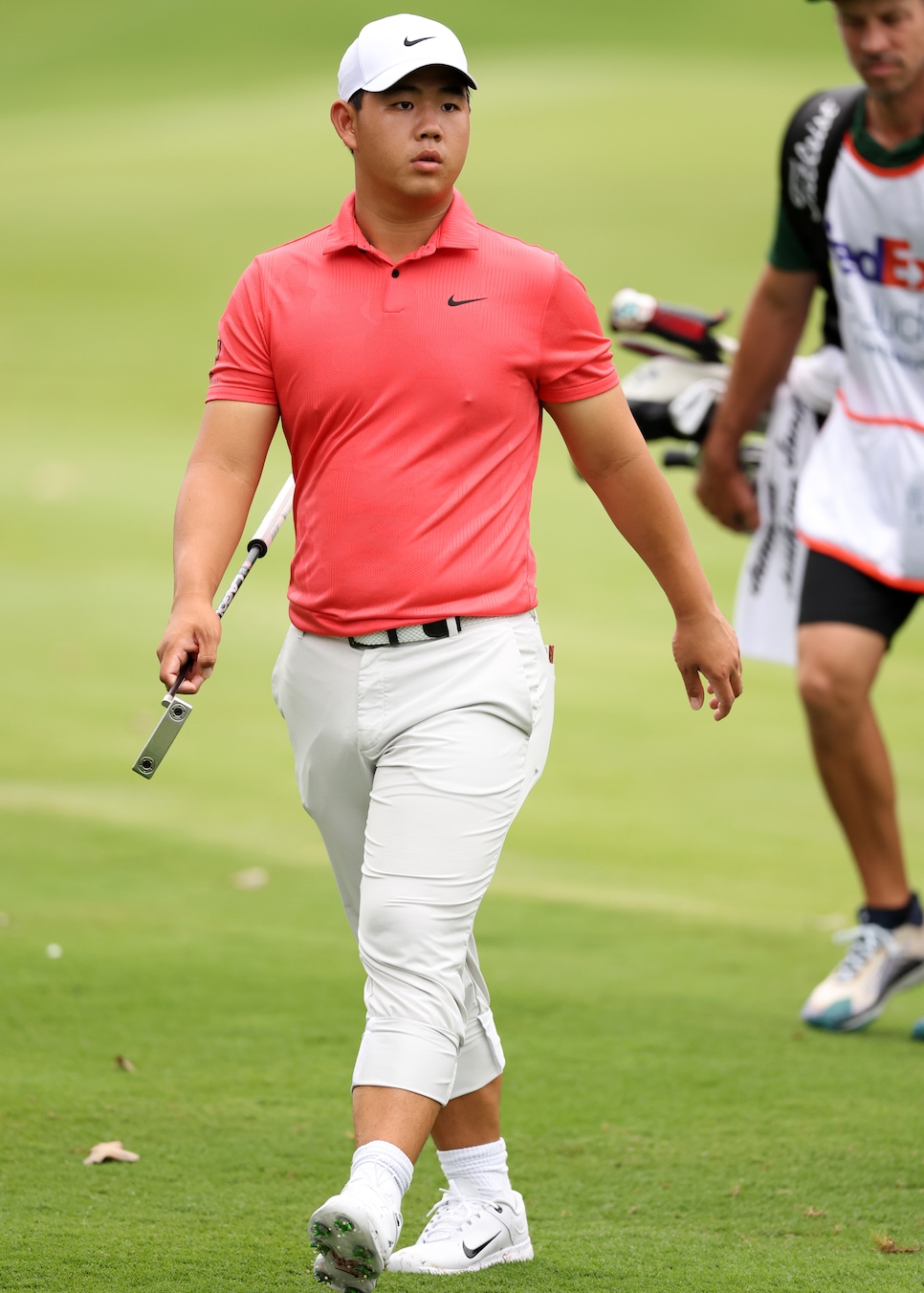 As is seemingly the case with all things Tom Kim, the internet was simultaneously mystified and magnetised by the South Korean's bold new look.
What a look from Tom Kim pic.twitter.com/dZQTxfRyCy

— Christopher Powers (@CPowers14) August 10, 2023
Tom Kim going with an interesting look with the pants today pic.twitter.com/6B0V3m3Mtx

— Eli Savoie (@Eli560) August 10, 2023
Mr Tom Kim… what're we doing with the pants there my guy? @NoLayingUp pic.twitter.com/Qhwx2kObEB

— Steve Valerio (@steve_valerio) August 10, 2023
Tom Kim asked his stylist for an outfit from the Rudy Collection™️ https://t.co/wBPQVGyyOo pic.twitter.com/9muENBMaAn

— W (@ZitiDoggsGolf) August 10, 2023
What in all things holy is Tom Kim wearing today? Are they rolled up? Does this have something to do with his ankle? I'm beyond confused

— Rich Cuthbertson (@rcubDFS) August 10, 2023
@NoLayingUp Tom Kim's pants……. pic.twitter.com/ZOvGQyvmAI

— CMurphyGolf (@FixUrBallMark) August 10, 2023
Question of the FedEx St. Jude Classic.. what is up with our guy's pants? 🤣Young Rafa Nadal comes to mind https://t.co/bSRX3DOtid

— Tom Kim Tracker (@TomKim_Tracker) August 10, 2023
It's a valid question, but we honestly don't know. Maybe the swelling from Kim's twisted ankle still hasn't gone down enough to squeeze into those finely tailored pantaloons. Maybe men's capris are making a comeback. Maybe he's just showing his dreaded khaki adversaries who's boss once and for all. We'll have to wait and see what he says after his first round at TPC Southwind.