James Cassidy knows it's a yarn that defies logic. He will fully admit that if he wasn't there for it himself, he'd think someone was trying to pull one over on him.
How do you explain with any credibility that a 16-year-old girl who was a last-minute walk-on to a high school team and had only practised golf on the range made a hole-in-one in the first 18 holes she ever played. "I'm getting a lot of responses when I tell people," Cassidy said on Saturday. "Guys who have been playing golf for a long time are saying, 'I don't know if I should be happy for her or mad right now.'"
Yep. Those of us who took years (decades?) to get one, or have none, are either going to laugh or cry.
"It's fairly unprecedented, right?" Cassidy said. "How many people in the history of the game have a made a hole-in-one the first time they played? Maybe nobody."
There are so many tasty tidbits to the story of young Kathy Ko's ace.
A sophomore at Poway High School, the San Diego-area alma mater of PGA Tour veteran Charley Hoffman, Ko says she first hit balls on a driving range in Chicago when she was 8 years old after her family moved from her native South Korea. But she quickly lost interest and took up volleyball as her primary sport.
She hadn't really thought about playing golf again until Cassidy, the Poway High girls' golf coach, put out the word that he needed more players for the autumn. Ko only arrived in San Diego a few days before to live with a host family, Rob and Miki Crafts, while her parents stayed in Chicago. She showed up for the first practice with rarely used clubs that came out of Miki's closet.
Cassidy, an assistant pro at Maderas Golf Club where the team plays, immediately recognised that Ko had a raw, but promising swing. For a practice match on September 6 at Madreras, an upscale public track designed by Johnny Miller and managed by Troon, the coach planned to have Ko and another beginner play behind the starters. But two girls couldn't make it, so he put the newcomers in the line-up. They played so slowly that they were only able to finish seven holes in the nine-hole match before dark.
The next day, the Poway team took on another squad, Ramona, and this time Cassidy put Ko with a more experienced player. When they arrived at the par-3 sixth – moved up for the girls to 140 yards when it normally plays as a par 4 – Ko initially chose a 5-iron, only to have her teammate counsel her into hitting a 6. (Understand, Ko is still not sure what her distances are for her borrowed clubs.)
So, now playing her 13th hole ever and her fourth par 3 – and coming off making a 10 on the previous hole – Ko hit her tee shot and watched it track towards the flag. "I thought it was short and went back into the bunker in front of the green," Ko said.
But she heard shouts from the green, where the opposing coach, Nicholas Jordan, watched the ball land short, roll up and track into the cup.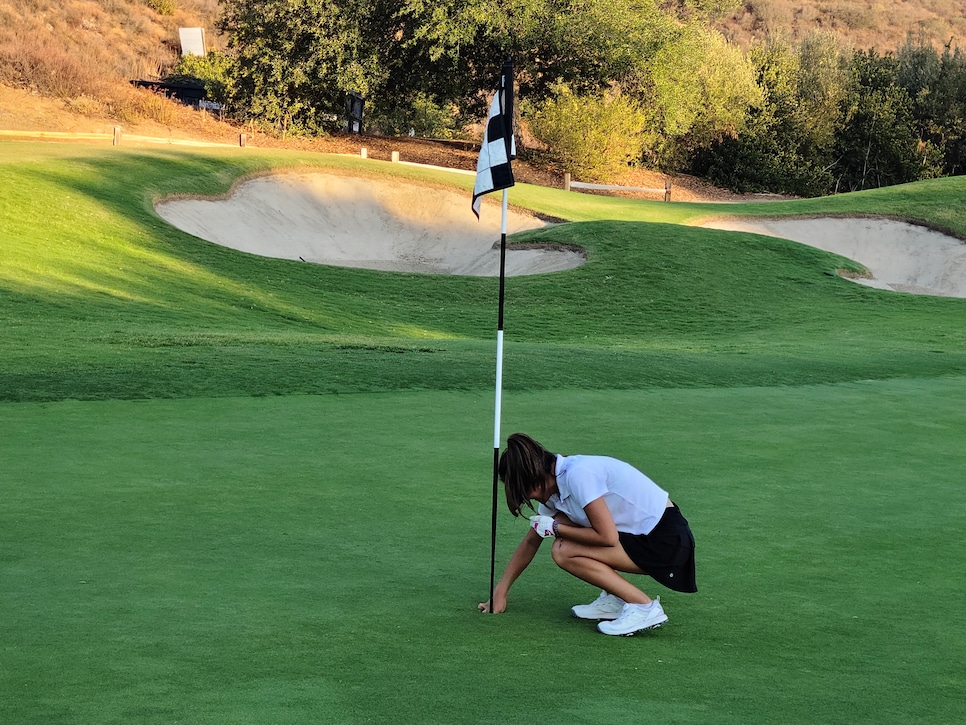 "He said, 'You got a hole-in-one!' And I was, like, 'Me?'" Ko recalled with a laugh. "Another girl hit before me so I was thinking maybe it was her. But it was me! The four of us started screaming, and then the girls on the other hole started screaming because they heard us screaming."
Cassidy heard the commotion, too, and rushed over to get photos of Ko retrieving her ball from the hole.
"That the opposing coach got to see it, that was pretty cool," Cassidy said. "Sometimes when this stuff happens, you're like, 'Sure, I'm not trusting what you say happened.'"
For the record, Ko finished her first official nine holes with a fairly impressive card of 16-over par 51. "Afterward, it was kind of funny," Ko said. "Even if I messed up, it was OK because I had a hole-in-one. That was my excuse for the day."
When everyone got back to the clubhouse, Cassidy retrieved a Maderas flag and had all of the players from both teams sign it. It just so happened that Ko's mother, Joohee Jun, flew in earlier the same day. Since buying drinks in the bar was out of the question, they all agreed to have a pizza and soda party after practice on Monday.
A cheerful and outgoing girl, Ko recalled that at school the next day, her ace was part of the morning PA announcements, though she had trouble hearing it over the normal din of her classmates. In Biology class, the teacher didn't know what a hole-in-one is, so Ko explained and the teacher was thrilled for her. "We had a test and I asked if I still had to take it," Ko said with a laugh. "She said yes."
Ko said she still hasn't fully processed the out-of-this-world uniqueness of her feat.
"I get that it's a huge deal," she said, "because some people can't make a hole-in-one. And it's funny that I got it so quickly. I can say that it's a very humbling experience getting a hole-in-one in the first time I played golf."
That's a brag she can use for a lifetime.