Kiwi Steven Alker had just lost the 2022 season finale on the PGA Tour Champions by eight shots, but you wouldn't know it from the smile on his face and the celebratory fist pump. Walking off the 18th green at Phoenix Country Club earlier today, the 51-year-old New Zealander congratulated Padraig Harrington for winning the Charles Schwab Cup Championship and setting the tour's 72-hole scoring record in the process. Yet Alker's outright third-place showing was good enough to stay atop the final standings in the year-long Charles Schwab Cup points race and cap a storybook season.
Fifteen months ago, Alker had no senior tour status, Monday-qualifying to secure his first start. He finished T-7 that week at the Boeing Classic, beginning a run of six straight top-10 finishes that rolled into a victory in the second-to-last event of 2021.
Proving his early success on the 50-and-older circuit was no fluke, Alker continued to impressive in 2022, winning three times and posting seven top-fives in the first nine starts – including claiming a Major title at the KitchenAid Senior PGA Championship. The perennial journeyman – Alker had made 86 career PGA Tour starts without a top 10 and with 47 missed cuts, plus 80 European Tour starts with one top-10 and 42 missed cuts – was suddenly unbeatable. He added one more title in October and posted nine more top-fives in his past 14 starts.
Alker's dominant play – he finished 2022 with a 68.2 scoring average in 75 rounds – gave him such a big lead on the 2022 points list heading into the last event in Phoenix that he could become the season-long champion even if Harrington, the No.2 man in the standings, won. Alker just needed to finish in the top five of the 33-player field; a closing 68 for a 19-under 265 total got the job done.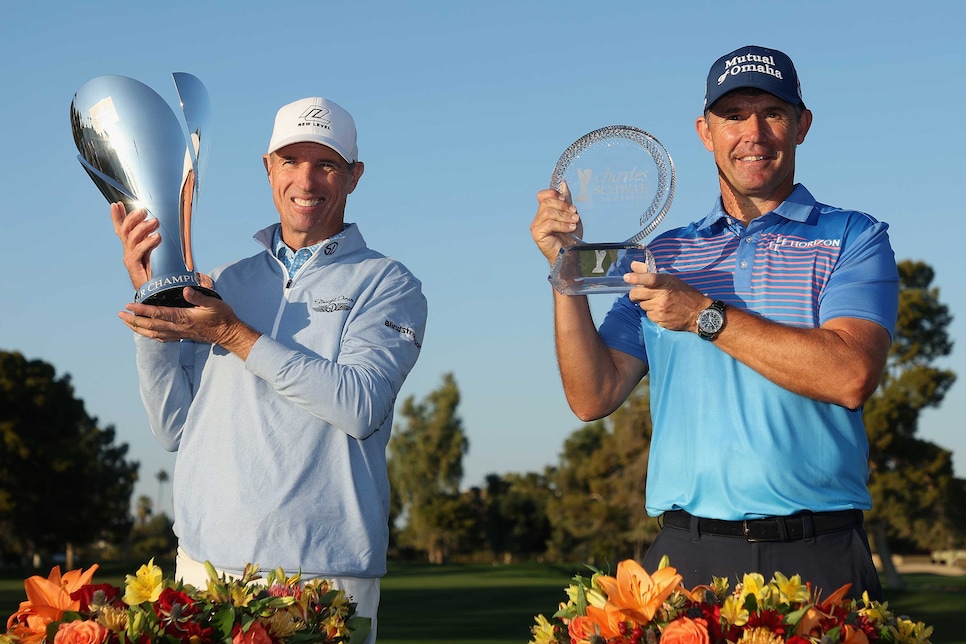 "Just a lot of hard yards," Alker said when thinking of what he'd gone through to get to this point. "You know, I've played everywhere and I think that kind of helped today in a way just playing the PGA Tour and Australasia and Asia and Korn Ferry. I've played everywhere. It's been an amazing journey and just to be here and to have this opportunity has been amazing."
Winning the year-long series title secured Alker another $US1 million on top of the $US210,000 he made for finishing third. His final on-course earnings, separate from the Schwab Cup bonus, was $US3.5 million.
Harrington was smiling, too, after closing out final-round 65 for a 27-under 257 total and a seven-shot win over Alex Cjeka. Harrington's score broke the PGA Tour Champions' record for lowest 72-hole aggregate, set by Tom Lehman at the 2012 Schwab Cup Championship, and tied the lowest score in relation to par set by Jack Nicklaus at the 1990 Mazda Senior Tournament Players Championship. It marked Harrington's fourth win of the 2022, matching Alker for most for the year.
Happy enough with his performance, Harrington knew there was another big winner today.
"Steven is a truly deserving winner this year," he said. "It's not like he's just some flash in the pan at the end of the year and won a couple events and all of a sudden won the Schwab Cup. The pressure has been on him right from the start of the year all the way through. He had a lead and several of us were catching him all year. It's very impressive that he's not just held on, but he's won in style."