Welcome to another edition of The Grind, where we are not scared of anything this Halloween after sitting through that terrifying Giants-Jets game. TWENTY-FOUR punts?! How is that even possible?! Also hard to believe is that as well prepared as it seems we are for the big day yet again, this stash of treats probably won't last past 7 o'clock on my block: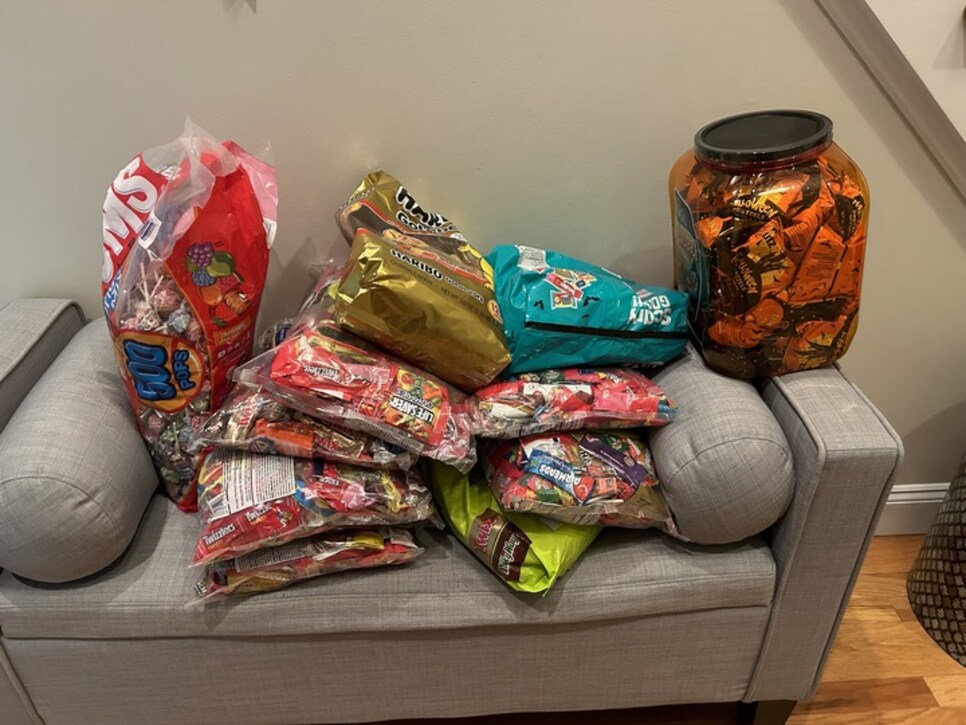 Especially with me crushing Kit-Kats and Milky Ways. Anyway, have a fun and safe Halloween, everyone. Now let's talk about golf. Before the crazy trick-or-treaters start showing up in droves.
WE'RE BUYING
Celine Boutier: Lost in the fact that she defeated Atthaya Thitikul in an epic NINE-hole playoff, is that the 29-year-old French woman is having an incredible season. The Maybank Championship win gave her a fourth LPGA title in 2023, including that maiden major at the Evian Championship. But yeah, winning a NINE-hole playoff—that also included a 92-minute weather delay!—is pretty freaking crazy:
IT WAS WORTH THE WAIT! @celineboutier's winning putt in the ninth playoff hole! 🏆 pic.twitter.com/ktThJNKJpC

— LPGA (@LPGA) October 29, 2023
Talk about working overtime. Kudos to her and Thitikul for putting on such an amazing performance, and hopefully both of them got to kick off their shoes, relax, and watch football for a few hours after that. Well, not that hideous Giants-Jets game.
LIV Golf Promotions: One of the biggest complaints about LIV–in particular from the Official World Golf Ranking committee—is that it's a bit of a closed circuit, but that's about to change with the creation of the tour's own version of Q School. LIV Golf Promotions (even the name is strong) will give golfers from all over the world, including relegated players like Chase Koepka, the opportunity to earn a golden ticket to this tour.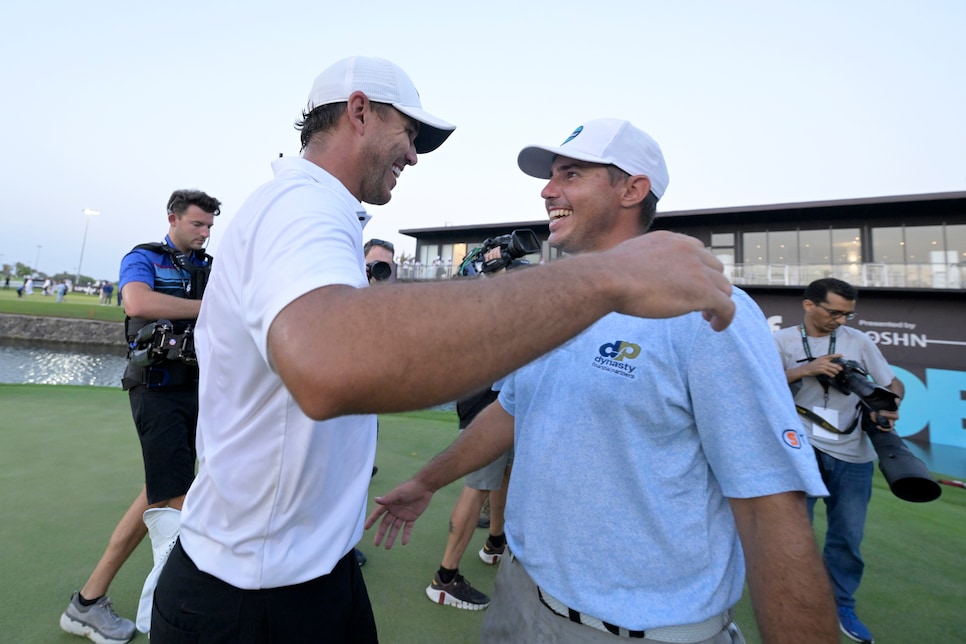 Charles Laberge/LIV Golf
And the winner of this qualifier even gets $200K in addition to being drafted(!) to a team for next year. Not too shabby. Where the money comes from remains the biggest criticism from anti-LIV folk, but this is a smart move—especially if the new tour ever wants OWGR recognition.
Danny Lee's new ride: Speaking of LIV, look at Lee's new wheels:
Not bad for someone who had one good week of golf this year! No, really. He had one good week. Check the stats. He has as many brand-new Porsches as he does finishes in the top half of LIV events in 2023. What a world. And now he's got a long offseason to enjoy his early Christmas present. Enjoy, Danny, but be careful. I'm not sure if that thing has all-wheel drive like my 2017 Subaru Legacy.
Colson Brown: And no one is having a better week than this Georgia Tech freshman QB. The preferred walk-on is getting out of a few football practices to play on the golf team because they needed an extra body. And not only that, he's getting to play at Cypress Point! I'll let my colleague Chris Powers explain more:
But needless to say, life is good right now for this 19-year-old.
WE'RE SELLING
Korn Ferry Tour gambling suspensions: The three-month ban in particular for Jason Staiano (Vince India was also suspended for six months), who revealed what got him in hot water with the PGA Tour to Ryan French on the Any Given Monday podcast. And, well, it's not much. According to Jake, he made four bets on golf in 2021 totaling $116.20. That included betting $25 on Bryson DeChambeau making a birdie in a 2021 PGA Tour event and three other bets on The Match that year between Bryson and Brooks Koepka. Yep, we're talking about a made-for-TV exhibition here!
Jake Staiano was suspended for 3 months for gambling. He explains the 4 bets totaling $116.20, how the Tour found out, and why the appeal process is stacked against players like Jake.

AGM sponsored by @GOLFTEC

S: https://t.co/lZcYZFOytw
A: https://t.co/6UeKYU3mmY pic.twitter.com/n9LPQpHInA

— Monday Q Info (@acaseofthegolf1) October 30, 2023
Not to mention, all those bets took place when he was a fringe pro who had never even made a single KFT start (he's still only made 17 in his career). And he's suspended for three months, which is actually much worse than that since that means he can't go to Q School. I understand that the tour has to crack down on this stuff to keep it from happening more, but this seems way (way) too harsh.
This finish: Alex Levy, not to be confused with Jennifer Aniston's character on The Morning Show (no spoilers, I'm only through the first episode of Season 3) had quite the unusual—and brutal—finish to his DP World Tour season. Levy lipped out for a hole-in-one on the penultimate hole of his second round at the Qatar Open then lipped out this birdie on the final hole to miss the cut by two shots:
Ranked 125th on the Race to Dubai Rankings, @alexlevygolf needed to make the cut to give himself a chance of retaining his Tour card.

He lipped out for an ace at the 17th before lipping out again at the 18th to miss the cut.

Golf is hard.#CBQMasters pic.twitter.com/UXuHlc1x8n

— DP World Tour (@DPWorldTour) October 28, 2023
What a reaction. That wasn't even his own caddie he was hugging! Poor guy. But he handled it about as well as possible and said he'll give it "everything he has" at Q School. I know there's supposed to be no rooting from the pressbox, but go Alex.
UnderPar Life: At least, the name (Wonder where they came up with that one?!). This ambitious project—billed as a competitor to Topgolf—includes a range, short-game area, simulators, gyms, bars, and a fancy restaurant—that Bryson DeChambeau is involved in looks pretty sweet.
Bryson DeChambeau is launching a Topgolf-style golf venue in Fort Worth, TX.

'UnderPar Life' will include:
• Two stories, 42 hitting bays
• 500-yd driving range
• Tour-level short game area
• Instructional academy
• Fitness center
• Three bars
• Celebrity chef-led kitchen pic.twitter.com/8sb6M3ii7F

— Front Office Sports (@FOS) October 26, 2023
Construction is expected to break ground for the first one of these (the plan is for 30 nationwide) in the Fort Worth area by the end of the year. If the PGA Tour's lawyers don't send a cease and desist order, that is.
ON TAP
The PGA Tour heads to Mexico for the World Wide Technologies Championship, AKA that one that used to be called the Mayakoba Classic, AKA that one where Matt Kuchar once stiffed that local caddie. Interestingly, this year marks the first PGA Tour event to be played on a Tiger Woods-designed golf course, El Cardonal (a tip of the cap to his Stanford days) at Diamante. History! Completed in 2014, it was the first fully finished 18-hole course from TGR Design. And it looks spectacular. Of course, the 15-time major champ won't be in the field, but might we see him pop into the booth at some point? Or maybe even a Zoom? Hey, we can hope.
Tournament prep at Diamanté Cabo San Lucas for the @WWTChampionship. Tiger Woods designed El Cardonal is getting into shape! @PGATOURComms @TigerWoods pic.twitter.com/4va182v8oR

— PGA TOUR Agronomy (@PGATOURAgronomy) October 25, 2023
Random tournament fact: Viktor Hovland went back-to-back at this event in 2020 and 2021 when he was establishing himself as the Resort Golf King. Now? The Norwegian is pretty much just the King of all golf.
RANDOM PROP BETS OF THE WEEK
—There will be a nine-hole playoff in Mexico: 100-to-1 odds
—You will hear anyone complaining about Tiger's course: 1 MILLION-to-1 odds
—There will be fewer than 24 punts in the Chiefs-Dolphins game: LOCK
TWEET/INSTAGRAM/PHOTO OF THE WEEK (HAPPY DIVISION)
If they showed up in Rome with this energy, USA wins 19-9. pic.twitter.com/OjVEHklxb0

— RB (@RBaroff427) October 28, 2023
A bit harsh there, but love the pic of these two. Jordan with the rally cap (that wound up working!) and Scottie continues to look like the oldest 27-year-old on the planet. Seriously, the dude seems to age one year for every month that goes by. Instead of Dog Years, we're going to have to start measuring his age in Scottie Years.
TWEET/INSTAGRAM/PHOTO OF THE WEEK (SAD DIVISION)
Some days maybe good, some days maybe 💩 pic.twitter.com/528Vxv4Bbc

— Robert MacIntyre (@robert1lefty) October 29, 2023
Tough break, Bob.
PHOTO OF THE WEEK (AMATEUR DIVISION)
How about this moon for a backdrop?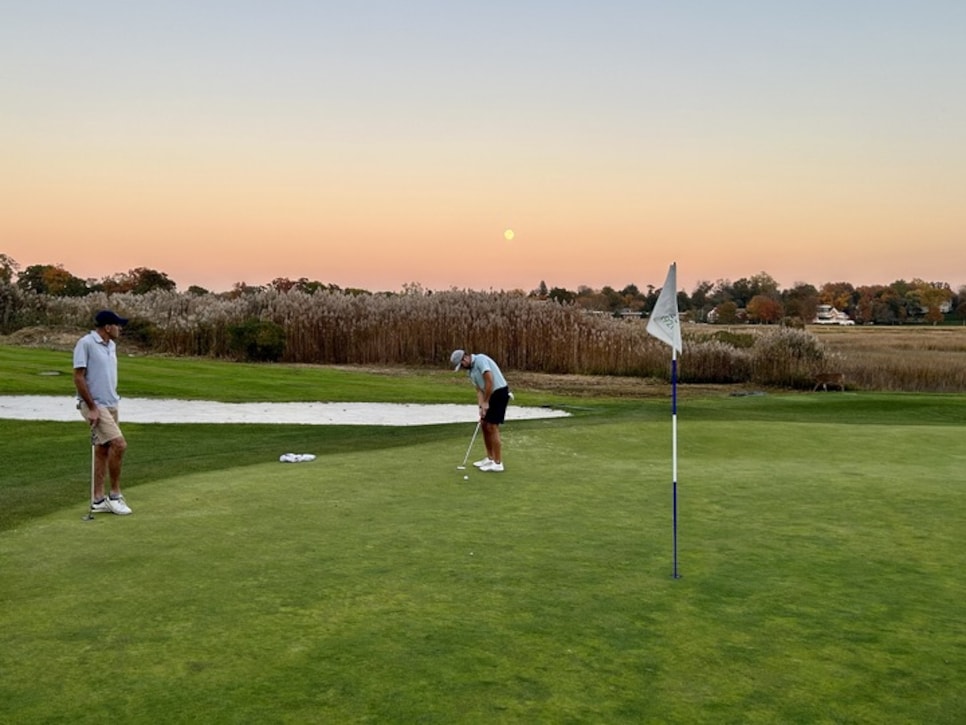 And how about Golf Digest's Christopher Powers dropping that birdie putt on his way to a back-nine 34 (par 35) at Rye Golf Club? The kid is back! Which was especially good news because he happened to be my teammate that day. Cha-ching!
CLUB PRO GUY TWEET OF THE WEEK
Liberally using the leaf rule today and we're officially on #79watch.

— Club Pro Guy (@ClubProGuy) October 30, 2023
VIRAL VIDEO(S) OF THE WEEK (PRO DIVISION)
Love these emotional videos from the DP World Tour. First, from winner Sami Valimaki, who won his second career title in Qatar:
And then from Andrew Knappe, who was one of the bubble boys earning his card and admitted he was crying before the round from all the pressure:
Amazing, candid stuff. As someone who has been known to wilt under the slightest of pressure on the golf course, I'm not sure how these guys do it.
VIRAL VIDEO OF THE WEEK (AMATEUR DIVISION)
These prize shots are all the rage right now, even taking over from the golf course fight viral video genre! And unlike a couple of the recent near misses we've shared, this guy actually made his shot … to win $250K!
Imagine the bar tab after that one? Wow.
VIRAL VIDEO OF THE WEEK (LONG DRIVE DIVISION)
Kyle Berkshire continues to do Kyle Berkshire things, this time reaching a 700-yard par 4 with a driver and a 7-iron:
Ridiculous.
VIRAL VIDEO OF THE WEEK (LONG DRIVE/BEER CAN DIVISION)
What an amazing video. I 100 percent expected this to be a total fail after the way the guy set up, but instead, he smoked one perfectly off a beer can. John Daly would be proud, indeed.
THIS WEEK IN CELEBRITY GOLFERS
Cameras caught Stephen Curry and a referee talking about Steph's current golf equipment ahead of NBA opening night:
Steph is always talking golf 🤣⛳️

Curry and the Warriors take on the Rockets at 7pm/et on the NBA App! pic.twitter.com/jfOZdWtlqu

— NBA (@NBA) October 29, 2023
You love to see it. Not that we're surprised coming from a guy who once got his golf clubs regripped on the eve of the NBA Finals. What a legend. Oh, and then there's Nate Bargatze, who hosted Saturday Night Live after I wrote about him last year.
Nate Bargatze is hosting SNL this week, but for him, golf is no laughing matter.

Read more: https://t.co/uFfKG4C6Qx pic.twitter.com/npFmg93bHI

— Golf Digest (@GolfDigest) October 26, 2023
That's taking the "Golf Digest Bump" to a whole other level!
THIS WEEK IN PUBLIC DISPLAYS OF AFFECTION
Take a look at Xander Schauffele's costume:
Wearing a Halloween costume like that for your wife? Now that's true love.
QUOTE OF THE WEEK
"It's exhausting. It's pretty tiring, to be honest. But I think it's the best playoff I ever had in my life." —Atthaya Thitikul, who couldn't have been classier in defeat.
THIS AND THAT
Congrats to Viktor Hovland for winning the Oak Tree National (where he's a member) Pro Scratch Invitational with former Oklahoma State teammate Ian Davis. The $12,500 winning prize was just slightly less than what he earned for the FedEx Cup … Speaking of Hovland, congrats to Smylie Kaufman on being ahead of everyone when it came to the Norwegian's rise, on a June episode of Golf Digest's The Loop podcast:
Back in June, @SmylieKaufman10 dropped a 🔥 take on @GolfDigest's "The Loop" … Viktor Hovland made that 🧾 look pretty good 😂

Watch/listen to the full episode with Vik⬇️

🍏: https://t.co/vUdUlO4hbY
🛜: https://t.co/gFG1aO8MmB
▶️: https://t.co/S8fR9jhdbF pic.twitter.com/pCzrR3zI6g

— The Smylie Show (@thesmylieshow) October 26, 2023
Well played, Smylie … Congrats to Australia's Jasper Stubbs (Great name!) on winning the Asia-Pacific Amateur. See you in Augusta, Jasper! … Reigning Masters champ Jon Rahm will throw out the first pitch before Tuesday night's World Series Game 4 between the Rangers and Diamondbacks. You know Scottie and Jordan will be watching … And, finally, my 5-year-old, Julia, finally decided to come to the range with me for the first time: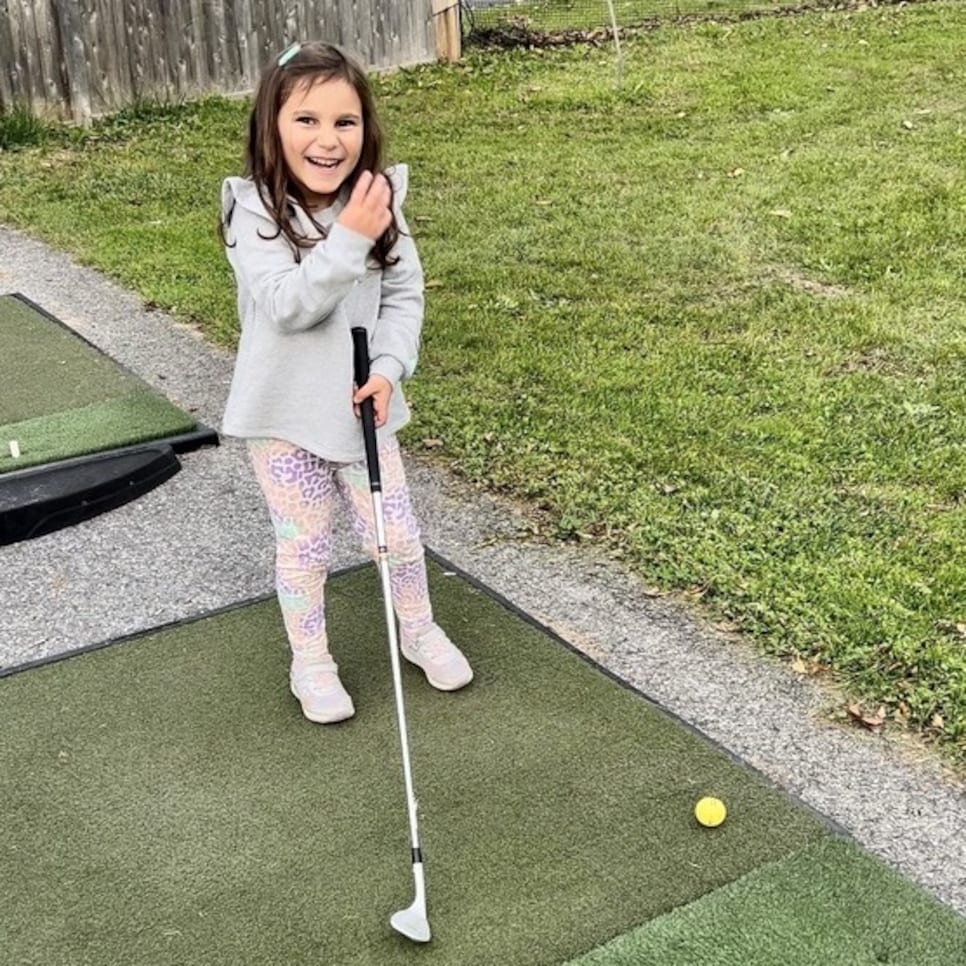 And I ordered her some appropriately sized clubs that night: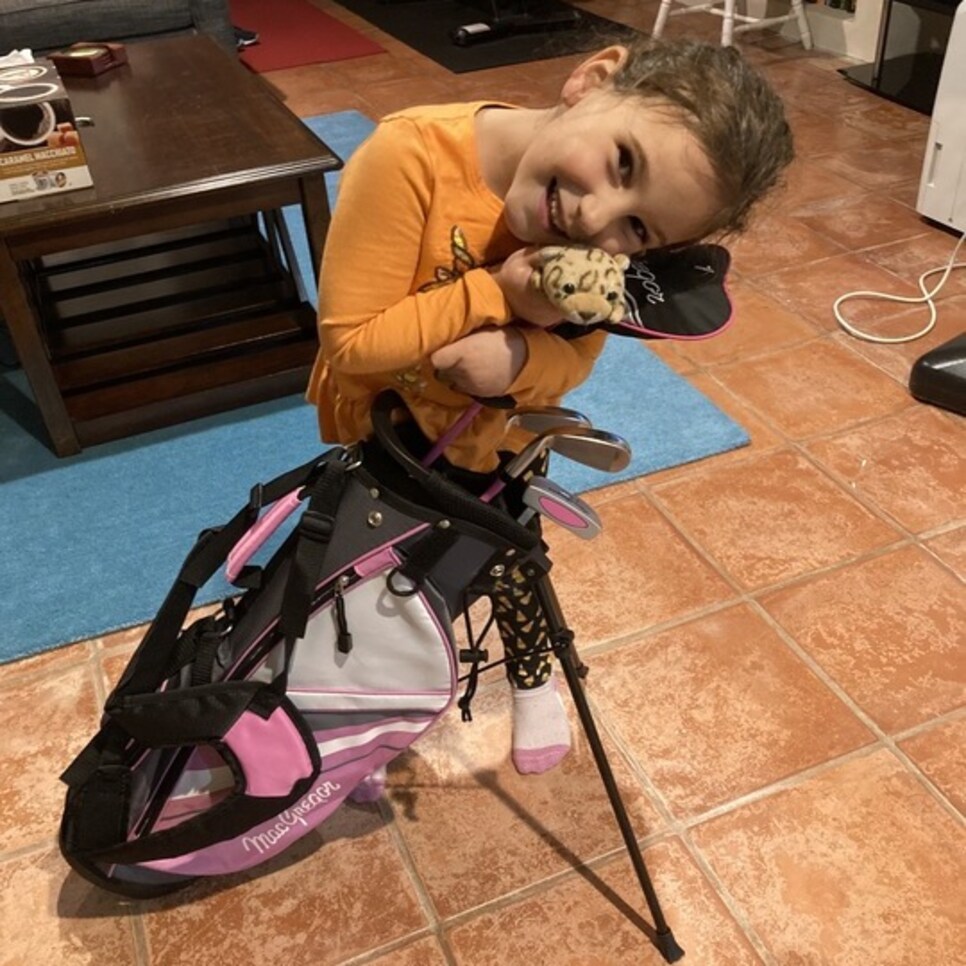 Fingers crossed, we've got a golfer on our hands. #GrowTheGame
RANDOM QUESTIONS TO PONDER
Will I be buying Julia more clubs in a few years?
Are there any other celebrities interested in receiving the "Golf Digest bump"?
Who does Smylie Kaufman have winning the 2024 Masters?
This article was originally published on golfdigest.com