[PHOTO: Ross Kinnaird]
There was little doubt who was going to win the DP World Tour's Andalucia Masters overnight. Adrian Otaegui led by six shots entering the final round at Valderrama in Sotogrande, Spain, a difficult course to be sure, but one the 29-year-old Spaniard had shown he had a handle for.
So that meant there was little doubt the history that would take place when Otaegui finally raised the trophy, shooting a closing three-under 68 for a tournament-record 19-under 265 total that was six better than runner-up Sweden's Joakim Lagergren: for the first time since the launch of the upstart LIV Golf series, a tour pro who had competed on the Saudi-backed circuit was now a winner on the DP World Tour.
In June, Otaegui played in the inaugural LIV Golf Invitational in London, finishing tied for sixth, and made subsequent starts in Portland and Boston. After his initial LIV appearance, the DP World Tour suspended Otaegui and the other tour members who competed on the rival tour for three events and fined them £100,000. Otaegui subsequently appealed those penalties to an arbiter, who quickly stayed the suspension.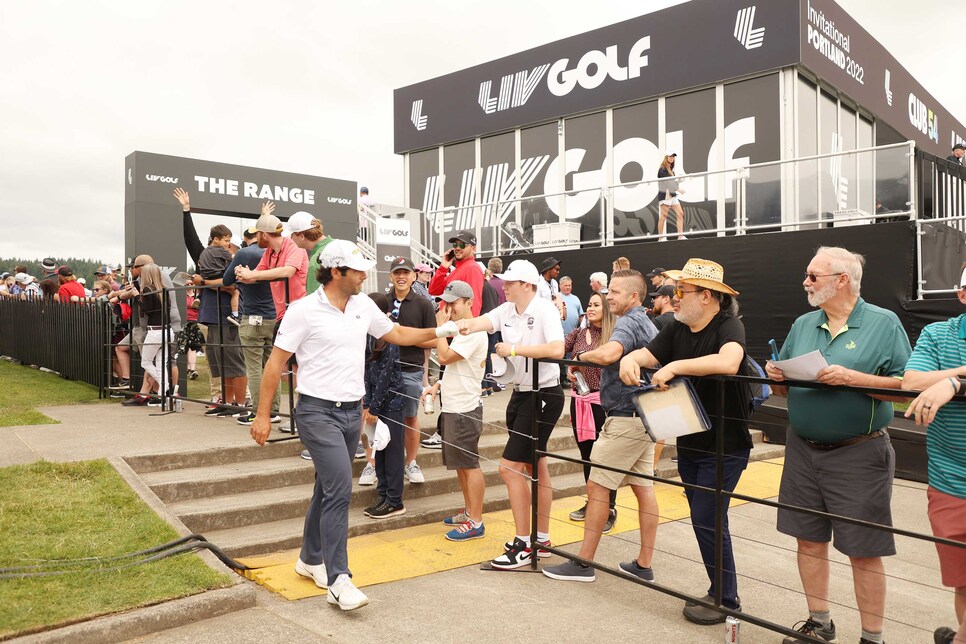 With a full hearing scheduled in the UK for February to decide whether the DP World Tour can prohibit defectors from playing in its events, LIV golfers are still allowed to enter tour events. Otaegui was making his ninth start in a DP World event since June.
Otaegui's status as a "LIV rebel" hasn't impacted his game all that much. In his eight other starts, he missed just one cut and had three top-15 finishes.
At Valderrama, Otaegui opened with rounds of 67-66-64, making only three bogeys the first three days to take his commanding lead. Aware the potential to let complacency get the best of him on Sunday, Otaegui specifically adjusted his focus.
"I think that was a very big risk that I didn't want to take," he said. "I just tried to play my game. I tried to play like if I just teed off being square and just tried to beat the others just today. Just tried to stay focused and play every hole with the same intensity."
The strategy worked as Otaegui made three birdies in a six-hole stretch early int he final round (he played the front nine for the week in 15-under), never seeing the lead dip below five shots. A bogey on the 11th was offset by a birdie on the 18th as he claimed his fourth career DP World Tour win (the last coming at the 2020 Scottish Open) and became the first Spaniard to win the event since Sergio Garcia in 2018.
"I feel so happy to have my first win in Spain in front of these crowds on my favourite golf course in Spain," Otaegui said. "It's just unbelievable. I've very, very happy with everything It's just the week went perfect."
RELATED: Sergio Garcia fined by DP World Tour, looks set to let his membership lapse
With the victory, Otaegui jumped from 14th to 10th in the DP World Tour rankings. He's got a spot in the tour's season finale in Dubai wrapped up, where he'll try to track down top-ranked Rory McIlroy, who has openly said he isn't thrilled that LIV golfers are still playing in DP World Tour events.
Truth be told, Otaegui's status on the LIV circuit is unclear; he has not played in LIV's past three events and is not in the field for the LIV finale later this month in Miami.
With his victory, Otaegui will get something his LIV colleagues are longing for: world ranking points. Otaegui is expected to jump from 158th to inside the top 100. He's also predicted to move into the top six for European Ryder Cup qualifying. The latter only matters if the UK court sides with LIV players in the case with the DP World Tour. Then Otaegui's decision to play in DP World Tour events despite the tension between the tour and LIV might wind up earning him a spot on the European team in Rome come next September.