After Justin Rose won his gold medal at the Rio Olympics in 2016, the Englishman was known to bring it with him when he travelled. It's relatively small, not all that heavy and, well, it's an incredible conversation piece suitable for any occasion. ("Well look at what I have here, if it's not the Olympic gold medal I won! How'd that get in here?!?")
Lydia Ko can proudly say that she too won a medal in the women's competition in Rio (silver) and hopes she can claim another medal this week, preferably gold, at Kasumigaseki Country Club outside Tokyo. However, the New Zealander says she wasn't quite as aggressive with showing off her hardware from 2016.
"I didn't take it anywhere," Ko said yesterday in a press conference at the course. "I remember I think I was travelling from Rio to Canada, because the Canadian Open was the week after, and I left it in my carry-on and I think it beeped because, you know, it was obviously a hefty-size medal and you could see in the x-ray it was like a perfect circle [that] looks like a lanyard almost. And I was like, 'Yeah, that's the silver medal'… That was probably one of the cool things. But, no, I didn't take it around."
OK, so that means the silver medal is prominently displayed in Ko's trophy case back home in Florida, along with the cups and plates from her 16 LPGA victories? Or maybe at the club she played growing up in New Zealand? Right?
Ahh… actually no.
"I honestly think it's in my dad's wardrobe," Ko said. "I think he's seen it more than me. It's been a while since I've seen it."
OK, we're not sure what's the more distressing part of what the 24-year-old just said. Is it that Ko "thinks" it's in her dad's wardrobe – meaning she's not sure exactly where her OLYMPIC SILVER MEDAL is? (Seems like something you'd be keeping tabs of on a regular basis.) Or is it that the medal actually is currently in her dad's wardrobe, not necessarily the most prominent place to house such a treasure?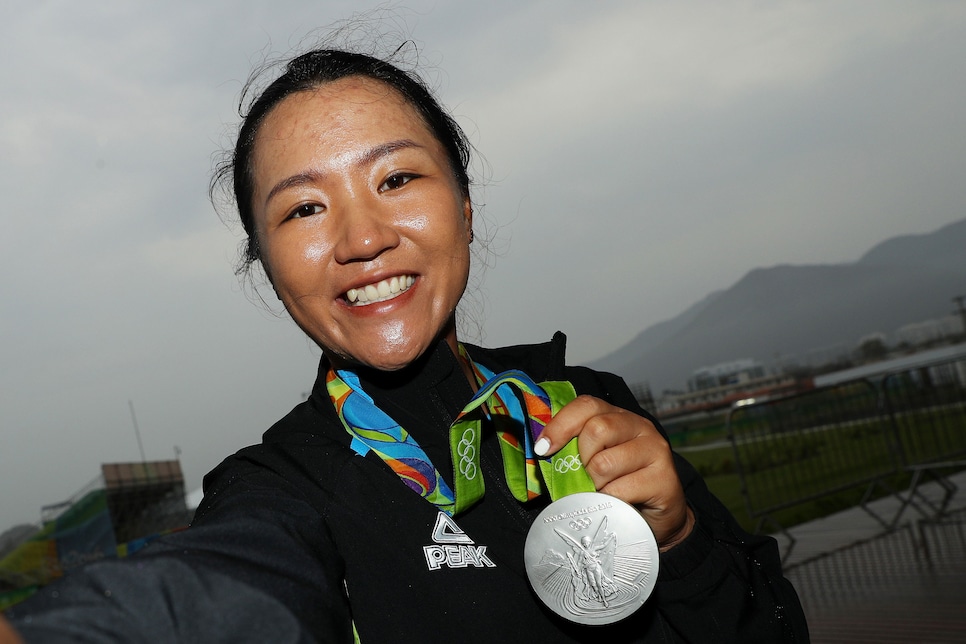 The thing is, it's not like Ko isn't extremely proud of winning the medal. On the contrary, she says it's one of the biggest moments of her life. And that final round and the medal ceremony remains vivid in her memories.
"I came second to Inbee, but it's probably the most prestigious and honourable silverware that I got. It [felt] like a win for me," Ko said. "I can clearly remember when my putt lipped in on the last hole, it was like a whole array of emotions going through me. I thought I was going to cry, but then I saw to my right Inbee was not crying, and she was the gold medallist. I was like, I don't know if the silver medallist deserves to cry when the gold medallist is, like, totally fine. So I think I held back my tears then. But I think it was very meaningful, not for myself only, but for my team and my family and everyone that's kind of walked through this journey with me to be there and make me be the person that I was at that point."
RELATED: Tee-times for the first and second rounds of the Olympic women's competition
OK, so maybe having her father watching over your silver medal makes a little more sense now. It's more sentimental than we realised. Still, when you have a moment, Lydia, just double check that he does actually know where the medal is. You don't want to lose that.
TOP/MAIN PHOTO: Ross Kinnaird