What defines the "golf season" depends on whom you ask. For casual golf fans, the year begins with the Masters intro music and ends with the presentation of the claret jug. The PGA Tour has completely disregarded the Gregorian calendar in favour of a dizzying carousel of events dubbed the "wraparound season". It's all a matter of perspective, and with no clear answer we're inclined to orient around the world's premier tour.
By this hyper-specific definition, the golf season has but three weeks left before a brutal 10-day hiatus. And for the (relatively) unfortunate men outside the top 125 in the FedEx Cup standings, the season ended with yesterday's Wyndham Championship. The FedEx Cup Playoffs begin this week, and since other sports don't factor playoff performances into their year-end awards, why should golf?
This has all been a remarkably long-winded justification for handing out year-end awards, but what's an award show without a drawn-out opening monologue? Without further ado, here are some Bests and Mosts from a terrific, strange and Major-packed PGA Tour season.
Player of the year
Collin Morikawa
The season's six Majors crowned six different champions. No player won more than twice, but six players won exactly two times, and the world No.1 wasn't one of them. This, then, has been one of the more wide-open player-of-the-year races in recent memory, and there's a real chance the FedEx Playoffs determine the eventual winner. As of right now, however, Morikawa gets the nod. The 24-year-old won his first World Golf Championship in February, then punctuated the year with a masterful performance in winning the Open Championship at his first attempt. Had Jon Rahm not been forced to withdraw from the Memorial with a six-shot lead after 54 holes – more on that in just a minute – he'd have an excellent chance. We hear you and we agree: he would've won that tournament, but we can't pretend that he did win that tournament. Like Morikawa, Bryson DeChambeau won twice, including a Major, but his poor play this northern summer removes him from serious contention.
Other nominees: Jon Rahm, Bryson DeChambeau, Harris English, Louis Oosthuizen.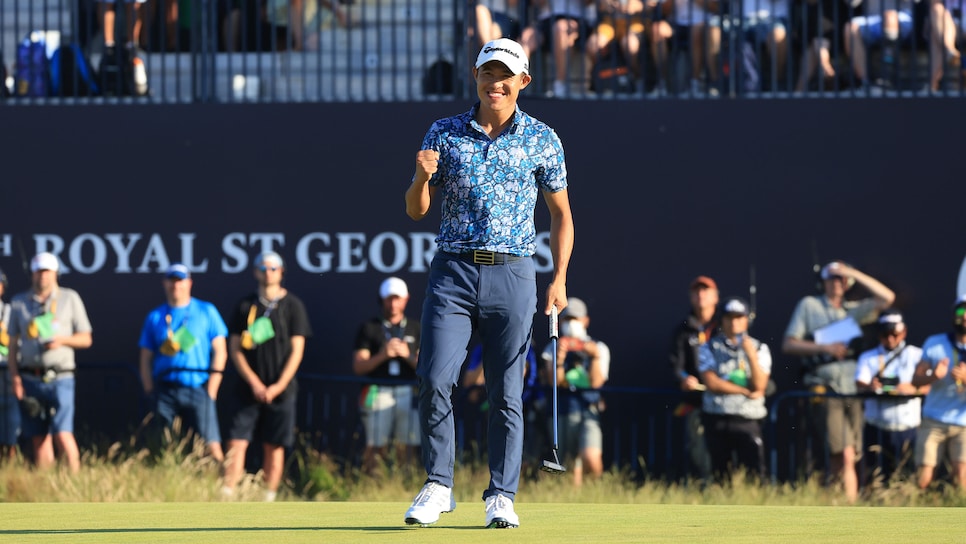 Round of the year
Hideki Matsuyama's third-round 65 at the 2021 Masters
The great hope of a golf-mad nation finally delivered. Hideki Matsuyama became the first male Japanese player to win a Major championship, and he did so on the strength of a 75-minute blitz after a Saturday rain delay softened a particularly fiery Augusta National. After mindlessly scrolling through his phone as he waited for play to restart, Matsuyama summoned unconscious golf once the weather cleared. He played his eight holes post-stoppage in six-under, including an eagle-birdie-birdie stretch from holes 15-17, for a tournament-shifting 65. It was the best round of the day by three and gave him a four-shot lead heading into Sunday. He'd need all four of those in the end, as he eventually held off Will Zalatoris by a single stroke to capture the green jacket. It wouldn't have happened without that nuclear stretch on Saturday.
Other nominees: Collin Morikawa's bogey-free final round at the Open; Justin Thomas' Saturday 64 at the Players; Jon Rahm's third-round 64 at the Memorial; Patrick Cantlay's closing 61 at the American Express; Justin Rose's opening 65 at the Masters.
Shot of the year
Phil Mickelson's bunker hole-out at the PGA
Order seemed to be restoring itself. A 50-year-old man couldn't possibly win a Major championship – not in the erratic form he'd been in, on a course as punishing as Kiawah, against the sport's best Major-championship player. Playing alongside Brooks Koepka, Mickelson got off to a shaky start on Sunday at the PGA Championship, bogeying two of his first three holes and pushing his tee shot on the par-3 third into a short-sided bunker. He then summoned a pinch of the short-game magic that's defined his career: Lefty holed the bunker shot, hoisted his wand in the air and sent a clear message to his competitors, the fans and himself: yeah, this might actually happen. His two-shot victory at the Ocean Course made him the oldest Major champion in history and wrote another chapter in an all-time career.
Other nominees: Bryson DeChambeau's 338-metre bomb at Bay Hill; Sergio's walk-off 8-iron at the Sanderson Farms; Rory McIlroy's tournament-clinching 5-iron off a sidehill lie at Quail Hollow; Brooks Koepka's chip-in on 17 at the Waste Management Phoenix Open.
Most disappointing player
Rickie Fowler
There's been so much focus on his relative lack of victories – he has five on the PGA Tour in his career, so it's not like the guy hasn't won anything – that it's obscured just how good, and how consistent Fowler was for a good half-decade. From 2014 through 2018, he racked up seven top-five finishes in Majors and finished each year ranked 12th or better in the world ranking. As Tony Finau will tell you, people don't slam you for not winning unless you're really close, really often. The cracks began to show in 2019, but a win in Phoenix early that year kept him afloat. Since then, free-fall. Fowler posted just one top-10 and nine missed cuts in 24 events this season, and needed a solid finish at the Wyndham Championship to make the FedEx Cup playoffs. He proceeded to fall six shots off the cutline to miss the postseason for the first time in his career. While his past excellence ensures he won't lose his card, this is surely the low point in what's been a lucrative career.
Other nominees: Tommy Fleetwood, Justin Rose, Matt Kuchar.
Most improved player
Jordan Spieth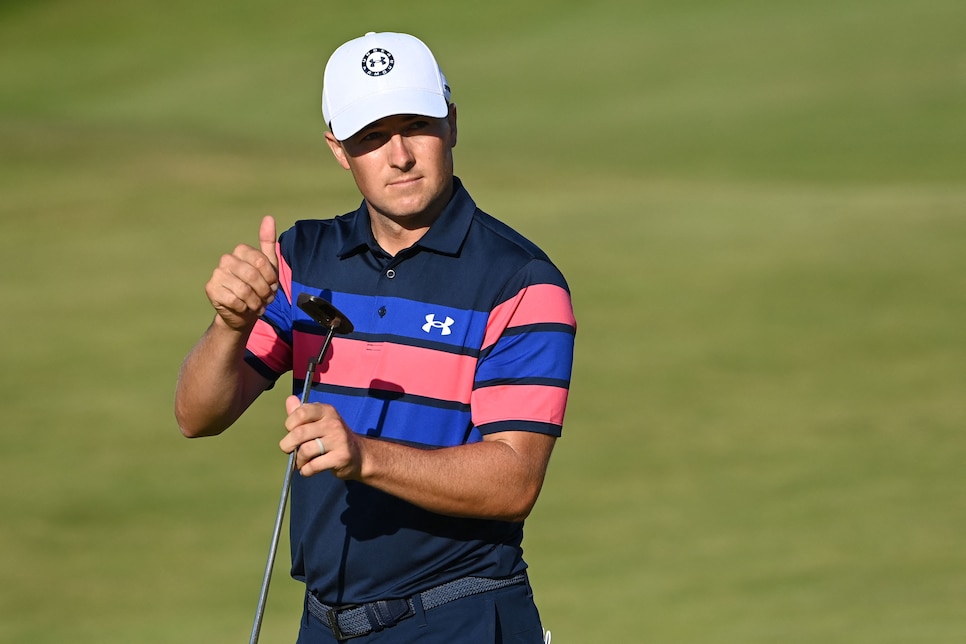 It feels a bit strange to give this award to a guy who once had the nickname "Golden Boy", as it's usually reserved for an up-and-comer who takes The Leap. But this is our party, and we'll define the awards how we want to, so Most Improved will mean exactly that: the player who has improved most from last season. In this case, it's no contest. Spieth's arc has been rather strange indeed – from conquering hero, to the abyss, and back to the top again. The three-time Major winner dropped as low as 92nd in the world after a missed cut at Torrey Pines before something clicked. Since then, you could make the argument he's been the best player in world golf. He vanquished a nearly four-year winning drought in his home state at the Valero Texas Open, contended at the Masters, finished second at Colonial and the Open Championship, and enters the playoffs ranked second in the FedEx Cup standings and 12th in the world. Spieth is… all together now… back. And the sport is much better off for it.
Other nominees: Harris English, Stewart Cink, Sam Burns, Jason Kokrak.
Tournament of the year
PGA Championship
A man past the half-century mark won a Major championship, and he happened to be an all-time great who might be the most popular player of his generation. It wasn't just the best tournament of the year, it was one of the most unforgettable days in golf history. And Phil Mickelson's extremely pedestrian play since – he has no top-15s and one finish better than T-61 in six starts since – only adds to the legend of that performance. Lefty began the week a complete afterthought but opened with a rock-solid 70. Surely, though, he'd blow up on Friday… only he followed it up with a 69 to enter the weekend tied for the lead. Surely, though, he'd blow up on Saturday… only his lead swelled to four after 10 perfect holes, and he led by one heading into Sunday. Surely, though, he couldn't pull it off… only he did, providing an indelible scene when he walked through a mob of adoring (and overly zealous) fans on the 18th fairway to polish off a most unlikely victory – and his sixth Major championship.
Other nominees: US Open, Open Championship, the Memorial, Travelers Championship, Wyndham Championship.
Rules kerfuffle of the year
Patrick Reed's embedded imbroglio at Torrey Pines
Oh, Patrick. The man can't seem to stay out of his own way when it comes to that pesky rule book. Roughly a year after his sandy adventures in the Bahamas, Reed put himself at the centre of another messy situation when he took relief from an embedded ball that cameras appeared to show had not embedded. Unlike at the Hero event, where he was penalised for his actions, the tour said no rules were broken, and he would eventually win the tournament by five shots. It was, however, an awful look that shattered whatever progress he'd made in repairing his reputation as someone who can be fast and loose with the rules.
Other nominees: Viktor Hovland's mum alerting him of a violation at the Players Championship; Robert Gamez's strategic withdrawal at Bay Hill; Kevin Na scolds Dustin Johnson at the WGC–Dell Match Play; slow-mo camera dooms Abraham Ancer at the Masters.
Is this actually happening? moment of the year
Jon Rahm withdraws from the Memorial with a six-shot lead
It was the dreaded scenario that loomed ever since the post-COVID-19 resumption: what happens if a player in the lead tests positive? The tour made it through nearly a full year without finding out, only for the nightmare to manifest just off the 18th green at the Memorial. Rahm was in immense form, having just polished off a Saturday 64 to grab a six-shot lead when officials made the curious decision to deliver the news on live television: you tested positive, and now you're out. It was a truly surreal scene because it wasn't entirely clear what he'd just been told. Had someone been hurt? A family emergency? The CBS broadcast crew eventually got wind of the situation and informed viewers in real time. The incident sparked heated debate, but Rahm, to his credit, handled it all with grace – and, in his first event after quarantining, birdied the last two holes of the US Open to win his first Major by a single shot. And people accuse golf of being uneventful!
Other nominees: Tiger Woods makes a 10 on 12 at Augusta; Mickelson walks through a sea of fans at Kiawah; Dustin Johnson cries at the Masters; the Travelers Championship playoff goes eight holes.
Feud of the year
Brooks Koepka vs Bryson DeChambeau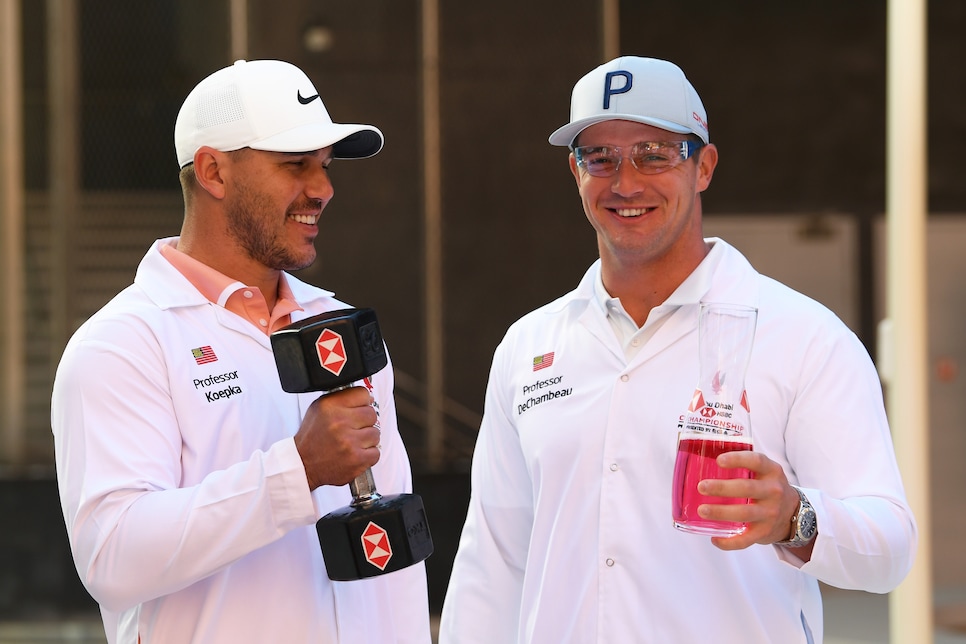 Is this a made-up award? Yes. Could we write a piece of content reliving this golf season and not address The Feud? Absolutely not. While the mutual dislike goes back a few years, it all reached a new level when a rogue video showing Koepka rolling his eyes as Bryson walks by went mega-viral. DeChambeau initially leaned into it, suggesting he was living "rent-free" in Brooks' head, but immediately backed off after pro-Koepkians began calling him "Brooksy" at the Memorial. Koepka has continued to deliver subtle daggers to DeChambeau ever since, and the constant attention paid to The Feud – coupled with shooting himself in the foot with the whole "my driver sucks" situation at The Open, then making some headline-grabbing comments regarding vaccination – now seem to be bothering Bryson, who has flamed out of contention a few times recently and looked miserable doing so.
Other nominees: DeChambeau vs Cobra; Phil Mickelson vs local Detroit sportswriter; Bryson vs Tim Tucker.
TOP/MAIN PHOTO: Patrick Smith