From the moment he arrived in New Jersey, Sam Bennett seemed a little miffed. He was wondering why nobody was talking about him in the lead-up to the 122nd US Amateur, which, let's be honest, may have been a subjective opinion. Perceived slights are much different than actual ones.
But, after Bennett outlasted Georgia Southern University's Ben Carr with a 1-up victory on the 36th hole of the championship match at Ridgewood Country Club, it doesn't really matter if it was perception or reality. It worked. The 22-year-old set to begin his fifth year at Texas A&M later this month had a lot to say about what wasn't said about him, and then he went out and backed up every single word.
"I knew I was going to get a lot of s–t for it if I didn't," Bennett said on 18th green as the sun set on Sunday evening.
Bennett, potentially by design, welcomed it. Despite being the No.3-ranked amateur in the world, he felt the attention was on other top-ranked amateurs. Michael Thorbjornsen. Ludvig Aberg. Gordon Sargent. Dylan Menante. "I'm like, Where's my name?" Bennett said after winning his second-round match on Thursday.
It's now on the Havemeyer Trophy, alongside the likes of Tiger Woods and Phil Mickelson. Arnold Palmer and Jack Nicklaus. More recently, Bryson DeChambeau and Matt Fitzpatrick. Everybody knows his name now, even if they may have already.
"A little bit at first, for sure," Bennett said when asked of his underdog mentality. "But I mean, everybody knows who I am, I know who I am. I said I had something to prove, but I mean, in a way, not really. I mean, I guess, but here we are. I guess my comment, I backed it up."
The comment that Bennett is referring to, specifically, came after he had secured a spot in the semi-finals on Friday. To that point, Bennett had beaten in order Nick Gabrelcik (ranked 13th in the World Amateur Golf Ranking), Fred Biondi (27th), David Puig (10th) and Stewart Hagestad (ninth). Bennett, who earned first team All-American honours with the 'Aggies' in the American spring, was asked what it said about his game that he was able to run through all of them with relative ease (only one of those matches reached the 18th hole). Without skipping a beat, he said "they're great players, but I'm a better player".
Of course, it could be construed as cocky to some and uber-confident to others. Watching Bennett operate this week, it's clear he's the perfect combination of both. All the kid does is hit fairways and greens, constantly applying pressure to his opponents and allowing them to make mistakes. Even after he made a crucial error on the par-5 13th (the 31st hole of the match) today, hitting his second shot out-of-bounds, Carr followed by inexplicably deciding not to lay up and hitting his second shot out-of-bounds, too. Bennett went on to halve the hole with a bogey 6, keeping, at the time, a 3-up lead.
Carr, one of the only players, if not the only one, to match Bennett's competitive fire this week, somehow fought his way back to 1 down on the 36th tee. But after Carr missed the fairway in the right trees, Bennett launched a high cut that safely found the left side of the fairway. That forced Carr to have to make a miraculous birdie to have any chance of seeing a 37th hole.
Carr's approach was a worthy effort, but his ball failed to stop on the green, setting up a must-make chip-in from off the back left of the green. When it did not fall, Bennett, who obviously hit the green in regulation for the millionth time this week, easily two-putted for victory. Job finished.
"It's surreal," Bennett said. "That's what I dreamed of, what I wanted all my life. From trying to qualify when I was a junior and not being able to make it ,and then still not being able to make it in college, and finally being exempt to be able to play in three, that was pretty cool. And this being my last one, to go out like this, this kind of just tops it off."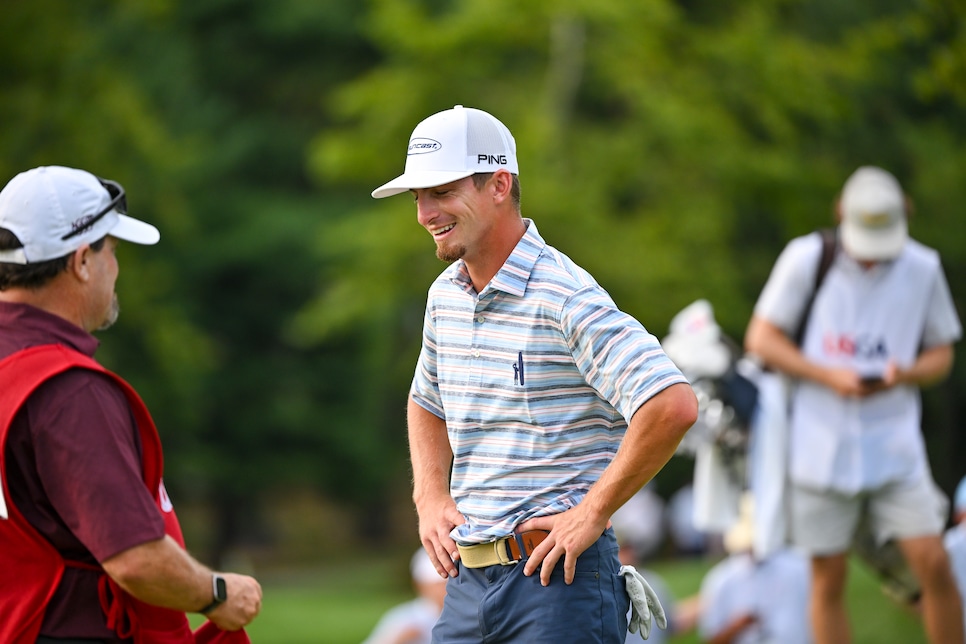 Making his win even more special was the fact it came less than two years after Bennett lost his father, Mark, to a seven-year battle with early on-set Alzheimer's. One of Mark's final messages to his son, "Don't wait to do something," is tattooed on Bennett's left forearm in his father's exact handwriting. Safe to say, those words rang true this week for Bennett, who wasted no time getting right to work.
"I know he was watching out there," he said. "And it's pretty cool. He would think that was the coolest thing ever."
Bennett says he thinks of his father's message every day, and he used to look down at the message as part of his pre-shot routine, though he did away with that recently. Late in the final match, however, he couldn't help but sneak a few glances. "It kind of made me smile and made me enjoy the moment," Bennett said. And just made me happy to be here."
Carr, also playing for his late father, David, couldn't help but heap praise on Bennett, who reminded him a little of himself as they went at it for all 36 holes of the final match.
"He just stayed so poised," said Carr, who had former PGA Tour pro Willy Wilcox on his bag during the week. "I think that's the best way to describe Sam. He's a very confident player. He'll tell you. I like that. I'm close to the same way. When I'm playing well, I like to tell somebody I'm playing well because it just gives you even more confidence."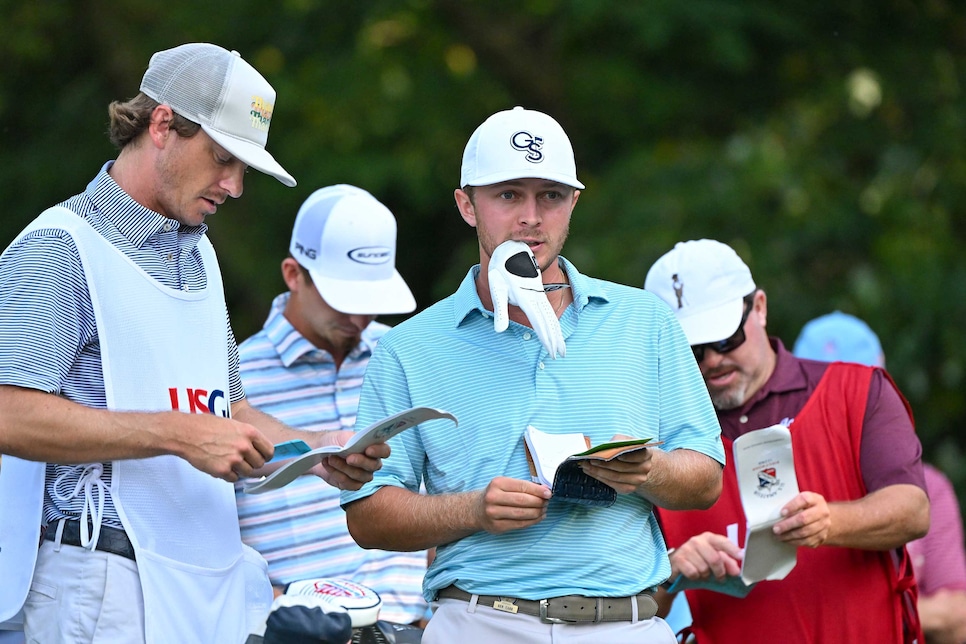 Carr hung in as long as he could, swinging the momentum multiple times on the second 18 after being 5 down at one point. Long birdie putts from off the front edge of the green at both the par-4 fifth and par-3 sixth yielded massive roars from the clearly pro-Carr crowd. A birdie at the 35th, after Carr appeared to be in trouble left of the green, had everyone on hand believing this match was going extra holes.
Through all the chaos Bennett remained as calm as ever, a trait his Texas A&M coach and caddie this week Brian Kortan has seen up close for the past four years. He's always in it. He enjoys the heat. He welcomes it. At times, it seems like Bennett almost wants the odds stacked against him.
"He just really likes doing what he does. He's homemade in every aspect," Kortan said. "I mean, other than the fact that he's just a damn great competitor, and he enjoys playing under that kind of… in those circumstances. He's learned to really embrace that.
"Pressure is earned," he added. "The guys in a tournament when you're in the middle of the pack, there's no pressure. The pressure is earned when you're near the top, and he respects that and he wants that. The self-awareness is something that he knows. He just appreciates chances to do it."
There will be plenty more chances for Bennett, both in his final year in College Station and in the years ahead, when Bennett will almost surely make his way to the PGA Tour. There, the odds will often be stacked against him and he'll have endless opportunity to point out perceive slights and act on them.
Just like he likes it.