ROME — Europe is off to a roaring start in the first Ryder Cup ever played in Italy. With a historic sweep of the morning foursome matches, the home team took a 4-0 lead over the Americans as Europe tries to win back the Cup it lost handily two years ago in Wisconsin.
Europe had never before swept an opening session in the Ryder Cup, but it did so emphatically on Friday at Marco Simone Country Club, with none of the four matches extending to the 18th hole. The rout was so complete that at no point in any of the matches was an American team ever winning.
"Amazing to sweep a session. I can't remember the last time Europe has done that," said Rory McIlroy, who, in the morning's most-anticipated match, combined with Tommy Fleetwood to win, 2 and 1, over the previously formidable duo of Xander Schauffele and Patrick Cantlay.
"We can't get complacent at all," McIlroy said. "This is an unbelievably long American team."
A look at the foursomes results from the morning:
Match 1
Jon Rahm-Tyrrell Hatton (Europe) df. Scottie Scheffler-Sam Burns (U.S.), 4 and 3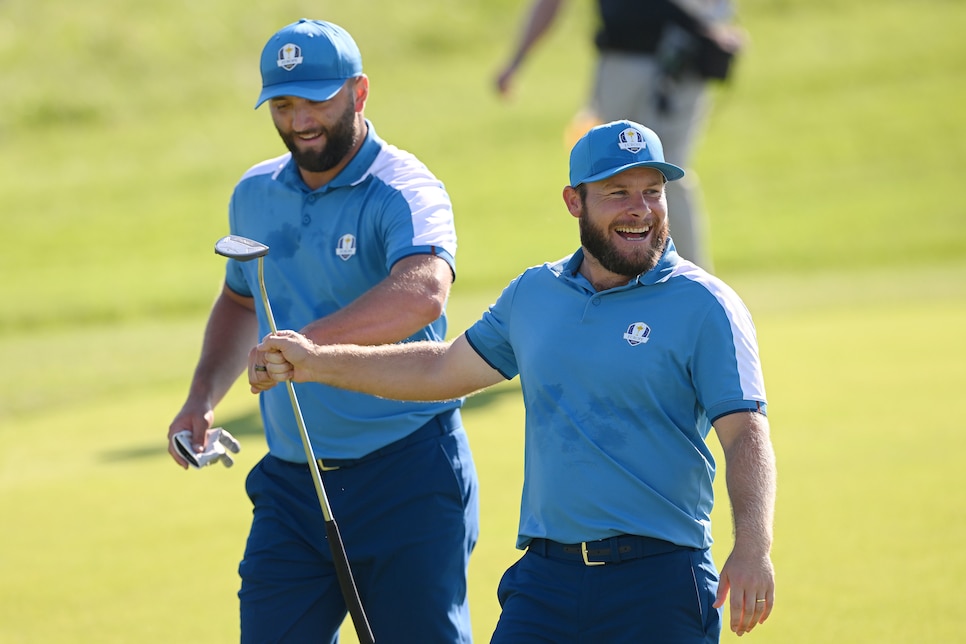 Jon Rahm and Tyrrell Hatton celebrate on the 12th hole during the Friday morning foursomes matches.
Ross Kinnaird
How it happened: By putting out the fiery pair of Rahm and Hatton at the outset, captain Luke Donald asked for an inspiring start. That's exactly what he got, with the Europeans winning the third hole and never trailing. So much for the friendly chemistry between World No. 1 Scottie Scheffler and Ryder Cup rookie Sam Burns. They weren't close to good enough—embarrassing, actually—in making only one birdie, at the short sixth. Rahm was predictably stellar, nearly making an ace from 200 yards at the par-3 seventh, and then chipping in on No. 10. He raised his record to 2-2-1 in foursomes. Scheffler lost his first Ryder Cup fourball match after going 1-0-1 at Whistling Straits.
Quotable: "What Tyrrell and I did really well today is hit the shots that we needed. Any time we needed the right shot to change the momentum, we did. That's the key in match play, right, just keep hitting the right shots at the right time." —Rahm
"It was tough out there. They played really good. We just weren't able to get the looks to have some putts to win holes and really flip the match. They took control and just played good." —Scheffler
Here's what you've missed so far on Day 1 at the Ryder Cup
Match 2
Viktor Hovland-Ludvig Aberg (Europe) df. Max Homa-Brian Harman (U.S.) 4 and 3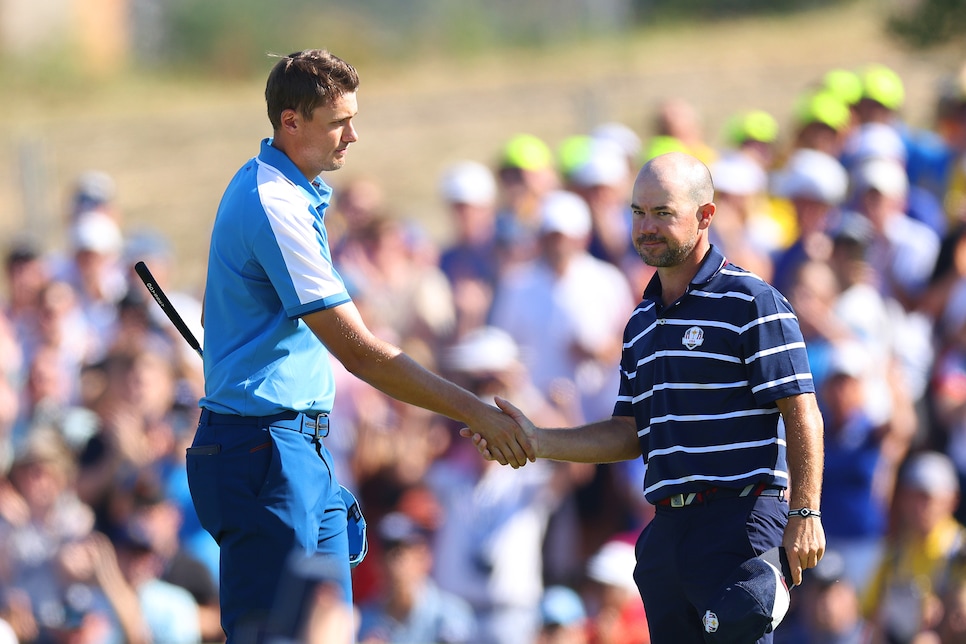 Ludvig Aberg and Brian Harman shake hands on the 15th green.
Andrew Redington
How it happened: The biggest interest here was the confidence Donald showed in immediately playing Aberg, the celebrated rookie who has yet to play in a major championship. He drew a perfect young cohort to pull him along in Hovland, and the World No. 4 showed him how it's done by chipping in from about 40 feet on No. 1 to huge roars. After the Europeans won the second with a par to go 2 up, the Americans, both RC rookies, immediately rallied with two straight birdies to tie it. But they bogeyed the fifth, the Euros took the sixth with a birdie, and the match was never closer.
Quotable: "It was such a big difference compared to Whistling Straits. Normally I keep my head down and just play, but I'm trying to really get the crowds going and just use them because they want you to play well and they want to support you. So it was such a good start, and we're going to keep it going." —Hovland.
"Yeah, just got outplayed. They out-executed us." —Harman
Watch the wild scene as fans race to fill up the grandstand on the first tee
Match 3
Shane Lowry-Sepp Straka (Europe) df. Rickie Fowler-Collin Morikawa (U.S.), 2 and 1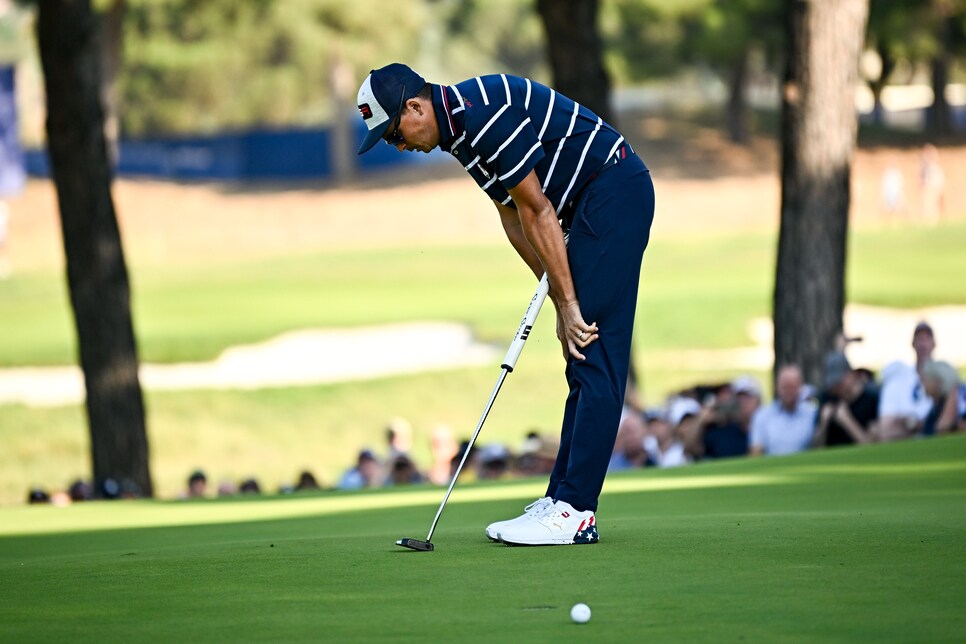 Rickie Fowler reacts to a missed putt on the sixth green.
Ramsey Cardy
How it happened: It needs to be said: Fowler's putting killed any chance the Americans had to make it competitive. Returning to the Ryder Cup for the first time in five years, Fowler missed numerous putts from 10 feet or closer, and his play will only raise more questions for captain Zach Johnson, who used Fowler despite him entering the match with a 1-2-2 record in foursomes. Lowry, a somewhat controversial captain's pick, looked fired up from the beginning to work with the rookie Straka, and they won four holes with birdies, including the third and fourth en route to never trailing.
Quotable: "I came here with an open mind this week; I'll do whatever the captain asks me. He wanted me to go out this morning with Sepp. It's nice to go around with a rookie and bring him around the place. I think the last few days got the rookies ready for what today was going to be like. It was amazing." —Lowry
"Very nervous. Yeah, couldn't even really describe [the first tee]. The blood was flowing. Heartbeat was up. Thankfully, I made contact with the ball, so I think that's a win." —Straka
How foursomes have become the format that Europe dominates
Match 4
Rory McIlroy-Tommy Fleetwood (Europe) df. Xander Schauffele-Patrick Cantlay (U.S.), 2 and 1
How it happened: The anchor and premier match of the morning was also the most competitively played, though Schauffele and Cantlay, who paired so well two years ago in Wisconsin, were never square. They added to their challenge by making a double-bogey 6 at the eighth, though Europe made its own 6 at 9 to give them a hole back. The last stretch got interesting, with the U.S. pulling to 1-down with a birdie at 14, only for the American to butcher 15 with a bogey. Again, Europe made a mistake with an errant approach at 16 to lose the hole, but McIlroy decided it when he striped his tee shot on the par-3 17th to a couple of feet. Indicative of the day on the greens, Schauffele left his must-make birdie putt woefully short.
Quotable: "I'm so proud of this man alongside me. He can play with anyone. I'm just so happy that he's my partner this week and so happy to get a point on the board for Europe." —McIlroy
"We've known we are going to play together for a while and just getting out there, felt like we actually played very, very good and felt like we were in control all the way." —Fleetwood
"It was just the first go-around here. We'll have to make some adjustments across the board. We'll be fine. Not sweating it."—Schauffele
MORE FROM GOLF DIGEST @ THE RYDER CUP
All 24 players competing at Marco Simone, ranked
15 moments that made the Ryder Cup golf's most compelling event
How to watch the 2023 Ryder Cup on TV and streaming
Ryder Cup homefield advantage is so big it's almost unfair
How the Ryder Cup ended up at little known Marco Simone
Video: Every hole at Marco Simone
An unprecedented deep dive into Ryder Cup performance
Crazy rules s#*@ that only happens in match play
The science of remaining calm at the Ryder Cup
One writer's love affair with golf in Italy
Lessons learned by 5 U.S. Ryder Cup captains who lost in Europe
Biggest hotheads in Ryder Cup history
Stats that show who should be given putts and who has to putt everything out
15 best Ryder Cup captain's picks of all time
This article was originally published on golfdigest.com