Welcome to another edition of The Grind, where we are kicking ourselves for missing out on a golden opportunity to show off all that Italian we learned from seventh grade through freshman year of college. OK, so finishing that final final exam was one of the greatest days of my life, and I don't remember how to say anything. But it's a beautiful language, and I certainly would do a better job pronouncing things than Zach Johnson:
This guy's reaction to hearing Zach Johnson absolutely butcher his name is killing me lol pic.twitter.com/TZjPYsRvBT

— Alex Myers (@AlexMyers3) September 28, 2023
On the bright side, like Luke Donald's buddy Michael Jordan, I didn't miss out on a the golden opportunity of betting on Europe at home—something that's become the biggest lock in all of sports. And despite a three-decade winning streak when hosting, the Euros always come in as underdogs. How do you say "easy money" in Italian? Anyway, while we figure that out, here's what else has us talking after a rowdy week in Rome.
WE'RE BUYING
Europe's Big Three: I said on the podcast a few weeks back that for the first time in my lifetime, Europe actually may have the better team on paper—and that they certainly had the most talent at the top. Man, it's great to be right, and it's great to be able to drop the old "I said on the podcast" line. But seriously, how good were Jon Rahm, Rory Mcilroy and Viktor Hovland during Europe's 16½-11½ win?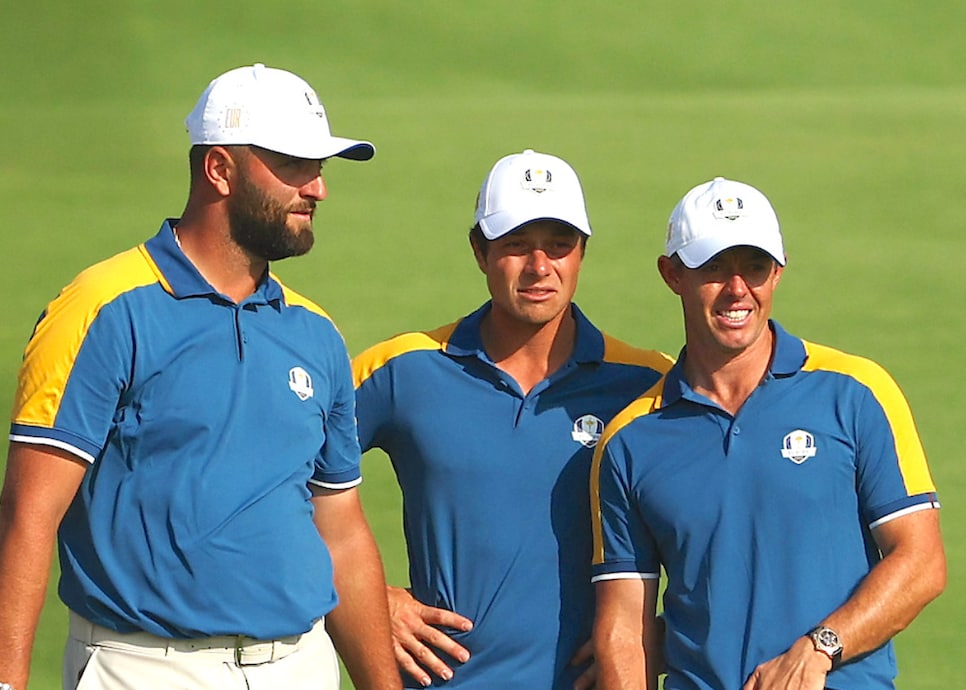 Besides the 9-2-3 combined record, the star-studded trio provided magical shots or putts all week that either kept momentum on the side of the Ole, Ole, Ole gang or turned it back in their favor right when the Americans seemed like they were getting something going. Heck, Rahm chipped in three times on Friday alone! And Hovland (and Ludvig Aberg) literally brought World No. 1 Scottie Scheffler to tears after that historic 9-and-7 drubbing of him and Brooks Koepka.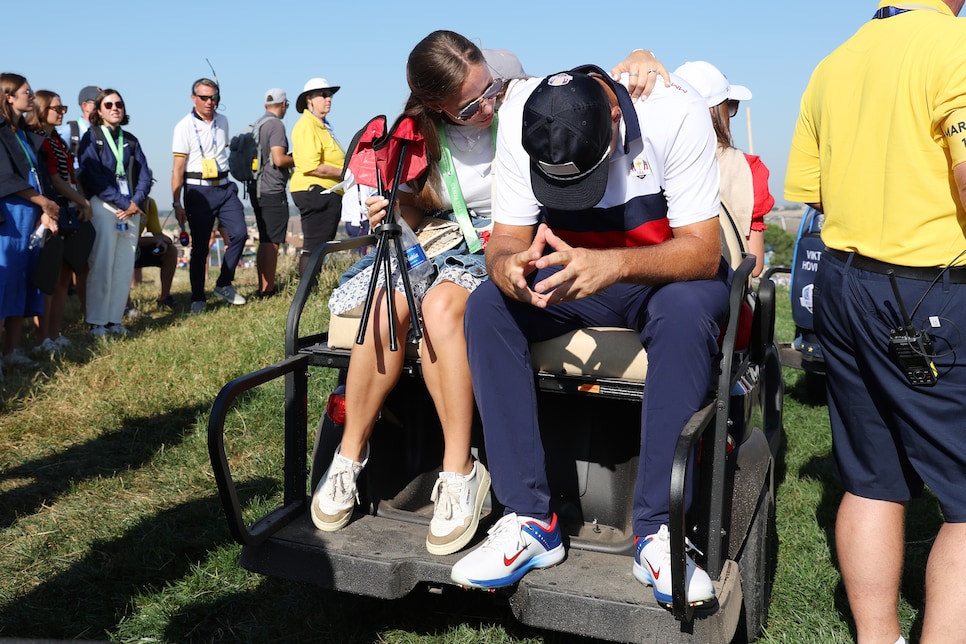 Jamie Squire
Incredible stuff by these three. And the bad news for the U.S. team? The trio's average age is 29 as Europe seamlessly transitioned from most of their usual (old) suspects.
Europe's celebration: Ain't no party like a Team Europe party, 'cause a Team Europe party don't stop. Well, actually, this one did around 3 a.m. judging by this photo of Tyrrell Hatton being the last man standing:
Last man standing @TyrrellHatton 😎#TeamEurope | #RyderCup pic.twitter.com/Mqb9UuBVSH

— Ryder Cup Europe (@RyderCupEurope) October 2, 2023
But what an epic party it must have been, starting at the golf course:
To the team bus and beyond:
Europe's on fire alright. And it might take Italy a while to replenish its Peroni supply. About the only thing that went wrong for Europe in Rome was Rory suffering a fluke champagne cork injury:
Maybe next time they'll put one of the vice captains in charge of safely popping bottles.
Max Homa: Not everyone on the U.S. team played as if they had taken the previous five weeks off, and that certainly included this guy, who, not coincidentally, was one of the only guys who played the previous five weeks with a T-7 in Napa. Incredibly, Homa was the ONLY American with a winning record for the week (Europe had six) and he had a walk-off chip in:
First win on the board.@maxhoma | #RyderCup | #GoUSA pic.twitter.com/9BmbSVaLvx

— Ryder Cup USA (@RyderCupUSA) September 30, 2023
And a clutch putt that was the only thing keeping the overall match from being over before breakfast on Sunday:
Max Homa makes the high-pressure putt on 18 to win the match vs. Matt Fitzpatrick 1UP. 💪 #GoUSA

🇪🇺 14 🇺🇸 9

📺: @NBC and @peacock | #RyderCup pic.twitter.com/8DzTWJrCLe

— Golf Channel (@GolfChannel) October 1, 2023
Talk about guts. Homa is now a sparkling 7-1-1 over the last two years in the Presidents Cup and Ryder Cup … which should get people off his back about his lack of success in majors. At least, for a bit.
Team South Korea: The Europeans weren't the only ones celebrating a big team win this week as the South Korean men won the gold medal at the Asian Games. And they did it by a whopping 25(!) shots. Why was this such a big deal? Well, Sungjae Im and Si Woo Kim were part of that squad, taking full advantage of professionals being allowed to play in the event for the first time. And by claiming gold medals, that should get them out of their country's 21-month mandatory military service commitment.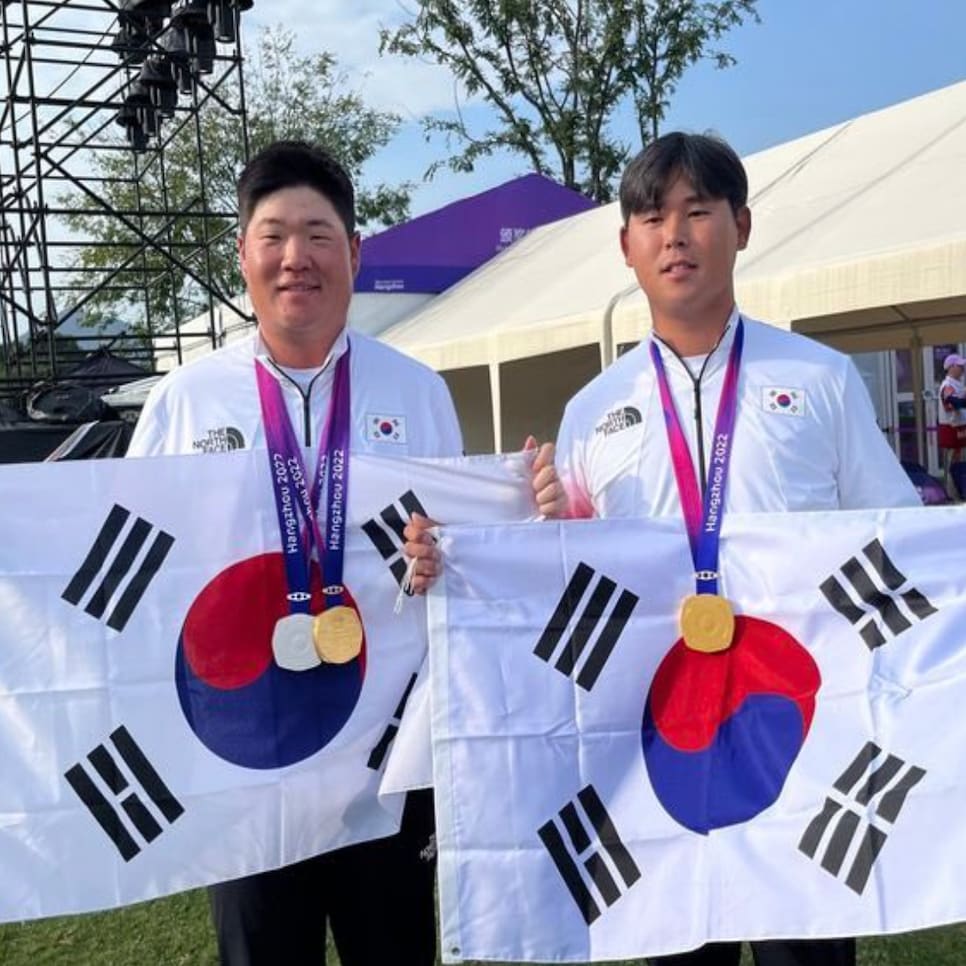 So, yeah, those guys are pretty darn happy they won't have to put their careers on hold. And so was Sungjae's caddie, Willy Wilcox:
— Willy Wilcox (@willwilcoxgolf) October 1, 2023
Congrats, guys.
WE'RE SELLING
"Hatgae"/"Metgate": First, a word on Ryder Cup player compensation. These guys probably should get paid to play. And, yes, I realize part of the pot goes into the PGA Tour retirement fund, each guy gets a $200K donation to a charity of his choice, and the wives get a nice stipend for those gala dresses. That's a start, but this event has become big business and the stars of the show not getting a direct cut doesn't really make sense. Also, can you imagine how heated things would get if they made it a winner-take-all prize pool?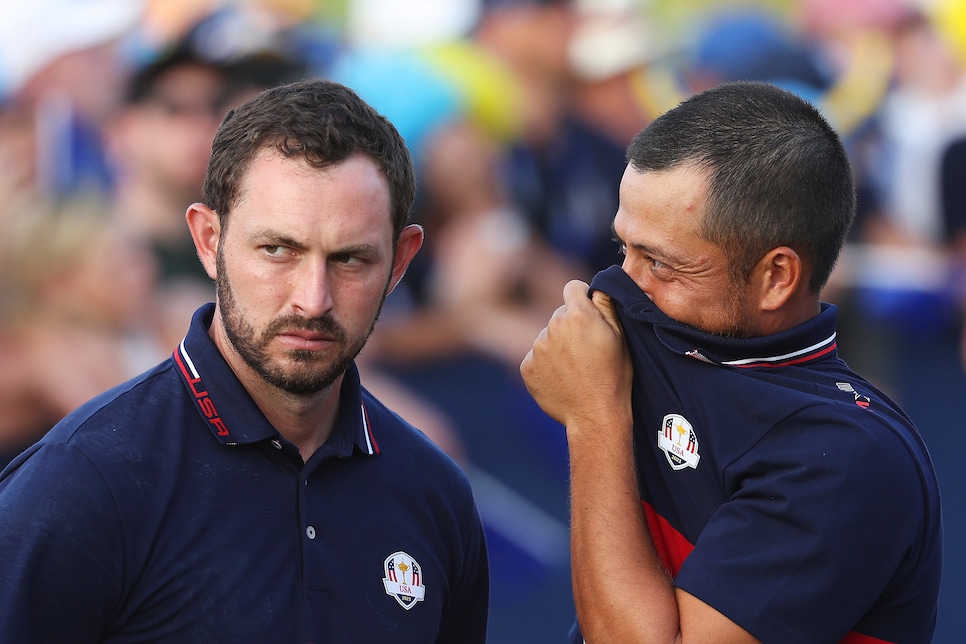 Patrick Smith
That being said, no one is forcing any of these guys to play and if they don't want to, that's their choice. I remember Pete Sampras and Andre Agassi skipping plenty of Davis Cup matches in tennis. But any protests, whether they involve a hat or not—or public griping by players' dads—absolutely can't become a distraction during the week of the event. And it is telling that these complaints—again, even if warranted—only seem to come from one side. OK, now to "Hatgate." I love Joe LaCava, but this video is pretty damning:
Man, he is out there for a LONG time.pic.twitter.com/Tqlj2eNucG

— Kyle Porter (@KylePorterCBS) October 1, 2023
The Ryder Cup causes people to do crazy things, and LaCava was 100 percent in the wrong. And I think he knows it, which is why he tried so hard to make peace with Rory. But I also think Rory overreacted to the situation and was clearly frustrated by Patrick Cantlay coming up clutch to hand him a stunning loss after looking like he might go undefeated. I mean, this clubhouse scene was WILD:
Rory McIlroy is FIRED UP pic.twitter.com/zPurVi4RbV

— Rory Tracker (@RoryTrackr) September 30, 2023
Don't get me wrong, I loved the drama. And the fact that McIlroy denied that he met with LaCava on Sunday morning after NBC reported they patched things up only added to the spice. This was the most exciting part of the week! But both guys looked a bit silly. Speaking of looking silly …
U.S. captain's picks: Maybe it's time to go to more automatic qualifying spots, because these were a downright disaster (not that the top guys did much better). The six guys who Zach Johnson hand-picked went a combined 4-12-4 for the week. Brutal.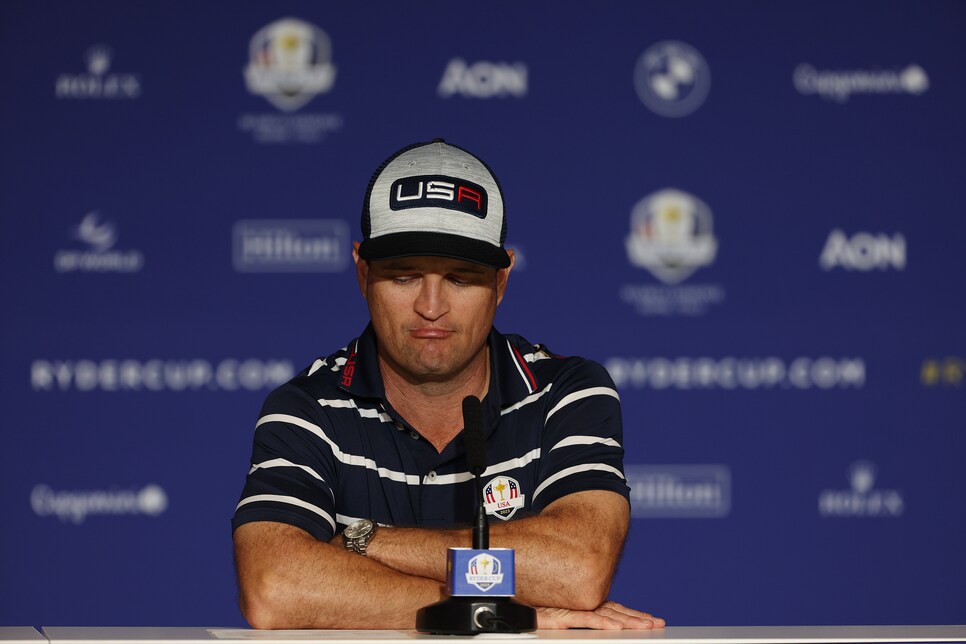 Jamie Squire
And no one played worse than Jordan Spieth, who did more for me in towel form in my basement than he did for the U.S. team in Rome: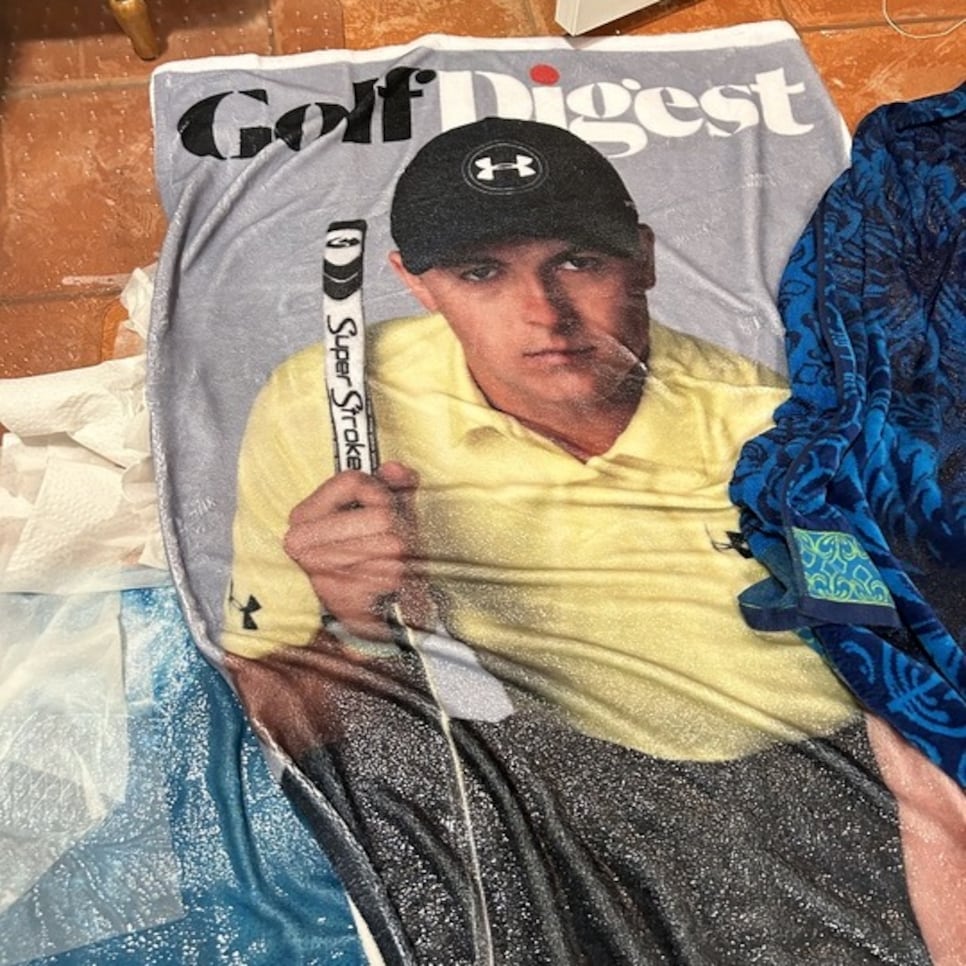 Sorry, Jordan. Look, he has a great reason for not being prepared with baby No. 2 coming just a couple weeks back. But maybe that should have been factored in when he was picked for the squad? And the fact that he was in his pocket most of the time during Friday's back nine definitely should have been factored into Johnson trotting him and Justin Thomas (who wasn't much better) back out there the following morning. In ALTERNATE SHOT where you have nowhere to hide. Like the water that gets trapped in a window well. Sigh.
ON TAP
The PGA Tour returns to its fall schedule and players battling to keep their tour cards with the Sanderson Farms Championship, AKA that one in Mississippi, AKA that one with the rooster trophy. Also, there will be plenty more jobs on the line as the Korn Ferry Tour season wraps up with its Tour Championship. The Home of Golf will be visited by the DP World Tour at the Alfred Dunhill Links Championship, and the ladies are in action at the Ascendent LPGA Benefitting Volunteers of America. So if you thought it was going to be a quiet week after what we've witnessed at the Solheim and Ryder Cups, think again!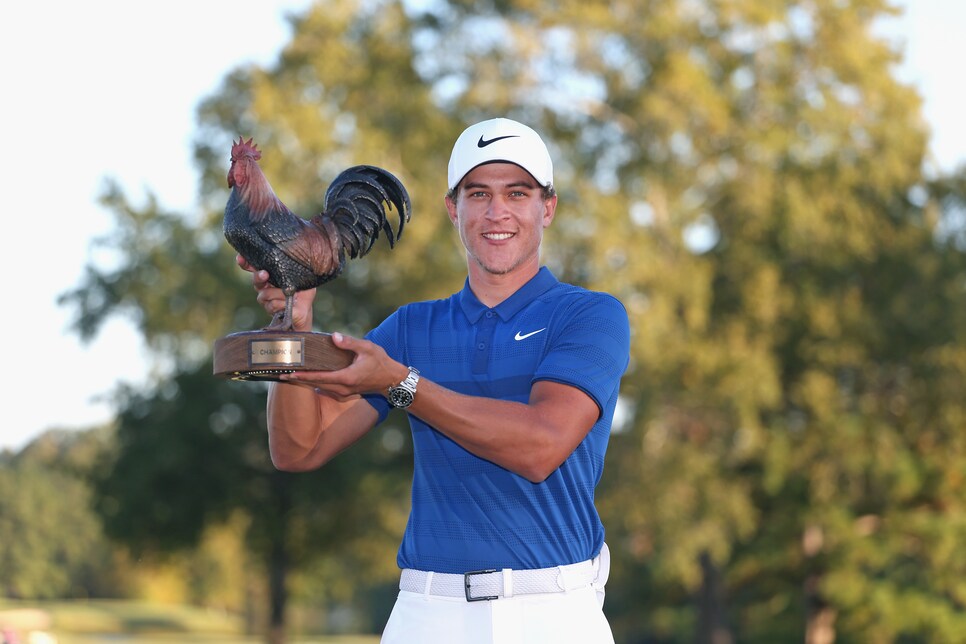 Matt Sullivan
Random tournament fact: Sungjae Im lost at the Sanderson in a playoff to Sebastian Munoz in 2019. A rooster trophy would not have gotten him out of that mandatory military service.
RANDOM PROP BETS OF THE WEEK
—A player will have to be held back from a caddie this week: 10-to-1 odds
—Ludvig Aberg will win this week: 11-to-1 odds (Actual odds! He's playing!)
—Ludvig Aberg won't be as sharp as usual in practice this week: LOCK
PHOTO/TWEET/INSTAGRAM OF THE WEEK (YOUNG EURO DIVISION)
Viktor Hovland was a runaway winner when it came to the best photos of the week:
What a legend.
PHOTO/TWEET/INSTAGRAM OF THE WEEK (OLD EURO DIVISION)
Also a legend.
TROLL JOB OF THE WEEK
I make money moves pic.twitter.com/yAZvByXFjQ

— Brooks Koepka (@BKoepka) October 1, 2023
You gotta hand it to Brooks Koepka. He really knows how to rile people up.
CLUB PRO GUY TWEET OF THE WEEK
The only thing better than playing for your country is playing for millions and millions of dollars.

— Club Pro Guy (@ClubProGuy) October 3, 2023
VIRAL VIDEO OF THE WEEK (PLAYER DIVISION)
And it's one of my own! With more than 1 million views!
Patrick Cantlay pretending to tip his hat to the crowd is an instant classic. pic.twitter.com/GuNd9m01vC

— Alex Myers (@AlexMyers3) September 30, 2023
Wow, I feel like my colleague, Christopher Powers. But seriously, that was a hilarious response by Cantlay.
VIRAL VIDEO OF THE WEEK (FAN DIVISION)
Good thing I wasn't in Italy or I would have returned to my house and been able to take a dip in my basement. Like this Colonel Sanders-looking dude did as soon as Europe clinched the Ryder Cup:
🏆🏊🏽🤿

— NUCLR GOLF (@NUCLRGOLF) October 1, 2023
Funny stuff, but I wouldn't recommend anyone trying that in front of NYPD at Bethpage Black in a couple years.
THIS WEEK IN CELEBRITIES PLAYING GOLF
Big congrats to Dwyane Wade for not only making his first hole-in-one, but doing it at arguably the coolest spot possible:
Also, it must be pretty awesome to post that and have people like LeBron and Usher immediately commenting. If I ever make one, LOL never mind. I'm not even going to finish that sentence because it's never happening.
THIS WEEK IN PUBLIC DISPLAYS OF AFFECTION
Congrats to Patrick Cantlay and Nikki Guidish on getting married in Rome the day after the Ryder Cup! And Patrick wasn't wearing a hat this time, either!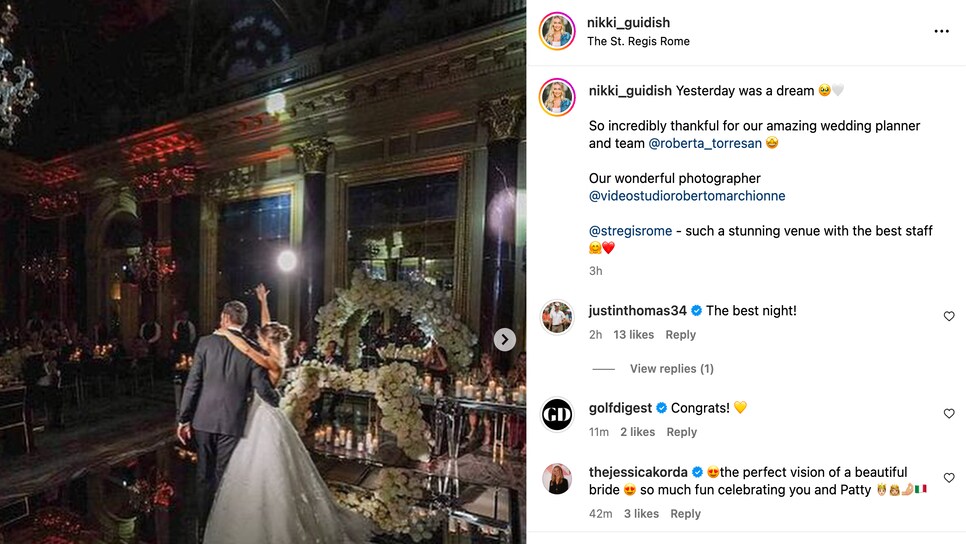 Patrick may not have gotten paid to play, but the Ryder Cup did allow him to tie the knot in Italy and gave him an excuse to play golf the entire week before. Plus, think of all the money he saved by having a Monday wedding. Savvy.
QUOTE OF THE WEEK
"I've said this for the last probably six or seven years to anyone that will listen. I think one of the biggest accomplishments in golf right now is winning an away Ryder Cup. And that's what we're going to do at Bethpage [Black in 2025]." —Rory McIlroy. Ooo boy, that should be fun.
THIS AND THAT
Paul Azinger floated a possible Tiger Woods vs. Sergio Garcia captains matchup at Bethpage in 2025. As if that event needed any more juice. … U.S. Amateur champ Alabama's Nick Dunlap lipped out an attempt to shoot the first 59 in college golf history. Whoever the U.S. Ryder Cup captain is in two years might need this guy on the squad. … Austin Reaves claimed he's the best golfer in the NBA and not Stephen Curry. Man, a Lakers-Warriors playoff rematch this year would be extra heated. … And, finally, this is the best golf ball message I've ever come across: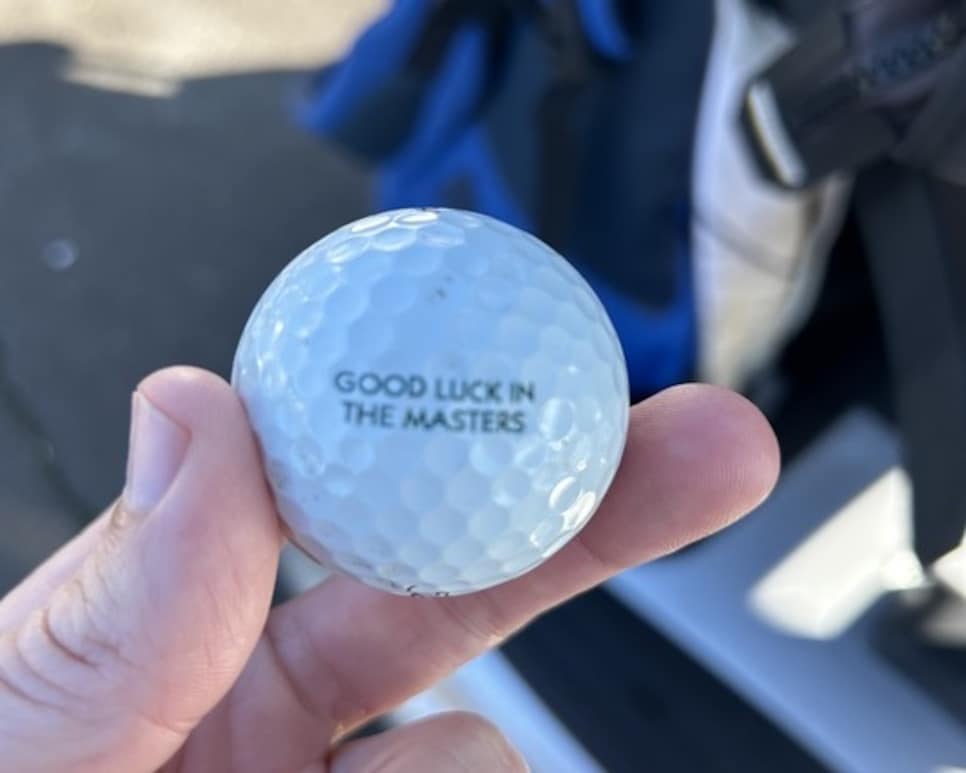 Of course, I lost it a few holes later.
RANDOM QUESTIONS TO PONDER
Do I need to buy more towels for the basement?
How much did Michael Jordan bet on the European team?
Is it too early to bet on Europe winning in Ireland in 2027?
This article was originally published on golfdigest.com