Part of what makes the Ryder Cup so compelling, other than the Europe vs. U.S. aspect, is the format. Match play, team match play in particular, is simply as good as it gets. Not only is it great because it's something we so rarely get to watch, it's great because it completely changes each player's style from extra-conservative to uber-aggressive, for the most part.
Who is Marco Simone and why is Italy's Ryder Cup course named in his honor?
That leads to a ton of holed putts and chip-ins, but also plenty of hijinks as players get closer to the hole. It's officially "that's good"https://www.golfdigest.com/gimme SZN, or, on the contrary, "we're gonna need to see that" SZN, which often leads to moments like this:
JT hollering at Leishman and Haotong about not giving him this one. 3UP thru 11. 💉💉💉 pic.twitter.com/XsPFW3fN8g

— Kyle Porter (@KylePorterCBS) December 13, 2019
On a normal week, Justin Thomas has to rattle the bottom of the cup on every hole. Yet during Ryder Cup and Presidents Cup weeks, players expect to be handed three- and four-footers, and they often are. But there comes a moment in every match, be it in the Ryder Cup or your weekend round with your buddies, where the opponent becomes a mute and you are expected to finish.
With those scenarios in mind, we came up with a tier-based statistical ranking of who should, essentially, be forced to putt everything out based on how they handled shorter putts this season. The less "that's good" the better, by the way, because there is nothing more rich than spoiled tour professionals being mad over not being gifted a five-footer and creating some unnecessary drama.
The 10 chippiest moments in Ryder Cup history
Tier 1: 'Everything is good from five feet and in'
U.S.: Sam Burns, Wyndham Clark, Rickie Fowler, Brian Harman
Europe: Matt Fitzpatrick, Tyrrell Hatton, Viktor Hovland
This lucky group of seven will probably hear "that's good" on anything inside of five feet next week in Rome, as they should. While he is a Ryder Cup rookie, there's an argument that Sam Burns is the best putter of the 24 players making the trip to Italy. Tyrrell Hatton ranks higher in strokes gained/putting on the PGA Tour at seventh, so he would have a case, too. But the Englishman was a little shaky from exactly four feet, ranking 95th. Fellow Englishman Matt Fitzpatrick is tied for 11th with Burns when it comes to SG/putting on tour, and he ranked first overall from exactly five feet, making them at a nearly 93-percent clip. Viktor Hovland, Rickie Fowler and Wyndham Clark all ranked inside the top 50 this year in SG/putting, and only Fowler semi-struggled from shorter range, checking in at 116th from exactly four feet, but ranking top 40 from both five feet and three feet. As for Brian Harman, check the tape from the Open Championship. Enough said. To steal a popular SpongeBob Squarepants-related Twitter meme, HE DON'T MISS!!
Tier 2: 'Not enough statistical data to make a call'
U.S.: Brooks Koepka
Europe: Ludvig Aberg, Robert MacIntyre, Nicolai Hojgaard
Without the proper strokes gained data on the LIV and DP World Tours, it's tough to find the proper tier for this quartet. Based off of narrative, though, Brooks Koepka likely belongs in the "everything is good" tier for two reasons: 1.) He usually holes them whenever he needs them and 2.) I wouldn't want to piss this guy off. Ludvig Aberg did play quite a bit on the PGA Tour this year, but not enough to be ranked in strokes-gained categories. However, the tour still kept track of his numbers from five, four and three feet, and they're all good—97.22 percent from five feet, 91.4 percent from four feet and 100 percent from three feet. As for Bob Mac and Nicolai Hojgaard, both are Ryder Cup rookies, so they won't be hearing the phrase "that's good" all too often.
Ryder Cup Radicals: Last days before the big days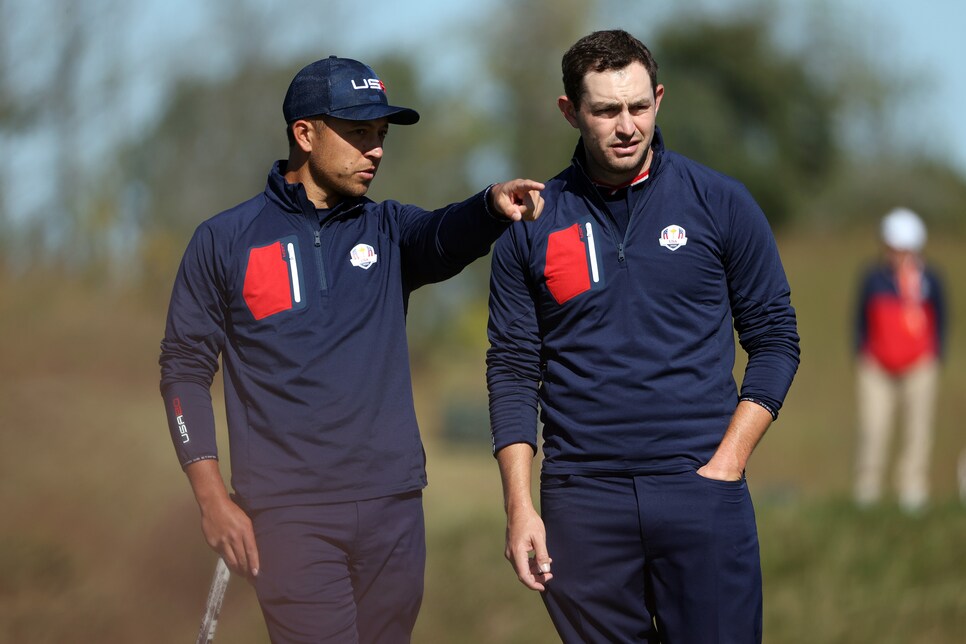 Patrick Smith
Tier 3: 'It's probably good, but make them putt if it's for the win'
U.S.: Patrick Cantlay, Max Homa, Xander Schauffele
Europe: Tommy Fleetwood, Rory McIlroy, Jon Rahm
This group is a collection of very, very good putters who, for whatever reason, struggled this past season when they got closer to the hole. Best buds Patrick Cantlay and Xander Schauffele both seem like they belong in Tier 1, but Cantlay was barely tour average from both five and four feet and Schauffele, despite ranking fourth on tour in SG/putting, ranked 96th from five feet and 128th from four feet. Fleetwood, McIlroy and Rahm were all among the top 65 putters on tour, but all three struggled mightily from exactly four feet, Rahm ranking 126th, Fleetwood 112th and McIlroy 111th. Finally, there's Homa, who is sixth on tour in SG/putting and top 45 from both five and four feet. From three feet? A stunningly bad 165th. This six-some is going to hole a boatload of birdie putts, but on the ones that race three-to-five past the hole, things might get interesting.
Tier 4: 'Yeah, we're going to need to see that'
U.S.: Collin Morikawa
Europe: Justin Rose, Sepp Straka
Collin Morikawa not being in the bottom tier may come as a shock, but he was a perfect 695 for 695 from three feet on tour this season, so it wasn't a complete horror show around the hole. It was for Justin Rose, a top 30 putter on tour who struggled from five feet (153rd) and three feet (140th). Sepp Straka's fright-inducing range came at exactly five feet, just outside the ol' "circle of trust," where he ranked 115th. Four feet and in, though, he was rather strong.
The science of remaining calm at the Ryder Cup (or your member-guest)
Tier 5: 'Absolutely nothing is good. Make them hole out'
U.S.: Jordan Spieth, Justin Thomas, Scottie Scheffler
Europe: Shane Lowry
The putting struggles of the American trio are well-documented, with so much video evidence out there that we don't even need to get into the stats. Scheffler, the best player in the world, probably cost himself at least three or four wins by ranking 150th on tour in SG/putting this season. He was a nightmare on the short ones, ranking 127th or worse from three, four and five feet. Spieth, who managed to finish top 100 in SG/putting, and putting from four and five feet, ranked a ghastly 167th on tour from three feet. As for Justin Thomas, the numbers are legitimately jaw-dropping, JT ranking 129th in SG/putting, 126th from five feet, 166th from four feet (!) and 116th from three feet. Europe's Shane Lowry ranked well outside the top 100 in each of those categories, except from three feet, where he was a respectable 67th. This gang should be forced to rattle the bottom on every hole they play, no matter how many times JT places his putter inside the hole to indicate his putt was inside the leather. If he does that again this year, his opponents should simply pull up his stats and tell him to prove them wrong.
This article was originally published on golfdigest.com