The only way the 2023 Ryder Cup could get any better for Australian viewers is if your boss lets you have Friday off (when lucky Victorians get to enjoy a pre-AFL grand final public holiday). Maybe Sunday, too. Australian timezones – east coast and even better if you're in Western Australia – are among the best in the world for watching the biennial Europe-versus-US teams spectacle, given its afternoon start means many can get get work done Friday and then knock off to watch almost 11 hours of Ryder Cup matches.
The latest finish on any of the three days is 3am AEST, which is better than, say, in the US, where the east coast will be waking up at 1am to watch on Friday.
Below are a series of answers to questions you might have about the 44th edition of the Ryder Cup. *Additional reporting Joel Beall, Dave Shedloski, Luke Kerr-Dineen, Shane Ryan, and John Huggan.
Where is it?
Marco Simone Golf & Country Club outside Rome in Italy. It also hosts the DP World Tour's Italian Open.
How do you watch it?
Fox Sports 503 has dedicated Ryder Cup coverage.
Day One (AEST)
Friday: 3.30pm – 2am Fox Sports 503 & Kayo
Friday: 3.30pm – 7pm (Featured Groups), Fox Sports 505 & Kayo
Friday: 6.55pm – 2am (Featured Groups), Fox Sports 505 & Kayo
Day Two
Saturday: 3.30pm – 3am Fox Sports 503 & Kayo
Saturday: 3.30pm – 12am (Featured Groups), Fox Sports 507 & Kayo
Day Three (AEDT)
Sunday: 8.30pm – 3am Fox Sports 503 & Kayo
Sunday: 8.30pm – 3am (Featured Groups), Fox Sports 505 & Kayo
Is there an Aussie playing?
No, and there are no silly questions. The Aussie men are only eligible for the Presidents Cup, which sees the US take on a rest-of-the-world team that excludes those who are eligible for the Ryder Cup (Europe). That's played on alternate years to the Ryder Cup.
The only Aussie involved inside the ropes for the 2023 Ryder Cup will be Viktor Hovland's Australian caddie, Shay Knight, a Sydneysider now based in the US. He has caddied for Hovland since the Norwegian star turned pro in 2019. He's a veteran caddie and a truly lovely bloke and we wrote about him here.
Who runs the Ryder Cup?
This is where it can get confusing for casual golf fans. The European team is run by the DP World Tour, formerly known as the European Tour. When the Ryder Cup is in Europe, they are the hosts and select the venue and have a say in the course set up. The PGA of America, the organisation that runs the PGA Championship (one of golf's four majors), runs the American team at the Ryder Cup.
Who are the captains?
Zach Johnson for the US and Luke Donald for the Europeans.
Who are the players?
US: Scottie Scheffler, Patrick Cantlay, Xander Schauffele, Max Homa, Brian Harman and Wyndham Clark (qualifiers). Brooks Koepka, Justin Thomas, Jordan Spieth, Collin Morikawa, Sam Burns and Rickie Fowler (captain's picks).
Europe: Rory McIlroy, Jon Rahm, Robert MacIntyre, Viktor Hovland, Tyrrell Hatton and Matt Fitzpatrick (qualifiers). Justin Rose, Tommy Fleetwood, Sepp Straka, Shane Lowry, Nicolai Hojgaard and Ludvig Aberg (captain's picks).
Are there any LIV Golfers involved?
Just one. Johnson was allowed to select from LIV Golf, where Koepka plays.
Who will be the hero of this Ryder Cup?
Golf Digest and Australian Golf Digest's writers put together a roundtable of predicitons for Brooks Koepka. The reigning PGA champion and the only LIV player in the field will have some motivation to excel—and we've seen what this guy does with any kind of a chip on his shoulder. Could be his swan song representing the US in team events. Why not make a statement? —Dave Shedloski
Given Caroline Hedwall's sudden transformation from near-passenger to pivotal team member at last week's Solheim Cup, anything is possible. But one player who could surprisingly play the role of ultimate hero is Sam Burns. He's good, but not that good. He was a flop at the last Presidents Cup. But this is also match play and we're talking "Hedwall factor" here. So if Scottie Scheffler's mate appears anything other than average, he'll be, for me at least, a hero. —John Huggan
Jon Rahm. It's not the most creative of answers, but it's the right answer. Best bet to play in all five sessions, on a course built to his strengths, in formats he excels in. Rory McIlroy might be the team's heart and soul, but Rahm is its fire. —Joel Beall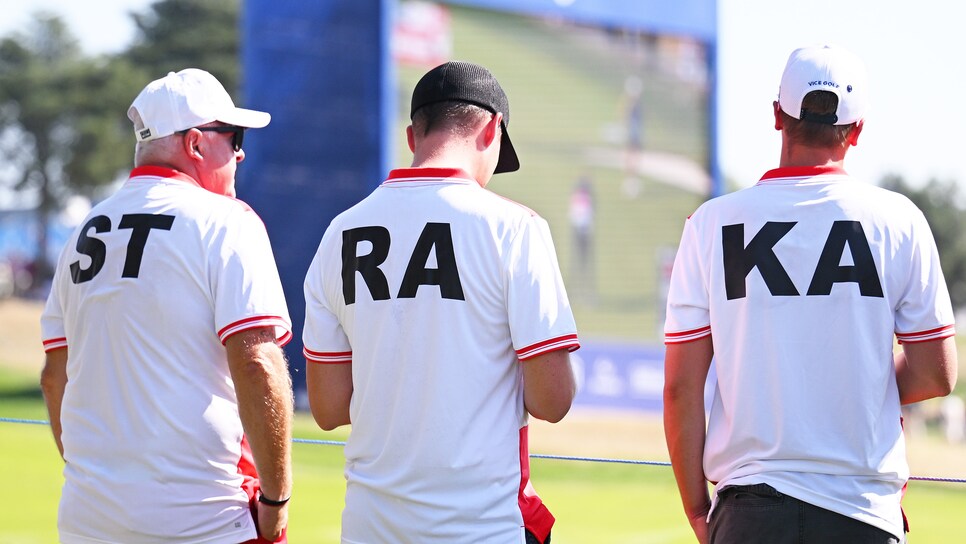 Fans of Austrian Sepp Straka look on during a practice round. [Photo: Ross Kinnaird]
I'm a pretty hefty shareholder in Sepp Straka stock. Maybe I'm too far gone because of it, but I think he's the kind of Swiss Army Knife player Luke Donald could deploy in a variety of ways, with a number of different players. His game is solid across the board, tending towards good ball-striking, and with so much hype around guys like Ludvig Aberg, he's coasting in under the radar. —Luke Kerr-Dineen
I don't know if he's going to win the most points, but I just have this weird feeling that Wyndham Clark is going to do something massive in a big moment. Nobody's talking about him, but he showed in the US Open that he's nails under pressure. He's also got a Buddhist-adjacent mindset going, which I think works well in a cauldron like this one. —Shane Ryan
The hero of the Ryder Cup will be sunscreen. And hats. Temperatures are forecast in the high 80s and low 90s, which is exacerbated by Rome's dry, unrelenting heat. It will be odd to see a Ryder Cup in Europe without players wearing sweaters and mitts. Inside the ropes, it will be Shane Lowry. He has that dogged look in his eye and an axe to grind with critics of his captain's pick. Coming off a T-3 and T-18 in the Irish Open and BMW PGA at Wentworth. —Evin Priest
Who's going to be the biggest flop?
Real possibility Robert MacIntyre plays just one session before Sunday. —JB
Tyrrell Hatton. Brags about his extensive use of expletives. Just want to see him have a reason to prove it. —DS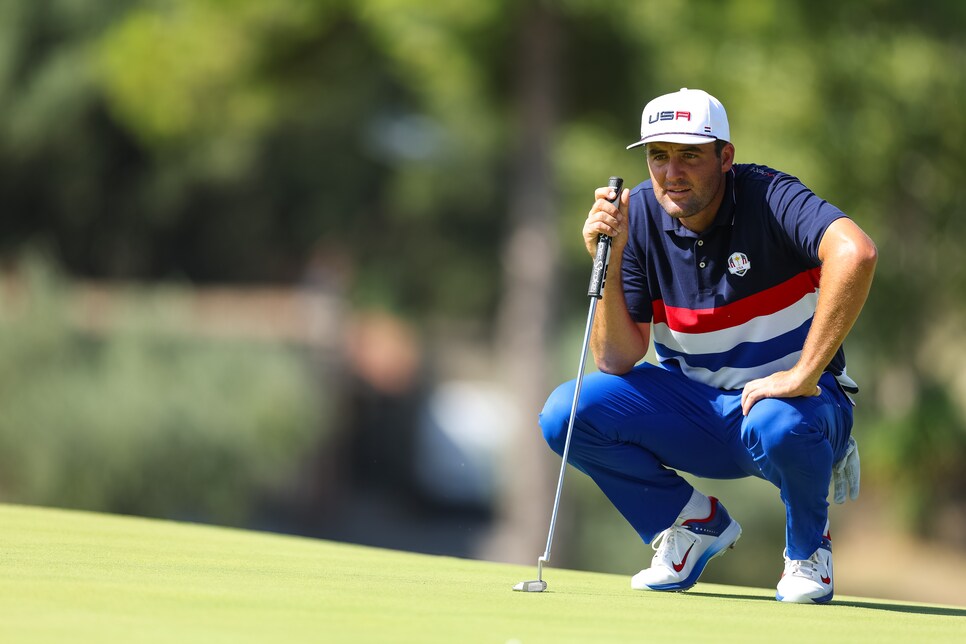 Scottie Scheffler reads his putt during practice. [Photo: Maddie Meyer/PGA of America]
I'm going with the No.1-ranked player in the world. Scheffler has played some magnificent golf this year. Tee-to-green at least. But consistency has never been high on the list of priorities in a match-play event featuring three distinctly different formats. An ability to adapt is way more more important. As is an ability to putt. The man who misses and misses and misses only gives the opponent encouragement and is forever vulnerable over an 18-hole sprint. That sounds a lot like Scheffler. —JH
Viktor Hovland. Just a feeling, potentially biased by watching his 0-3-2 Ryder Cup in 2021, and the way he limped to the finish line at Oak Hill this year. I'm very ready to be proven wrong, but am anticipating a delta between his high-flying play at season's end and how he fares at Marco Simone. —SR
I can't help but wonder if Xander Schauffle and Patrick Cantlay are due for a cool-down, if only because hot streaks like that are hard to maintain over the course of multiple years. A little statistical regression to the mean makes sense. —LKD
Who's your pick for best rookie?
Max Homa. Somehow is coming in under the radar. First-class debut in Presidents Cup last fall, likely will play in four sessions. Could easily grab three points. —JB
My previous answer suggests Straka, but on the American side, I'll go with Wyndham Clark. The course is a decent fit for him, and he seems like the kind of edgy player that could thrive against an away crowd. —LKD
Nicolai Hojgaard's selection has perhaps been the most underrated story in the run-up to this Ryder Cup. The youngest player on either side won an Italian Open at Marco Simone and earlier this year was again in the top-five here. That's a lot of good memories to fall back on and a strong foundation for this week. —JH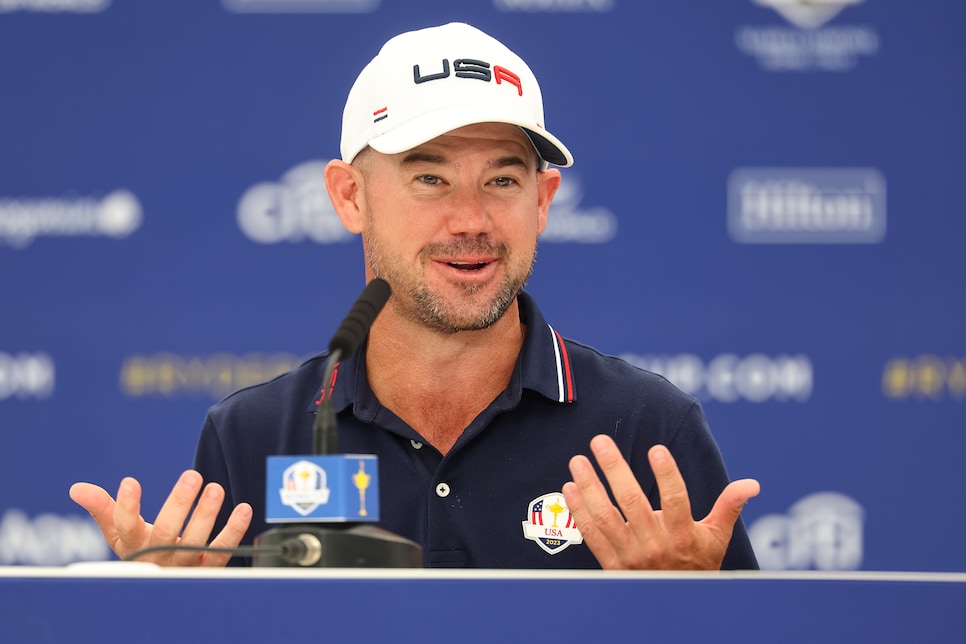 Brian Harman speaks to the media during the Ryder Cup. [Photo: Scott Taetsch/PGA of America]
Brian Harman. Just wrote about the Champion Golfer of the Year being ready for his debut, and his experience at Hoylake should serve him well in handling the tense moments ahead. He loves the challenge of match play and won't shrink from the challenge. —DS
One hundred percent on Harman. Is this partly because Harman's press conferences are the sneaky best in the entire sport? PARTLY. But mostly because of the grit he showed in front of a hostile crowd at Hoylake. Everyone says they're ready for the fans, but "Brian the Butcher" actually is. —SR
Which player is most likely to cause some kind of "controversy"?
Shane Lowry's primal yells could rub some Americans the wrong way; Justin Thomas could question the entire manhood of the Italian gallery. —JB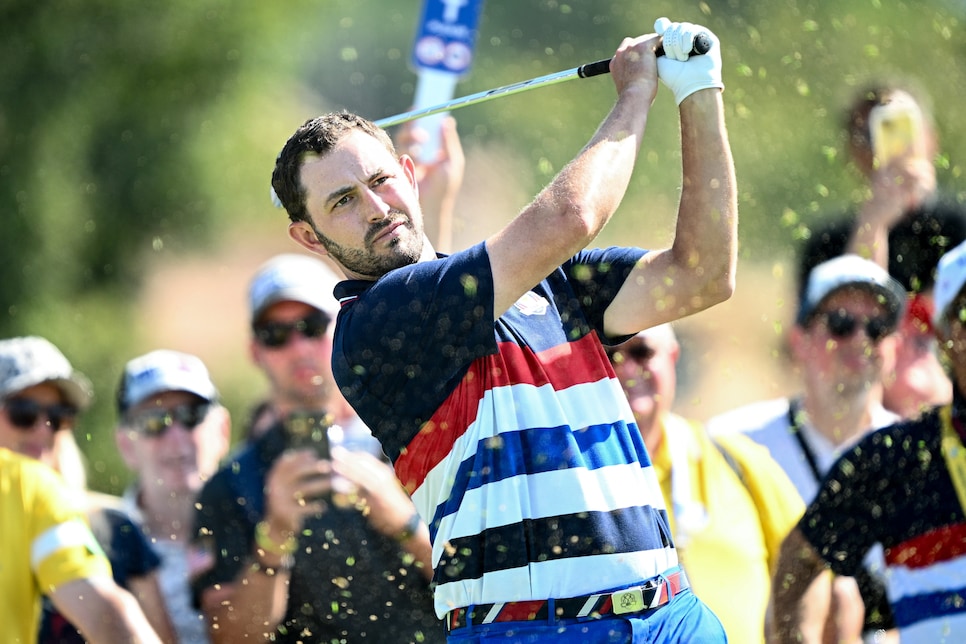 Patrick Cantlay watches his tee shot during practice. [Photo: Ramsey Cardy]
Patrick Cantlay. It's going to happen early. The opening session is foursomes, and you just have to think that Cantlay, who is the hardest of the several hard-asses in the field, might not be inclined to generosity with a rudimentary two-footer. Bonus if Rahm is on the receiving end. Or better yet, Tyrell Hatton, for reasons already stated. —DS
It's definitely going to be an American. We know this. I'm not choosing Cantlay because people chide him about slow play; I'm picking him because of his incident with Lowry in singles at Whistling Straits. "I was lining up my putt [on No. 8] and he was riling up the crowd, which I didn't think was great. It pissed me off a little bit … to be honest." —EP
Straka, when he purposefully drills a ball OB at a crucial moment, strips off his shirt to reveal American flag body paint, and flexes in front of a stunned crowd. —SR
To me, this basically means "which American player is most likely to react negatively to something said by a member of the crowd?" Step forward Brooks Koepka. —JH
Just for the story, which player would be best to clinch the winning point?
Lowry. And after he does, he'll whip off his shirt and begin tomahawking it over his head. It will become so iconic, so much so it'll spark a movement to replace the little golfer on top of the Ryder Cup with a golden miniature replica of bearded Irishman. —LKD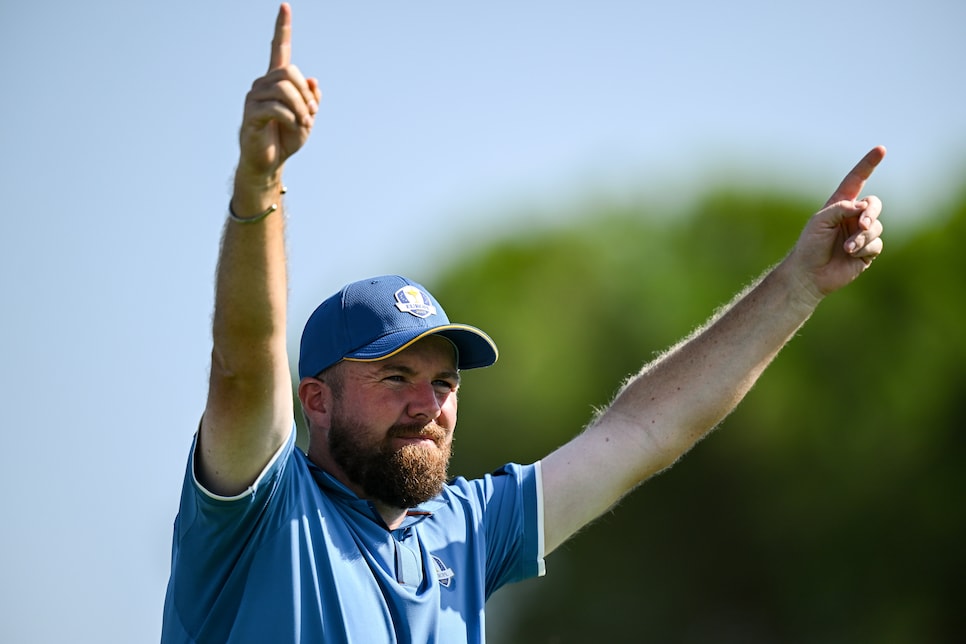 Shane Lowry jokingly celebrates his tee shot during practice round. [Photo: Brendan Moran]
Ask any American fan and they'll say "any American". Ask any European fan and they'll say "any European". But you're asking me, so it has to be Thomas. For a man many would not have selected for this match, it would be the ultimate vindication. —JH
Rory McIlroy. After his poor performance at Whistling Straits and his tear-filled apology for said effort, Rory being the hero for Europe would be serendipitous. —DS
Tommy Fleetwood wins the clinching point for Europe, and his beloved partner and vice captain, Francesco Molinari, runs onto the green and they hug while Celine Dion's "My Heart Will Go On" plays in the background. —EP
Thomas, given all the nonsense (gestures to social media) he received for his selection. Runner-up is Rory, given all the nonsense (gestures to past two years) he's dealt with. —JB
Who's going to win (and by what score)?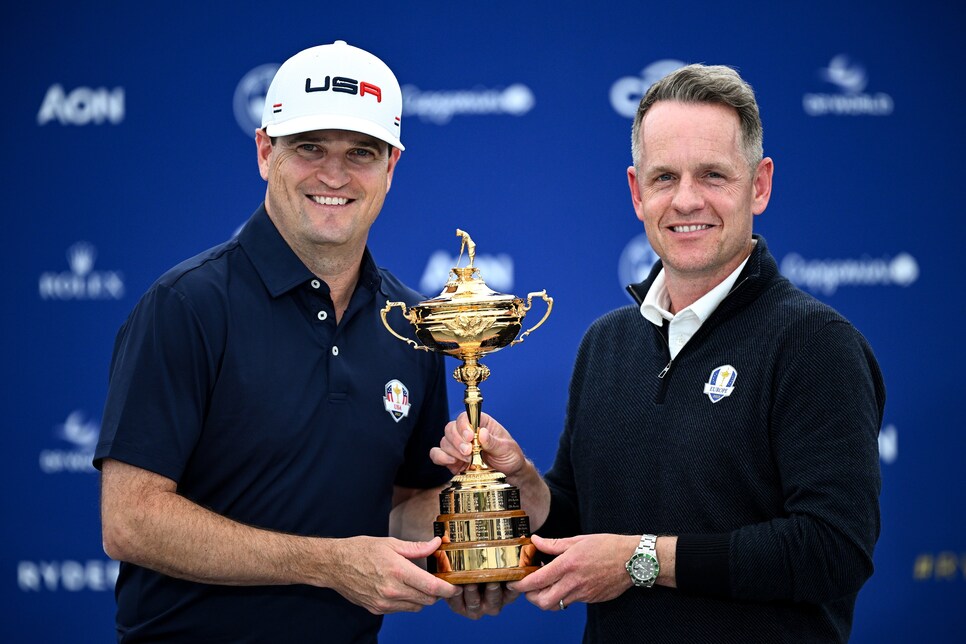 US captain Zach Johnson and Europe captain Luke Donald pose with the Ryder Cup. [Ramsey Cardy]
14-14 tie. There have only been two ties in the history of the matches, both coming in Europe, in 1969 and '89. It's been a topic of conversation after the Solheim Cup outcome, so the timing is right to make everyone crazy. Europe is in better form. America is deeper. The odds are even. Europe keeps its unbeaten home streak alive, but America keeps the Ryder Cup. Tyrrell Hatton will hate it and swear some more. —DS
Europe to win by a lot, followed by lots of analysis from American golf fans about how the biased course setup and home-course advantage are to blame, rather than looking inward. —LKD
I'm on the record here—US wins 14½-13½. But whether I'm right or wrong, please, please, please, golf gods, give us a close Ryder Cup. —SR
Europe 15, United States 13. (Editor's note: Joel is also on the record.) Because history, and because homefield advantage has become borderline unfair. —JB
This Ryder Cup will be so much tighter than most are predicting. But I think ultimately the might of the Europeans will be too much and they'll win 15-13 in a thriller. If the Americans win, it should be called The Italian Job. —EP
I'm going with a 14-14 tie. If only because I'd like to see and hear a continuation of the debate over whether the Ryder Cup (and Solheim Cup) should finish in a draw. Why is that? I need help with my insomnia. —JH