Brooks Koepka made headlines last week when he expressed frustration with the challenges of being part of a team once every two years in the Ryder Cup. Paul Azinger then made headlines responding to Koepka's comments by saying if he wasn't excited about playing in this week's matches at Whistling Straits, he should stay home and cede his spot to someone who might be more eager to play.
Koepka is a four-time Major champion and a two-time Ryder Cupper, whose play will almost certainly be critical to the success of Steve Stricker's team this coming weekend. Azinger is a four-time Ryder Cupper, who captained the Americans in 2008 – one of two US teams to win the cup this century.
Koepka's not wrong about the unique pressures of the Ryder Cup. Azinger's not wrong in thinking attitude is very important inside a team room.
One of the reasons many – most – players crave playing in the Ryder Cup is because it is unique in that you are playing for your teammates, for your country and for everyone with access (wives, caddies, former Ryder Cuppers) to the oh-so-off-limits team rooms. It isn't, as Koepka points out, just about you. In the week-to-week tournaments that go on around the world, including the four Majors, you succeed or you fail. Fullstop. It is why golf is so difficult mentally. It's all on you.
But the Ryder Cup is different. At the end of the weekend, individual records really don't matter very much. All that matters is the team result. In his final moment on the Ryder Cup stage in 1999, Payne Stewart conceded a putt to Colin Montgomerie on the 18th green that gave the match to Montgomerie. Why?
"Because after what Colin had gone through all day [with boorish American fans], I wasn't making him putt that ball," Stewart said. "We'd already won the cup. That was all that mattered."
More often than not, comments like Koepka's come from players who haven't yet experienced the intensity and the exhilaration of a Ryder Cup week. When Rory McIlroy first qualified for Montgomerie's 2010 European team in Wales, he was asked about how he felt knowing he'd be on the team.
"It's nice," he said. "I look forward to it. But being honest, it's an exhibition. My No.1 goal is to win Major championships."
Montgomerie, who is a lot smarter than most people think, smiled when he was asked about McIlroy's comments. "He'll learn," he said. "He won't feel that way once he gets there."
Monty was right. "I knew about 15 minutes after I got there that I'd been wrong," McIlroy said, able to laugh at himself years later. "I realised this was really a big deal."
He has since played in five Ryder Cups – winning four – and has never sat out a session.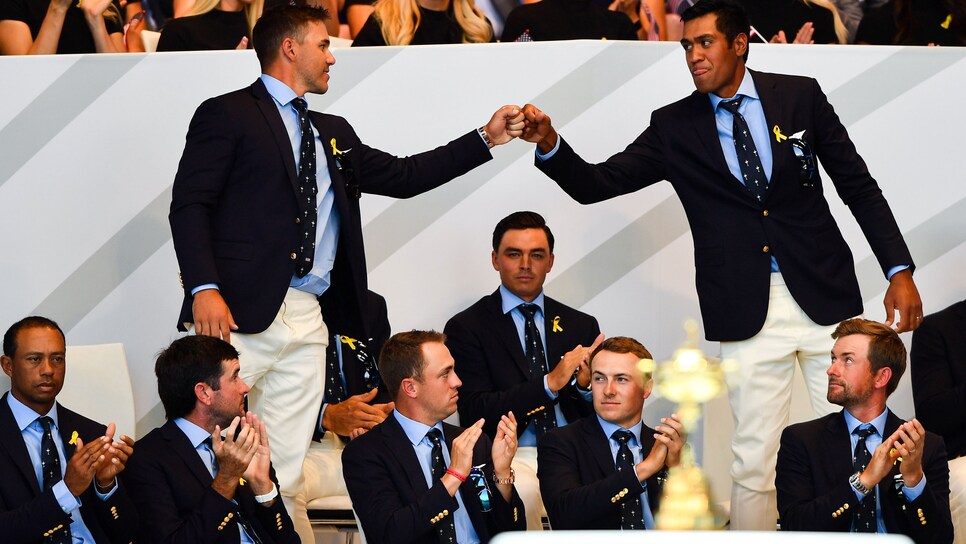 Koepka was 3-1 for the winning US team at Hazeltine National in 2016 and 1-2-1 in Europe's win in Paris in 2018. That's 4-3-1, certainly respectable, especially given that very few Americans who have played in this century have winning records. Tiger Woods, who never really embraced the Ryder Cup emotionally, is 13-21-3 and the eight teams he played on went 1-7. Phil Mickelson, who still hasn't completely gotten over not being picked for Tom Watson's team in 1993, has played in 12 Ryder Cups and is 18-22-7 individually. The teams he played on went 3-9.
Sergio Garcia will be playing in the matches for the 10th time this weekend. He first played at Brookline in 1999 as a teenager and has a 22-12-7 record individually and his teams are 6-3. Perhaps more importantly, Garcia says that not playing in the 2010 matches, when his career was at a low ebb, rekindled his fire and love for the game. Montgomerie invited him to be there as a vice-captain, and Garcia said being there and not playing made him realise how much he loved competing.
A Ryder Cup team room is a tension-filled place. Players and captains on both teams – but mostly on the American side – spend the four days prior to the matches beginning on Friday talking about how much fun the players are having with one another. For several years, the Americans talked (and talked) about how much they were enjoying playing ping-pong with one another. Interestingly, the one year the Americans won since ping-pong tables were put in the team room – 2016 – no one played ping-pong. Why? Because that American team genuinely got along with one another.
It isn't as if the Europeans sit around and sing "kumbaya" in their team room. Ian Poulter, who might just be the best Ryder Cup player ever, described it best: "There are guys in our room who don't get along," he said. "Human nature – 12 guys from different countries with different backgrounds, there are bound to be differences. But for one week every two years, we take all the differences and leave them outside the door of the team room. Then we pick them up again on the way out."
Poulter has played in six Ryder Cups – and his team has lost just once (2008). In 2016, when he was injured and couldn't play, the US won. Poulter was a vice-captain but said himself his impact was minimal since he couldn't play. He played in Paris in 2018 and will be on Padraig Harrington's team as a captain's pick this weekend.
Harrington picked Poulter (and Garcia) over players with better records this season for one simple reason: they're Poulter and Garcia. Stricker, on the other hand, passed on Patrick Reed, who played so well in his first two Ryder Cups that he earned the nickname "Captain America". Reed's relationship with his teammates hasn't always been warm, and Stricker apparently decided he didn't need any more issues than the one he already has to deal with because of the Koepka–Bryson DeChambeau feud.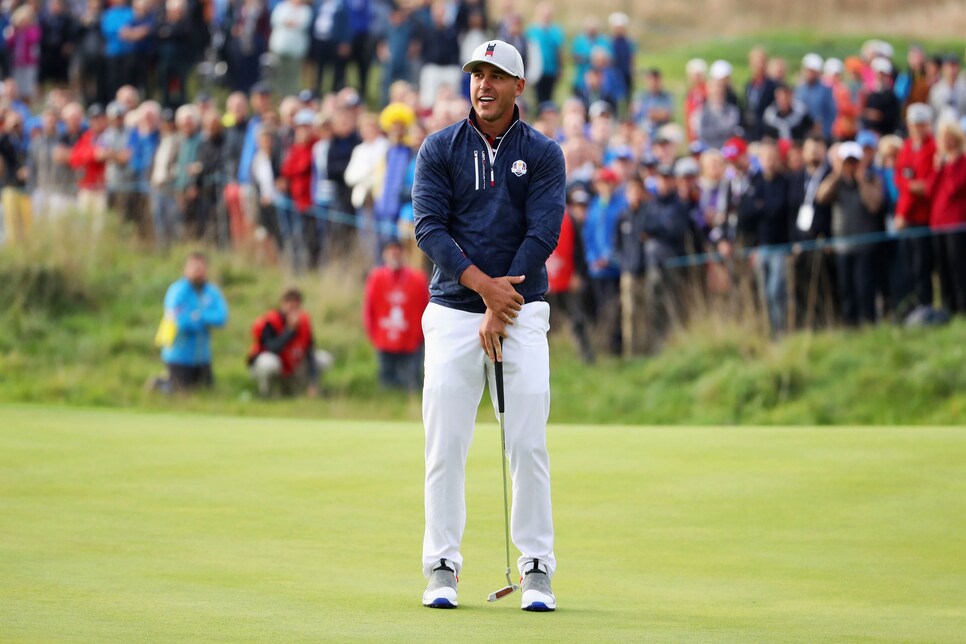 Brooks and Bryson can talk all they want this week about how they've put their differences behind them claim that much of the problem is media-created. The fact is they don't like each other.
Koepka saying he doesn't like having to depend on others in order to be successful once every two years is both honest and a little bit silly. Teammates do depend on one another. There will certainly be moments, especially in foursomes, when Koepka will need to bail out a partner. There will also be moments when his partner will bail him out.
At Hazeltine National on the Friday morning, Mickelson was so tight playing foursomes, he could barely keep a ball in play. Rickie Fowler got the Americans out of one jam after another and made every important putt. The Americans won the match against McIlroy and Andy Sullivan, 1 up.
By Sunday evening, as the Americans gleefully sprayed champagne all over the place, no one remembered Mickelson's play on Friday morning. That's the beauty of the Ryder Cup. The team is what matters.
I honestly believe Brooks Koepka will figure that out sooner or later.