On the day that "moving day" moved by a day, Rory McIlroy made a move.
While the Hero Dubai Desert Classic might be a full 24 hours behind schedule, the 32-year-old Northern Irishman will enter Monday's final round with no one ahead of him.
Courtesy of a 65 that contained eight birdies and a lone bogey on the 18th, the World No.1 is 15-under par and three-shots clear of two Englishmen, Callum Shinkwin and Dan Bradbury, with 18 holes of regulation play on the Majlis course at the Emirates Golf Club still to negotiate.
It was then, a day to remember for the leader, already a 15-time winner on the DP World Tour. Which is not to say that, despite two bursts of birdies – four to start his round and four more in five holes from the 13th – that threatened to put an end to any and all opposition, McIlroy was jumping with anything approaching joy at close of play.
In the fairway on the 18th after his 3-wood tee shot, the two-time winner here hit the ugliest of approach shots with the same club. Attempting to hit a "high, cutty one," McIlroy perpetrated what is best described as a "low, necky one" that was always destined to find the water in front of the putting surface. All in all, it was a near carbon-copy of the shot he hit with the same club from a similar place on the same hole exactly a year ago.
Making things worse this time round is that, after a cooly played pitch, McIlroy missed from close range for par. He wasn't saying so afterwards, but his face betrayed the inescapable notion that he had missed a chance to all but put an end to the hopes of the chasing pack.
A closing birdie and a five-shot edge would have made it difficult to imagine anything but a McIlroy victory 24 hours on. As it is, his three-shot lead is nice, but hardly unsurmountable on a course so susceptible to low scores.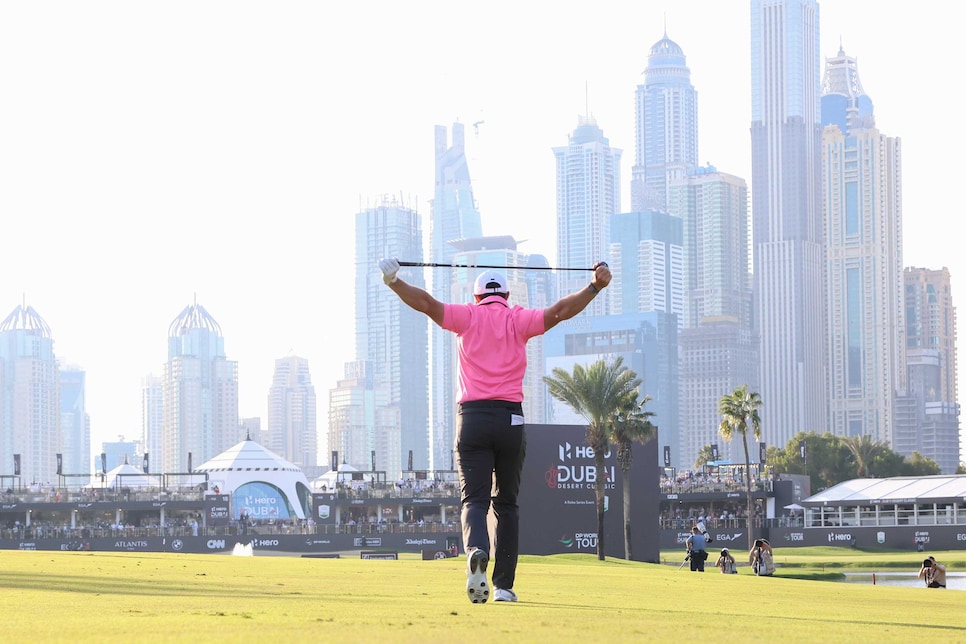 "It's the exact same thing as last year on the last day in the final round," McIlroy said, repeating what many were thinking of the 72nd hole shot that cost him a chance at the title a year ago.
"It's just a bit of a hanging lie. It's not a great yardage. Fool me once, shame on you. Fool me twice, shame on me, I guess. I was in-between clubs, too. It was either trying to hit the high 3-wood or 'button' a 5-wood. It was just a bad decision at the end of the day. If I'm in that position again, and I don't quite need to take it on, I probably won't. But we'll see. Hopefully, I have a cushion coming down there tomorrow."
Still, that blip apart, this was, for 17 holes at least, one of those McIlroy performances that make observers wonder how anyone ever beats him. Between tee-and-green there was too a noticeable improvement in the Northern Irishman's shots. Over the opening two rounds, McIlroy's driving had betrayed a worrying and somewhat erratic fragility. On Day 1, the balls were tending to fly right of their target; two days later that miss had been reversed.
Perhaps the most revealing word in the four-time Major champion's chat with the media following his second-round 70 was "timing." After more than a month away from competition – during which he did not touch a club for "a couple of weeks" – the search for his natural rhythm was this week in its early and experimental stages. Patience was therefore required, although he was quick to credit the work he did on the range on Saturday evening.
"This was a lot more positive than yesterday," he said. "Still don't quite feel in control of everything, but I'm playing really efficient golf. When I'm giving myself looks, I'm taking advantage of the good shots that I'm hitting. And I'm managing my game when I don't hit a great shot here and there. I did hit a couple of wild tee shots again, a couple of very poor iron shots, too. Overall, though, it was much better today. I need to go out and do the same tomorrow.
"It feels like a continuation off the back end of last year," he said. "I started to manage my game really well, and that's why my results were very consistent. Whenever you can keep bogeys off your card, even if you're not playing great golf, it really just keeps your rounds going. I'm always going to hit good enough shots to make birdies and hole some putts but keeping the mistakes off the card for me, anyway, is the secret."
McIlroy also had some kind words for one of his nearest challengers, calling him a "great young player." Bradbury sprang from anonymity when, on the back of a sponsor's invitation, he won the Joburg Open from nowhere, securing both a DP World Tour card and a place in the Open Championship in the process.
"It was pretty cool," said Bradbury, who added a 68 to the second-round 63 that first propelled him up the leaderboard. "And a unique experience. I got a few shouts of my name, but they were mainly for Rory with a random 'Dan' in the middle. I couldn't help but smile. It's nice to know that there are people out there wishing me well. We [he and Rory] were just having a laugh. It's so serious out there, you just have to talk about anything other than golf."
McIlroy enjoyed it too, to the point where he claimed to be "looking forward to another day with Dan tomorrow."
A better finish would help too.