Think back. Back to when LIV Golf actually became something real. The consensus view in the wake of that bombshell news was that the next European Ryder Cup team had emerged relatively unscathed compared to a US squad suddenly deprived the services of Brooks Koepka, Dustin Johnson and Bryson DeChambeau. Only Sergio Garcia and Paul Casey, said that initial narrative, would be anything close to missed from the European side that would take on the US in Italy next month.
Around 18 months later, Casey is philosophical when the subject of the biennial contest he has played in five times comes up. On the one hand, the 46-year-old Englishman, who is competing in an Asian Tour International Series event, the St. Andrews Bay Championship, this week, has been bedeviled by injuries this year. But on the other, there remains a lingering sadness that he will not be involved for a sixth time. Given full fitness, he remains good enough to contribute to his old friend, European captain Luke Donald's cause. (They won two matches as foursomes partners in the 1999 Walker Cup at Nairn.)
"I will miss being part of the Ryder Cup when it happens," Casey concedes. "I obviously don't know if I would have made the team this time but I was certainly capable of doing so. No guarantees though. Or regrets. If you regret stuff in golf, it's hard sport to play. You wouldn't last long with that sort of thinking. I learned that early on. You just have to get on with it.
"But yes, if I'm healthy, I still feel I could be useful at a Ryder Cup," he continues. "And I'm not alone in that. Let's say Ian Poulter isn't playing the golf he wants to play. Or has played in the past. And so won't be part of the 12-man team. I would still have him be involved. That's what is going to be missing in Rome, guys like Poulter and [Lee] Westwood in the locker room. I've been in those locker rooms. The pundits and the commentators have not."
Casey's most recent and perhaps final Ryder Cup experience came at Whistling Straits two years ago, when he lost all four of his matches—"so frustrating"—amidst the 10-point shellacking suffered by captain Padraig Harrington's team. In the almost two years since, the Irishman's leadership and decision-making has inevitably come under critical scrutiny. But Casey is having none of that.
"Clearly, Padraig will go down as a losing Ryder Cup captain," he admits. "But he might be the best captain I've ever played for. No one ever writes that. He was an amazing captain. We didn't have a crowd because of Covid. That was a massive factor. Sometimes it comes down to that little bit of luck.
"I'll tell you how good a captain Padraig was," Casey continues. "The caddies bought him a watch. They all got together, bought him a Rolex and brought him to tears when they presented it to him in Dubai, a few weeks after the matches. That said so much. Caddies normally don't like dipping their hands in their pockets for players. But it was actually the flip side of what was going to happen if we won. Padraig was going to buy every caddie a watch. He was so highly respected."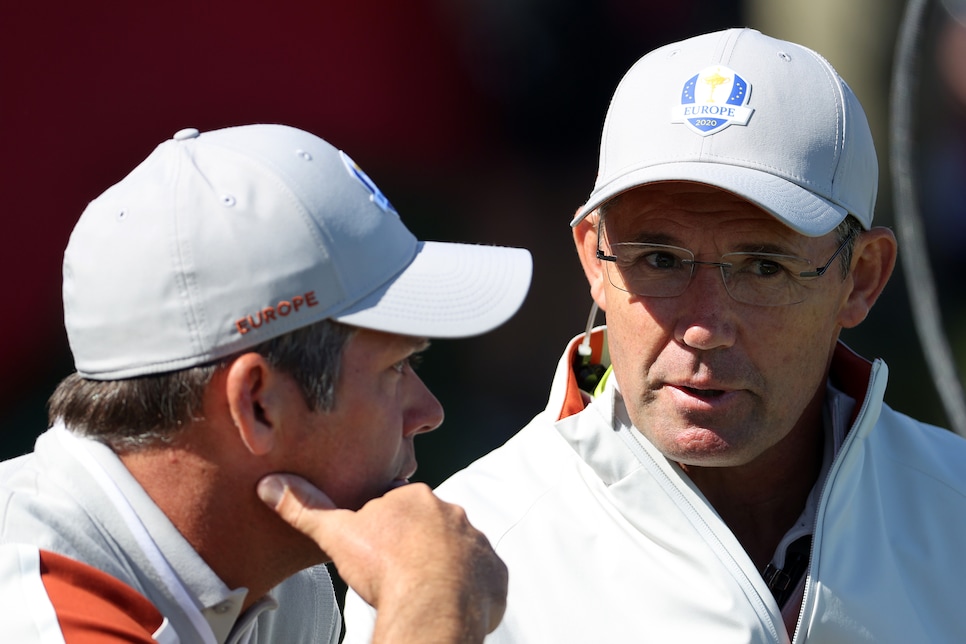 Paul Casey with Captain Padraig Harrington in 2021 at the Ryder Cup at Whistling Straits. Warren Little
Again like so many others, Casey feels that the Ryder Cup has been damaged by what has gone on the last 18 months.
"That was never anyone's intent," he says. "But it has to be fixed. (DP World Tour chief executive) Keith Pelley has admitted that. He's had conversations with people I know and he has admitted that. They have a captain issue in the future. I love that Luke is captain. I know him well and he has my respect. I want him to be a great captain, which he will be win, lose or draw.
"The Ryder Cup is so valuable in terms of what it gives to golf in Europe, not just monetarily. We don't want that to be damaged any more than it has been already. I don't watch a lot of golf outside of the majors. But I will certainly watch the Ryder Cup. And I might just have a piece of Euro team clothing on under my top. I won't have the commentary on though," he said with a laugh.
Indeed, laughing is something Casey remans well capable of doing while competing on the LIV tour. Despite not being fully fit for most of 2023, his countenance remains cheerful, outwardly at least. And no, there is no going back.
"Moving to LIV has changed me for the better as a person" he says. "I was probably in a spiral before and not in a good way. There are so many things people don't necessarily want to hear from pro golfers. Whatever the sport. But I was trying to play multiple tours. Then there were team matches and the Olympics and all the rest of it. It was taking its toll. Look, I still want to do what I do. But something had to give. I just don't want to do it all as often.
"But it's always about the golf and I'm not playing at the level I want to right now," he continues. "I've struggled this year. At Centurion I had to pull out during the final round; I just couldn't walk. It all stems from my old foot injury. Sometimes though, it's my back and sometimes it's knee. The pain goes up and down my body. In effect, I have a bad wheel, which has made working on my game difficult. Which in turn means I haven't been playing that well."
Casey, a former member of both the PGA Tour's Player Advisory Council and the DP World Tour's Players Committee, has some strong views on the state of the professional game worldwide right now.
"There's a lot of mess," he says. "It's a big mess. But there are already too many opinions floating around. I'm not going to throw mine into the mix."
Well, maybe a little. There are a few things he would like to see happen. Like so many others, Casey's worry is that those currently sitting round the table talking golf's future will follow the route of self-interest more than what would be for the good of the game.
"More consideration needs to be given to the needs and wants of the fans," he maintains. "That doesn't get talked about enough. And certainly not enough by those making the big decisions. All of this can't be just about business. That frustrates me and probably many others. It doesn't matter whether I am part of the DP World Tour or the PGA Tour or LIV, we are all part of the issue and so the solution. But we are not all swimming in the same direction right now. That's my biggest concern. This needs to be about the consumers."
Let's hope that noble claim is not also naive.