In football terms, and we'll put it in football terms because that was the language spoken by the Royal Liverpool galleries on Friday, Tommy Fleetwood's five-shot deficit through 36 holes to Brian Harman at the Open Championship is not unlike his beloved Everton FC being a few goals down at halftime in a home game at Goodison Park. It's not ideal, but it's not ever either.
"Tommy, lad! Swing it back for Goodison," a merry fan said on Friday night at Royal Liverpool, referencing the English Premier League team that plays only 30 minutes away.
Fleetwood's even-par 71 on Day 2 kept his championship total at five under and within range of Harman at 10 under. Austria's Sepp Straka was third at four under. Harman's 65 gave him the largest 36-hole lead at the UK major since 2010, when Louis Oosthuizen ran away with it at St. Andrews.
Much like the galleries following Fleetwood, who grew up at Southport only 45 minutes from Royal Liverpool, Fleetwood isn't willing to concede the claret jug to Harman just yet.
"Yeah, Brian had two amazing days; I was watching his round this morning and he was playing great," Fleetwood said. "He really has done so. He's a long way in front. Of course, there's a long way to go, but still, for myself and everybody else playing, it's just playing one shot at a time. We don't know what the conditions are going to bring, and you just have to keep playing until it's over and see where you finish."
Fleetwood will draw from chasing down a three-shot deficit at the Nedbank Golf Challenge in South Africa last year as he readies for a Saturday afternoon tee time with Harman.
"I've put in chases before in the past, and look, at the end of the day if somebody said you're going out in the last group on Saturday, I don't care what the situation was or what anybody had shot, I'd have probably taken it," he said.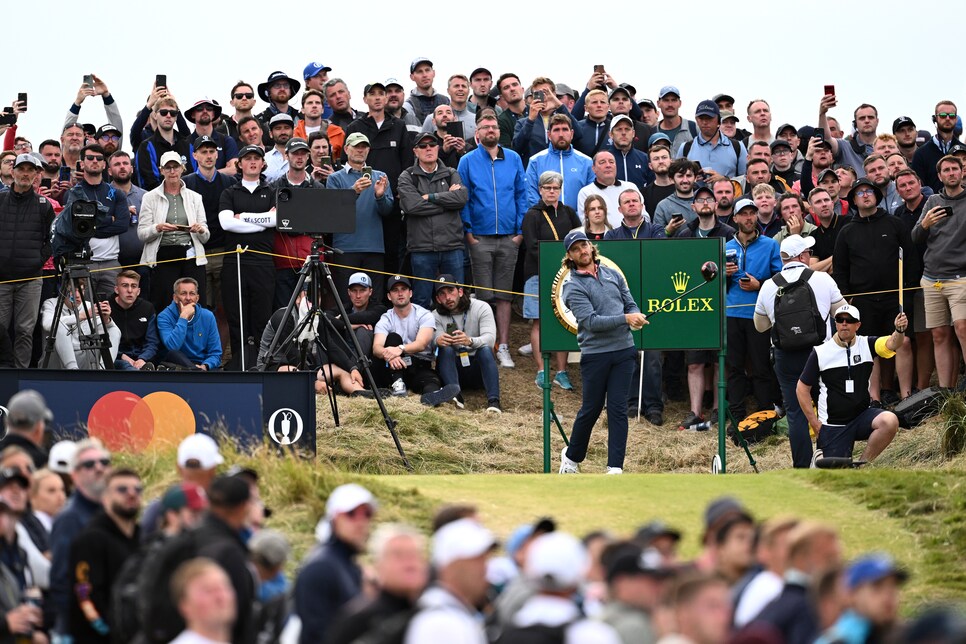 Tommy Fleetwood tees off on the 15th hole during Day 2. Richard Heathcote/R&A
Fleetwood, despite not winning a PGA Tour event yet, has more recent experience in the hunt at majors than Harman. The last time Harman, a left-hander from Savannah, Ga., contended in a major was when he led the 2017 US Open at Erin Hills going into Sunday. By contrast, Fleetwood has three top-five results in majors in the past two years, including last month's US Open at Los Angeles Country Club.
Harman will also have to go up against Fleetwood's home crowd, who gave the 32-year-old raucous cheers at every corner of Hoylake.
"Oh, they've been insanely amazing," he said. "They really have. Loved every minute of playing in front of them, and I can't thank everybody enough, can't have asked for any more from anybody with all the support they're giving me out here. The northwest [of England] is definitely making a name for itself with how they are. It's been great, and I'm just excited to play in front of them."
The galleries will be loud and lubricated on Saturday at Hoylake, much like a Saturday afternoon game at Goodison Park. And Fleetwood hopes to play with as much moxie as the Toffees, who battled to avoid relegation in the league this past season.
"I still love watching [Everton]; they definitely give you plenty to think about when you're watching," he said.
No doubt Fleetwood hopes he gives his fans, in their thousands, plenty to think about this weekend.