[PHOTO: Andrew Redington]
Thank goodness for the shot tracker on the Open Championship's website. Otherwise, we would never have been able to make sense of how a rising Asian Tour star made a 10 on Royal Liverpool's closing hole on the opening day.
Leading into the tournament we were warned about all of Hoylake's internal out-of-bounds and told by one top coach that the course's new par 3 "could ruin somebody's career". But it was an old links standard that caused this disaster: the pot bunker.
Taichi Kho, who earlier this year became the first player from Hong Kong to win on the Asian Tour, was struggling in his Open debut when he arrived at the 18th hole overnight, Australian time. However, he was coming off a birdie on the controversial 17th hole, and he was just off the green in two on the finishing par 5. But again, those pot bunkers. They'll get you.
Somehow it took eight more shots for the 22-year-old Kho to complete the hole. Here's a look at the shot chart and the play-by-play (all of which can't even fit in that box):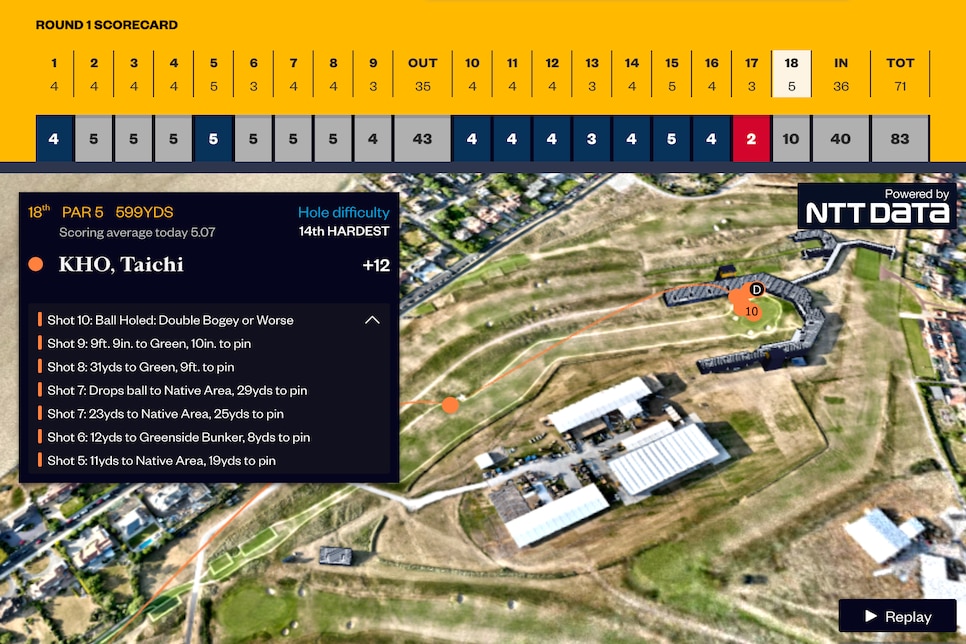 Apparently, Kho left two shots in the bunker before finding some native grass. Then he went back in the bunker. Then he went back in the native grass. Then he took a drop. Then he finally put it on the putting surface and two-putted for a rare double-digit score, two shots worse than even Rickie Fowler, who hit two shots OB on the same hole a little earlier.
That hurts. And, not surprisingly, that dropped Kho all the way to the bottom of the leaderboard on day one.