The West Coast Swing that just concluded on the PGA Tour is inarguably one of the best to have been played in recent memory.
Three players over the past two months ascended to the No.1 position in the world, and nearly every week saw some of the game's best players fight it out late on Sunday afternoons.
Understandably, that makes it all deeply satisfying to Jon Rahm for what he accomplished during this phenomenal and entertaining stretch that began in the first week of January on the PGA Tour.
When the 28-year-old Spaniard made two birdies over the last four holes on Sunday to close with a two-under-par 69 and overcome LA hero Max Homa to win his first Genesis Invitational at 17-under, he could not only lay claim to the title of this swing's runaway star, but also the most formidable player to contend with in the foreseeable future.
Yes, Scottie Scheffler, with his victory last week in the WM Phoenix Open, and Rory McIlroy have both been World No.1 in this calendar year, but it's Rahm who clearly is the sport's most dominant figure, now having won five times in his past nine worldwide starts. Incredibly, he hasn't finished worse than a tie for eighth in the past 10 times he officially teed it up. (In the super-charged field this week at Riviera Country Club, Scheffler tied for 12th and McIlroy was T-29.)
"It's the beauty of the year that we're living right now," Rahm said after accepting a $US3.6 million winner's cheque. "It's exciting for us to play and exciting for the golf fans because things like this can happen."
The milestones just keep piling up for Rahm. He is the first Spaniard to win at Riviera, and he passed the countryman he idolised, Seve Ballesteros, with his 10th win on the PGA Tour. (Seve won nine times in his limited play on the American circuit.)
Rahm is the quickest to reach three wins in a calendar year since California golden boy Johnny Miller did so in 1975, and, as he pointed out, he'd never won three times in a season, and now he's done so with six months of competition – and all four Majors – still to come.
"I've won five out of my last nine starts; I haven't finished worse than top-seven [in the last five starts], and I've won three tournaments already," Rahm said. "I don't need a ranking to … validate anything, right? Having the best season of my life and hopefully I can keep it going."
In beating most of the best players in the world in a newly "designated" event that featured most of the best players in the world vying for a $US20 million purse, Rahm ended up on Sunday contending with both Homa and his fervent LA backers. When Rahm hit a great shot, he heard, "Let's go Max!" a few seconds after. And when he suffered a couple of missteps, there were slightly mocking "oooohs."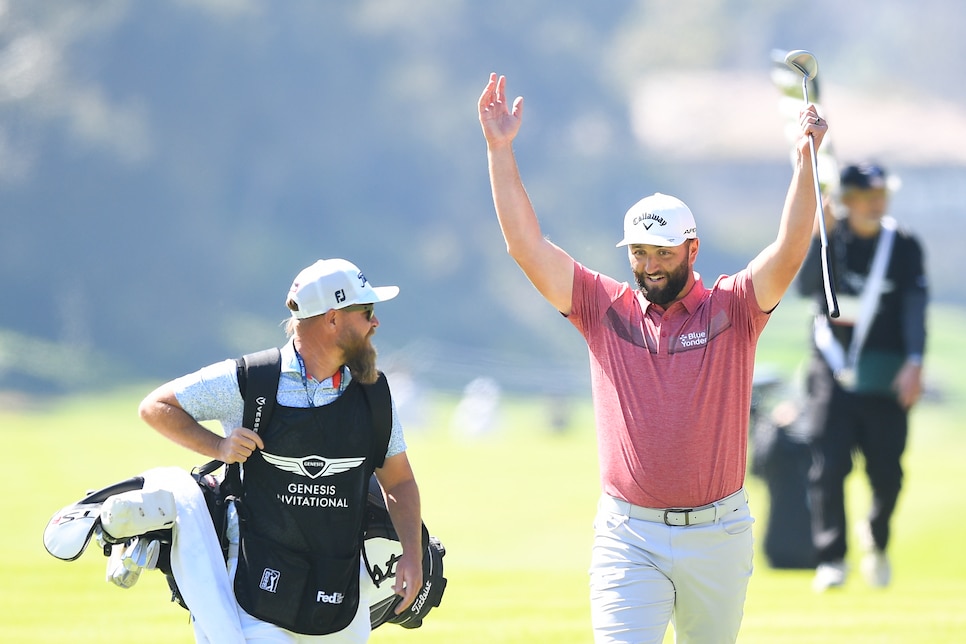 If Rahm was going to win, he would have to steel himself from within, and he did so impressively.
After surrendering a three-shot lead through 10 holes and falling behind by one after three-putting 12, Rahm responded by making an excellent par save from a dusty wash at the 13th hole, followed by a pair of 2s on the back-nine par 3s.
Homa bogeyed the 13th following a wayward drive to drop back into a tie, and then, like a visiting batter hitting a late go-ahead homer at Dodger Stadium, Rahm quieted the rowdy gallery by making a 46-foot birdie putt at No.14 and stuffed his 8-iron tee shot at 16 to three feet.
Homa, who beat a seventh-place Rahm in the Farmers Insurance Open at Torrey Pines two weeks ago, couldn't answer with any charge and made par on his final five holes. He did manage to secure a nervy 4 on 18 to score one better than Rahm for the day – 68 – and placed two back in solo second. That gave Homa a nice consolation cheque of $US2,180,000. Patrick Cantlay (67) finished third and made $1,380,000, and Will Zalatoris charged with a 64 for solo fourth ($980,000).
"I think everybody's head was in very different spots during the day," Rahm said. "If you tell me on the ninth tee after that tee shot that I was going to be one back on 13 tee, I wouldn't believe you because I was feeling that good. But it's golf, and this golf course especially can get you.
"I think I'm just more proud of myself of kind of resetting when things got difficult. On that 13th tee, hitting a bad tee shot and just kind of resetting and knowing that if I were to somehow save par there and finish the last five under par, I was most likely going to be the champion."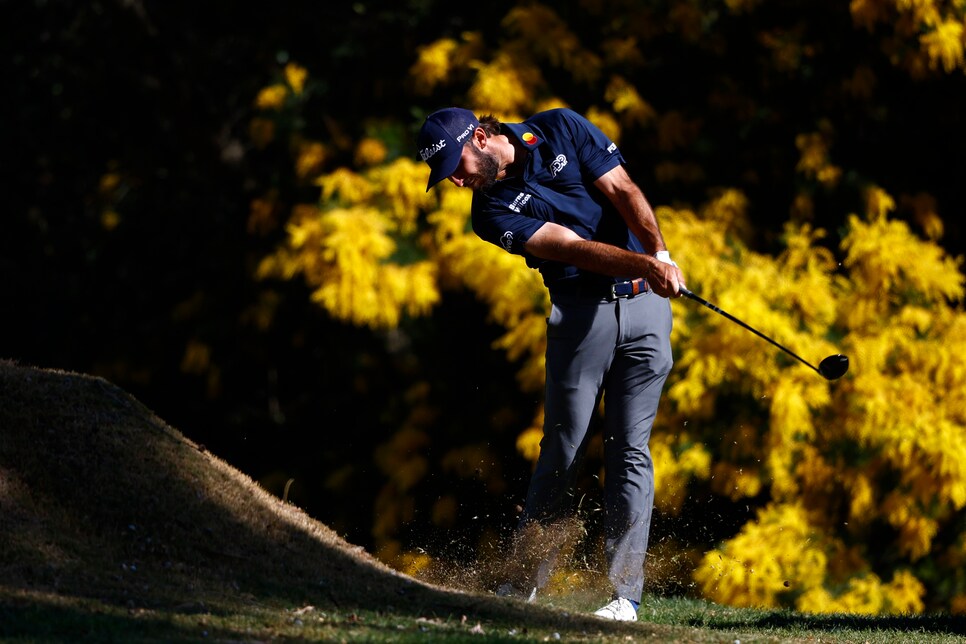 It was curious that Rahm ended up winning with back-nine birdies on the par 3s, considering he forged most of his advantage by going 10-under on the par 5s for the week. Homa, meantime, was only four under on the longest holes while leading the field in strokes gained/putting. Rahm was the week's best ball striker, ranking first by gaining 11.92 strokes on approach.
Asked about what has changed from when he hit some doldroms last summer and didn't seriously contend in any of the Majors, Rahm held up his right hand and spread his thumb and index figure about an inch apart.
"It's a combination of things, but I'm talking about such a small difference, and I felt like I was playing good enough to shoot the scores that I knew I could shoot; it just wasn't happening," said Rahm, further noting that his putting and wedge play improved.
There may be other factors, too. Rahm's son Kepa will be 2 in April, and his wife, Kelley, gave birth to their son Eneko last August. If Rahm could seem tightly wound and easily frustrated before, he believes that kids have changed his outlook. He recounted on Sunday how he went back to his family on Saturday night and most of the jitters for the final round were soothed by playtime and a bath for his Kepa.
"Ever since they came along, going home after a golf tournament and a golf round is a lot easier just because of things like that," Rahm said. "He's playing with his trucks, feeding him … just all those moments where he's smiling and so happy is so heartwarming – that what happens on the golf course kind of seems, it's very minimised, right? It's not nearly as satisfying as that is."
The wonderful thing for Jon Rahm right now is that he's got the best of both worlds.