[PHOTO: Stuart Franklin]
Listed under the player-profile sections in the official Solheim Cup program are each competitor's best results this year. European stalwart Celine Boutier's, by way of example, takes up six lines and contains three wins, including her major championship victory at the Amundi Evian Championship. On the other side of the trans-Atlantic aisle, America's Nelly Korda has eight lines of text, detailing a plethora of top-10 finishes as well as a lone victory.
Then there is Lexi Thompson. Under her profile there is only a blank space. Sadly, by saying absolutely nothing, that gap spoke volumes. As has been well-documented, the 28-year-old Floridian has not played anything like her best in 2023. In fact, she had been a lot closer to her worst, a depressing state of affairs for a player good enough to win a major title—the 2014 Kraft Nabisco Championship—while still a teenager.
Needless to say, the numbers are a long way from pretty. In 11 starts on the LPGA this year, Thompson has missed the cut eight times. Of the 28 rounds she has played, in only five has she hit the ball fewer than 70 times. Only eight times has she broken par. Her best finish and her most recent is T-19 at the Kroger Queen City Championship earlier this month.
A deeper dive into the statistics makes no more pleasant reading. While Thompson is a respectable 14th in driving distance on the LPGA—always a strength of her game—she is a subterranean 155th in accuracy off the tee. Four times out of 10 she misses the fairway. On every third hole she misses the green in regulation. And in those 28 rounds she averages 30.5 putts for the 18 holes. That places her 133rd on tour in that category.
Things do look a little better when Thompson's record against the Europeans is taken into account. Her overall record is 6-6-7, made up of 2-3-3 in four-balls, 3-2-1 in foursomes and 1-1-3 in singles. Not bad, but not great either.
All of which added together made it only natural that the world No.26 (a tribute to the quality of her play before this year) should be asked about her form, or lack of it, coming into her sixth Solheim Cup. It was an obvious question, which received a predictably defiant answer.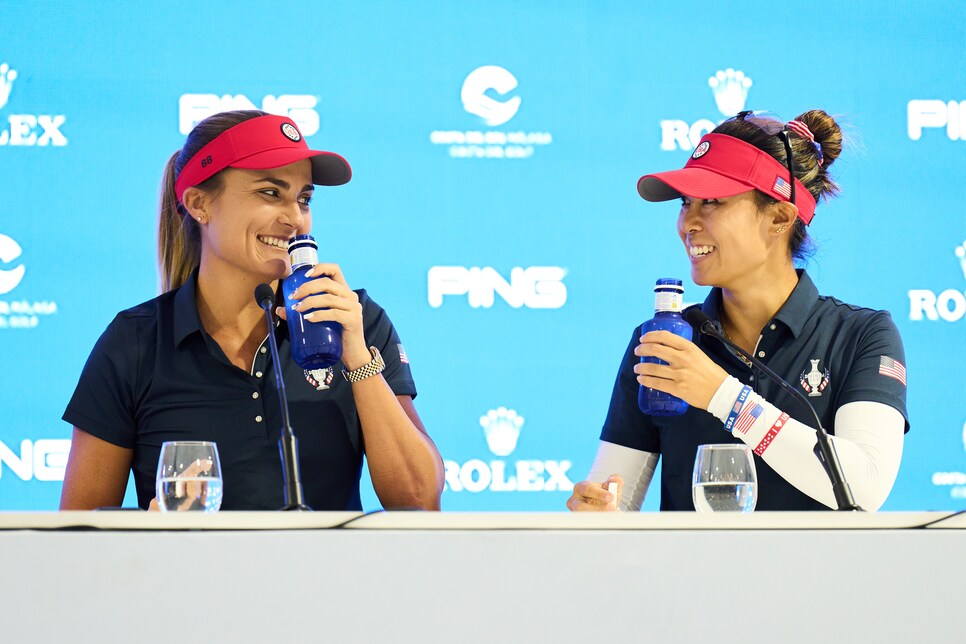 "Well, I don't think matchplay has anything to do with it," said Thompson in response to a politely worded inquiry as to whether playing without a card in her hands might make a positive difference to her confidence level this week. "Matchplay, strokeplay, you still have to play your game and golf. But, yeah, this might not have been the year that I wanted, but this is this week. I'm not focusing on the past. I'm here with my team this week and going to represent my best."
Citing the recent struggles of two-time PGA champion Justin Thomas and adding to the 'all for one' atmosphere, Thompson's teammate, Danielle Kang, was quick to chip in with some mildly sarcastic (and oddly worded) support for her compatriot.
"It's like Justin said, 'Any shot, any moment can change your game,'" Kang countered. "Can't rely on an entire player's career on just how she's been playing lately, right?"
Danielle Kang is in Spain for the 2023 Solheim Cup. Her clubs, however, missed their connecting flight
Kang didn't exactly strengthen that argument when, in reference to her own game, she said: "Numbers don't lie, man. One plus one equals two. I love it. Just keep telling me my stats."
It is, however, hard to imagine Lexi Thompson feels the same way. Not right now at least.
This article was originally published on golfdigest.com