[PHOTO: Ezra Shaw]
With Lydia Ko's three-win LPGA player-of-the-year campaign in 2022, the New Zealander appeared to have emerged from a six-year stretch of inconsistency and rediscovered the form that made her a No.1 player in the Rolex Women's World Ranking and a 19-time LPGA Tour champion. Yet instead of carrying that momentum into a successful 2023 campaign—and possibly earning the remaining two points she needs to qualify for the LPGA Hall of Fame—Ko has struggled with her game this year. So much so that the 26-year-old finds herself in the precarious position of possibly not being in the field to defend two of her titles, the BMW Ladies Championship in October and the season-ending CME Group Tour Championship in November.
Ko, who is playing at this week's Walmart NW Arkansas Championship, is 93rd on the LPGA Tour CME points list. While eligible to play in next week's Ascendent LPGA event in Texas, she is not currently signed up for the tournament. And because of her position on the points list, Ko has qualified for just one of the LPGA's four limited-field Asia swing events that make up the October portion of the LPGA calendar.
Meanwhile, with only the top 60 players qualifying for LPGA's season-finale at Tiburon Golf Club in Naples, Florida, Ko has work to do to be able to return to that event, where she claimed the $US2 million first prize with a two-shot win over Leona Maguire a year ago.
After getting married last December, Ko started 2023 in solid form as the No.1 player in the Rolex Ranking, winning the Ladies European Tour's Saudi Ladies International in February in her first event of the year. She followed that up with a T-6 at the Honda LPGA Thailand at the end of the same month. That performance, however, has turned out to be her only top-30 finish this year on the LPGA Tour in 15 starts, including four missed cuts.
"Going into the year, obviously every year is a new start, and even if you do have a good year you don't really know what it's going to be like, because that two months, a lot of things can happen between a week and the two months," Ko said in an interview on Golf Channel at the Kroger Queen City Championship three weeks ago. "For sure a lot of things can change. I think I went into the year with a lot of self-pressure. You do want to continue to be on a good momentum and play well when you are playing well because I've gone through my own ups and downs. And when things aren't going well, it's not very easy to come back out of that."
An LPGA spokesperson explained that qualifying for the four Asian Swing events is not based on the tour's most recent priority list but rather on a player's CME points position after the Kroger event, the last tournament held before the Solheim Cup. There are between 43 and 68 spots at each of the Asian events, placing Ko in the field from her points position in only the first event, the Buick LPGA Shanghai, held from October 12-15.
Ko sat as the 17th alternate at the BMW, where she shot a 21-under 267 total a year ago in China to win by four shots over Andrea Lee. The only chance she could play in the event, scheduled for October 19-22, was if she received one of the eight sponsor's exemptions the tournament has, which Ko was granted on Tuesday.

Ko has already received a sponsor's exemption into the Maybank Championship (October 26-29). But playing in the BMW or Maybank via a sponsor's exemption won't drastically improve her odds of getting into the CME Tour Championship due to intricate rules regarding CME points. In limited-field events with no cuts, such as the BMW, the LPGA only awards CME points to sponsor's invites if they win. All four Asian Swing tournaments are limited-field, no-cut tournaments subject to the CME sponsor's invite rule.

Currently, Ko has only two tournaments to earn CME points without a win: this week's tournament in Arkansas, where Ko won in 2016, and in Shanghai. As of today, Ko would need a two-way T-3 finish or better to move into the top 60 from the results of one tournament. But that wouldn't account for other players earning points in other events that might push Ko further down the points list.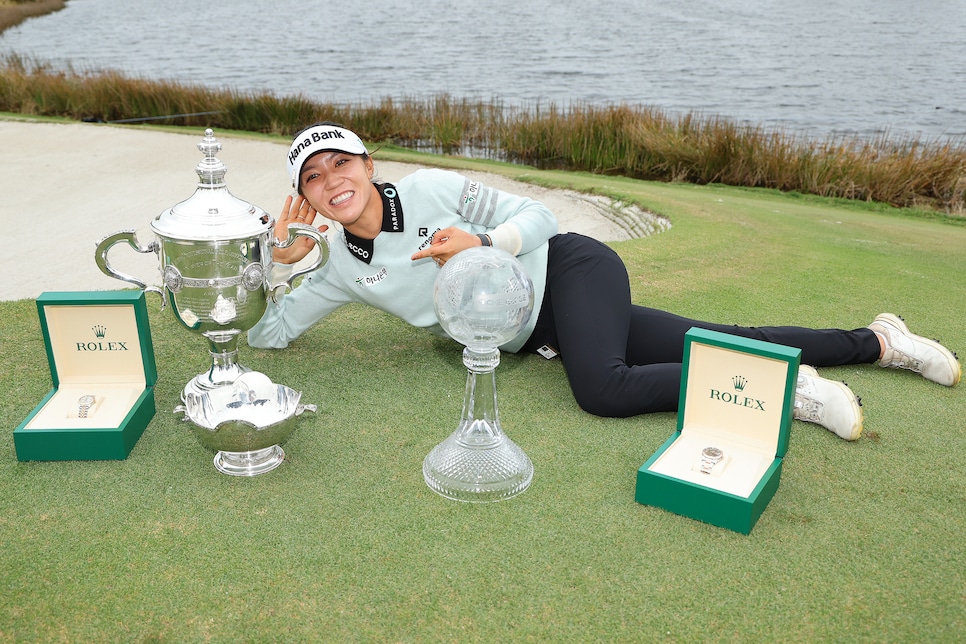 There's one more possibility Ko could take to play her way into the season-ending tournament. Currently, Ko is not listed in the field at the LPGA's last full-field event, the Annika Driven by Gainbridge in Florida from November 9-12. There's plenty of time for that to change, as she has until October 31 to enter the event with her status.
Should Ko not fight her way into the top 60, it would be the first time since she turned professional in 2013 that the two-time CME winner would not be in the tournament's field.
• • •
This article was originally published on golfdigest.com