[PHOTO: Chris Trotman]
Among the most commonly used reasons for players signing with LIV Golf was a longer, more definitive offseason – in addition to the lure of large, guaranteed-money contracts. Their sentiment was founded in the PGA Tour's wraparound schedule, created in 2013-2014, which compelled even some of the biggest stars to play events in the northern autumn to avoid slipping down its FedEx Cup standings before the new calendar year kicked off with the Hawaii swing in January.
LIV golfers are set for a three-month offseason now that this weekend's team finale has concluded at Trump Doral. While it has not been confirmed, speculation is rife that LIV won't start up again until February. This will be considered a perk of playing on LIV that their counterparts on the PGA Tour won't enjoy, at least for one more season. The PGA Tour's 47-event schedule for 2022-2023, which is already underway, will play out until late November, halting at the RSM Classic, before resuming at the Sentry Tournament of Champions in Hawaii in early January.
Next season, however, the top 70 finishers on the FedEx Cup who keep their card (down from 125) can theoretically sit out the entire "Fall Series", from after the Tour Championship in late August until January (Ryder Cup and Presidents Cup play notwithstanding). The rest will fight it out for status in the 2024 season.
Even world No.1 Rory McIlroy admitted the PGA Tour needed a clear offseason. "I would love us to come back in January and people will have missed watching competitive golf. I don't think that happens right now because there's 47 events a year," he said recently.
It begs the question: what exactly will LIV golfers do with all the free time?
Australian Golf Digest quizzed several LIV players at Doral, and it came as little surprise that Bryson DeChambeau had the most plans of any player. The 2020 US Open winner aims to get heavier and stronger in order to hit the ball longer, which may come as a surprise, given he recently hit a 406-yard (371-metre) drive at the Professional Long Drivers Association's World Championships.
"I'm going to get longer, but in a healthy way this time," DeChambeau said, referencing the fact in 2019-2020 he gained nearly 25 kilograms to weigh 109. He did so by upping his calories, weightlifting and speed training. DeChambeau's increased clubhead speed helped him win the US Open at Winged Foot as well as at Bay Hill in 2021. "I'm excited about that. The last time I did it, I put on a lot of fat," he said. "What I want to do is stay lean but gain two to three pounds of muscle by really working hard and get to whole other level of strength."
The 29-year-old weighs 98 kilograms but said he wanted to up that to 102 before the first LIV event in 2023. Other than that, DeChambeau said he would finish the construction of his new house in Dallas, as well as continue plans to open multisport complexes in Texas and California.
"One of them's going to be in Dallas and one of them's going to be in Clovis, California [DeChambeau's hometown]. We're going to build a long-drive grid, driving ranges, basketball courts, football fields, soccer fields, volleyball courts and indoor tennis courts."
World No.3 Cameron Smith's plans were a little simpler. The reigning Open Championship winner said after signing with LIV that spending up to three months a year back home in Australia was part of the 29-year-old's motivation for leaving the PGA Tour, where he'd won six times in total, including the Players Championship this year. Smith will take the claret jug he won at St Andrews back to Australia, where he'll show it off during competitive outings at the Australian PGA Championship late next month and the Australian Open on the Melbourne Sandbelt in early December.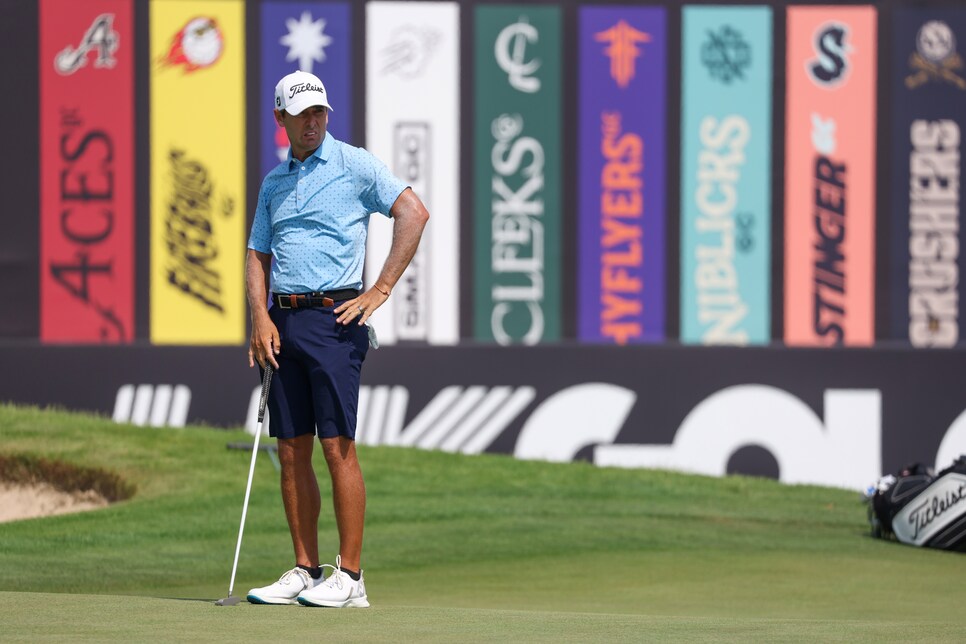 "A lot of my offseason will just be hanging out with family and friends over Christmas when everyone's off work, and then maybe a little bit of travel," Smith said.
Smith turned pro in 2013, played the Asian Tour en route to the PGA Tour from 2015. Since moving to the US, he's only travelled back home for our biggest golf tournaments.
Charles Howell III, the 43-year-old who played 609 events on the PGA Tour before joining LIV, said caddieing for his son, Chase, was top of the list.
"He just turned 11, so he's starting to have a bit of a junior golf schedule," said Howell, who lives in Windermere, Florida. "I'll do my dad duties, but I'll also work on my own game; because I'm playing on a team now, I feel like I'm accountable not only to myself, but my teammates."
Like Howell, 2010 US Open winner Graeme McDowell is also 43 and a father. Time with his kids at his Florida base was his only stated plan, other than resting his body and enjoying a few cold beverages.
"Drinking and gambling," McDowell joked. "No, at 43, there are some aches and pains I'll rest while also doing some training. Being a dad is my main hobby these days."
Sergio Garcia, the 2017 Masters winner, said he would rehab a niggling knee injury. He'll also watch his beloved Spanish soccer team play the FIFA World Cup that kicks off in late November.
"I'm going to fix my knee, my meniscus and rest a little bit," Garcia said. "I'll get physically stronger and fitter and enjoy time with the family. We're not going to the World Cup, but we'll definitely watch on TV. And then I'll just play some tennis and football and practise and get ready for next year."
Harold Varner III reiterated the promise he made in his statement about why he left the PGA Tour, which was to grow his charitable arm, the HV3 Foundation, that "brings awareness to the rising cost of entry and access in sports" for youths.
In late August, Varner was announced by LIV, alongside fellow recruits Smith, Joaquin Niemann, Marc Leishman, Cameron Tringale and Anirban Lahiri. He and other LIV recruits faced considerable backlash at the time, given LIV is funded by Saudi Arabia's sovereign wealth fund, the Public Investment Fund. Many have accused LIV Golf as acting as a vehicle for the Saudi Arabian governments attempts to "sportswash" its history of human rights abuses. At the time, Varner said in his statement, "Your opinion of me may have changed because of this announcement… no lie that'd be a tough thing to deal."
But Varner said at Doral: "I'm going to have a great offseason. I'm going to do a lot of hunting and I'm going to raise a lot of money for my foundation. That's all I've ever wanted to do."