[PHOTO: Richard Heathcote/R&A]
Lexi Thompson's 12th season on the LPGA Tour is unlike any other in her career. Instead of remaining a consistent force atop the tour's leaderboards, the American star's struggles heading into the AIG Women's Open have Thompson facing questions she has never had to answer throughout her career. Can she, at 28, maintain her spot for her sixth consecutive Solheim Cup team? And even stranger to ponder, can the 11-time winner maintain full LPGA status?
"I have been struggling this year," Thompson said overnight at Walton Heath, where the Women's Open begins today. "I can't deny that. I started off with a good finish in Saudi Arabia, but I've been a little bit off since then. Everyone has those years or tournaments, though. I just have to continue to stick with it and put in the work. Productive work, that is."
Top 25 players at the Women's British Open, including Minjee Lee, ranked
Since Thompson's runner-up at the Ladies European Tour's Aramco Saudi Ladies International in mid-February, she's spent most of the year on the LPGA Tour either not playing in events or when she does tee it up, just trying to make the weekend.
Heading into the Women's Open, Thompson has played in only seven events, the fewest of her career going into August. Of those tournaments, she's made only two cuts, and even those have been a struggle. Her T-47 at the KPMG Women's PGA Championship in late June took a run of four straight birdies over her final five holes just to get to the weekend, and her five missed cuts so far match a career high.
"You shouldn't read too much into [the lack of starts]," Thompson said. "I've just been trying to enjoy my life and take some more time for myself. This is my 13th year out here, so it's my choice to play when I want, and when I don't want to. I was dealing with a little bit of an injury. But I'm fully healthy now. I want to be sure I'm fully ready when I do tee it up."
The lack of success has Thompson in foreign territory at 156th on the LPGA' 's CME points list, which the tour uses to determine status for the next season. To put that in perspective, since the LPGA introduced CME points in 2014, she hasn't finished worse than 34th.
Thompson can reach three benchmarks of CME points by the end of the season to improve her playing opportunities. Finishing in the top 100 of the CME provides Category 11 status, allowing players to get into most fields; getting into the top 80 provides Category 1 status, the best the LPGA has; and getting into the top 60 puts Thompson into the CME Group Tour Championship. She has played in every Tour Championship since 2011.
The Women's Open is worth 25 percent more CME points than regular tour events, allowing Thompson to surge up the standings in one week with a strong performance. She can move into the top 60 with a T-3 or better, top 80 with a T-5 or better, and top 100 with a T-8 or better.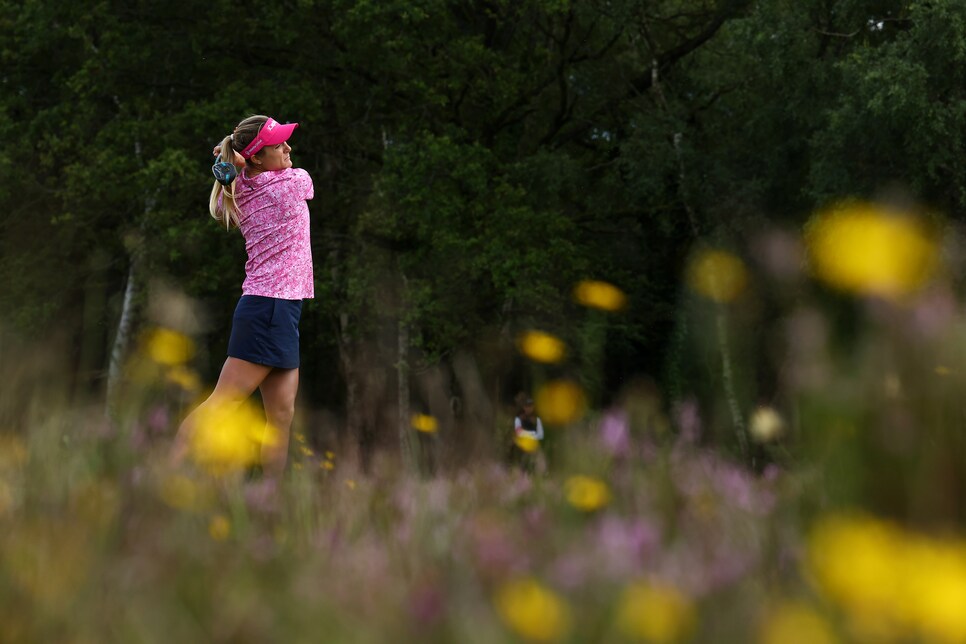 She doesn't have to make the gap up before the end of this week, but the conclusion of the season is quickly approaching. Currently, Thompson is entered in two of the remaining seven full-field events, but is eligible to play in all of them.
Thompson's career money earnings also give her a one-time option to maintain full status on the LPGA. The top-20 career earners can play via Category 2, as Cristie Kerr is doing this season.
A quicker deadline coming up is the USA finalising its Solheim Cup roster after the CPKC Women's Open ends on August 27. Thompson is in seventh place on the Solheim Points list, the last automatic spot on the team.
Even with her fall down the points list, Thompson's spot is probably safe. Only Andrea Lee, with a fourth-place finish, can pass Thompson without winning this week.
Should Thompson get passed for the final points position, she still can make the team by her Rolex Women's World Rankings spot. She is 20th in the world ranking, ahead of fellow Americans Rose Zhang (32nd) and Angel Yin (34th).
Enjoy Walton Heath for the Women's Open, because it's a true classic course made obsolete by men's distance
If the worst-case scenario happens that Thompson does not earn her way onto the team, US captain Stacy Lewis can use one of her three captain's picks on her. The 12-year LPGA veteran, even amid a drought in performance, remains steadfast in her belief of the value she would bring to the team in Spain next month.
"Golf is such an individual sport it helps to have someone with experience to help out and interact with the other players," Thompson said. "I hope to bring strength and determination, too, and being there for the other girls. I know in the past when I have been struggling, girls have come up to me and gave me advice. I know how important that is. It's crazy to think I am one of the more experienced players at the age of 28."
Likewise, Thompson explained she's working on everything in her game to try and rediscover her best form. She pointed out ball-striking, which has also drastically fallen this year. She's hit 65.3 percent of greens in regulation this season, which is 98th on tour, while being a a 10-percent dip from her career average and an 11.9 percent fall from last year. During her career, Thompson hasn't finished outside the top 11 on tour in greens in regulation.
Thompson can answer these potentially career-altering questions with four quality rounds at Walton Heath.
"This week is important, of course," Thompson said. "But I don't want to put any added pressure on myself. The Solheim Cup is my favourite event. But it is next month. For now, all I can focus on are my emotions and taking things one shot at a time. Any time you force things by focusing on the long-term or big-picture goals, it can get you off track in the moment."
– additional reporting by John Huggan