Lee Trevino remains a kind of all-knowing figure within the game of golf, and the best news for the rest of us is that he's never been shy in sharing that knowledge.
There's a lot of it out there to sort through, but the other day, I came across a handy tip that I'm looking forward to put in play. You should, too.
The tip was the cover story in Golf Digest's December 1990 issue, and it's all about fairway woods.
(You can check out our full Golf Digest archive right here, by the way. If you're a golf nerd like me, you'll love it).
Trevino starts by explaining his struggles with long irons. He's never been good with them, he explains, because growing up on the dry courses in Texas meant he didn't have to be.
"If I had to hit a 215-yard iron shot, I'd take a 4-iron, fly it 175 yards and let it roll 40 yards to the green, he says. "I couldn't get a 2-iron into the air."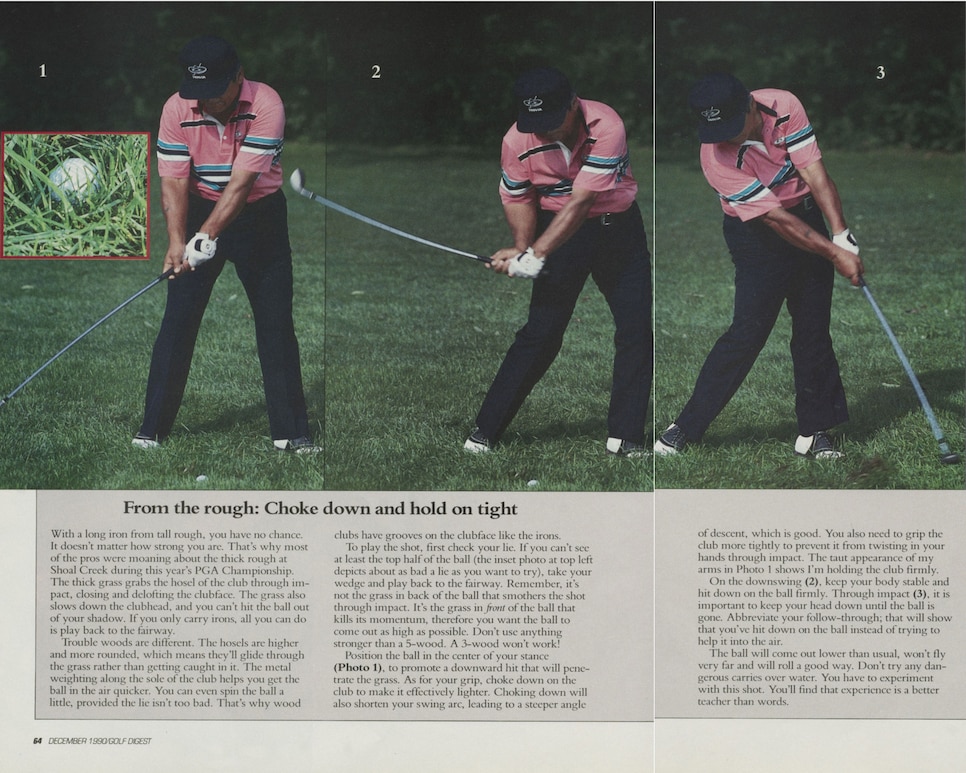 It was a problem he knew he needed to solve once he landed on the PGA Tour. But rather than figuring out how to hit his long irons, he went for a different route: He replaced them with high-lofted fairway woods, including a 7-wood which he says "is the most dangerous club in my bag."
He most amateur golfers should do the same: Replace their three, four and five irons with hybrids and woods.
'90 percent of golfers should find a 5-, 6-, or 7- wood'
The reason why Trevino loves his "super club" 7-wood so much is because "its versatility in trouble situations," specifically from the rough. It's a shot that's easier enough for the rest of us to perfect, too…
Lee Trevino's rough shot recovery, in 6 steps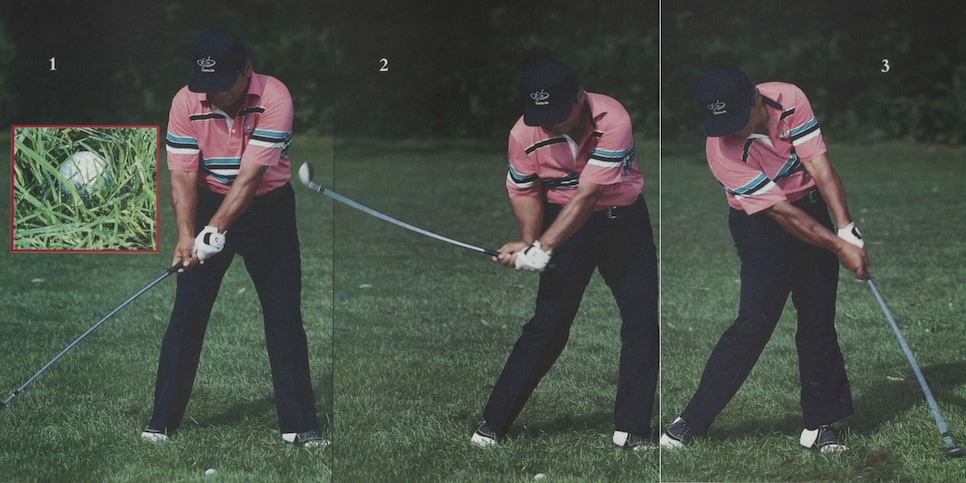 1. Look at the lie
"If you can't see at least the top half of the ball, take your wedge and play back into the fairway."
2. Go with a higher-lofted fairway
"You want the ball to come out as high as possible. Don't use anything stronger than a 5-wood. A 3-wood won't work!"
3. Choke down
"Choking down will make it effectively lighter…it will also shorten your swing arc, leading to a steeper angle of [attack]."
4. Hold on tight
"Grip the club more rightly to prevent it from twisting in your hands through impact."
5. Body stable
"Keep your body stable so you can hit down on the ball firmly with your arms."
6. Stay down
"Keep your head down until the ball is gone. This will abbreviate your follow through; that will show that you've hit down on the ball instead of helping it into the air."
It's shot because the fairway wood will allow the ball to come out of the rough high enough, but with enough head to keep running once it lands. It also takes away any need to swing hard. You can effectively pitch it, and the ball will still travel a good distance.
A simple slice of genius from one of the best ball strikers of all time.
Once again you can check out our full Golf Digest archive right here.
This article was originally published on golfdigest.com