Kurt Kitayama has some experience being on the first page of the leaderboard on the weekend. He also knows what it's like to battle with some of the game's best late on Sunday. He's confident those experiences will work to his advantage as he enters the weekend at the Arnold Palmer Invitational with a two-shot lead over Jordan Spieth after a crafty four-under-par 68 on Friday at breezy Bay Hill.
In the last 10-plus months Kitayama has three second-place finishes, coming up short to some heady company: Jon Rahm at the 2022 Mexico Open, Xander Schauffele at last year's Genesis Scottish Open and last fall to Rory McIlroy at the CJ Cup in South Carolina.
Instead of bemoaning the quality of competition resulting in his runner-up trifecta (after all, he shot 68, 66 and 67, respectively, in the final rounds of those events), Kitayama is trying to draw on the good vibes instead.
"I think I've put myself in good spots," Kitayama said Friday when asked about the confidence he might have gained from those experiences. "Right now, I feel like I'm just trying to get that win, [which] is, you know, it's tough, especially with the guys I've been against. … Yeah, definitely a lot of confidence knowing that I'm able to stay with them. You get a couple good breaks and it's your tournament, really. So, I just got to try to be right up there until the end."
MORE: Bay Hill leader Kitayama has multiple flattering nicknames
Kitayama certainly was good from beginning to end in the second round. Starting with an 18-footer for birdie at the first and ending it with an 11-footer for birdie on 18 after hitting a gap wedge downwind from 158 yards. That type of thing sure to send "the-ball-is-going-too-far" crowd into a tizzy. In between, he produced three more birdies against a lone bogey, which came, oddly, at the typically easiest hole on the course, the par-5 16th.
MORE: Jordan Spieth gets 'very lucky' with ruling on 18th hole
The round was more workman-like than flashy, and that works well at Bay Hill, which ranked last season as the most-difficult non-major venue on tour. Kitayama hit nine of 14 fairways, 13 of 18 greens and needed just 28 putts. He got up and down four of the five times he missed the green, including two-for-two on sand saves.
As for competing in the blustery conditions … well, Kitayama is used to it, having played in some rough conditions recently back home near Las Vegas. "I was playing with Collin [Morikawa] last week and it was probably like 40 degrees and blowing 20 or so," Kitayama said. "It was actually snowing. It was crazy. It was, like, now we're prepared for anything. Whatever comes at us, we'll be ready."
He needs to be. Once again, Kitayama is facing some serious star power with Schauffele, Justin Thomas, Jordan Spieth, Patrick Cantlay, Adam Scott and Scottie Scheffler all residing in the top 10 after 36 holes.
So is Kitayama ready to win? We'll know after two more rounds. If so, however, hopefully he's not expecting to receive the $3.6 million for first place in the manner he did for winning an Asian Development Tour event a few years ago. That was paid in cash.
It all adds up for Conners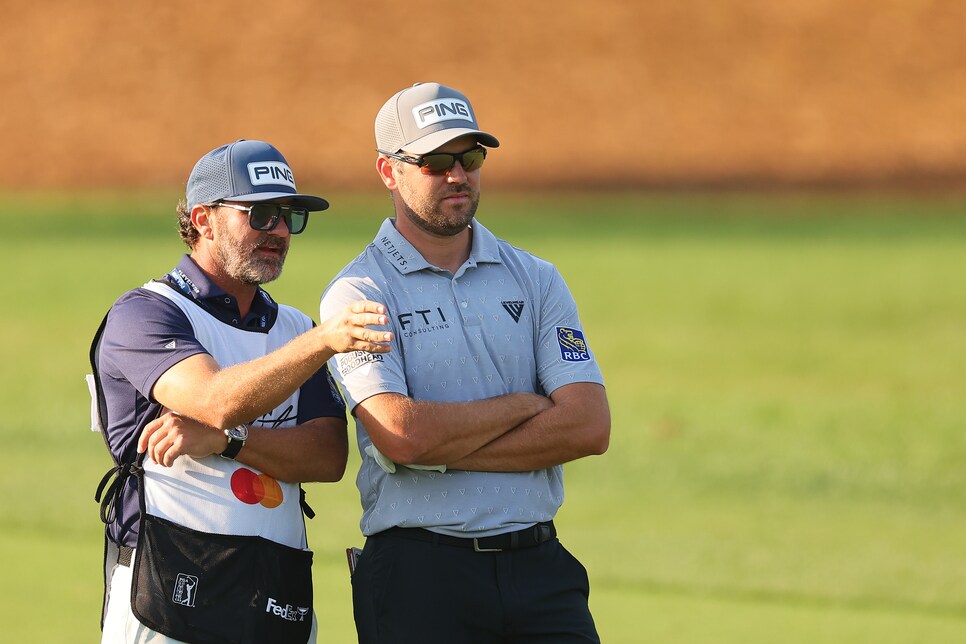 Corey Conners talks with his caddie on the first fairway during the second round of the Arnold Palmer Invitational.
Michael Reaves
While at Kent State University, Corey Conners studied actuarial math. That's a pretty cool skill to have at your disposal, but Conners didn't need to lean on it in order to count to 66—the low score of the day during the second round of the Arnold Palmer Invitational.
Since Conners is a numbers man, let's pay homage to some of his more noticeable digits from round two. Like seven birdies against just one bogey. The 31-foot birdie putt he dropped on the par-3 second hole. Or picking up 5.281 strokes on the field from tee-to-green. Or making short work of the quartet of par 5s, birdieing all four of them.
"I played really, really solid," Conners said. "I did everything well. Drove it well, hit my irons and wedges well and made some putts. As difficult of a day as it was, I left myself in great spots. So, it was a fairly stress-free round. Can never be stress-free out here, but I was really happy with the way I kept things really simple and just focused on each shot.
Although the wind did not bring the kind of havoc that was expected and Conners played in the calmer morning wave, there is no downplaying a round that was more than seven shots better than the field average.
"Very mentally tough [day]," said Conners, who has finished third and T-11 in his last two starts at Bay Hill. "I think me and my caddie, Danny Sahl, did a great job of judging the wind, feeling the shots, seeing the shots. I was able to execute a lot of good ones."
Which is where the math background possibly helped. Last year in an interview with Golf Digest, Conners spoke about how he uses that knowledge to his advantage on the course.
"I certainly love what I'm doing now and have forgotten a bit of the details that I learned at university, but it does have application out on tour," he said. "It helps with risk assessment and making good decisions. That mindset of that field translates to my golf game, and I think I'm good at that. I have an analytical mind, but I don't overdo it with the stats."
Like we said, it doesn't take a lot to count to 66.
Riley in the position former roommate was supposed to be in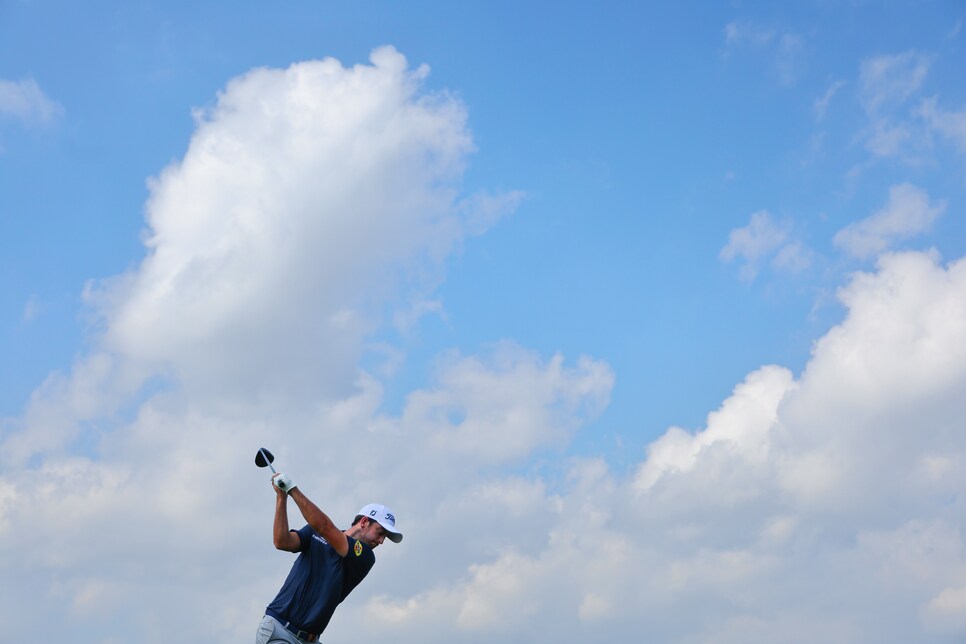 Davis Riley plays his shot from the sixth tee during the second round of the Arnold Palmer Invitational.
Michael Reaves
Coming into the Arnold Palmer Invitational, Will Zalatoris was frequently mentioned as one of the favorites. Unfortunately for Willy Z, he needed to birdie two of his final three holes Friday just to make the cut on the number. His former roommate, Davis Riley, however, went out in the first group off the 10th tee at 7:05 a.m. and made the early wake-up call worthwhile by putting up a three-under-par 69 to stand T-5 at day's end.
Playing the majority of his round before the stiffer breeze kicked in, Riley ran off three straight birdies on Nos. 15 through 17 (his sixth, seventh and eighth holes of the day), running in 10- and 12-footers before dropping a 20-footer at the par-3 17th. He then bounced back from a brief hiccup bogey at the par-3 second with birdies on the next two holes.
"You can tell that they planned properly for the windy conditions that they're expecting this afternoon," Riley said after his round. "You could tell they put some water on the greens. I think they only single cut the greens, which was good. But I felt like this morning I took advantage of some good scoring opportunities. Then, even when the wind kicked up, I made a couple nice birdies."
To say Riley's fine play was unexpected would be accurate. After all, consider he missed three cuts in a row before snapping that streak at the Honda Classic where he finished T-29. On the year, his best showing was a T-19 at the Sanderson Farms Championship in early October.
Still, Riley is not a stranger to being in contention on the weekend. Last season he produced six top-10 finishes, including a playoff loss to Sam Burns at the Valspar, where a triple-bogey early in the final round ultimately prevented him from taking the title at Innisbrook.
Riley, who has known Zalatoris since their junior golf days and lost to him in the finals of the 2014 Junior U.S. Amateur, roomed with Zalatoris for a while, including during the early days of the pandemic, when the pair found a productive way to pass the time.
"During the pandemic break we were living in an apartment, and we re-arranged our living room and bought a mat and a net, and we turned it into a spot to hit balls," Zalatoris told Golf Digest in 2021. "We'd set up the Trackman behind the hitting area and hit balls until midnight. Thankfully the neighbors never complained."