[PHOTO: Andrew Redington]
In the end, it all went a bit flat, any initial energy gradually superseded by feelings not too far short of ennui. Which was a shame. What began as potentially a round for the ages on the DP World Tour turned out to be almost routine. Twice.
As Jon Rahm, outwardly at least, strolled to what was a disarmingly comfortable two-shot victory in the season-ending DP World Tour Championship, Rory McIlroy did something strikingly similar to claim the $US1 million first prize in the season-long DP World Tour ranking. Ho-hum.
The details. Adding a five-under par 67 to his overnight total of 198, Rahm made off with the $US3 million first prize, leaving all kinds of luminaries in his wake. Second-place was shared by Alex Noren and Tyrrell Hatton, who were a further two shots clear of a largely subdued McIlroy, who closed with a 68. Tommy Fleetwood and a disappointed Matt Fitzpatrick tied for fifth, two shots ahead of the pair in seventh spot, Rasmus Hojgaard and Adrian Meronk.
Alongside the mixture of emotions felt by that ultimately unavailing group, one man will surely be smiling. Come next September, European Ryder Cup captain Luke Donald could do worse than have all eight of those players in his 12-man squad.
"I'm not going to lie," Rahm said with a smile. "Luke never crossed my mind on the golf course today, even though I love him and I know he's going to be a great captain. I had enough going on. But I know it was myself, Tyrrell, Alex and Rory in the top four. Then it was Rasmus Hojgaard and Adrian. So the first six names all have strong cases for Ryder Cup if you were to take a team right now. I know Luke has a lot of names in mind, though. He's going to have six picks, so it's going to be a bit of a headache for him. I don't envy that decision whatsoever."
But that is for the future. This was a day that very much belonged to Rahm. Three birdies in his first three holes set the tone and created the gap he protected with varying degrees of assuredness over the next 15 holes. Despite his apparent calm, he admitted to some stress along the way. Not until the final hole did he relax even a little.
"When I hit my second shot on 18 and I had 65 yards to the pin, then I was like, 'OK, now we're good,'" he said. "Up until then, no. I definitely made it more stressful than it needed to be. It was only a two-shot lead. If I hit it in the water on 18, I have to do good to make a bogey. So I was just hoping to keep it on dry land. I was in control of myself, but I can't control what other people do. But once I laid up on 18, I was pretty sure I could get up-and-down in four shots."
Before all that and not long after a 30-foot putt for birdie disappeared at the short 13th, perhaps Rahm's only real wobble came on the long par-5 14th. It was there, after the sort of wayward tee shot that was a feature of his week, the former US Open champion holed from about six feet for a par that all but sealed the deal, especially as it was followed by a birdie at the 15th.
"Those two putts on 13 and 14 were massive," he said. "Massive. And the second shot on 12. That second shot to give myself a birdie chance was amazing. On 13, I was just thinking, Get it to the hole. I was hitting the ball a little bit tentatively. It is very unusual for me to win when driving the ball as badly as I was. And those two putts were huge because I kind of got in the attack mode."
Rahm first won the DP World Tour Championship in 2017, then again in 2019. He couldn't defend his title in 2020 due to COVID and didn't play in the event in 2021. "I came this time with the mentality that, well, nobody beat me in the last two years, so they are not going to beat me again," Rahm said. "I like this course and this course likes me. I hope this is third of many more."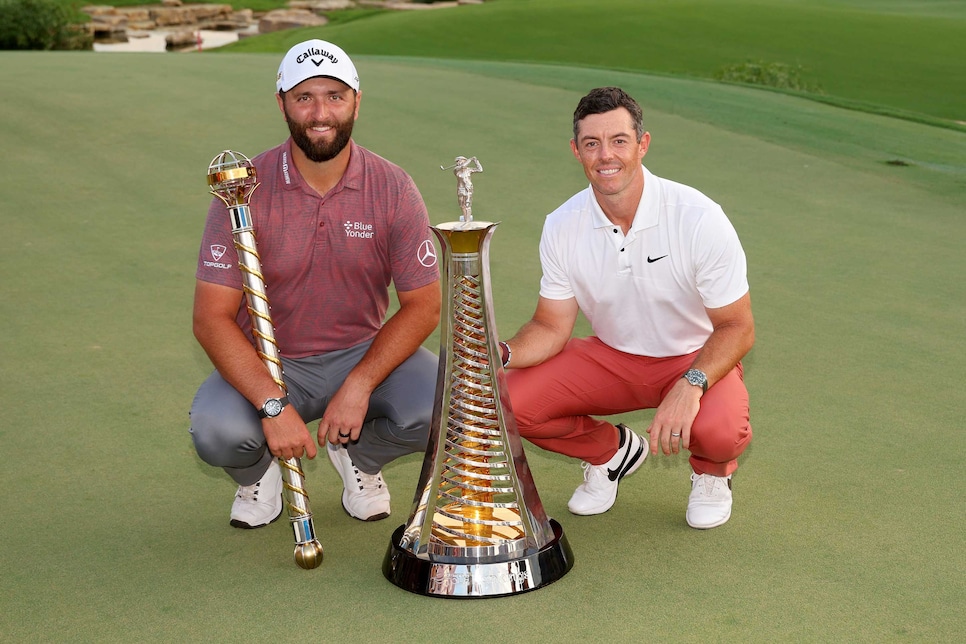 Three uneventful pars to finish gave Rahm his third win in this event from four attempts. Only in 2018, when he finished T-4, has the burly Spaniard not signed off the DP World season with a victory. Remarkably, he is 72-under par for the 288 holes he has played on the Greg Norman-designed Earth course at the Jumeirah Golf Estates. That's one-under par for every four holes.
RELATED: Jon Rahm blasts the world ranking's new formula as 'laughable'
"Hopefully, people can stop telling me that this was a bad year," said Rahm, noting some questioned his play after a dominant 2021 season despite the fact he won last month at the Spanish Open and in May at the PGA Tour's Mexico Open. "Three wins worldwide. Three wins on three different continents. Yeah, there wasn't a Major championship, but it was still a really, really good season."
Of course, but next year is already beckoning. And Rahm was in no doubt about what had to change in 2023.
"Definitely play better in the Majors," he said. "I've won one. I want to get the second one, for sure."