If Jon Rahm had his way, the Tour Championship wouldn't be the only tournament on this year's PGA Tour schedule in which a player begins with a multiple-stroke advantage. When he returns to the Memorial Tournament this week in Dublin, Ohio, the world No.2 wouldn't mind a similar staggered-start format – with his name in front.
Since 2019, the tour has employed a format in which the FedEx Cup leader receives a two-stroke lead over his nearest pursuer at the playoff finale at East Lake Golf Club in Atlanta. Rahm would dearly love six shots when he tees it up on Thursday at Muirfield Village Golf Club. "The way I played there the past two years it should be at least six. Maybe more," said Rahm, smiling wryly, a little more than a week ago after the final round of the PGA Championship at Southern Hills in Tulsa, Oklahoma.
Sound excessive? Well, anyone who remembers what happened to Rahm at the 2021 Memorial knows he isn't pulling that six shots out of thin air – even though his lead by that margin disappeared just that rapidly when he walked off the 18th green after completing his third round at Muirfield Village.
Rahm had just put the finishing touches on a scintillating eight-under par 64 that tied a pair of tournament records: the largest 54-hole lead and the 54-hole scoring record of 18-under 198. No sooner had he stepped off the putting surface, a tour official informed him he had tested positive for COVID-19. In accordance with tour regulations, he had to withdraw from the tournament.
Instead of an almost-certain second consecutive victory at Jack Nicklaus' event, Rahm was ushered to a golf cart and departed wearing a mask that couldn't fully conceal a look of shock and dejection.
The next morning, Nicklaus, the tournament founder and host, was still distraught by what had transpired. "I wish there was some way to give Jon three-quarters of a trophy," the Golden Bear said. Patrick Cantlay, who went on to win the FedEx Cup and PGA Tour Player of the Year, got the win instead. He and Collin Morikawa inherited the third-round lead at 12-under par, and Cantlay outlasted Morikawa in a playoff.
Rahm, 27, assuaged his disappointment two weeks later by capturing the US Open at Torrey Pines, his first Major title. That doesn't mean he is any less annoyed by having had to forfeit his efforts at Muirfield Village, a performance that ranks among the finest of a career that includes seven PGA Tour wins and six more international titles since he turned pro in 2016.
"It's hard to say that it was maybe the best I've played. I mean, the US Open was really good, right?" Rahm said. "But, sure, I played some amazing golf that week at Muirfield Village. The hole looked like a bucket. Basically, I felt like anytime I was on the green, that ball was going in, and the ball-striking was also unbelievable. So yeah, it's gonna be tough to top those three days of golf."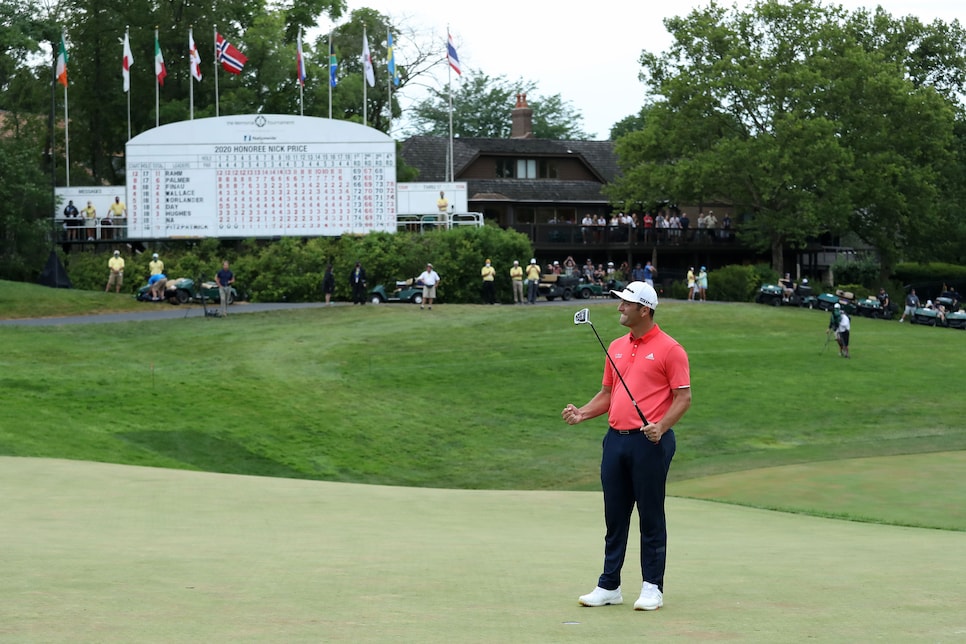 Rahm, who won the Mexico Open at Vidnta earlier this month, said that his game "just flows" at Muirfield Village. So does some controversy. When he captured the 2020 title, he was penalised two shots after completing play when it was determined that he had caused his ball to move just before chipping in at the par-3 16th hole. That turned a birdie into a bogey and a five-stroke victory into a three-shot win.
"Everything that has happened there, it's kind of hard to believe," he said. "A lot of shots that I should maybe have back. You think I could get them all back?"
The Spaniard was smiling slyly positing the notion.
"I don't blame him for thinking that way," said Morikawa, who played the first two rounds with Rahm and recognised how well the then-world No.3 was playing. "It was big league what he was doing out there, six-shot lead… just great golf. Obviously, it sucked what happened to him. It was bound to happen to someone at some point. But Patrick and I, we had to regroup, get our minds around sort of a new tournament. I don't think it took anything away from Patrick winning."
Morikawa said he texted Rahm the next week, the one between the Memorial and the US Open, and told him that he was sorry what had happened and that he hoped for a quick recovery.
"I was happy for him to see that he hadn't lost his form," Morikawa, the reigning Open champion, said graciously, referring to Rahm's US Open win. "I guess he was kind of owed one."
Rahm thinks he is still owed one. Just don't say he deserves a second Memorial victory.
"What can I say? It was the world we lived in at the time," he said. "Luckily everybody was healthy, and I didn't have any problems, which is the way we should look at it.
"But in my mind," he added, "I have two wins there already."